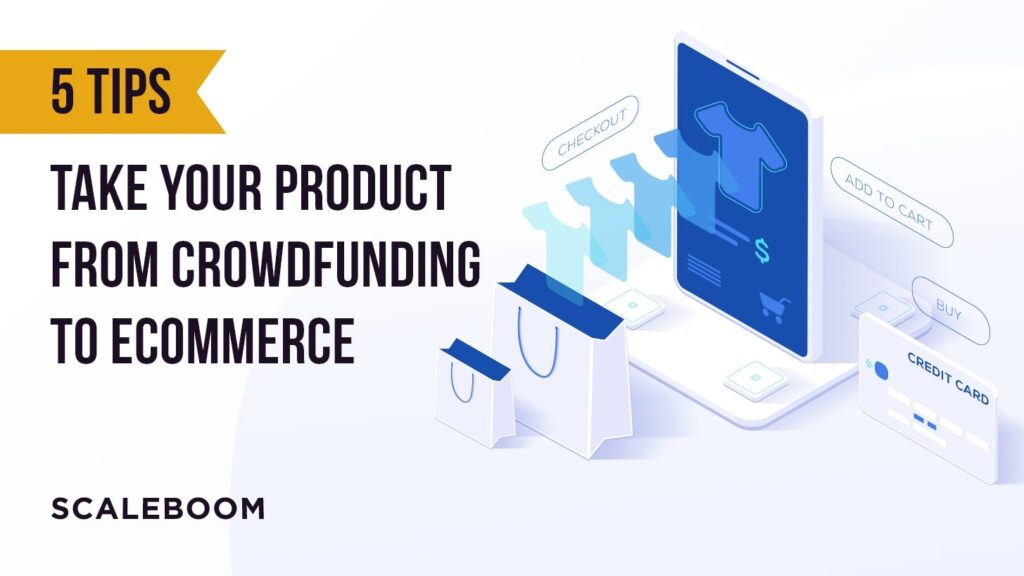 Crowdfunding is one of the most effective ways to bring a consumer product to market. There are multitudes of benefits like being able to generate marketing buzz and cheaper customer acquisition costs.
After you've earned market validation from a successful campaign, it becomes time to scale up to eCommerce.
But, in order to do that successfully, you need to do more than just build off of what worked during your crowdfunding campaign. You need a comprehensive eCommerce strategy.
Here at LaunchBoom, our eCommerce team (ScaleBoom) has led the charge for several of our partners who started their businesses on either Kickstarter or Indiegogo, including companies like William Painter and Xebec.
With ScaleBoom's help, I've put together a list of the five most important tips you need to know before transitioning from crowdfunding to eCommerce.
1. Make sure backers get their products first
You've just wrapped up a really successful crowdfunding campaign where your product attracted six-figures in funding from thousands of backers. The first thing you should do is give yourself a big pat on the back because that is no small accomplishment.
The second thing you should do is get right back into the thick of it because your job is not done yet. You need to make sure before you do anything else that those thousands of people who backed your product will actually receive it.
We've seen small business owners who made premature transitions to eCommerce lose sight of the backers from Kickstarter or Indiegogo. People who crowdfund know there might be long wait times built in, but if they see that customers who are buying directly from your website are receiving products before they have, then you've committed a cardinal sin of customer service.
Our recommendation is that you take care of the crowdfunders first. Stay on top of your campaign page inbox. Answer every email from your backers. Show them that you care!
Once all of those orders have been fulfilled, then you're ready to scale your business and start taking as many new orders as you can handle (more on this later).
2. Pick a platform
There are a lot of great eCommerce platforms to choose from like BigCommerce, Wix, or SquareSpace. They each have their pros and cons, but our ScaleBoom team loves and recommends Shopify. It's perfectly designed to help you get to your first $1,000,000 in revenue.
Aside from being very user-friendly with over 6,500 apps and plugins to choose from, nearly half of those apps are free to use. These tools are essential for tasks like fulfilling orders, generating sales reports, and connecting to social media.
Something that adds to Shopify's ease of use is its incredible customer service. Even our ScaleBoom team needs to contact customer support sometimes, and they swear by the quality of Shopify's 24/7 service.
Another big advantage to Shopify is that it's easy to scale. Since it's one of the most widely used eCommerce platforms in the world, it's convenient to have if your business grows to the point where you might want to sell it. Big eCommerce operations like having homegrown Shopify sites to work off of because the platform is easy to build upon.
Shopify Pros Recap:
Great 24/7 customer service
Easy to use without technical knowledge
Widely used and easy to scale
Once you have chosen your eCommerce platform, you can start thinking about directions for your creative. Designing and developing your site can seem daunting from a technical perspective, which is why LaunchBoom has in-house experts who can take care of that for you.
3. Inventory and customer service
After shipping out to every backer from your Kickstarter or Indiegogo campaign, you might find yourself low on inventory. It might sound obvious, but it is vital to take your time getting your product back in stock. Understanding your fulfillment at this stage is more important than understanding how to increase your demand.
ScaleBoom has three big pieces of advice in regards to this principle:
Define your customer service standards
Something will inevitably go wrong. Sometimes transactions get botched or products malfunction. It's essential to lay out how you're going to respond to these problems before they start happening. You need to think about the best way to respond to customers that you can handle early on, whether that's through email, chat, or phone. Customer satisfaction is one of the easiest ways to encourage them to become repeat buyers.
No longer than four weeks on pre-order
It used to be that we recommended no longer than two weeks for pre-order fulfillment, but that has changed due to the state of global supply chains. As mentioned earlier, crowdfunders expect there to be delays. Regular eCommerce buyers are completely different, so give them expedient deliveries as often as you can.
Do what you can for as long as you can
In the beginning, your operation should be small enough that you can handle most of the fulfillment by yourself. We recommend that you keep it this way as long as your business can take it. The amount of hands-on knowledge you will gain in regards to shipping, inventory management, and customer service is invaluable.
4. Define your goals and know your financials
A lot of entrepreneurs who are first starting out in eCommerce come in with lofty expectations. While having high hopes is good for motivation, it can sometimes do more harm than good. Ask yourself these questions very early on: What amount of money will I be satisfied with making? Where do I want my business to be at the end of the month/quarter/year? How much money am I comfortable losing?
After you've set manageable expectations to aim for, it's time for the most important step in the process–knowing the costs.
A lot of success stories will brag about how they took their eCommerce business to seven figures in just one year. What they conveniently leave out, though, is that they had to spend nearly seven figures to just make that first million.
There are lots of costs associated with running an eCommerce business from how much you spend on ads down to credit card and agency fees. But, if you properly factor in the necessary expenses, you can reverse engineer your profitable sweet spot.
Truthfully, financial planning is a heavy part of starting any business venture, but your likelihood of failure goes up significantly without it. Our eCommerce experts at ScaleBoom can help you map out every cost associated with this business to get you to your goals.
If you're dead set on building up by yourself, though, some key metrics I can share with you is to aim for minimum 60-65% profit margins at an average return on ad spend (ROAS) of 4-5x. This is a great general starting point to position new eCommerce stores for long-term success.
5. Prepare for growth
The eCommerce game is all about the long haul. No matter your aspirations, the road to scaling a business is not the same for everyone. However, when it comes to small businesses transitioning over from crowdfunding, there's one approach to growing your business that works particularly well.
Most of our partners who work with us at ScaleBoom are first-time entrepreneurs with minimal resources, and the thing we always preach to them is to be prepared to "S.C.R.A.P." This acronym stands for sessions, conversion rate, repeat purchases, average order value, and profitability. These are the fundamental building blocks for growth. Focusing on each one of these is what will drive the results of your business.
We will go into more depth on each of these in future articles, but for now, keep in mind that in order to successfully transition from crowdfunding to eCommerce you need to be scrappy! There may not be a one-size-fits-all approach for every business and product, but the basic principles of S.C.R.A.P will always apply.
---
If you're ready to scale your product, or just want to talk more about some of the tips you learned in this article, don't hesitate to reach out. We're here to help you reach all your eCommerce goals.