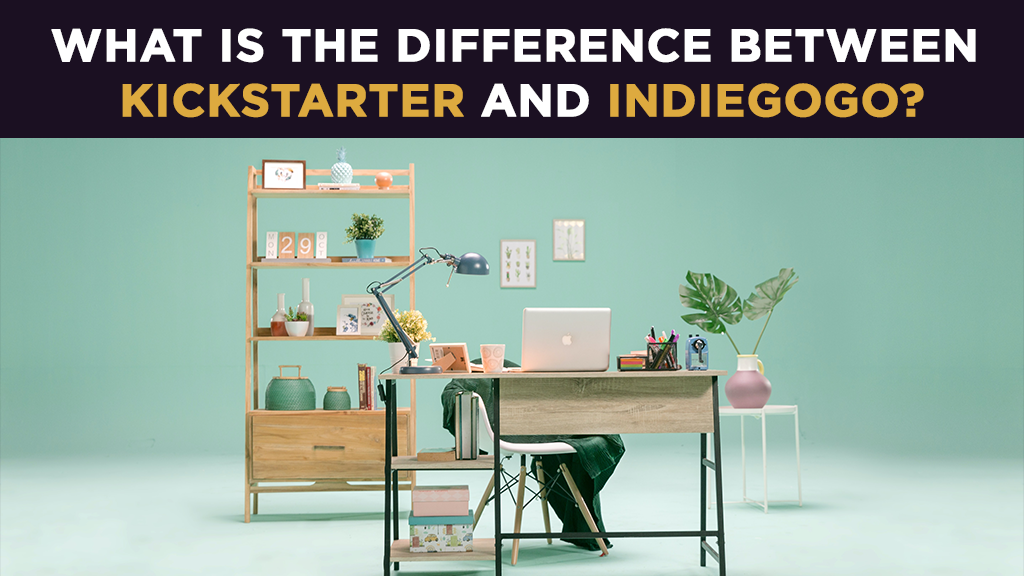 If you've heard of crowdfunding, you've heard of Kickstarter and Indiegogo. And even if you have no idea what crowdfunding is, you've likely heard those names. As two of the most popular crowdfunding platforms, they're constantly being compared as entrepreneurs, inventors, and creatives of all stripes decide where to launch their best ideas. 
So, which is better, Kickstarter or Indiegogo? 
Well, the answer is…
Each platform has specific and unique advantages and disadvantages. There really isn't a right or wrong answer, but one platform might work better for a certain project than another. 
Although they both offer the same service, the way they go about it and their guidelines for creators are sometimes different. Kickstarter's strict guidelines and all-or-nothing funding model may work for some, while Indiegogo's flexibility and slightly more open policies might work for others. 
At the end of the day, it's impossible to define which crowdfunding platform is best, without defining who is using them and for what kind of project. Let's explore the key differences between the two so you can figure out whether Kickstarter or Indiegogo is the crowdfunding platform for you.
Key Takeaways
Kickstarter and Indiegogo are the top crowdfunding platforms that help projects raise money.

Kickstarter and Indiegogo are similar, but slight differences might make one more appropriate for your campaign than the other. 

Kickstarter has an all-or-nothing funding model, while Indiegogo is more flexible.

Kickstarter tends to attract creative projects, while Indiegogo attracts niche projects, particularly in tech. 

Tools like LaunchBoom and

Kickbooster

can help your campaign be more successful.
What is Kickstarter?
Kickstarter is an online hub where individuals, groups, entrepreneurs, and businesses can bring their projects to life with the support of donations from backers from every corner of the internet. From ingenious tech devices to campaign gear and innovative kitchen appliances, Kickstarter is a melting pot of imagination and invention. 
Kickstarter is where dreams go to soar, especially now that traditional funding methods aren't the only option. Platforms like Kickstarter have helped many people achieve their goals, whether that means saving up enough to open a bed and breakfast by the seaside or inventing the next big smartphone. 
What is Indiegogo?
Indiegogo is like Kickstarter in a lot of ways, in fact, the reverse is probably more accurate to say since Indiegogo has been around longer. It's an online platform that invites creatives, idealists, optimists, doers, and thinkers to bring their projects to life with the help of donations from their massive community of backers.
Though Indiegogo initially launched as a way to crowdfund indie films and other creative projects it has since become the go-to funding platform for tech.
What's the Difference Between Kickstarter and Indiegogo?
On the surface, Kickstarter and Indiegogo aren't all that different – they do offer the same service, after all. Just because some things are similar though, doesn't mean that they're the same. Kickstarter and Indiegogo are fundamentally different once you get down to the details and narrow in on a specific project you'd like to launch. 
With over seven billion dollars raised for crowdfunding campaigns as of March 2023, Kickstarter has proven to be one of the best platforms for crowdfunding. Kickstarter tends to pull in creative projects, like films, music, and art (although it's not reduced to just these categories).
One major difference with Indiegogo is its flexible funding model which allows campaigns to keep the money they've raised even if they don't meet the funding goal, which is a big plus for projects that might have a harder time gaining an audience. They are also the go-to for tech products that may appeal to a more targeted audience. 
Both Kickstarter and Indiegogo are great platforms to crowdfund on, and honestly, it just depends on what you're looking for.
Kickstarter vs Indiegogo Key Differences
In order to figure out which platform best suits your project, you'll want to learn some more key differences. So we've created a bit of a cheat sheet here. 
Platform Size
Here's the thing: Kickstarter has a larger audience than Indiegogo.
But! That doesn't necessarily mean that Kickstarter is better than Indiegogo.
Although it's true that Kickstarter has a larger audience, Indiegogo also sees millions of unique visitors a month and is great for more niche projects, while Kickstarter attracts many creative ones. 
Flexibility
One of the biggest differences between Kickstarter and Indiegogo is their funding models: Kickstarter runs on a fixed model, while Indiegogo is more flexible. 
Basically, Kickstarter requires you to reach your funding goal in order to access the funds that you've raised.
Indiegogo allows you to choose between a fixed model or one which allows you to take home whatever you raised regardless of whether you reached your goal or not.
Fees
Obviously, neither Kickstarter nor Indiegogo are totally free. You do have to pay a fee to use the platform, but they're both pretty reasonable. 
Both Kickstarter and Indiegogo charge a 5% fee.
Once your campaign is finished and it's ready to be paid up, the processing fees come in. In addition to the 5%, there is also an additional 3% and 2.9% per pledge fee on Kickstarter and Indiegogo, respectively. 
On both platforms, you'll receive the money raised after about two weeks. 
Reach and Audience
Although Kickstarter has a larger community, with 19.5M unique visitors a month. Indiegogo sees an average of roughly 5.6M unique visitors a month. But that doesn't mean Kickstarter is necessarily the right platform for you. There's still plenty more to consider when choosing a platform.
Categories
Both Kickstarter and Indiegogo have a wide range of categories, but understanding which ones are the most successful on each site goes a long way. 
When it comes to Kickstarter, the most popular and successful campaigns fall into games, design, and technology. 
On Indiegogo, the three primary categories are tech and innovation, creative works, and community projects.
Success Rates
As of 2023, the success rates for Kickstarter and Indiegogo are just over 40% and 9%, respectively. Seems like Kickstarter is the only good option, no? Well, the answer here is a bit more complicated. 
Yes, Kickstarter might have a higher success rate. However, the difference between the two platforms' funding models makes it a bit easier to measure success on Kickstarter than on Indiegogo.
Since Indiegogo allows you to collect all the money that's been pledged even if you don't reach your goal, success is harder to measure. You may have set a goal of $50,000 but only raised $40,000. This would technically count as a failure to reach your goal, but you may still consider it a success.
Indiegogo vs Kickstarter: Application Process
Before you get going on your campaign, you'll want to familiarize yourself with the application process for Indiegogo and Kickstarter. What we mean by this, is that we want to look at different "review" processes. 
Indiegogo has rules and requirements, of course. However, the open platform doesn't require creators to apply to be reviewed before launching. Don't be fooled though, Indiegogo won't hesitate in taking down your campaign if you don't follow the rules. 
On the other hand, Kickstarter's manual review process can take between three to five days, although the best move is to submit your campaign at least a week beforehand to ensure that you have enough time to address any issues. 
Indiegogo vs Kickstarter: Payment Partners
Here's one that both Indiegogo and Kickstarter have in common: they both use Stripe as their payment partner. Stripe offers payment processing software and services to these crowdfunding platforms and makes it a lot easier to process payments and know what's going on behind the scenes. 
Stripe is very secure, reliable, and trusted by a ton of businesses, which is why it's the go-to for many crowdfunding platforms. Plus, features like fraud detection and chargeback prevention help keep everything under control. 
Indiegogo vs Kickstarter: Pros and Cons
We're going to make this as straightforward as possible, and if you'd like a more in-depth look at these two platforms and their features we have a full guide here. 
Here are the pros and cons of Kickstarter vs Indiegogo:
Indiegogo
Pros
No manual review process, or requirement for a prototype, means you can launch without applying (just be sure to follow all the rules). 

The flexible funding model lets creators receive funding without having to reach their goals. 

Lower fees to use their post-campaign e-commerce platform InDemand. 
Cons 
This platform reaches a smaller audience (around 13 million visitors a month in comparison to Kickstarter's 20 million plus). 

Because of the funding model, backers may take on more risk.

Indiegogo may hold 5% of your payout for refunds and chargebacks if you've raised more than $1,000.
Kickstarter
Pros
It's the most well-known crowdfunding platform, offering creators a huge organic audience.

Kickstarter's payout is far more simplified. You get all your money within 14 days.

The fees are pretty reasonable and similar to Indiegogo.  
Cons
Kickstarter has stricter guidelines, meaning you have to wait for your project to be approved before launching. 

Kickstarter's funding model requires you to meet your funding goal.

Kickstarter doesn't offer a post-campaign e-commerce platform like InDemand.
So, Which is Better: Kickstarter or Indiegogo?
Kickstarter and Indiegogo are two of the biggest players in the game, without a doubt. But is one better than the other? That's up to you. 
In order to find out which crowdfunding campaign is best for you, you need to be informed. And that's what we're here for. You see, not every campaign or project is the same. While some might benefit from what Kickstarter has to offer, others might do better on Indiegogo. At the end of the day, it's all about what you have to offer and how you position your project. Who your ideal backer is and what kind of funding model you think will work for you.
FAQ
How Long are Kickstarter and Indiegogo Campaigns?
Most Kickstarter and Indiegogo campaigns are between 30 to a maximum of 60 days long. Thirty days is considered the "sweet spot".
Does Kickbooster Work with Indiegogo or Kickstarter?
Kickbooster is available for both Indiegogo and Kickstarter. The program helps crowdfunding campaigns reach a wider audience through a referral program for affiliates and PR.
Can You Crowdfund for Anything?
Technically, you can crowdfund for anything. However, it's important to make sure your project aligns and works with the platform you decide to use to ensure maximum success. Both Kickstarter and Indiegogo have a list of banned items like alcohol and drugs as well as get rich quick schemes that could violate the rules so be sure to read and understand each platform's guidelines carefully.
Learn More from the Best in the Industry with LaunchBoom
Starting a crowdfunding campaign isn't easy. Luckily, you can enlist the help of experts that'll streamline the process. 
LaunchBoom provides you with a team of experts and a winning strategy that will guide you through the crowdfunding process from preparation to post-campaign. Our proven strategies help you navigate social media advertising, product validation, and positioning, build a reservation funnel, and much much more.