An extremely in-depth, step-by-step guide to launching your product on Kickstarter.
Kickstarter is different than what it was in 2009 when it began. No longer is it only the platform to help your friend launch their quirky idea. It has evolved. Their evolution has given entrepreneurs a new path — a very exciting path.
For today, Kickstarter has become the most effective way to launch your product.
Here are the top 3 reasons why:
You can raise money through pre-orders before you manufacture your product (you only need a functional prototype to launch)
You can tap into a HUGE audience looking for awesome new products (Kickstarter alone has millions of unique visitors every month)
You can validate your product and gather customer feedback
There are already thousands of entrepreneurs taking advantage of Kickstarter. Since 2009, Kickstarter has raised nearly $3 billion on its platform (you can see the stats here). The best part is, Kickstarter is still growing & now becoming normal for the mainstream consumer.
If you've ever thought of launching a product, now is the time and Kickstarter should be your platform of choice.
Before we go any further, know that this article is dense. Yes, we are getting deep into the weeds. By the end of the article you'll know the exact steps you need to take to launch your product on Kickstarter.
Update: due to popular demand, this article has been turned into an eBook. Click here to download Hacking Kickstarter 2.0 for FREE.
But first, let's start with the basics
There are three phases to a campaign — (1) Pre-Campaign, (2) Campaign, (3) Post-Campaign.
The most important of the 3 phases is your Pre-campaign. In this phase, you are building the foundation that the rest of your product launch is built on.
Here, you'll test your product positioning, create your marketing assets, and most importantly, build a highly qualified pre-launch email list.
That last item is the secret to crowdfunding success.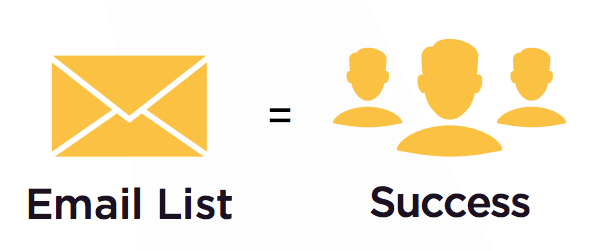 The pre-launch email list is so important that I recommend not launching your campaign until it is big enough.
With that in mind, here's the high-level strategy
Build a community of people that want to buy your product BEFORE you launch.
Hit your Kickstarter goal quickly within the first 48 hours of the campaign.
Rise to the top of Kickstarter and get free traffic.
Continue momentum with qualified traffic from ads, email lists, and PR.
Upsell more product to your backers once the campaign is over.
Excited yet?
Let's dive into what it takes to build a list and have a successful pre-campaign.
Pre-Campaign
Step 1: Discovery & Messaging
At this point, your product is either an idea in your head or you have a functional prototype. Any idea of who your customers are and what marketing they will respond to is purely a hypothesis. That's okay.
First, we need to get all of this information out of your head and onto paper.
To do this, we use a framework called the Consumer Based Brand Equity (CBBE) pyramid. I've found this to be lean enough that it doesn't take up too much time to complete, yet powerful enough to have a profound impact on your campaign.
The underlying principle of CBBE is that: you do not own your brand, your customers do. It is something that lives in their mind. For that reason, we approach messaging/branding as if we are a consumer.
Download the questionnaire here.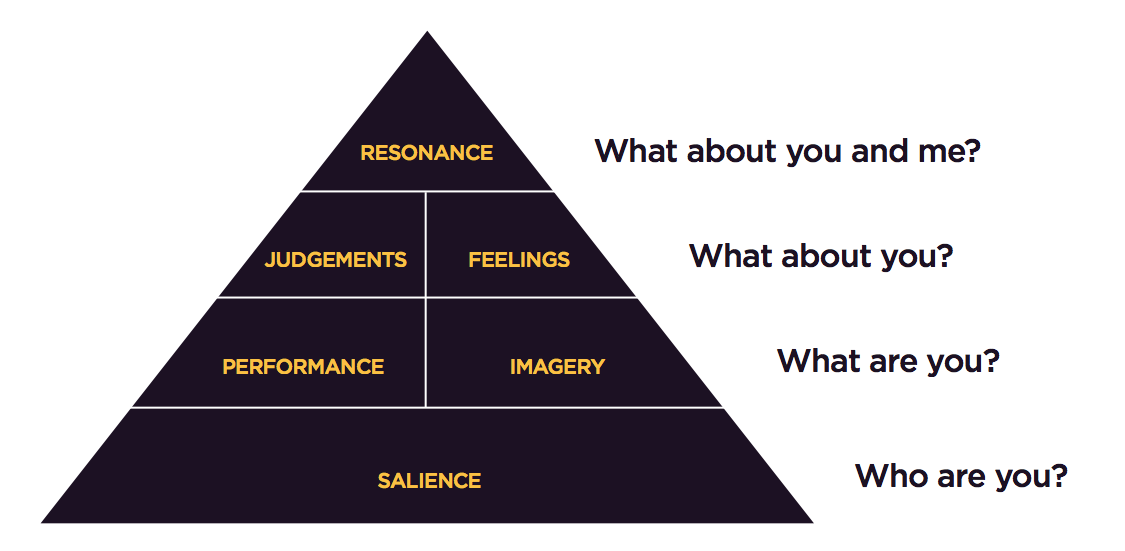 THE RESULT
Once finished with the CBBE questionnaire, you will be able to create your Marketing Statement & Marketing Message.
Marketing Statement — In a few words, tell me what your product is and it's primary feature. Also known as your tagline.
Marketing Message — Elaborate upon your Marketing Statement. What does your product do?
Here's an example of this in action for some of our clients:

Marketing Statement — The Best DIY Back & Body Shaver.
Marketing Message — Tame unruly back hair with the baKblade 2.0 do-it-yourself back shaver.

Marketing Statement — Your window to nature.
Marketing Message — Plants filter the water. It's the most beautiful and low maintenance way to keep a piece of nature in any space.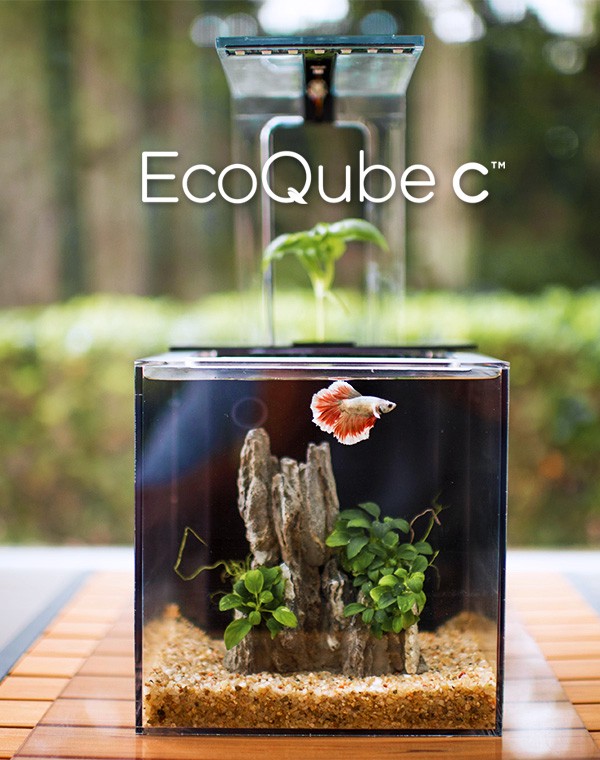 As you are about to learn, the messaging you have created so far is not final. It will evolve during the pre-campaign as you build your pre-launch email list, discover who your audience is and learn what they respond to.
Step 2: Choose your Tribe's Leader
A huge pillar of crowdfunding is trust. Being transparent as a company allows you to build that trust faster. As a consumer, which scenario do you think would build trust faster?
You communicate with your community as your "brand"
You communicate with your community as yourself — a regular person like them
If you guessed the latter, you're right.
Consumers want to feel like they are communicating with a person rather than a corporate brand.
That's where the Tribe Leader comes in.
A Tribe Leader is the leader of your community (tribe). They are the voice of the movement to break the status quo. They will be the direct line of communication between your brand and your consumer.
Typically, the Tribe Leader is the founder of the product. The founder created the product to solve a problem that a community suffers from. Because the founder took initiative to solve the problem, the community will naturally see them as a leader.
I recommend you watch Seth Godin's amazing TED talk The Tribe's We Lead to learn more about why the Tribe Leader is important.
The concept of the Tribe Leader has been around since humans started telling stories. Other names you may have heard are the Protagonist, Attractive Character, or Brand Hero.
To create your Tribe Leader, you'll need to establish your Identity & Storyline that works best for your product, your audience, and your personality.
Identity (choose one)
The Leader — be someone who leads your audience from point A to B.
The Crusader — set out to challenge the status quo or discover the truth.
The Reporter — interview people with high authority to establish your own.
The Reluctant Hero — you don't necessarily want to be the leader, but you feel a duty to share your secrets with your community.
2. Storyline (choose one)
Loss & Redemption — focus on the sacrifice & hardship you went through to make the product.
Us vs. Them — take a polarizing stance & fight against the "bad guys".
Before & After — your product presents a solution that allows you to easily visualize life with & without it.
Here's an example to show you how this works:
BaKblade 2.0
Tribe Leader: Matt, Founder
Identity: Reluctant Hero — as a man who struggled with back hair, he created a product to solve his problem. He doesn't want to be the leader, but feels obligated because he knows it will positively affect so many people.
Storyline: Before & After — Matt clearly illustrates what life is like for men with excessive back hair & how much better life is once they use BaKblade.
WHERE WILL YOU USE THIS?
Your Tribe Leader is important for everything you are about to do with your campaign. It will affect everything from: email marketing to your campaign video. As we get into later steps, you'll start to see why it's important to have this nailed down.
Step 3: Build your community
Here's how you will build your community:
Send qualified traffic from Facebook to a landing page
Visitors to your landing page will give you their email address
Nurture your email audience using email marketing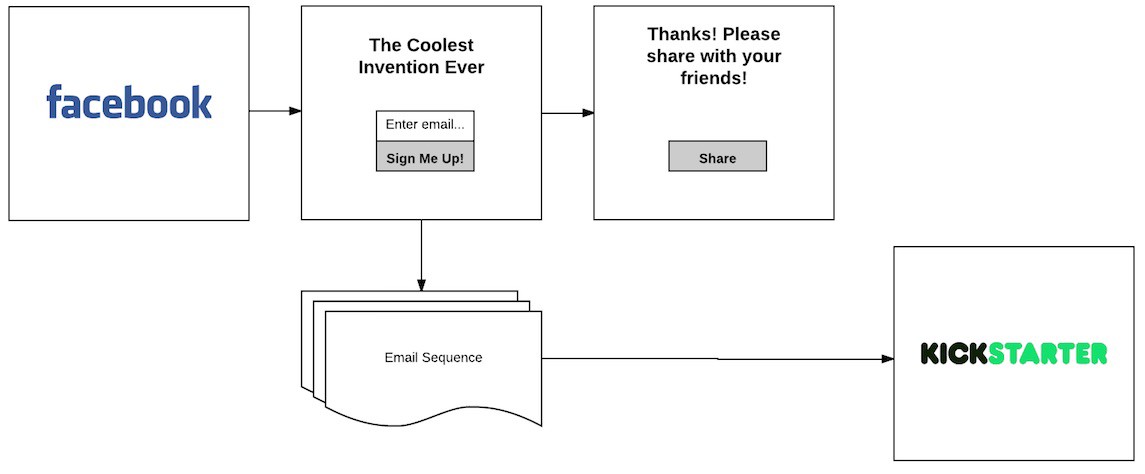 CREATE YOUR LEAD OFFER
A lead offer is something of value that you give in exchange for a person's email. The more value you can give the better. Be warned! If your lead offer strays too far from your ultimate goal (driving a purchase), then you'll get cheap leads that don't end up converting. A strong lead offer will drive your cost per lead down and your conversion rate up both in the short and long term.
Where do you use your lead offer?
You use your lead offer in your ad copy to provide a bridge between your landing page and the ad. A "bridge" tells a potential lead what to expect when they click on your ad. The continuity increases conversion rate.
You use your lead offer on your landing page to tell visitors what they will get in exchange for their email.
So ask yourself: What can you give your potential customer in exchange for their email address?
We've tested many lead offers over the years. Here's our best performing one:
Huge Discount + Get Notified When We Launch
Example: "Enter your email and be the FIRST to know when we launch on Kickstarter. You'll get a HUGE early bird discount.
With this lead offer you are justifying why you need their email address (to notify them first). The benefit of getting notified first is that they are going to get a huge discount.
Quick tip: we've tested giveaway lead offers and typically steer away from them because the motivation to give an email is largely driven by winning one free. On the other hand, wanting a discount is directly tied to purchase intent because there is an understanding that they will have to purchase the product to get the discount. This leads to a higher quality lead.
Quick Note: due to popular demand, this article has been turned into an eBook. Click here to download Hacking Kickstarter 2.0 for FREE.
SENDING TRAFFIC
To send traffic, you are going to be using Facebook advertising (get a Facebook Ad Account here). Why not Adwords, YouTube, Pinterest, Twitter Reddit, etc… because they don't work nearly as well as Facebook does for building qualified email lists for product launches.
When it comes to Facebook Advertising, you'll hear ad experts talk about how complex it is to do it right. Don't let them fool you. There are really only 3 things that you have to get right for Facebooks ads:
Write great copy
Choose great imagery
Target the right audience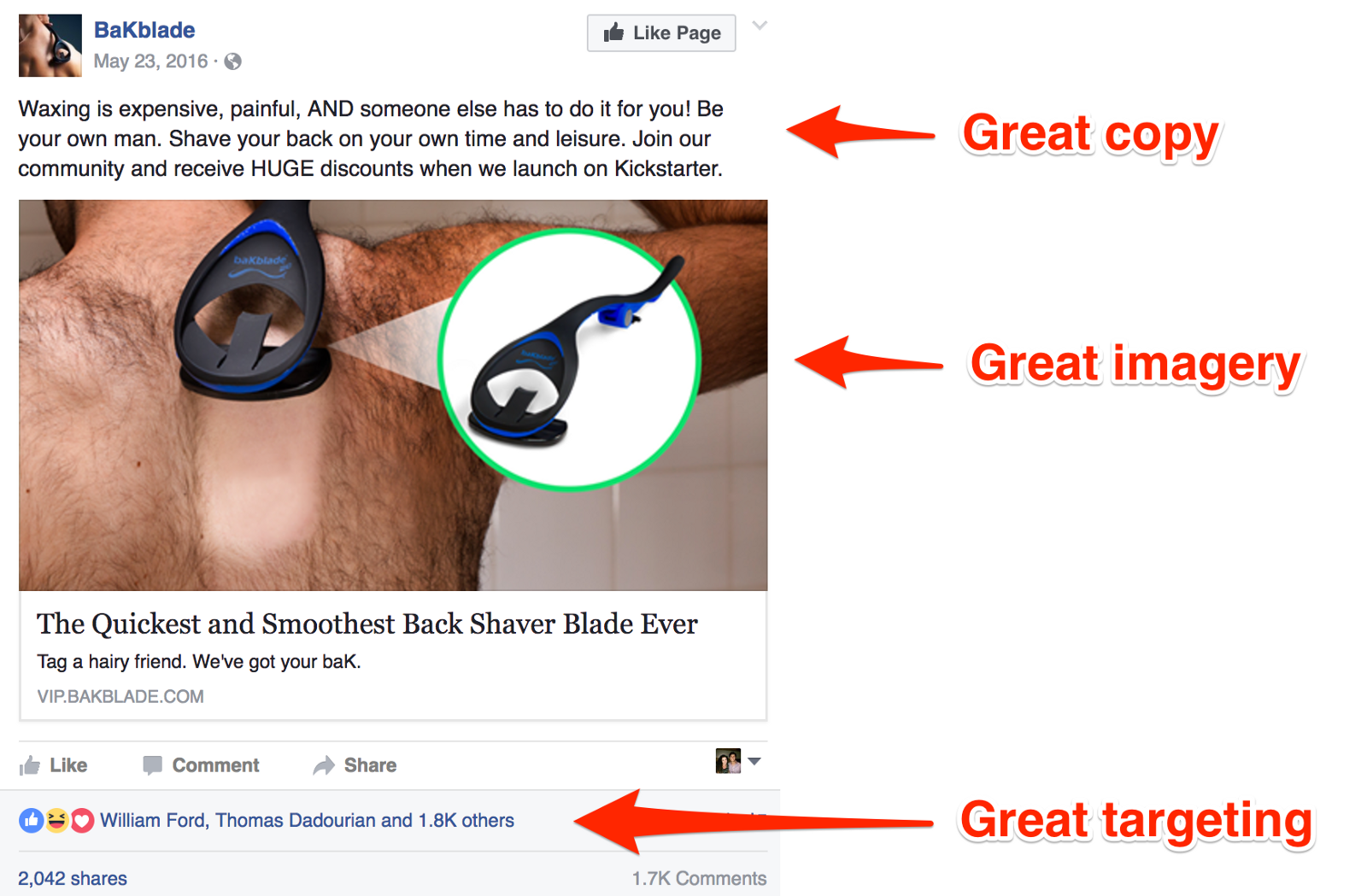 Let's start with the targeting — the most important part.
If you target the wrong person you'll never hit your desired metrics. Or worse… you'll waste your money and build an unqualified list that doesn't convert.
Facebook's user data is mind-blowing. With 1.86 billion monthly active users, their options when it comes to targeting is extensive. It can be overwhelming to start.
Let's start simple with an exercise.
CREATE YOUR DREAM 20
Tomorrow, 20 brands of your choosing will be sending out an email to ALL of their customers promoting your product.
If this was true, which 20 brands would you choose to promote your product?
Use this template (includes an example) and write a list of 20 people, brands, organizations, or communities that you wish would send an email on your behalf.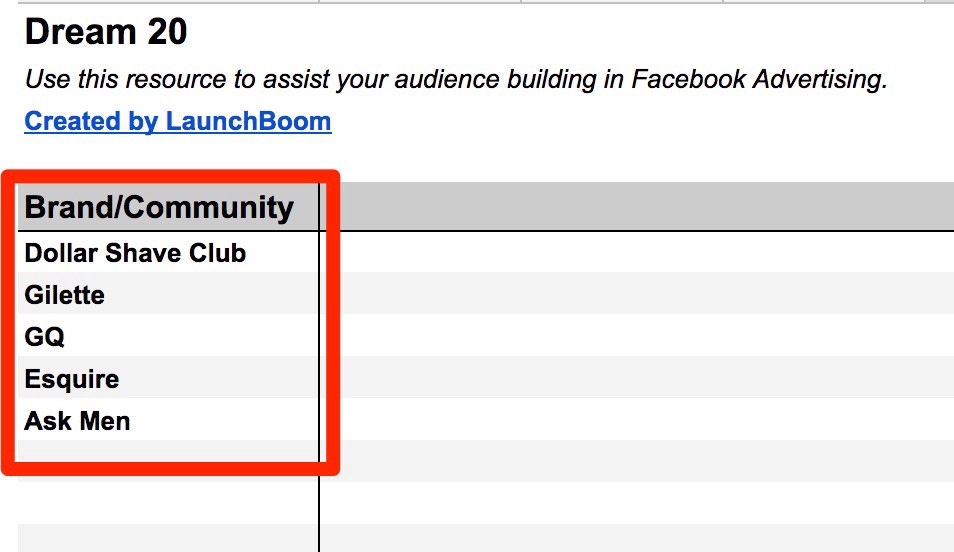 Here are some quick tips to help you with your choices:
People, brands, organizations, communities, Facebook pages, are all OK but interests like "Running" or "Eating Healthy" are NOT.
You want to choose groups that have spent a significant amount of time and energy building their communities. Utilize all of their effort. They did all the hard work for you.
Be selective. You want to choose audiences that have a large percentage of people in them that would convert. For example, if you have a cool nerdy product that was featured on Oprah you might get a ton of views, but only sales from a small percentage of that audience. Going after Think Geek would be a much better choice.
The targets should not be too small. If they are too small (under 25k-50k fans) you will not be able to target them on Facebook.
BUILD YOUR AUDIENCES
Now that your Dream 20 is finished, let's actually build your audiences in Facebook. There are two basic types of audiences we recommend to build your community:
Shotgun — a Shotgun style audience uses Facebook's Suggestion Engine & your Dream 20 to generate a large, brainless list of targets.
Lookalike — use existing audiences/email lists and have Facebook generate an audience they believe to be similar.
SHOTGUN AUDIENCE
Open up the Audiences tab inside your Facebook Ads Manager.

Click on the Create Audience button and then click on Saved Audience.

First, you will want to enter in all of your basic demographic information (age, gender, location, language). You can see and example below: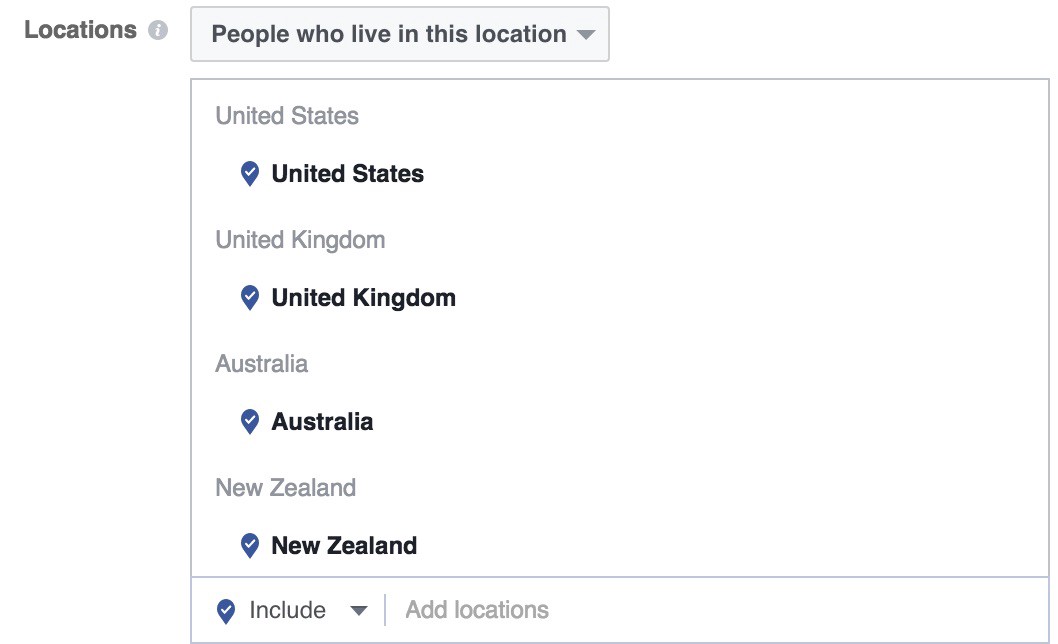 Next, open your Dream 20, choose one of the brands you listed, and enter that brand into the Interests field. If your brand was Dollar Shave Club, it would look like this:

Next, click on Suggestions.

Facebook will now list other interests that Facebook believes are relevant to the interest you entered. Facebook is extremely good at suggesting interests.
To start building your audience, start choosing suggested interests from Facebook. I recommend using your best judgment here about which additional interests to choose. Stop when your audience is between 3–5 million.
Lastly, you will want to enter in any exclusions or narrowing parameters (see Refining Your Audiences section below).
Congrats, your first audience is done!
LOOKALIKE AUDIENCES
Facebook is so powerful, that you can have it build audiences for you. All you need to do is give it an audience to base it's targeting off of. If you have a good source audience, lookalike's are typically the best performing audiences.
To create your Lookalike audience, go to the Audiences section and click Lookalike Audience in the dropdown.

The best lookalike audiences are built off of your customer lists.
If you don't have an existing customer list, you can still generate a powerful lookalike audience.
Generate at least 100 leads (the more the better) from your Shotgun & Sniper audiences. Create a look-a-like audience of those people and target them. We can logically say that people that became a lead are the most qualified audience members we have so far. An audience that is based off of these people is more likely to be qualified.
REFINE YOUR AUDIENCES
By following the methodology above to create your Shotgun audiences, you are 90% there. You can supercharge your audience targeting by using "narrowing" & "exclusion" techniques. With narrowing, we are making the audience more targeted by adding on some clever options. With exclusions, we are removing some audience members that we know will not convert.
I'll go over basic options that we add to most of our audiences.
Exclusions
Custom audiences — exclude all of your Lookalike Audiences, other lists, and Web Traffic Custom Audiences.
Locations — Exclude locations that you don't want your ad to appear. For example, you should not be advertising a snow related product in Hawaii. If you are considering advertising abroad, group your country by region and make sure you can ship there. The more expensive the shipping, the lower the conversion rate.
Income — Exclude anyone who makes less than $40,000 per year. People who make less than this are less likely to have disposable income. This is not always necessary, but it is extremely important if you have an expensive product.
Your Page Likes — exclude people that like your page. This will help prevent overspending and audience overlap. You should be targeting your Facebook fans separately.
Narrowing
Demographics — Choose an age range and gender that you believe matches your target customer.
Language — ALWAYS select English All under language, unless you plan to run ads in a different language.
Technology — If your product requires a certain technology to operate make sure you narrow by that technology. For example, if you are selling a product that only works with iPhones, narrow by iPhone users.
Platform — Narrow by Kickstarter and Indiegogo — people who know about Kickstarter and Indiegogo are more likely to purchase. This is especially necessary if you are targeting internationally. I don't always use this one, but most of our top performing audiences include this narrowing.
WRITE YOUR AD COPY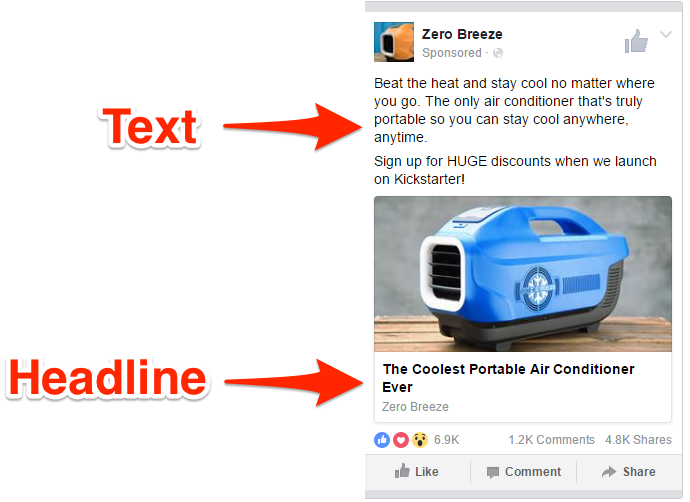 The screenshot above, points to the two most important elements of your ad copy: the top text section and the headline.
I recommend modeling the following templates/examples to start.
Text Templates
Action/USP
Beat the heat and stay cool no matter where you go. The only air conditioner that's truly portable so you can stay cool anywhere, anytime.
Sign up for HUGE discounts when we launch on Kickstarter!
—
Community
Join our community to receive HUGE discounts when we launch on Kickstarter and be the first to own the coolest desktop hydroponics greenhouse ever.
Sign up here. [tracking link]
—
Emoji — Yes… this actually worked well
This sh** is lit fam! Tag a hairy friend 🙈
—
Headline Templates
The _____ Ever
The Coolest Portable Air Conditioner Ever
—
Question
Want The World's First Desktop Hydroponics Greenhouse?
—
Curiosity
These NASA Inspired Sunglasses Are Made of Aerospace-Grade Titanium
—
CREATE YOUR AD IMAGERY
You do not need to have professional imagery to create a successful ad for Facebook. On the contrary, we found that non-professional, authentic looking imagery performs better.
The examples below were from EcoQube Air's pre-campaign advertising. Each advertisement you see used the same copy & same targeting. The only thing that changed was the imagery. Pay attention to the cost per lead.
$27 spent — NO LEADS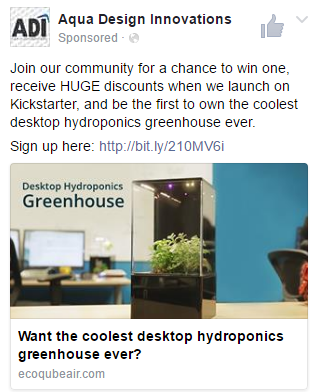 $21 spent — 1 lead — $21 cost per lead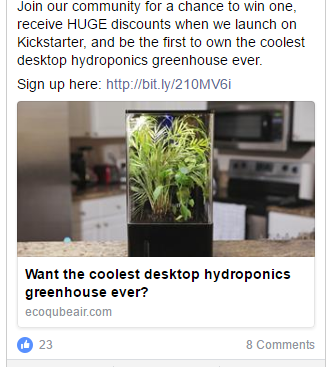 The next image is of my business partner, Tom Dadourian, holding the EcoQube Air in the corner of our office… and shot on an iPhone.
$5,121 spent — 7316 leads — $0.70 cost per lead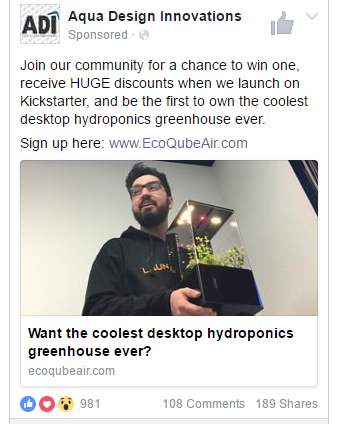 On Facebook, people are not looking to be sold to by a company. When they see an image that looks polished, they immediately think "ad". We don't want them to think that way. Instead, use imagery that looks natural in their newsfeed yet still evokes curiosity for them to click.
I recommend using Canva to create your ads — it's free!
Quick tip: make sure you have your Facebook Pixel on your website. This will not only allow you to gauge the effectiveness of your advertising, but will also let you build a custom audience.
BUILDING YOUR EMAIL LIST
Your landing page is where you will send all of the traffic during pre-campaign. The main goal of the landing page is to build an email list.
After testing literally thousands of landing page layouts, we've found that the time-tested "squeeze" page works the best for gathering leads. A squeeze page is an extremely short page that has your headline, supporting copy, call to action, and email opt in. That's it.
The squeeze page works for a number of reasons: (1) in today's attention economy, people don't want to spend much time scrolling through a landing page and (2) you immediately tell the visitor what you want them to do… opt in to receive more information and get a discount on the product.
Here's the anatomy of a successful squeeze page: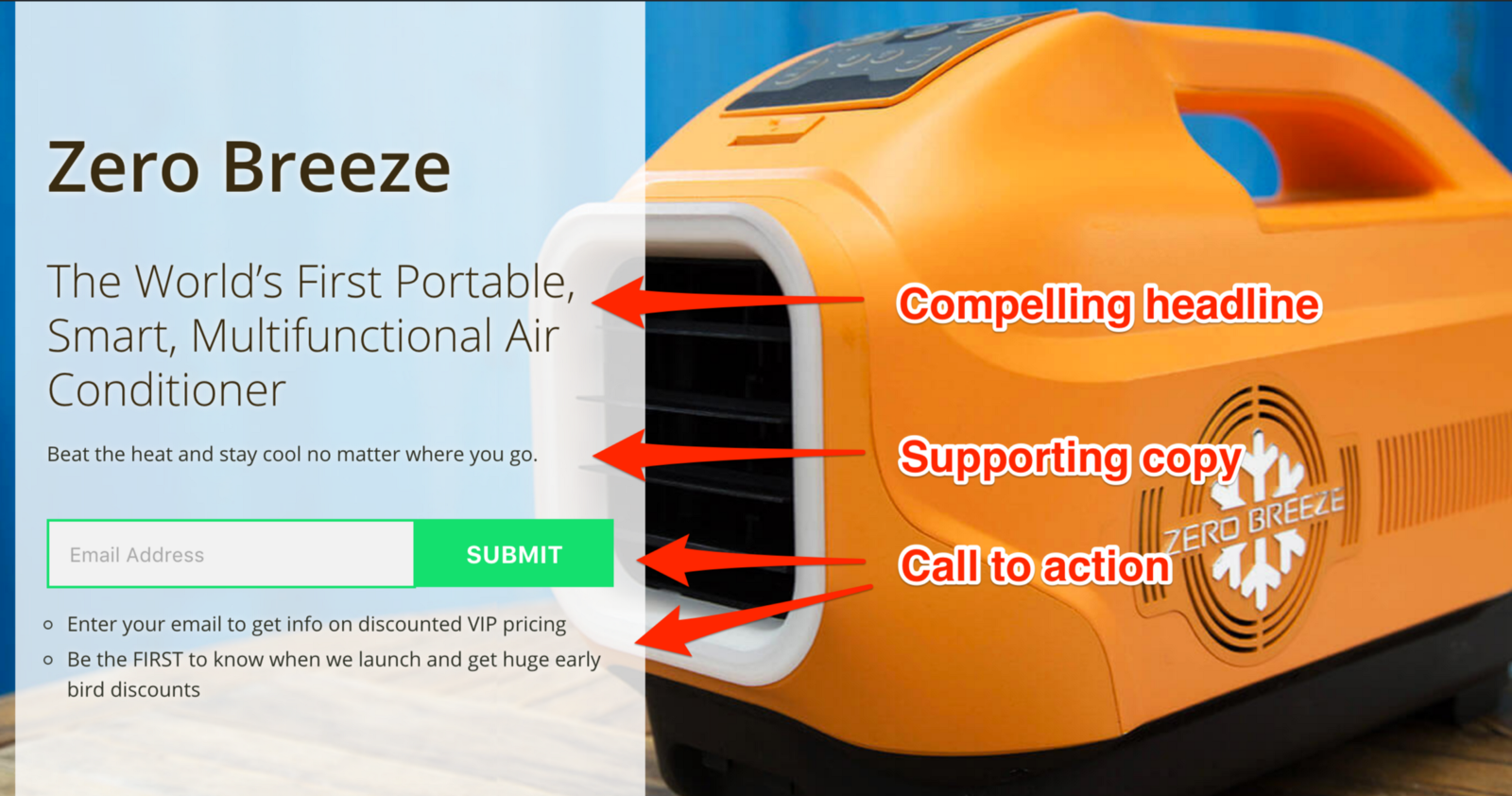 This landing page was converting at nearly 40%. We were also getting leads for only $0.22. See the screenshot below from our business manager.

Back to the squeeze page. A big thing to realize is that the majority of traffic you will be getting during pre-campaign is mobile. The screenshot above is of our desktop version of the website (which doesn't really matter because we send very little traffic here). Here is the mobile version: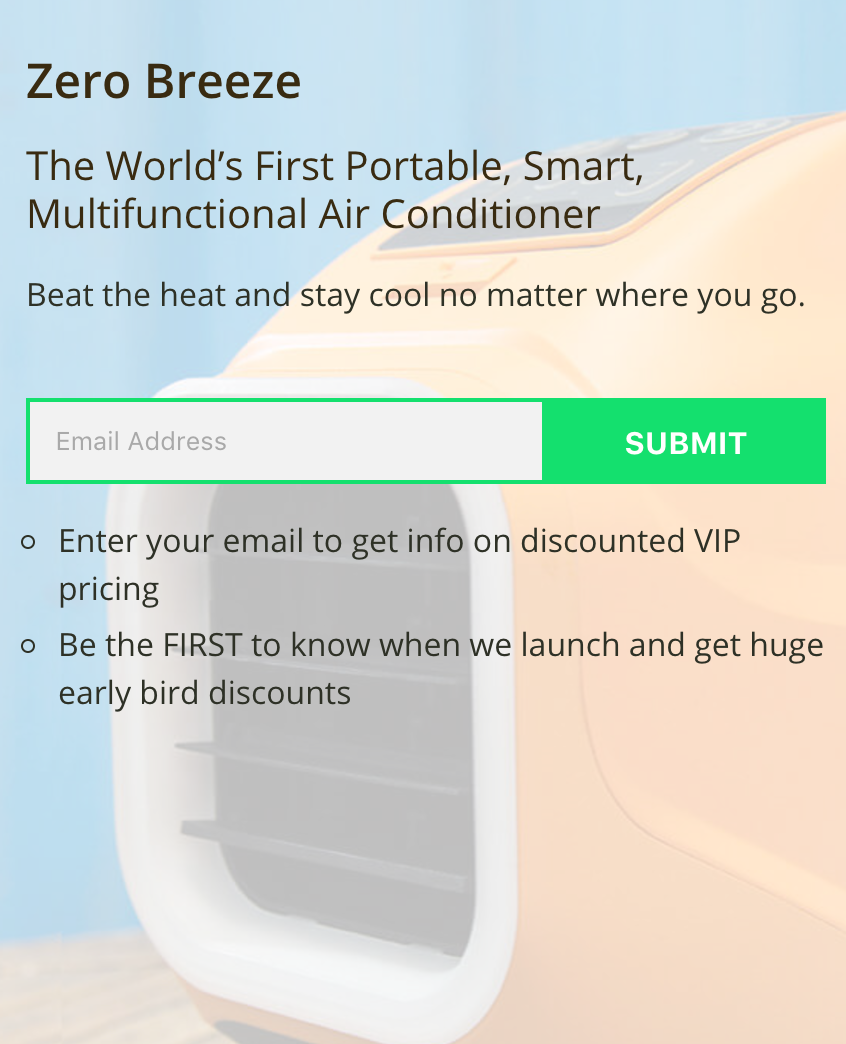 As you can tell, it's super simplistic. This is by design.
You don't have to create some overly complex landing page to get people's attentions. Focus on the basics. If you don't have clear and compelling copy, imagery, and call-to-action, your page won't work. Focus on these three things first.
How do you create your landing page?
We use a custom WordPress theme, but any landing page builder tool will work: ClickFunnels, LeadPages.net, OptimizePress, etc.
NURTURING YOUR EMAIL LIST
Just like bread, your email list will get stale overtime.
Unlike bread, you can keep it fresh by keeping in contact with your email list. You'll want to send relevant email messages that creates a connection with them and your Tribe Leader and gets them excited about your product launch.
Two main points that you'll want to make abundantly clear are the following:
Let them know they are part of a small community of VIPs that are going to hear about the launch first.
They will get the chance to take advantage of very limited supply of extremely early bird discounts.
Below, I'll outline each email that we use in our pre-campaign. You can download the templates here.
Emails 1 and 2 — Welcome them to the community
Once a user subscribes through your landing page, you will want to immediately send them a welcome email. You will have to be using an Email Service Provider that has email automation built in. All reputable ones these days have the feature (our choice is Mailchimp).
The goal of the welcome email is to:
Introduce them to the Tribe Leader
Clearly describe the problem
Introduce your product as the solution
Elaborate on the main benefits of your product
Remind them that they will be the first to know about the launch
Invite them to ask questions by responding directly to the email
The style of the email is also very important.
In the screenshot below, you will see what our email automation actually looks like.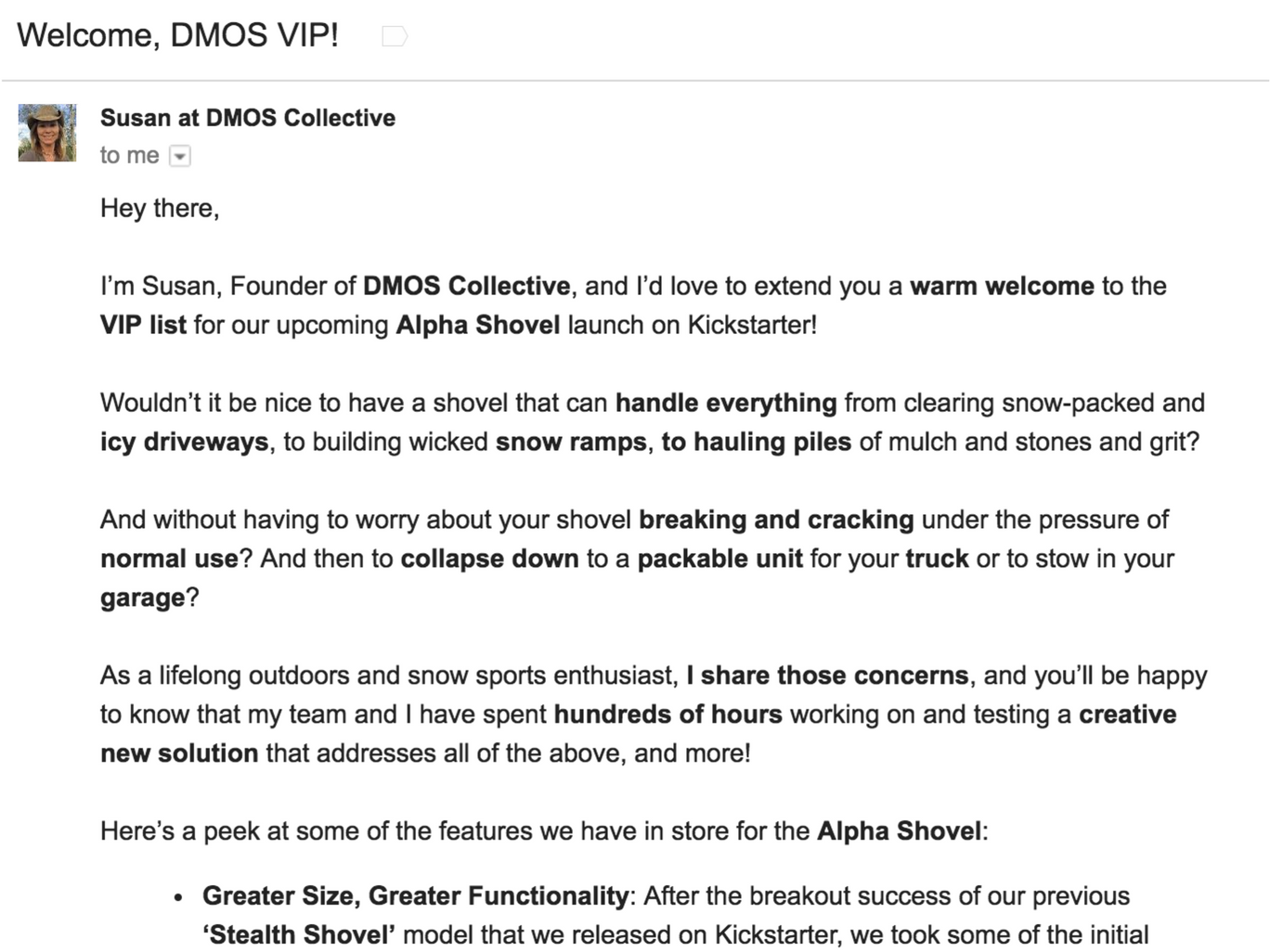 But it's so… plain.
Exactly. It's plain, but it also looks like an email you'd get from a friend in your inbox. Remember, one of the main goals of this email is to form a connection between the subscriber and your Tribe Leader. We want this email to appear as if the Tribe Leader personally sent it.
Another reason why we love plain emails with no images is because it gets a much higher open rate. A big reason for this is because it typically does not get sorted into the "Promotions" tab in Gmail. Instead, it appears in the Updates tab which tends to get higher open rates.
Email 3 — Announce the Launch
7 days before the launch of your campaign, it's time to announce it to your community.
The goal of the announcement email is to:
Announce the exact date & time of your launch
Let them know the benefits of being on this list (they will be the first to know when you launch so they can get the biggest discount)
Remind them about the main benefits of the product
Invite them to share your launch with their friends
The next emails will be the actual launch emails. I'll go into more detail into those later in the guide.
Also, we like to use Mailchimp (automation is now free up to 2,000 subscribers!)
Step 4: Design your reward structure
Rewards are what Kickstarter calls your main product offering. When someone pledges to your Kickstarter campaign, they are technically donating to you. In return, you are making a promise to give them something.
Although, that's a technicality. We must treat Kickstarter like what it is, an ecommerce platform.
As with all ecommerce, you want to be careful about selling too many products during the campaign. Too many choices leads to anxiety and inaction. We want to make a reward structure that is easy to understand. I recommend watching this TED talk called the Paradox of Choice by Barry Schwartz.
Tactics we will use:
Discounting
Price anchoring
Scarcity through limited quantities
Urgency through limited time availabilities
Now let's dive into actually creating your reward structure. First, download our Reward Structure Spreadsheet which will help you design your pricing.
Enter in every product your will be offering in your campaign.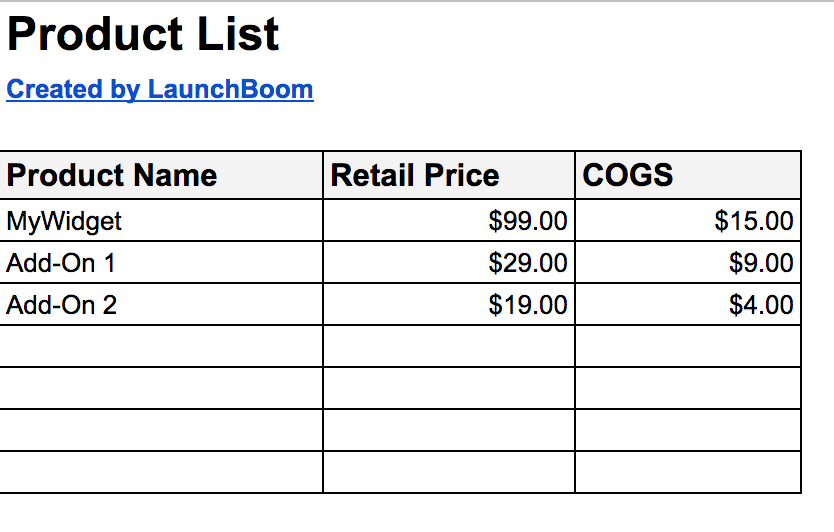 Using the fictional product MyWidget as an example, you can see that we start by listing out all the possible products we will be selling.
You'll want to enter in both the estimated retail prices and cost of goods sold (COGS) of each item you will be offering. This will help you in the next tab on the spreadsheet.
After you have listed everything out, you can now design the reward structure.
I suggest first answering the question: what is the lowest price I am willing to discount my product at? Typically, the biggest discount should be over 30% off the expected retail price.
On Kickstarter, a very effective tactic is what we call Reward Stacking.
You pick your main product offering and then design 3 discount tiers. For MyWidget, the main product offering is the MyWidget product. The reward stack is as follows:
Super Early Bird: $59 (40% discount)
Early Bird: $69 (30% discount)
Kickstarter Special: $89 (10% discount)
We use the Super Early Bird tier to fuel the launch. If you remember, we've been building an email list and letting them know that a huge benefit of being a part of the community is getting access to the best deal. We typically leave the Super Early Bird open for at least the first 24 hours of the campaign.
After closing it out, the Early Bird becomes available. We plan to sell the Early Bird for the remainder of the campaign.
You may be asking: "why have the Kickstarter Special then?". The Kickstarter Special acts as what is known as a price anchor. It's the same reason why when you go to a steak house, they have one ridiculously priced steak on the menu. After seeing that, the others don't look so bad (even if they are still expensive).
In the same way, it reminds prospective backers that the price may go up, so they better take advantage of the discount you are giving them now.
Besides stacking your main product offering, you will always want to offer multi-packs. This is very straightforward. Two and four packs are most common. Simply make the discount slightly better as they order a higher quantity.
Download an example reward structure here.
Step 5: Submit for approval
This a small, but often overlooked step. On Kickstarter, you must get approval by their team before you can launch. Here are common reasons for being disapproved:
Unclear video or imagery proving that your product can do what you claim it does
Using photo-realistic renderings
Not having a functional prototype
You are already selling the product via another channel
We recommend submitting for approval at least one week before you launch in case there's further information you have to provide Kickstarter with before they approve you. Typically it takes 2–3 business days to get approved.
Once you are approved, congrats! Next step is to press the launch button.
Quick Note: due to popular demand, this article has been turned into an eBook. Click here to download Hacking Kickstarter 2.0 for FREE.
Campaign
Step 6: Launch
This is the moment you've been waiting for. All your preparation over the past couple months has led you to this moment with your mouse hovering over the launch button.
After clicking the button, your campaign will be live!
Now you have the exact link of your campaign so you can start sending traffic.
Quick tip: we recommend launching on Tuesdays at 8AM Pacific. We've found that engagement with our emails were highest then. Also, mornings tend to perform better. 8AM Pacific is a sweet spot so you can capture morning of both east and west coast of the USA (Kickstarter's largest market).
Step 7: Email Your Community
With your campaign live, it's time to tell your community.
Email marketing strategy during the campaign is broken down into three phases:
Launch — the first 14 days after you go live
Middle — time between launch and ending phases
Ending — the final 7 days of the campaign
The majority of your sales from your email list will come during the Launch phase and it is the most important phase to get right. The launch is the most exciting time of your campaign and we need to play to that excitement with your email list.
During this phase, you are going to be emailing your list a lot. Probably more than you feel comfortable with. It's okay, because with each email we are providing valuable content and/or a valuable offer.
To give you an idea of how many emails we typically send, here is the timeline of emails we sent for eWheels:
Day 1
8AM — announce the launch to the email list
5PM — recap how much we got funded over the day and remind them that there are still discounted products available
Day 2
8AM — announce a new reward that is still an amazing deal if they missed out on the first day deal
5PM — remind them that the deal will close at midnight
Day 3
8AM — educate them on the #2 reason why backers backed the campaign. Let them know that tomorrow we'll share the #1 reason
Day 6
8AM — educate them on the #1 reason why backers backed the campaign
Day 9
8AM — give them answers to our frequently asked questions
Day 12
8AM — share testimonials from past customers and exciting comments and messages from current backers
Day 14
8AM — remind them that at midnight tonight the current discounted reward will close and the price will go up
5PM — final reminder that the price will go up at midnight
—
In case you didn't count, that was 10 emails over the course of 2 weeks which helped drive over $80K in revenue for the campaign.
You can download all of the templates that we used for this sequence here.
Step 8: Turn on Your Facebook Ads
Just like campaign email marketing, there are 3 distinct phases to Facebook Advertising during the campaign.
Phase 1: use remarketing to drive extremely high ROI at launch
Phase 2: use best performing audiences from pre-campaign to drive cold traffic
Phase 3: change the messaging of the ads to be driven by urgency since the campaign will be ending soon
In Phase 1, you will be using remarketing to drive sales that give you extremely high ROI. The best audiences to target for your remarketing efforts are:
Your email list — create an audience based off of everyone that triggered the "lead" event on your Facebook Pixel
A lookalike (LAL) of your email list — Facebook allows you to create a LAL of audiences. This means they are building a larger audience for you to target that has very similar interests & demographics.
Here is an example of a Phase 1 ad we ran for Zero Breeze: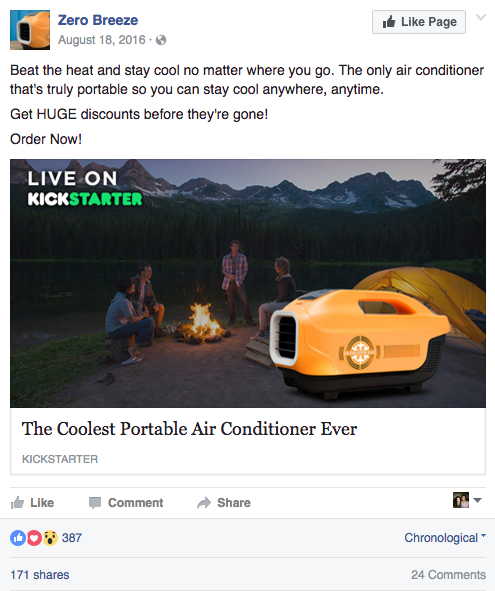 Make sure you setup proper tracking.
Unfortunately, Kickstarter does not allow you to place your Facebook Pixel on your page. This means you cannot track conversions inside your Facebook Ad Manager. In simple terms, tracking is a total pain right now on Kickstarter.
Kickstarter does have an amazing integration with Google Analytics Ecommerce. This is what we will be using to track the effectiveness of ads.
Here is a guide to setup Google Analytics for your campaign.
We also built a tool called KickTo to help you create Kickstarter tracking links easily.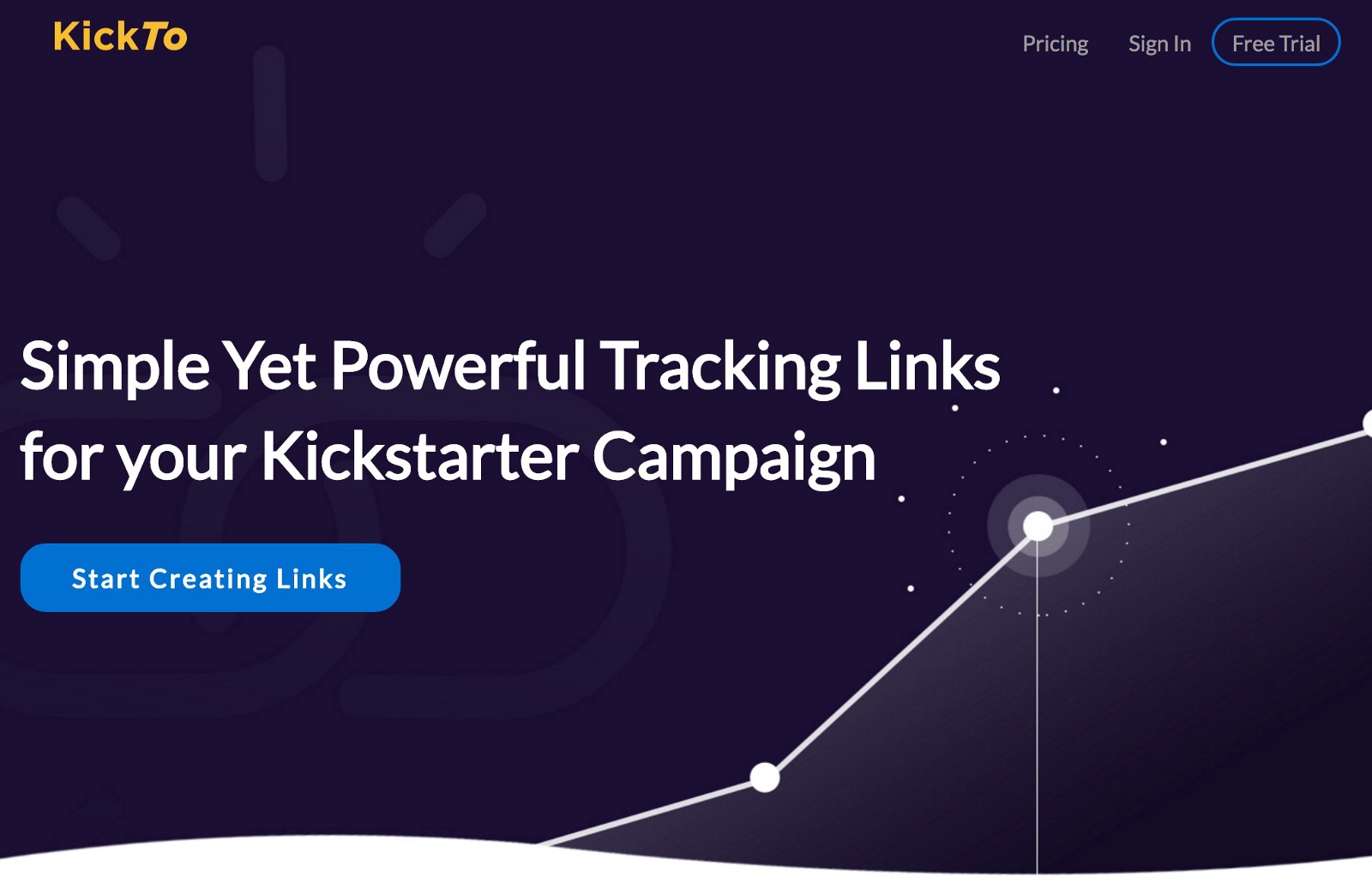 Step 9: Setup Cross Promotion Strategy
Cross promotions are when you reach out to other Kickstarter campaigns that are currently live and offer to promote their campaign. In return, they'll promote your campaign to their backers.
It's much better to be methodical about your outreach. You'll want to choose campaigns that:
You genuinely think your backers will like
Have similar demographics & interests
Have similar backer counts (don't reach out to a campaign with 10,000 backers when you have 100. It's not a fair trade)
Here's our process for reaching out:
Step 1: Go to Kickstarter's Discover page and choose the same category that your product is in
Step 2: Click on the Refine Search link.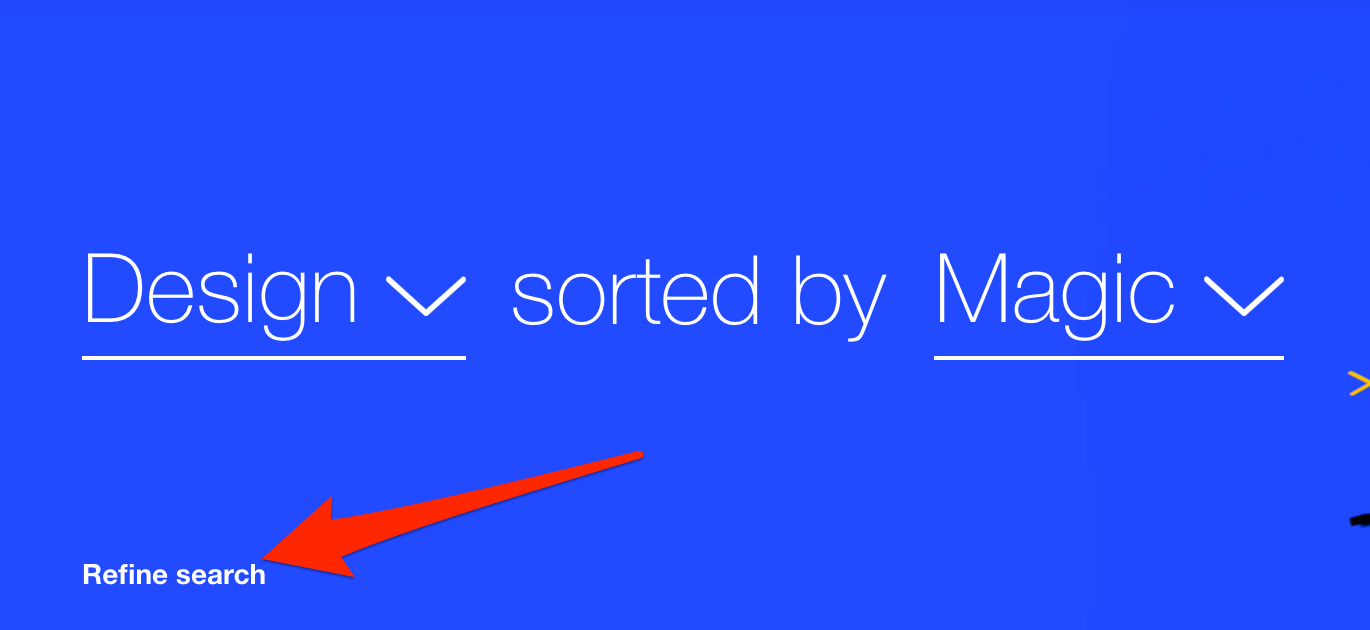 Step 3: Click on Advanced link.

Step 4: Set proper filters to help you refine your search. For example, it's very important to filter by only Live Projects as seen below.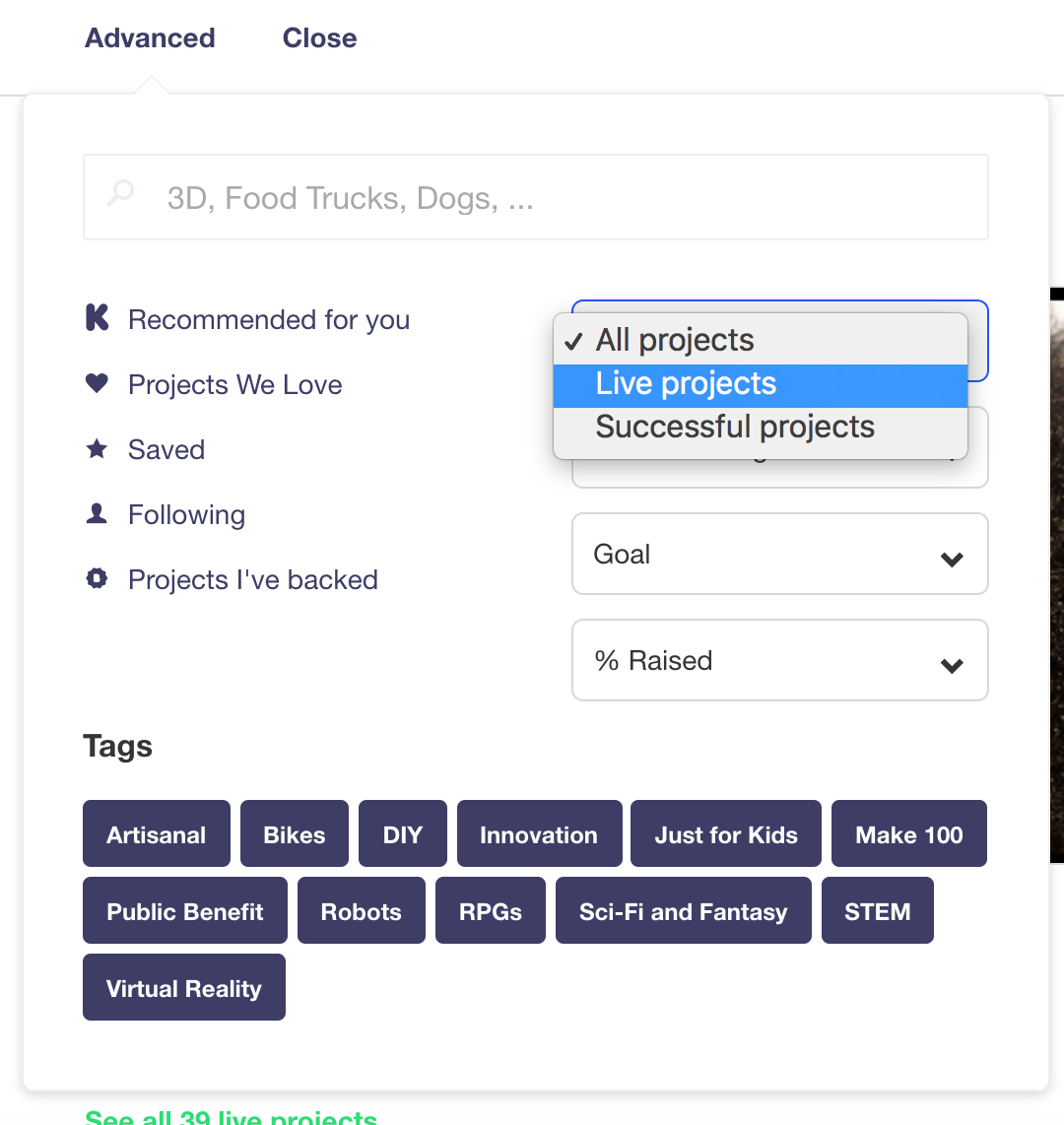 Step 5: Reach out to all the campaigns that you would like to cross-promote with by following the screenshots below.
Click on the Creator's name.

Click on the Contact Me button.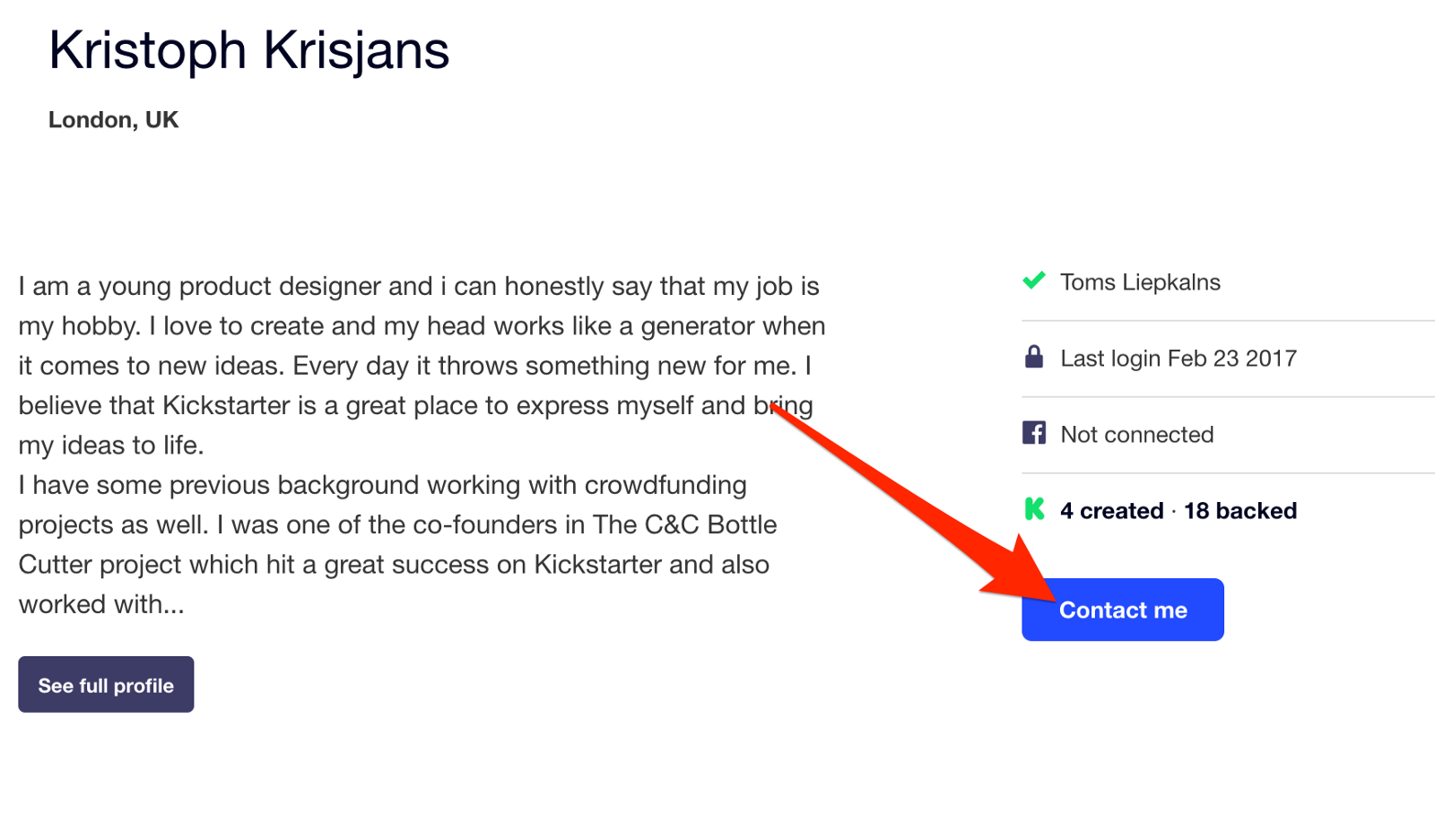 From here you can use this outreach template to offer a cross-promotion.
Hey there,
I love the detail and design of your [campaign name or product].
I thought I'd reach out to see if you were interested in doing a cross-promotion where we mention one another's campaigns in an update? I think my backers would love your campaign!
You can check out my campaign, [name] here: [use embedded link from KS page]
If you're interested, please send me the link, text and picture you'd like me to use.
Thanks,
[your name]
Lastly, where do cross-promotions appear? The typical way it is done is through Kickstarter Updates. At the end of an update to your backers, you can list out cross-promotion partners.
Here is the end of a Campaign Update for Alpha Shovel. Click here to see the whole update.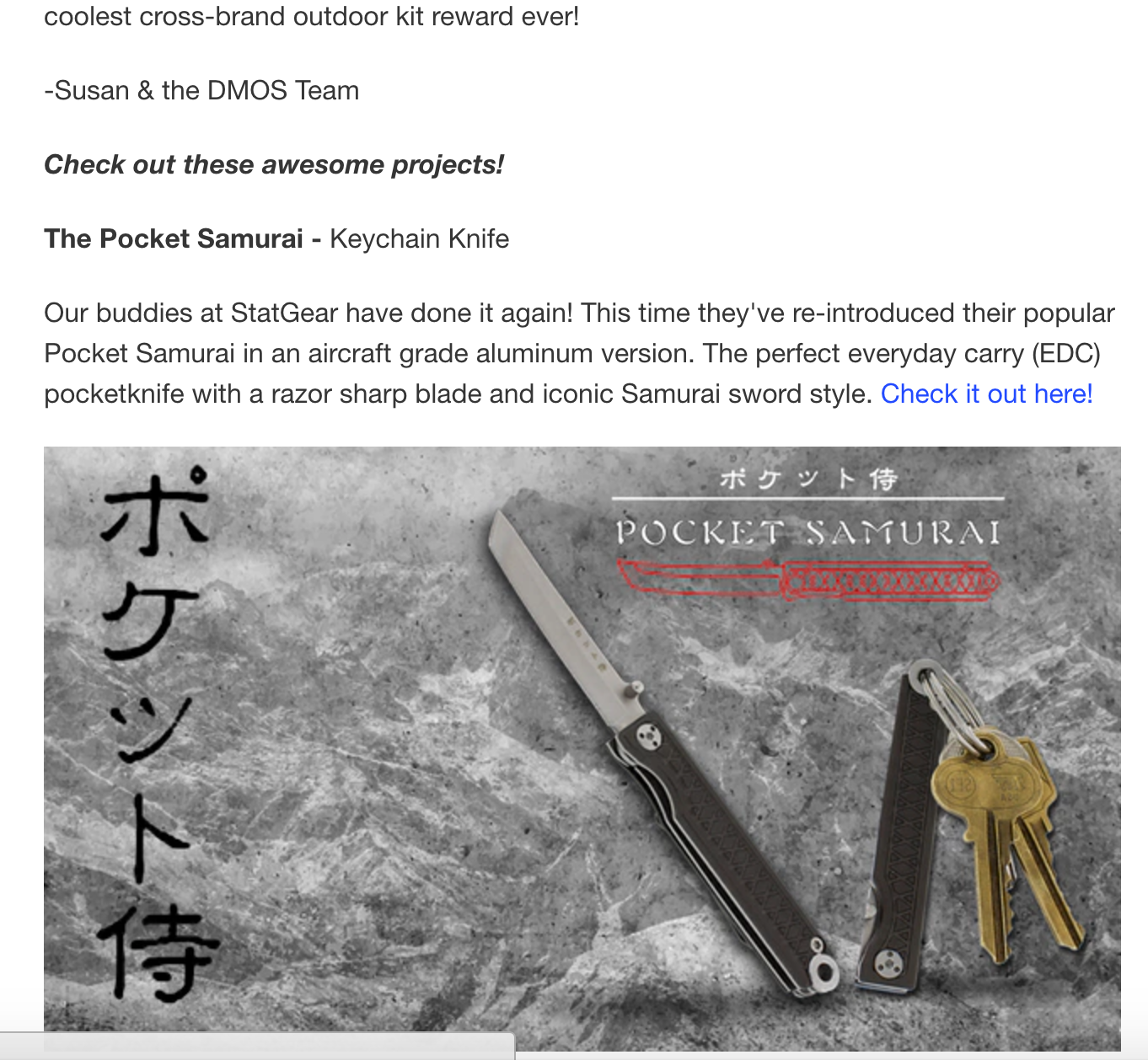 If executed correctly, you should be able to send a couple thousand dollars more in revenue. For the Alpha Shovel campaign, we were able to generate $9,519 in additional revenue through cross-promotions.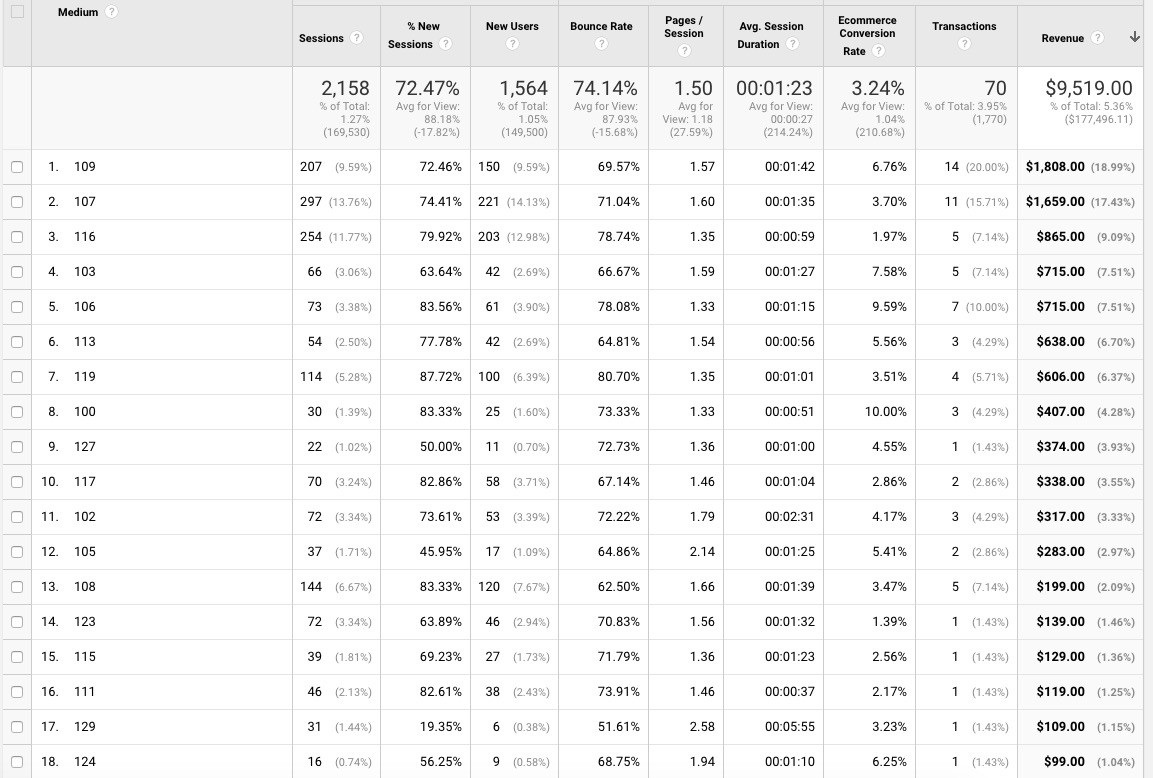 NOTE: Although cross-promotions can be a great tool, make sure you are being genuine and only reaching out to campaigns you really think your community will like and vice versa. This is really about quality over quantity. Also, Kickstarter's first rule in their Community Guidelines is "No Spam".
Step 10: Keep Momentum Going With Facebook Ads
In Phase 2, you will want to target the best performing audiences from your Pre-Campaign. You switch over to Phase 2 once you start to see a low return from your Phase 1 efforts.
I recommend a strategy for Phase 2 ads that I've seen no one else do besides us.
Here's what it looks like from a high level:

The idea is send traffic to a landing page like you did during pre-campaign. Instead of asking the traffic to buy your product right away, you ask them to join your community for more information and a bonus gift. Once they opt-in, you explain the offer and let them know that they can buy the product right now for a discount.
Quick tip: we typically just promote whatever our best deal is at the moment, but feel free to be creative with this. Tell them that if they back your project you'll give them a special freebie with their order. You can track this by matching their email they subscribed with to their backer email once the campaign ends.
What makes this strategy so powerful is the email marketing follow up. This gives you the chance to educate the subscriber more about your product and attempt to save the sale. If they don't end up purchasing by the end of the email sequence, you have the chance to get them to buy through your final email efforts as well.
Here is an example from the Alpha Shovel Kickstarter campaign. After clicking on a Facebook ad, you are taken to this landing page: http://s35912.p1237.sites.pressdns.com/c/dmos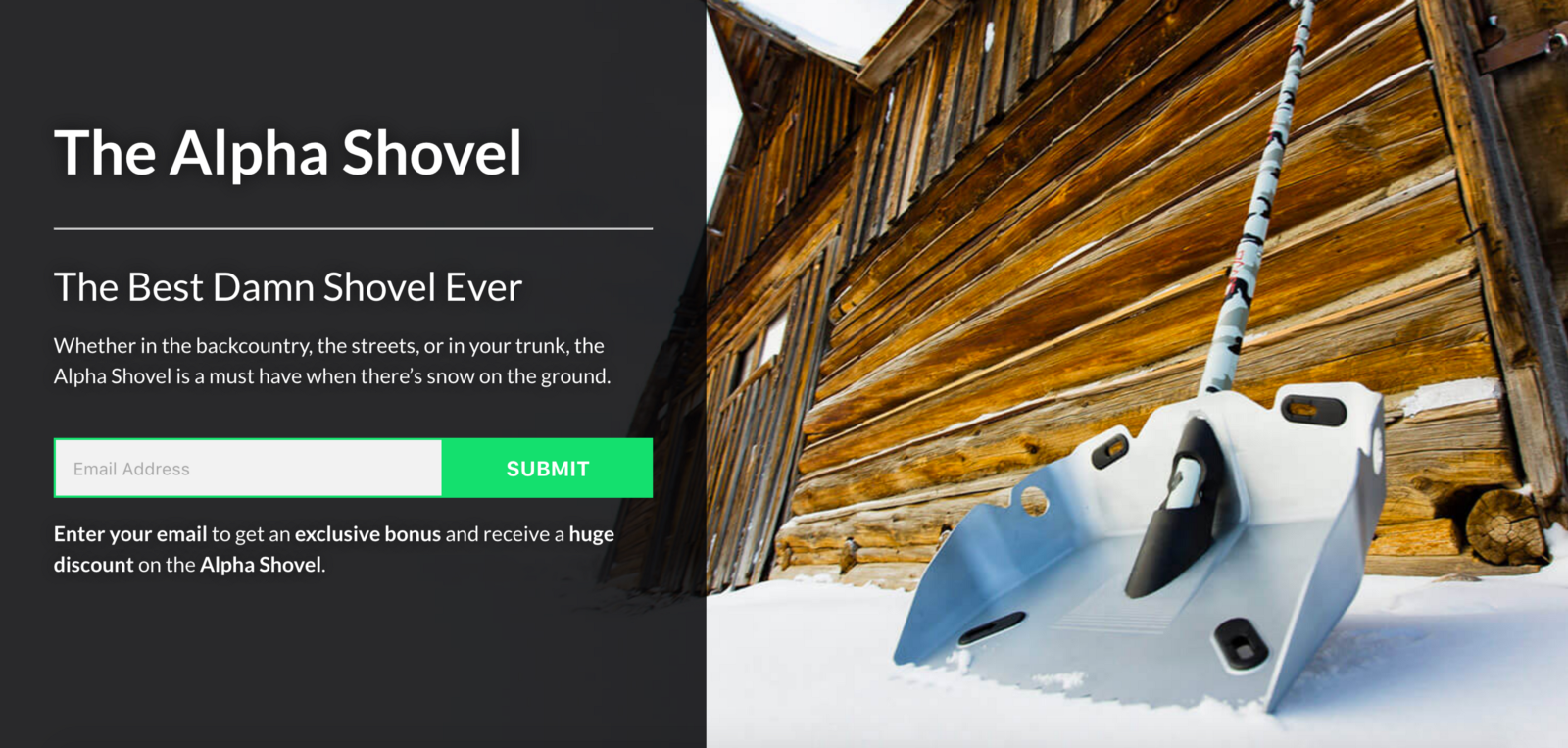 Once they sign up, they are taken to this thank you page where we explain the offer: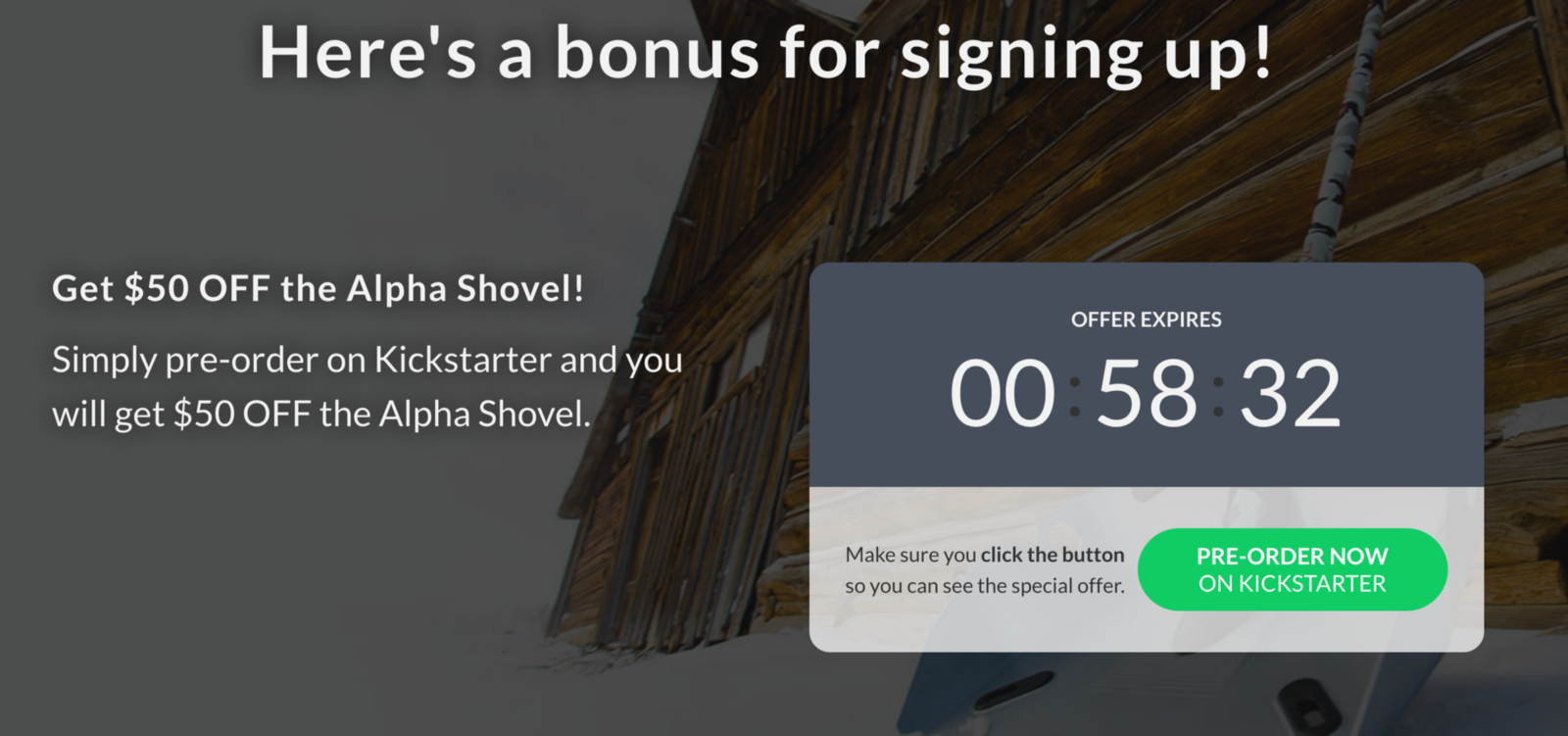 Once they sign up, we trigger email automation (just like the pre-campaign) to welcome them into the community. You can download the email sequence we used for Alpha Shovel by clicking here.
Quick tip: we also experiment with sending traffic direct to the campaign page. Lately, we've been seeing the highest return from the landing page/email marketing strategy.
Step 11: Send Your Ending Email Marketing Sequence
Besides launch, the end of the campaign is typically where you see the most sales. This is because it is highly driven by urgency. It is the last chance that visitors can get the product at a discount before the campaign ends.
You'll want to use this urgency with all your marketing channels, but it works especially well with email marketing.
Here are four email templates that we sent for Zero Breeze in the final week that allowed us to send an additional $5749 just from the email list.
Download the email templates here.

Step 12: Add Your Campaign to Indiegogo InDemand
In 2016 Indiegogo released their InDemand program on their platform. It allows successful campaigns to continue selling on their platform indefinitely — you can think of it like your pre-order storefront. InDemand is not exclusive to Indiegogo campaigns. They will actually clone your entire Kickstarter page for you and you'll be up and running in under an hour.
We take advantage of this by immediately launching the Indiegogo InDemand campaign once the Kickstarter campaign has ended.
One of the best parts about InDemand is that they even copy over how much you raised on Kickstarter so you are not starting from scratch. This allows you to keep the social proof you worked so hard to acquire during your Kickstarter campaign and use it to your advantage on InDemand.
To get started with Indiegogo InDemand, reach out to Indiegogo's team here.
You will want to get setup on their platform before your campaign ends. When your Kickstarter campaign ends, you can simply turn on your InDemand campaign and keep selling.
Post-Campaign
Step 13: Switch Your Spotlight Button to Point to Indiegogo InDemand
Once your campaign is finished on Kickstarter, you are allowed to add a button to the top of your page. You will want to immediately add the button and link it to your live Indiegogo InDemand page.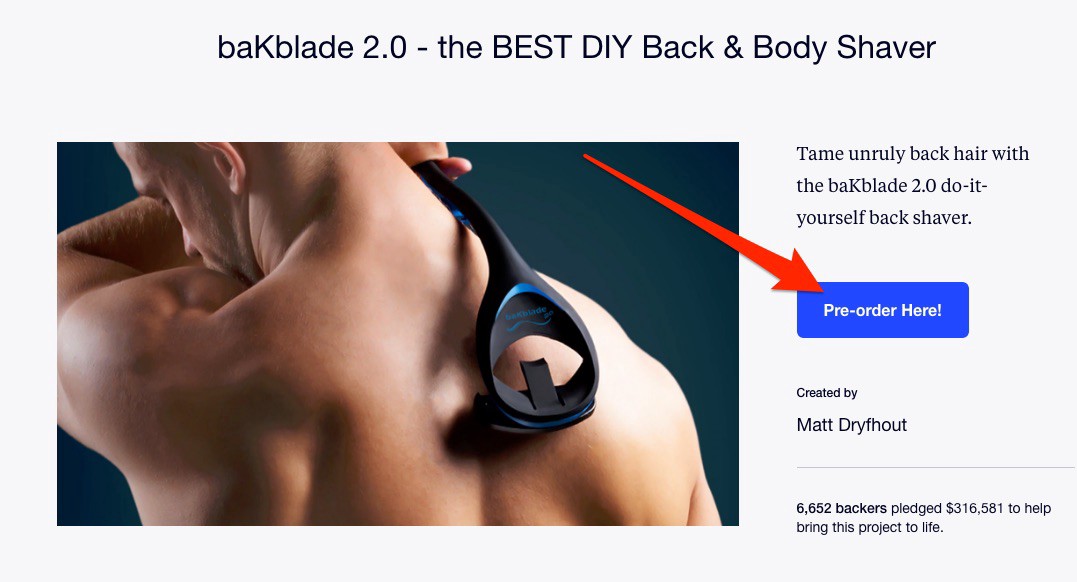 Step 14: Setup Your Post-Campaign Survey Using BackerKit
Now that the dust has settled from your awesome campaign, you may have some questions…
My backers didn't give me their shipping address. How do I know where to send their product?
My item has variations (sizes, colors, etc.). How do I know what my backers want?
How am I going to manage my fulfillment!?
Don't worry, there's amazing software that helps solve all these issues and more. It's called BackerKit.
Here are the ways that we use BackerKit to maximize our post-campaign efforts:
Surveying
You can setup in-depth surveys to ask your backers more questions. This is extremely useful if your product has multiple variations (size, color, etc.). With BackerKit's survey tool, we can figure out which variation our backer wants and then BackerKit will assign the correct SKU.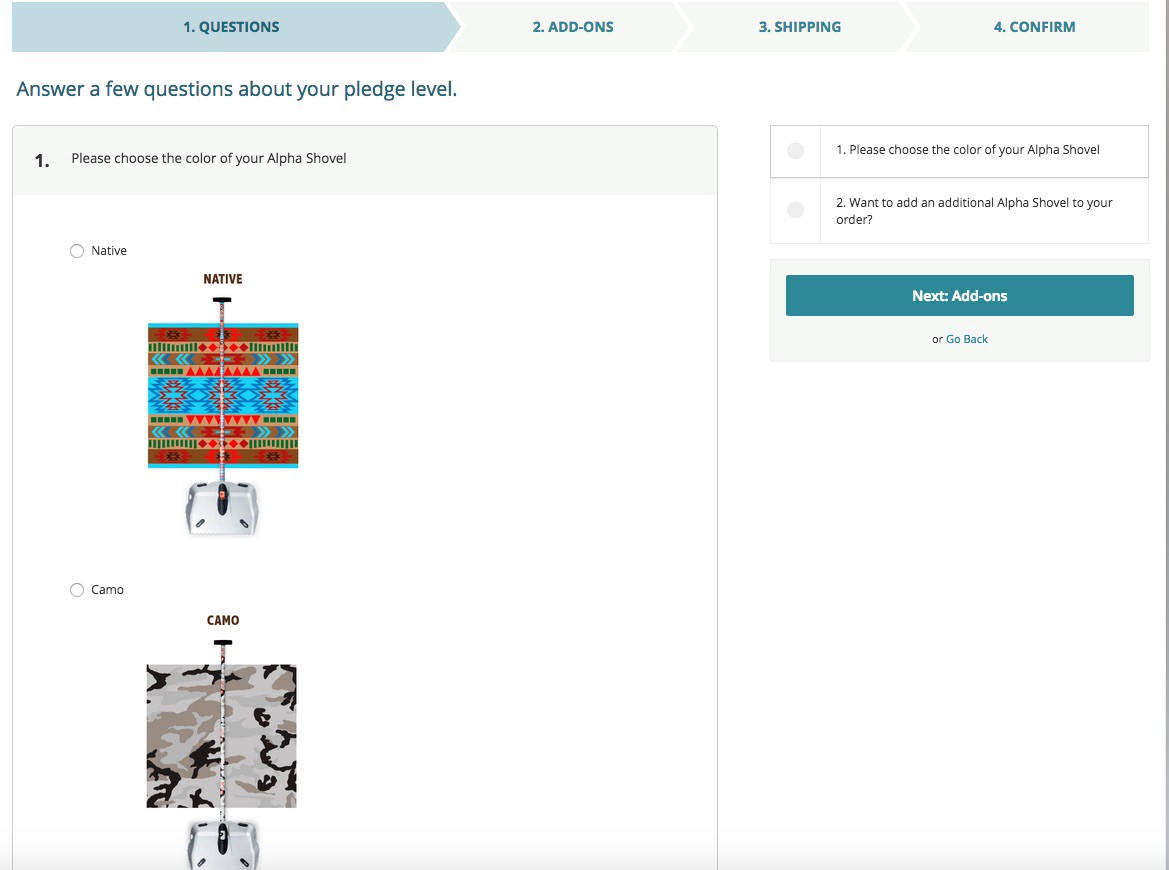 Upselling
This is the most exciting part for everyone we work with. With BackerKit, you can sell more items to your Backers. I recommend selling complimentary items to your main product offering as these typically sell the best. If you don't have more items to sell, you can always sell more of the same thing!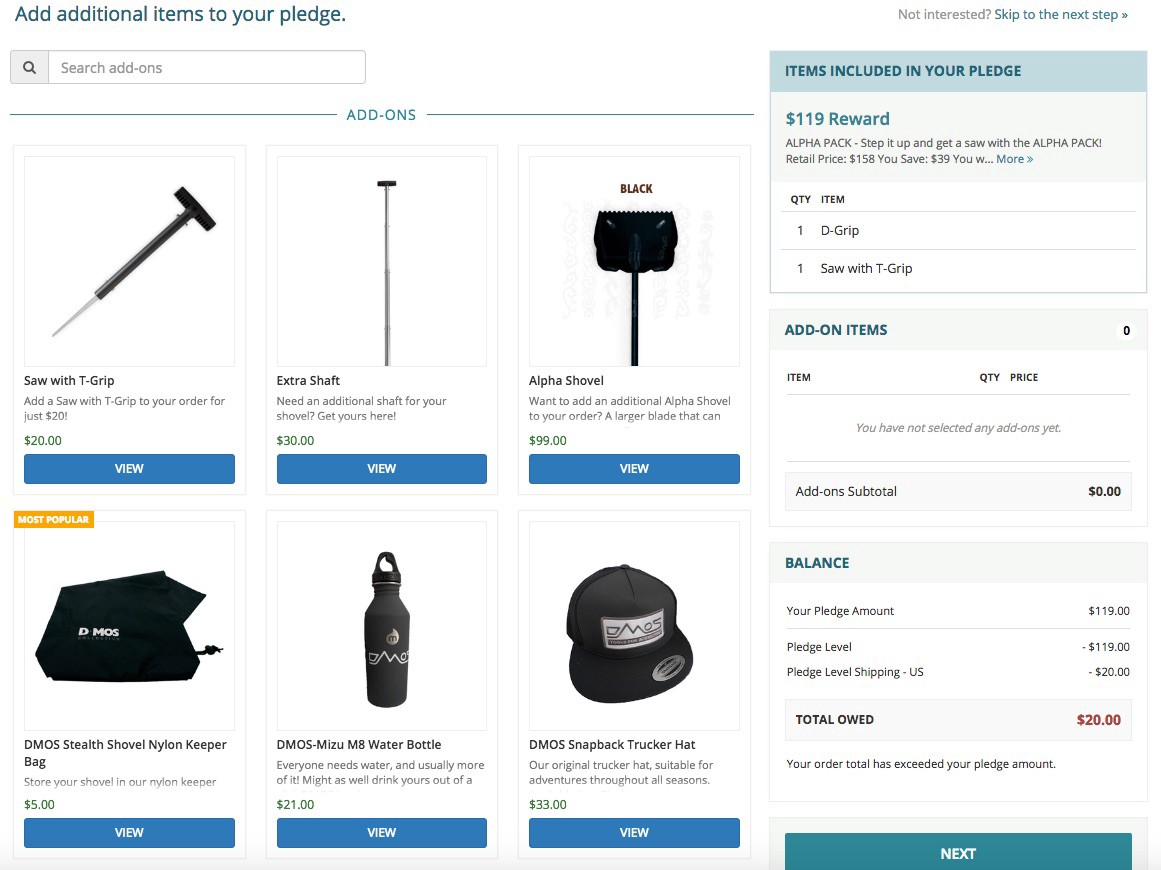 Shipping
Since Kickstarter doesn't gather shipping information from your backers, BackerKit gets it for you. They even validate the shipping address to make sure the address your backer puts in is legit.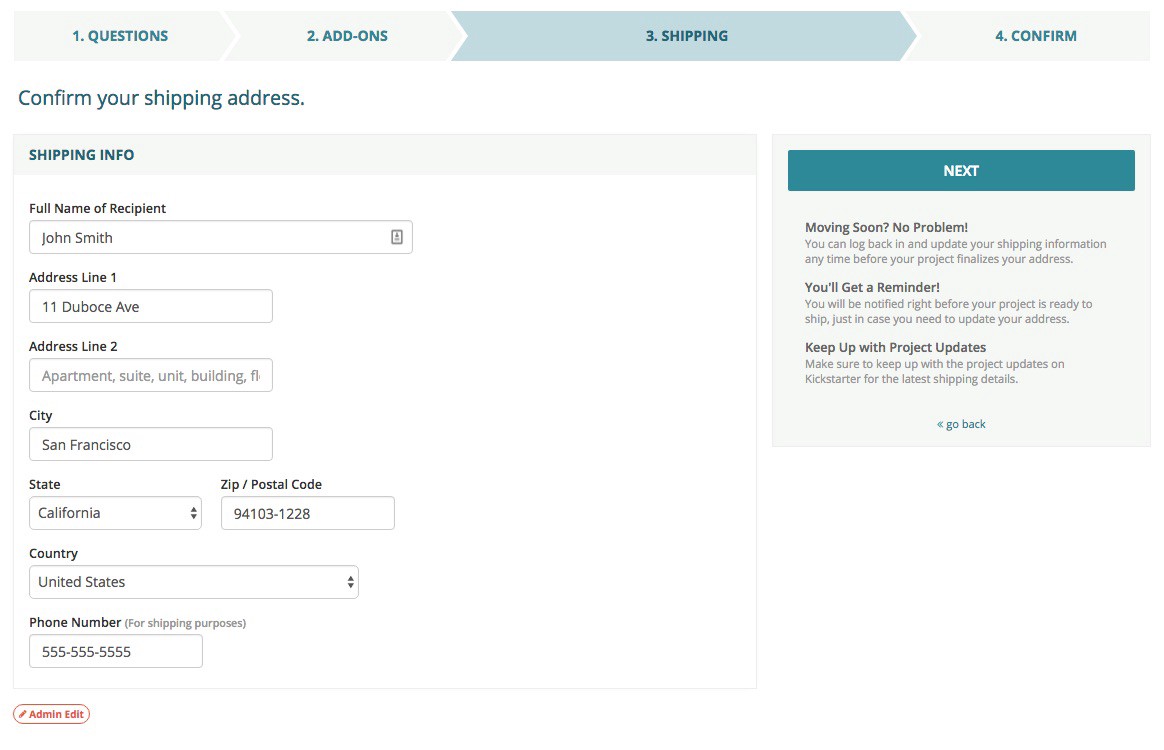 Step 15: Continue to Sell on Indiegogo InDemand
Now that you are live on Indiegogo InDemand, it's time to continue selling until you have finished production.
Take a look at the stats below from BaKblade. After a 45 day campaign on Kickstarter, we raised $316,581 from 6,652 backers. Then we went onto Indiegogo InDemand and have continued to sell since August.

Sales are driven (from highest to lowest sales) by the following sources: Facebook Advertising, Indiegogo's Platform, Organic.
We are using the same Facebook Ad strategy that we discussed above for Phase 2 Facebook Ads. Here is an example of a successful ad: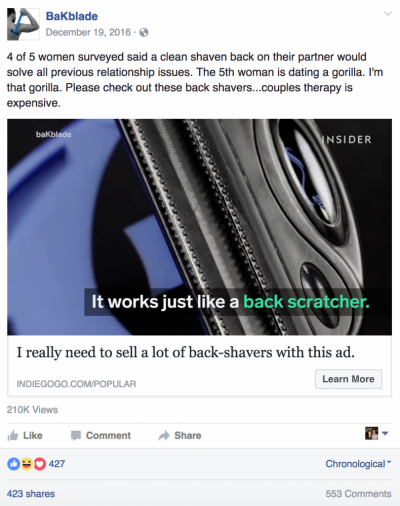 Then traffic is being sent here: http://bakblade.launchboom.co/ig/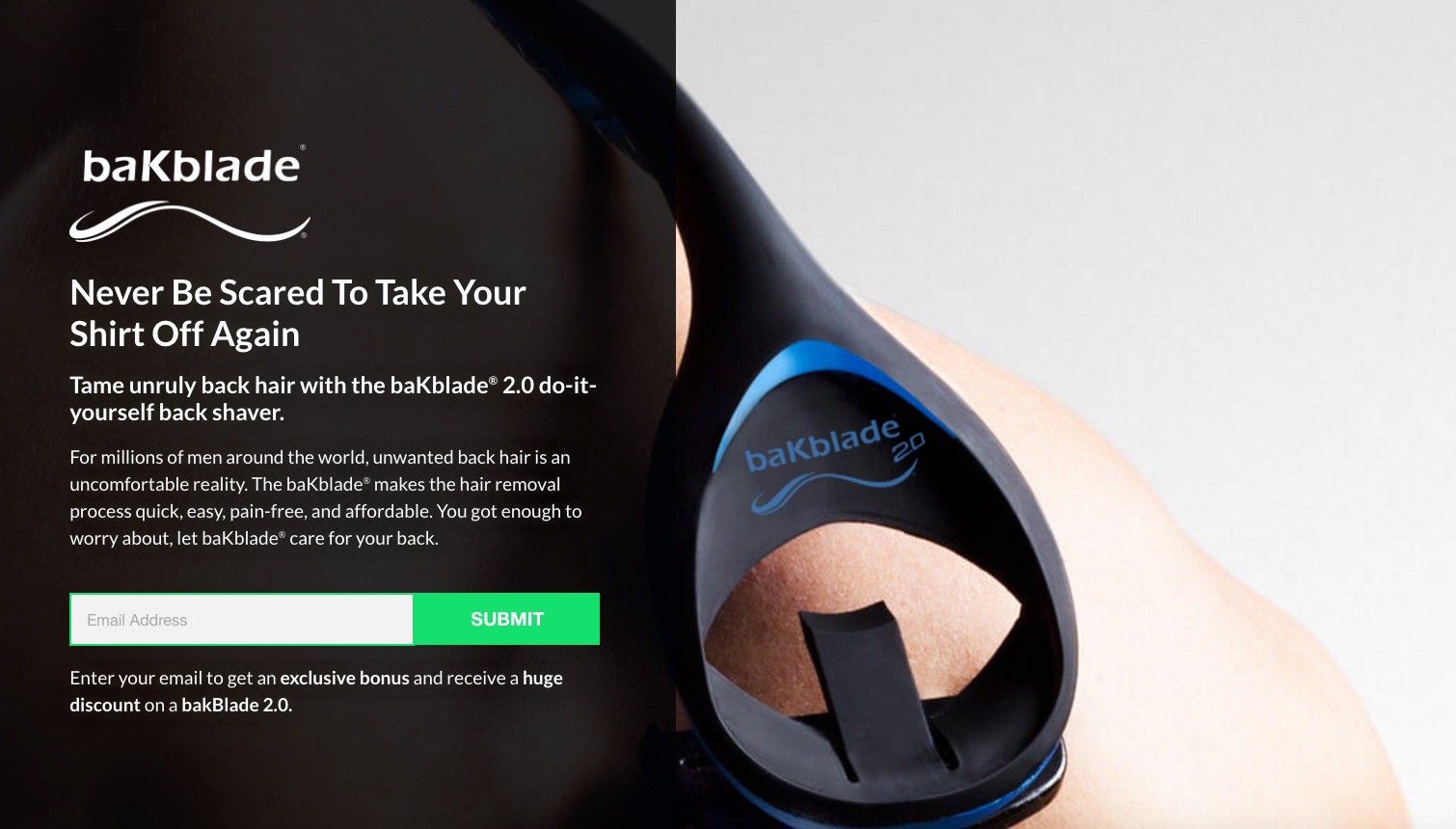 Once they opt-in, they see this page: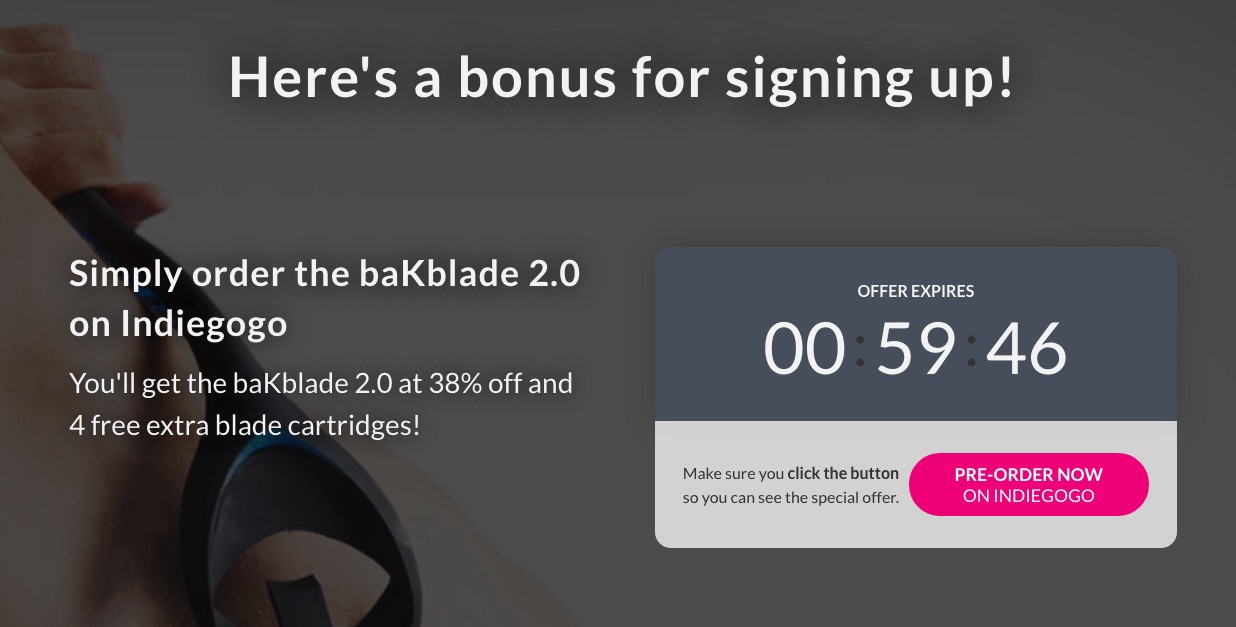 Once they click the big pink button, they are taken to the Indiegogo page. An awesome feature of Indiegogo over Kickstarter is that we can use what they call secret perks. These are perks that only appear to the visitor if they click on a specific link. You can see what it looks like below: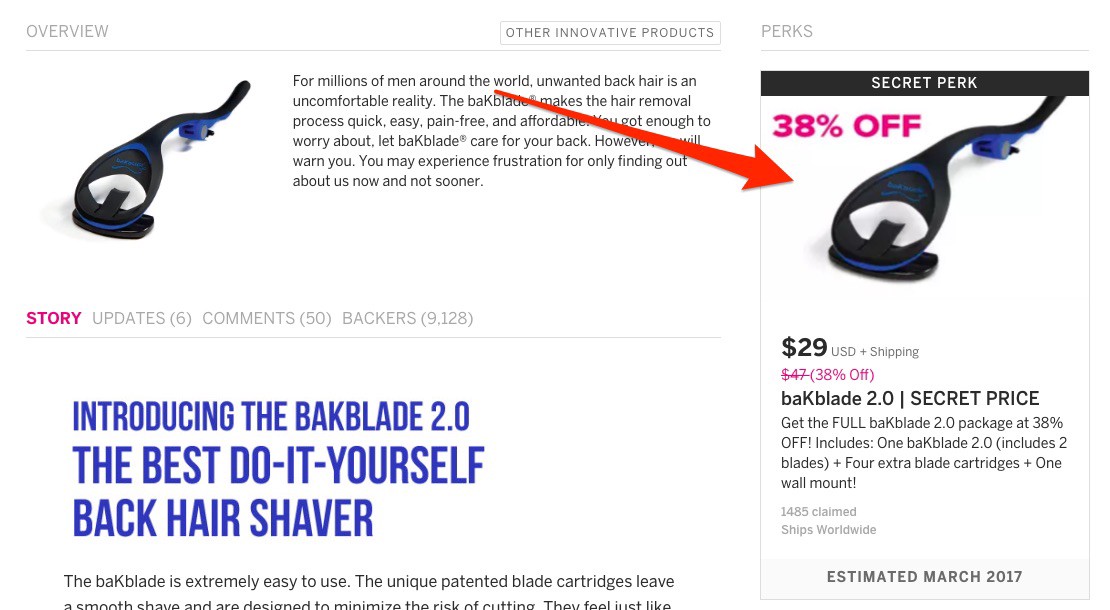 Just like before, we also follow up with email automation sequences. You can download the templates we use for BaKblade 2.0 here.
NOTE: you can also use BackerKit's Pre-Order functionality to continue taking pre-orders on your own site or through your BackerKit hosted pre-order site. Learn more here.
Step 16: Tap into Indiegogo's Newsletter
Even if Indiegogo's platform is not as big as Kickstarter's, it's still huge. One of their best marketing channels is their newsletter.
The best part about Indiegogo, is that you can "unlock" free newsletter placement by reaching certain funding thresholds (you agree to this with your Indiegogo rep). Whenever this happens, it drives thousands of dollars of sales that you don't have to pay for.
Each spike that you see in this graph is when Indiegogo sent a newsletter blast for BaKblade. That first one is over $10K in one day.

Wrapping Up
It's easy to get swept up in the excitement of pre-selling your product to backers. It's never worth spending your time selling instead of getting your product manufactured and shipped out to your backers on time. A backer who gets their reward on time is a very happy backer.
When you have happy backers, you have properly set yourself up to be what I call a "Kickstarter Company". The most innovative brands today are launching multiple products via Kickstarter every year. Since their community of happy backers grows with each Kickstarter campaign, each launch is typically bigger than the last.
You now have the exact blueprint to hack Kickstarter. Get after it.
Thanks Katherine Pan, Thomas Dadourian, and Will Ford for helping put this article together.
Next Steps
1. If you got value from this article, please click the clap icon as much as you can!
2. Click the follow button so you don't miss my next article.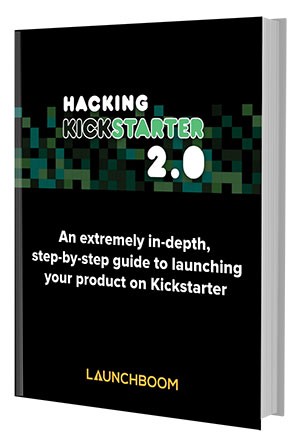 3. Download Hacking Kickstarter 2.0 as an eBook for FREE
Due to popular demand, this article has been turned into an eBook. Click here to download Hacking Kickstarter 2.0 for FREE.
—
Resources