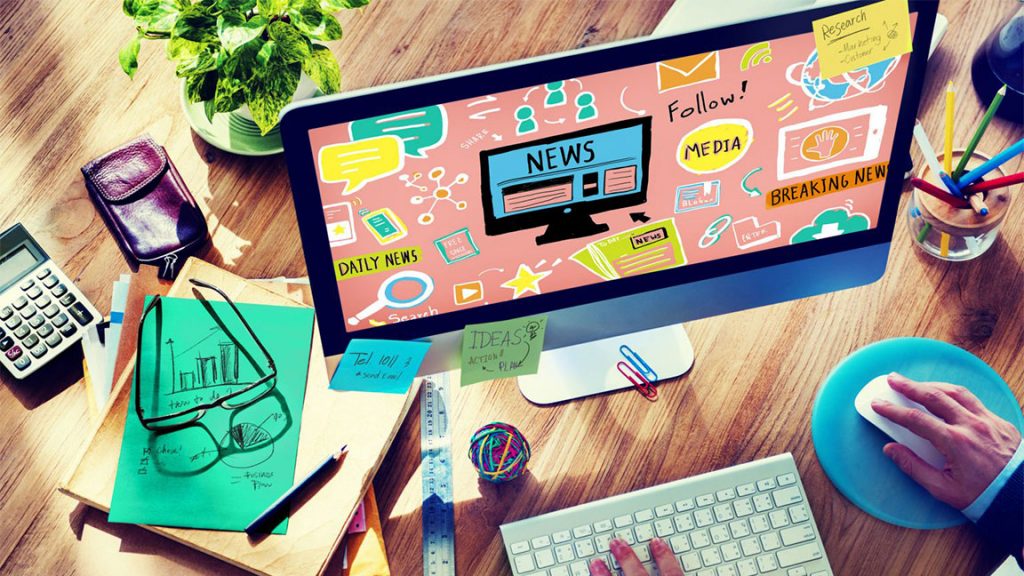 This is a guest post by Jackson Wightman – Partner at the technology PR firm, Proper Propaganda.
Both technology startups and bigger companies in the category have been asking us about if and how they should pursue media relations during the COVID-19 crisis.
Questions generally revolve around three pillars.
First, are bigger technology media covering stories that aren't related to COVID-19?
Second, if there is still coverage that is not primarily focused on COVID-19 what categories are getting attention from the leading tech outlets?
Finally, can efforts to get media coverage during COVID-19 pandemic negatively impact brand reputation?
All are excellent questions that get at real concerns. The decision to pursue media relations efforts is always hard, especially for early stage tech companies. Any cash put into the activity can be vaporized during even the best of times.
This is a new situation for everyone, media and brands, so instead of making assumptions about the future we decided to try to make sense of the present by looking at what data tells us about the past two weeks.
What are big tech media covering during the pandemic? 
We looked at coverage from six of the biggest tech-focused media outlets in the world: Tech Crunch, CNET, VentureBeat, Engadget, The Verge and Mashable. These are the global thought leaders whose reach extends across borders.
We used two software tools to categorize 100 randomly selected, standard length (i.e. not a news stub) articles from between March 14 and March 31 as being primarily about COVID-19 or primarily about other subjects and topics (we call these "non-COVID-19" articles).
An article was categorized as being non-COVID-19 focused if it:
1. Did not have "coronavirus," or "COVID-19," pandemic in the title. And,
2. Had fewer than eight mentions of the words COVID-19, coronavirus, or pandemic in the body text. This is a somewhat arbitrary metric, but is rooted in the reality that almost every story has some mention of the above terms. A few references, however, did not qualitatively mean a piece was focused on the virus.
In the end, the average "non-COVID-19" article we looked at had 2.6 mentions of the above terms, while the average "COVID-19" article had 9.3 mentions. A big enough difference to validate our categorization.
So, are big tech media still covering non-COVID-19 related stories?
The answer is yes, for now. A quick glance at the homepages of these sites reveals there is the type of content one might see in "normal" times, such as reviews of gadgets, stories about mergers and acquisitions and the latest cool apps.
Here are the number of COVID vs non-COVID-19 related stories in our random sample of 100 articles per outlet, between March 14 and March 31: 
As one might expect, an outlet that is overwhelmingly consumer tech and gadget focused, like Engadget, has a high number of non-COVID-19 focused articles. Similarly, an outlet like VentureBeat, whose main focus tends to be VC deals, accelerators and the industry itself is also showing a lot of non-pandemic focused coverage. These are key insights to factor in when considering what news to pitch journalists, and at which outlets.
Tech companies thinking about the value of pursuing PR during this time might also be wondering about trends and whether the presence of non-COVID-19 coverage in big tech media is going in a specific direction. The graphs below detail each outlet's non-COVID-19 related coverage from our sample.
Two weeks of data is hardly enough to say that there is definitively a trend. However, there is not strong evidence to suggest trends towards more non-COVID-19 stories across the outlets in question right now.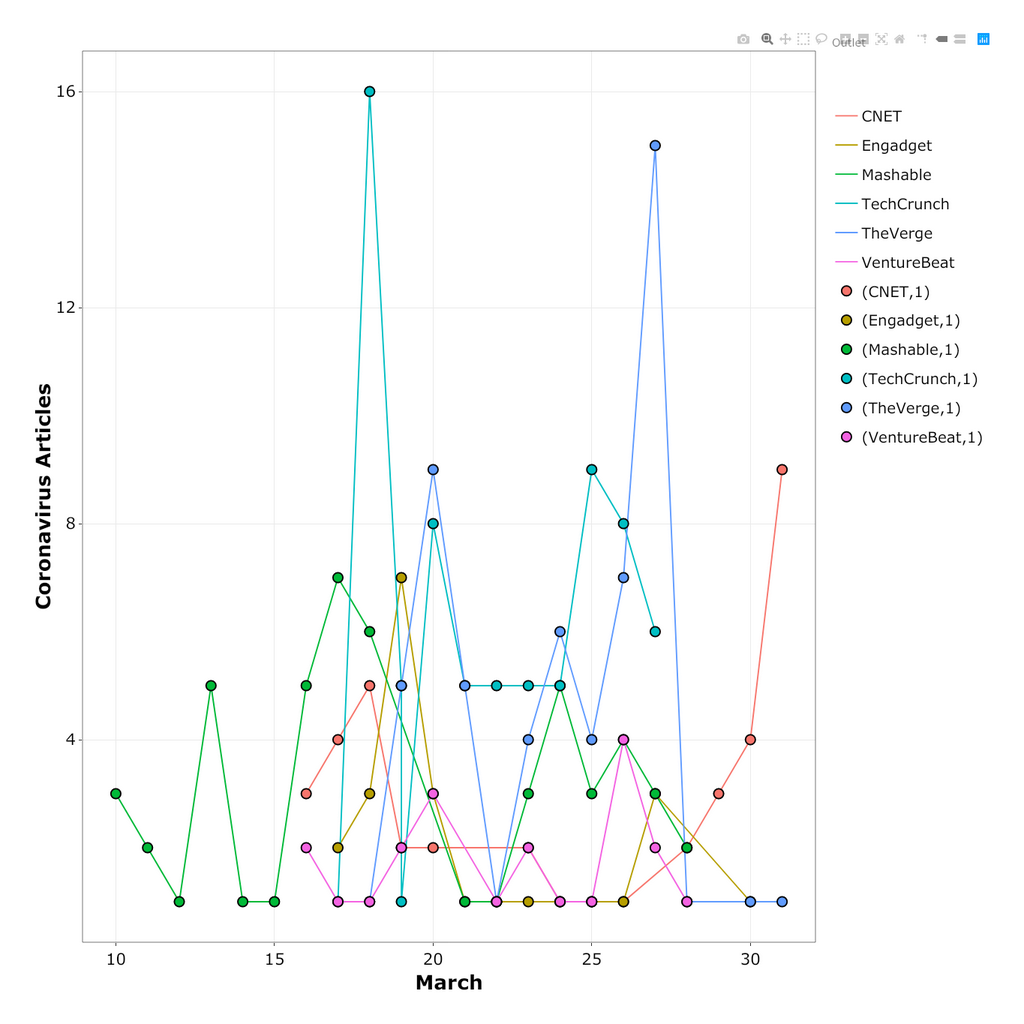 Of non-COVID-19 stories, what tech categories are getting coverage?
As always, tech media in certain categories get a disproportionate amount of ink.
Our data set contained 325 articles that were categorized as not focused on COVID-19. Similar to what we did in our initial analysis of coronavirus vs non-coronavirus coverage, we looked at an article's headline and scanned the body text for keywords using two software programs.
We noted the following breakdown by tech media category:
Video games – 23%
TV and movies – 14%
Apple and Apple related – 8%
Cell phone related – 6%
Music and music streaming – 5%
Communications apps – 3.5%
VR – 3.5%
AI – 3.5%
Other categories – 33.5%
What does this mean for tech startups and later stage companies seeking media coverage in the current climate?
We are sensitive about making generalized statements based on this data alone. COVID-19, and media's reactions to it, have proven to be hyper dynamic and fast moving. However, based on the dataset we have, the following can be said:
1. There is absolutely less room for coverage about non-COVID-19 related items. This means there will be a higher level of competition amongst companies seeking editorial coverage. While campaigns aimed at generating earned media are always fraught with uncertainty and risk as pertains to the likelihood of coverage and positive ROI, in a general sense, those risks have increased.
2. Specific categories—some outlined here—are still generating disproportionate amounts of coverage and may thus merit resources being put into generating earned media coverage in large tech outlets. Try media relations if you have a product that is both relevant to the current lockdown period and getting coverage. Video games are a perfect example.
3. Large tech outlets are, as always, dedicating various amounts of space to the big story of the day. Knowing this, and knowing where your category fits into an outlet's editorial decision-making should guide the outlets you are targeting.
4. Obviously things are ever changing in this environment. Right now, COVID-10 coverage means any tech company has, at least in theory, reduced its chances of getting ink by 50%. However, the reality is more nuanced and things are changing rapidly.
Is pursuing media coverage during this crisis putting your reputation at risk? 
The short answer is it all boils down to common sense. In these past couple of weeks, we've seen examples of poor attempts to piggyback on coronavirus-related stories. The backlash against this type of behavior is strong and immediate. Notably, to protect their reputation, crowdfunding platforms like Kickstarter and Indiegogo have cancelled some campaigns that purport to provide some kind of relief from COVID-19.
That said, brands can learn from these examples and apply simple tactics to try their hand at media relations and protect reputation at the same time. Do your research. Be realistic about your brand's story in the larger context. Most of all, be humble in your approach to media.
Finally, these are challenging times and mistakes happen. Be prepared to apologize, genuinely and immediately if needed. Anecdotally, we have seen some reporters are very receptive to pitches that tie a product into the current situation, even if the tie-in is a bit of a stretch. We have also seen strong reactions, even revulsion, from other journalists to this approach. More than ever, if you are going to tie in to COVID-19, the quarantine, or other newsy elements of what is happening, be sure you research who you're pitching. Journalists' social profiles and their past coverage are a good place to start.