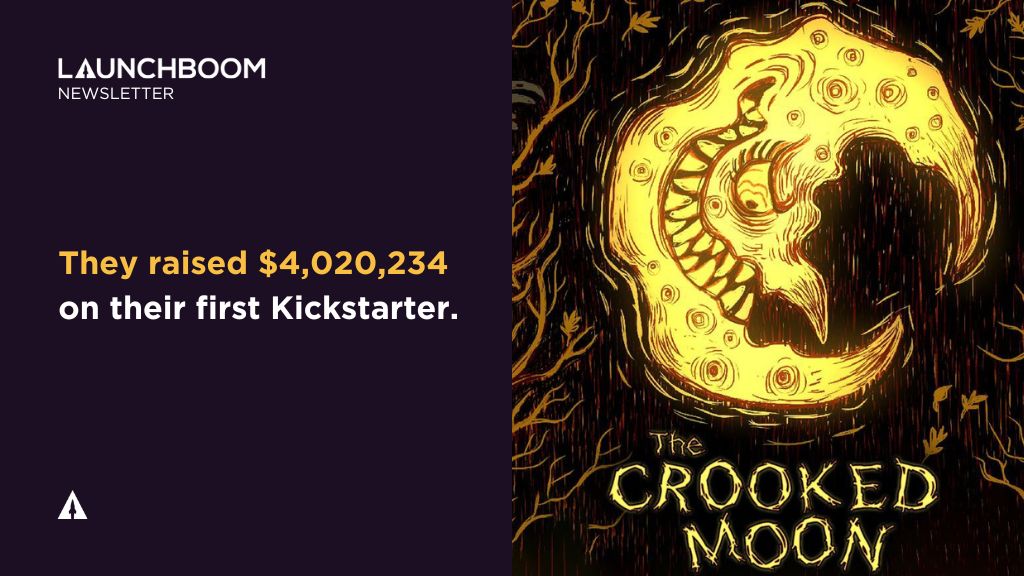 You're reading edition #29 of the LaunchBoom Newsletter, which is sent every other Tuesday to thousands of product creators.
Today, we're talking about a record-breaking launch – one that raised $4,020,234. But before that, a quick announcement.
Are you going to CES in Las Vegas?
Because we are… and we're throwing a party.
Last year, 340 product creators showed up.
That's because at this party, you can mix and mingle with the teams behind the biggest crowdfunding launches in the world… plus, it's an open bar.
How much does it cost? Nada – it's 100% free.
All you have to do is RSVP here and we'll save your spot.
Looking forward to seeing you there.
---
Alright, back to normal programming… here's what we have today:
A new $4M Kickstarter launch case study.
The 7 human hijacks of marketing.
Ryanair's Twitter was hacked?
Enjoy.
1. Short Story
Six year ago, these seven friends posted their first Dungeons and Dragons video.
Hundreds of streams, thousands of hours and millions of views later…
They launched their first product on Kickstarter, raising $4,020,234 to become the most funded campaign ever in their category.
Even if you're not a Dungeons and Dragons fan, there's so much to learn from their story.
So let's dive in.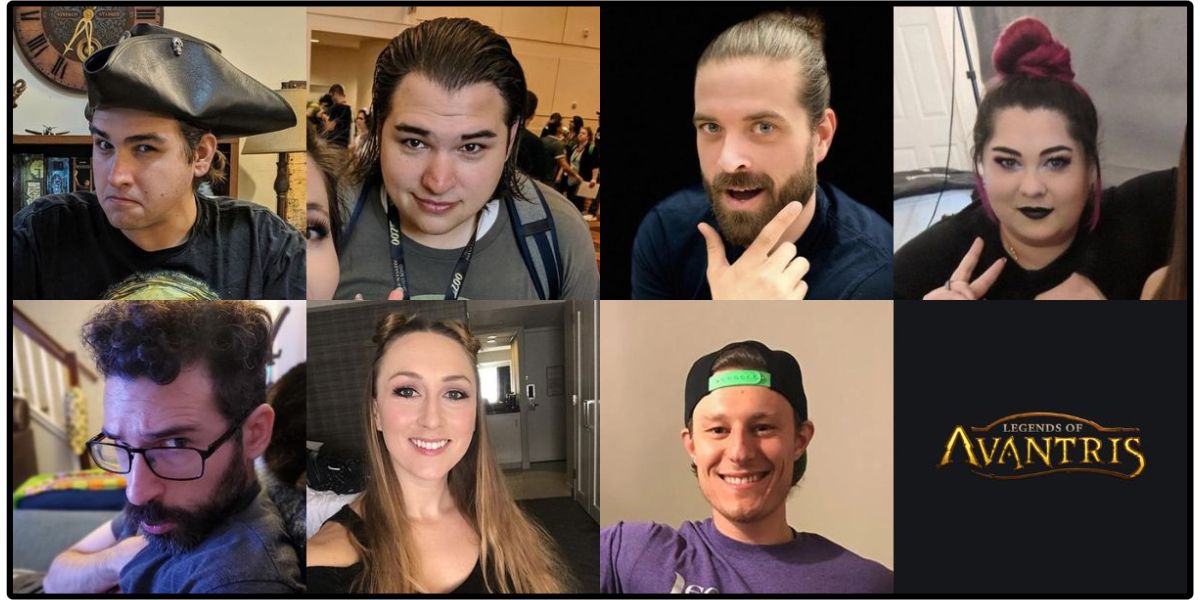 Starting from the top left… meet Mikey, Richie, Mace, Nikkie, Derek, Kelsey and Andy, the minds behind Legends of Avantris.
Before Legends of Avantris began, they were just best friends who loved to play Dungeons & Dragons (D&D) together.
A quick aside… if you don't know what D&D is, it's a very popular fantasy role-playing game. Basically, friends get together and explore imaginary worlds and adventures, while leveling up in the process.
But back to the story…
Six years ago, these friends decided to start filming themselves playing D&D.
They called their brand Legends of Avantris and over time, they built up quite a following.
On Twitch, they had 37K followers.
On TikTok, they had 386K followers.
On YouTube, they had 322K subscribers.
Their followers were more to them than just an "audience" though… they were an active and engaged community that they called the "Avantrisfam."
With a genuine, deep love for roleplaying and storytelling, these seven best friends wanted to create something more than Twitch streams and YouTube videos.
They wanted to launch their own product.
Their first product would be called The Crooked Moon – a 400+ page folk horror themed 5e supplement. This would be an ambitious launch with physical books, miniatures, dice sets, and a lot more.
To ensure they did it right, they joined LaunchBoom in July of 2023.
There was no time to spare. We got to work right away.
And on October 3rd, 2023, they launched.
24 hours later, they had raised $1,280,584.
Here's how they did it.
---
The Kickstarter marketing strategy
Before we get into the nitty gritty, let's talk high level strategy. The strategy that they used was not unique to The Crooked Moon. It's the same strategy we've been refining for nearly 10 years.
It works like this:
During the pre-launch, collect email addresses and more importantly, $1 reservations, from people who want to buy your product.
Once you launch on Kickstarter, use your pre-launch email list to hit your funding goal on the very first day.
Getting funded quickly will skyrocket your campaign up in Kickstarter's rankings and let you tap into their 22 million+ backer community.
Continue driving sales with Facebook ads, email marketing, and PR & influencer marketing.
Alright, high level stuff is over.
Let's talk about the nitty gritty.
Pre-launch marketing is the key to success
Launches are won in the pre-launch, meaning if you do the pre-launch marketing right, your launch will be a success.
As you just learned in the section above, the pre-launch is all about building a pre-launch email list. And the best way to build a pre-launch email list is by using the LaunchBoom Reservation Funnel.
Quick expert tip 🤓

The LaunchBoom Reservation Funnel collects leads and more importantly, $1 reservations during the pre-launch.

Those that put down a reservation of even $1 are 30 times more likely to buy on average than someone that only gives their email address.
1. They drove traffic with Meta Ads
Meta ads are the first step in the Reservation Funnel. This is how The Crooked Moon drove traffic. Here were two of their best performing ads: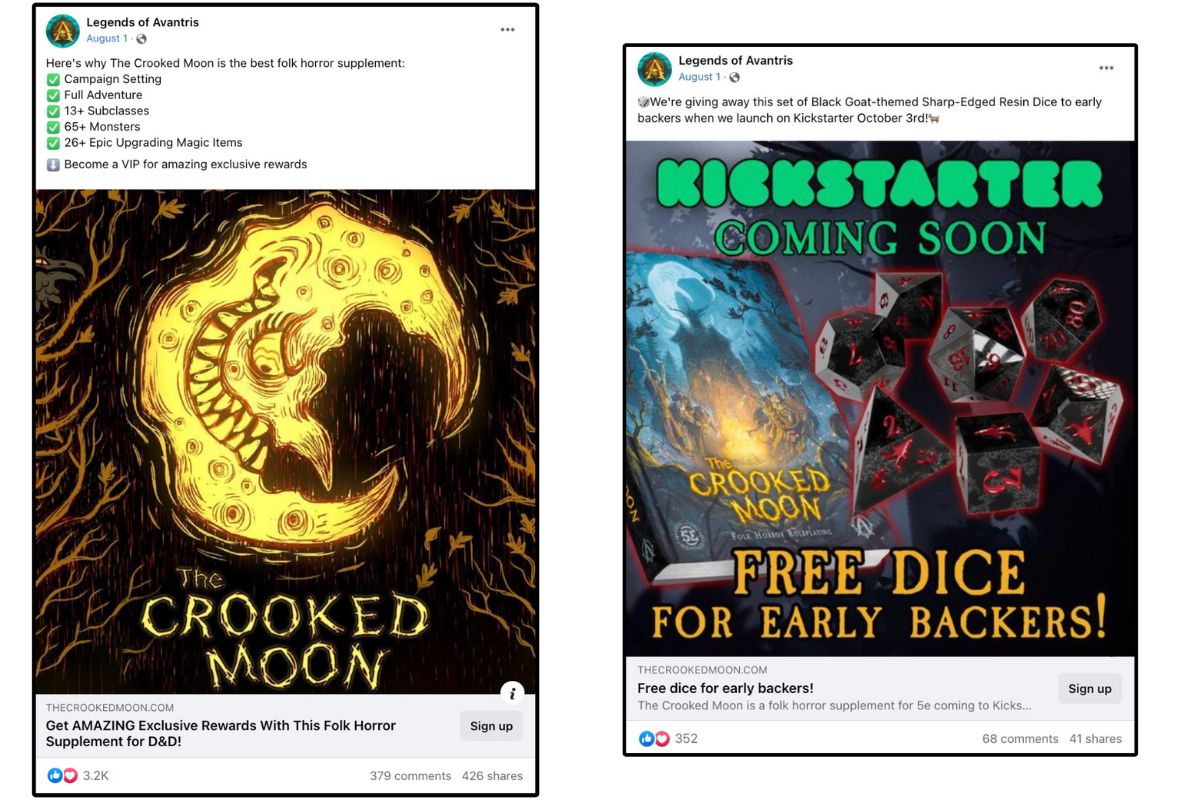 Once someone clicked on one of their ads, they were then taken to their landing page.
2. They collected email addresses on a landing page
The landing page is where The Crooked Moon explained their product and collected email addresses. The landing page looked like this: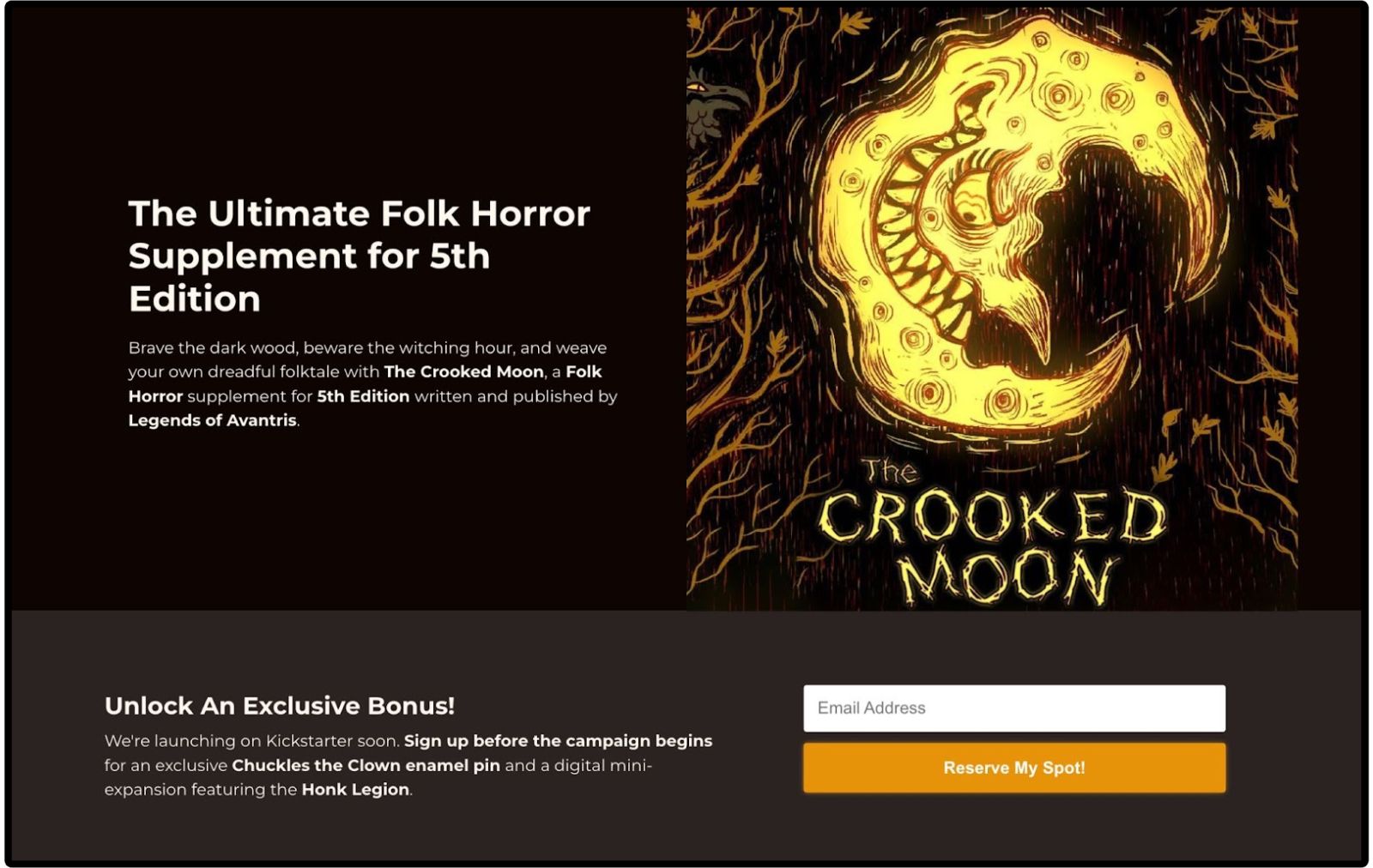 3. They collected $1 reservations
This is where the "reservation" funnel gets its name. The Crooked Moon offered people an exclusive VIP offer for putting down a $1 reservation deposit.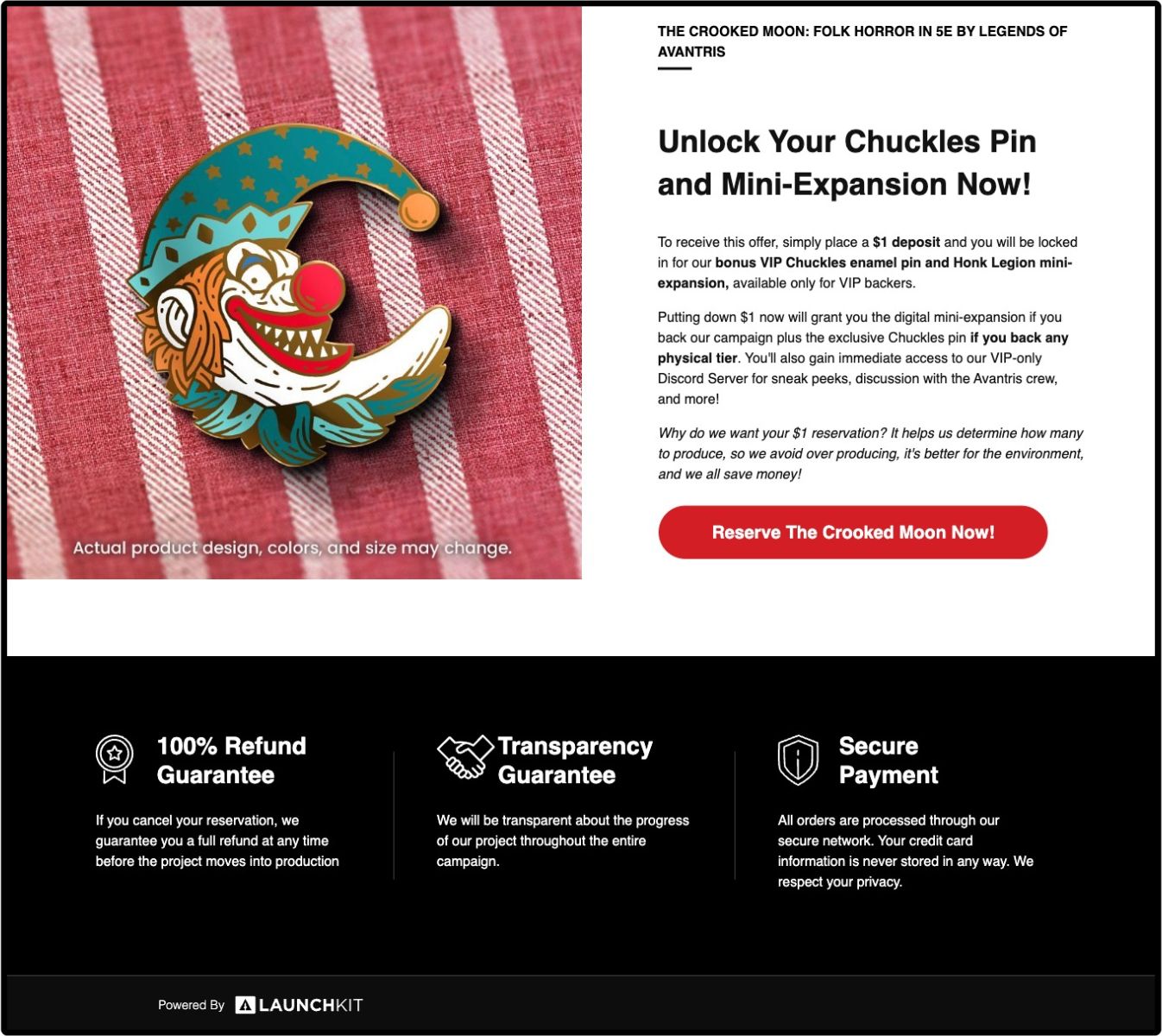 By putting down a $1 deposit, someone could get an enamel pin and a digital mini-expansion added to their Kickstarter order.
---
Getting funded on day one
Leading into the launch, here's what The Crooked Moon's pre-launch metrics looked like:
Ad spend: $47,503.25

Total leads: 25,035
Total reservations: 11,147
Cost per lead (CPL): $1.87
Cost per reservation (CPR): $4.19
With these pre-launch metrics, a big day one was essentially guaranteed… and that's exactly what happened.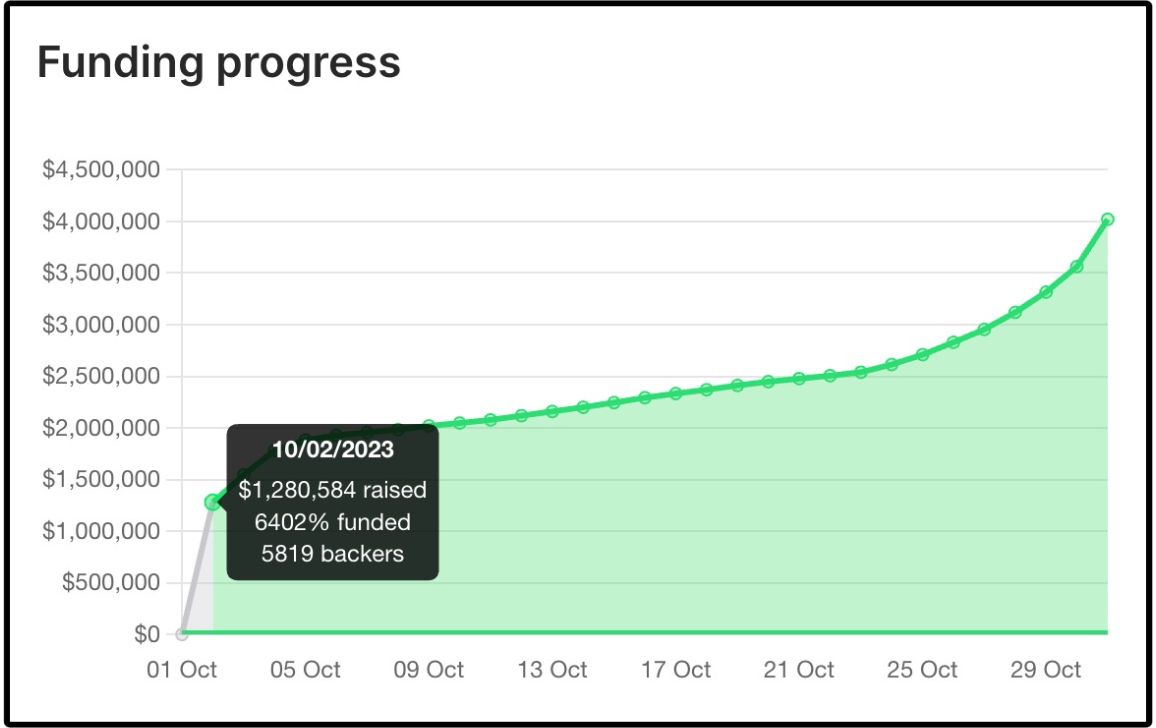 On the first day, The Crooked Moon raised $1,280,584.
This smashed the record in the 5e D&D category for the largest day one raise ever.
One of my favorite moments from this day was watching the Legends of Avantris team streaming the moment they hit $1,000,000.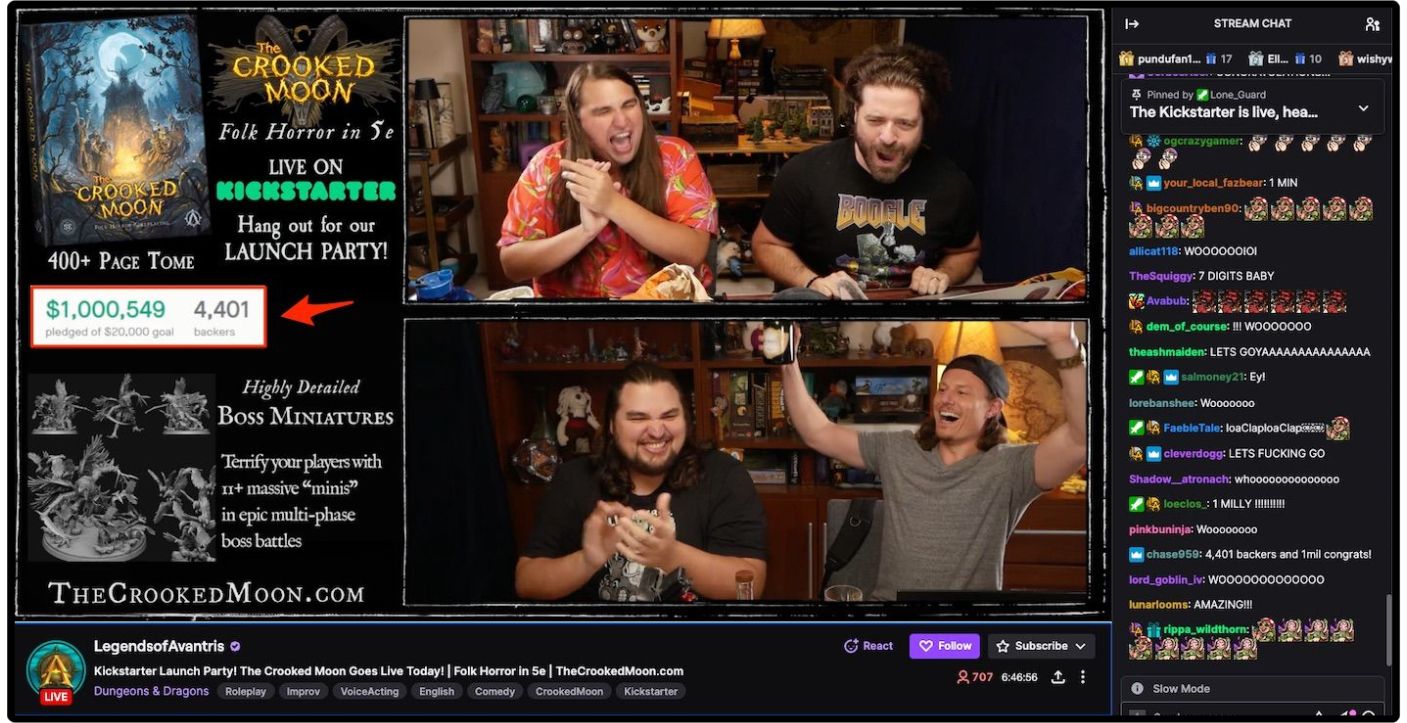 By the end of the campaign, The Crooked Moon had raised $4,020,234 from 21,793 backers and their return on ad spend was 35.81x… meaning for every dollar they put into pre-launch, they made $35.81 back.
---
Do you have a product idea you've always wanted to launch like the Legends of Avantris team had?
We can help you turn it into a real business.
We've worked with over a thousand creators to bring their product ideas to life. If you want to be the next one…
Click here to talk with a LaunchBoom expert.
2. Marketing Tip
The 7 Human Hijacks of Marketing.
My favorite podcast right now is My First Million. On one of their recent episodes, they had on Craig Clemens – a marketing genius who's driven over $3 billion in product sales.
He covered what he calls the 7 Human Hijacks which are essentially marketing tactics that really influence humans. Here they are (but I suggest you watch the episode to really understand them):
Sell the dream
Help them rebel
Make it an event
Make it about them
Change a daily behavior
Give unquestionable proof
Create a powerful demonstration
3. Favorite Content
Someone hacked Ryanair's Twitter?
Nope. Just Ryanair being Ryanair. You should check out their Twitter for loads of stuff like this.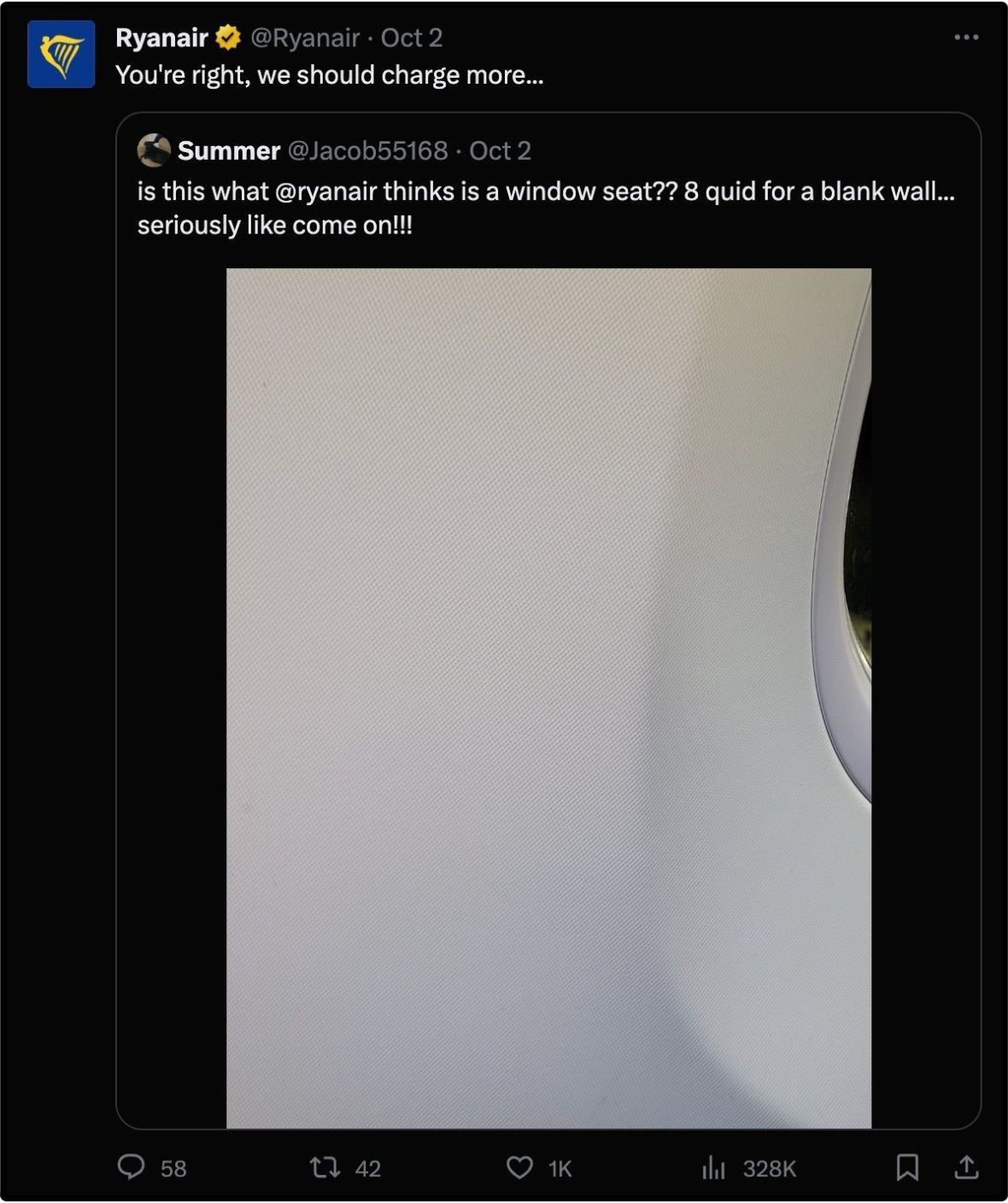 Want this sent to your inbox every other week?
Every other Tuesday, I send a newsletter just like this one! You can expect to read about my biggest lessons and most-effective strategies to launch a successful crowdfunding campaign. Sign up using the form below 👇