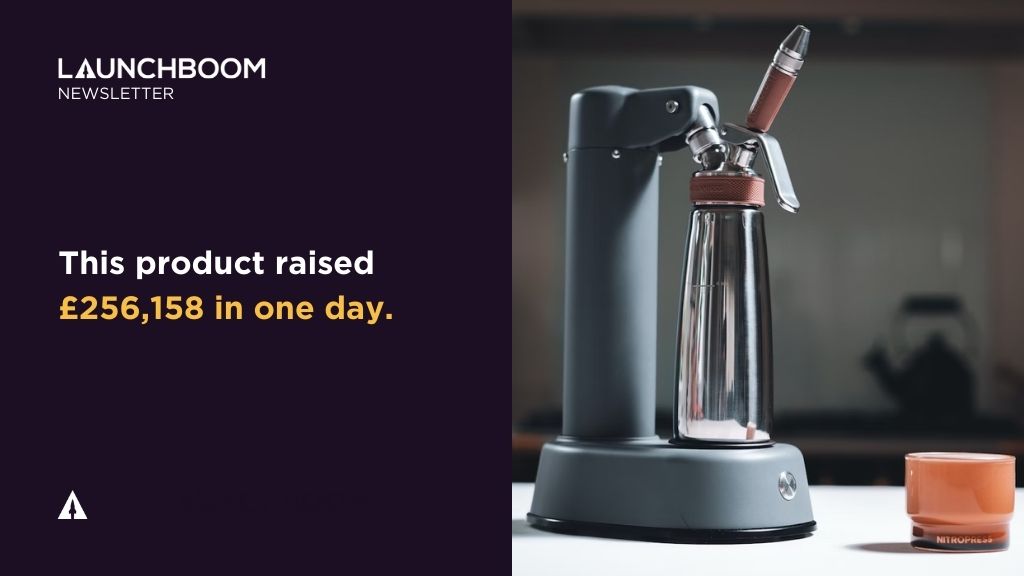 You're reading edition #27 of the LaunchBoom Newsletter, which is sent every other Tuesday to thousands of product creators.
Hello there! A quick interruption before we get into today's newsletter…
Too many creators think short-term when it comes to their product launches. Because of that, their businesses fail (even if they have big launches).
Smart creators think long-term. They use specific strategies during their Kickstarter launch that lead to profitable, long-lasting businesses.
I've teamed up with Heather Swift Hunt, Head of Tech & Design at Kickstarter, and Jackson Whitman, Co-founder of Proper Propaganda, to show you how in this free, live training and Q&A.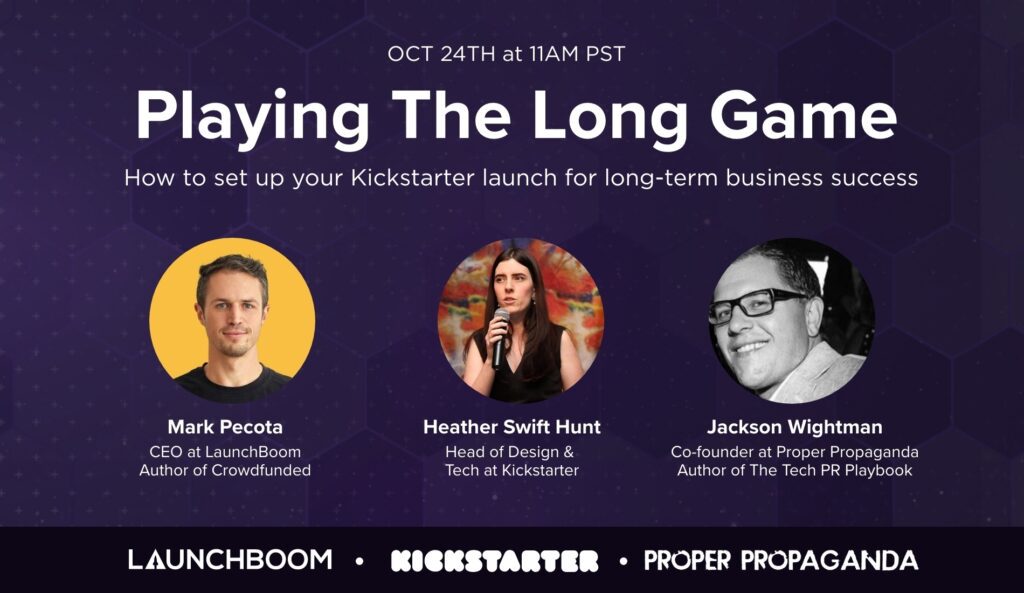 Alright, back to regular programming… here's what I have for you today:
Ex-Formula 1 engineer raises £649,688 on Kickstarter.
Make facts hit harder by using everyday objects.
Why cringe mountain always comes before success.
Enjoy.
1. Short Story
On August 29th, this ex-Formula 1 engineer launched his first Kickstarter campaign.
On the first day, he raised £256,158.
On the last day, he finished at £649,688.
Here's his story.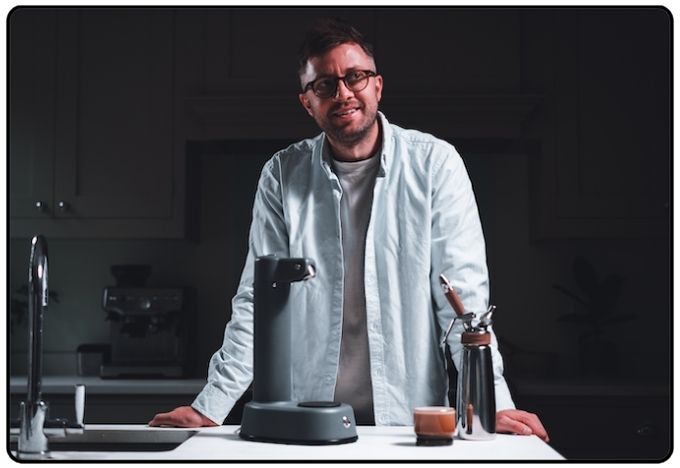 Meet Jack Hatfield, the creator of NitroPress.
Back in 2017, he created the original NitroPress – the first handheld nitro dispenser on the market. It used cartridges to add nitrogen to any drink.
It was a hit and even got on GQ's list of 100 Best Things In The World.
But little did the world know that Jack was working on a new (and I don't use this word lightly) revolutionary version of the NitroPress.
This version, called the NitroPress DS, did not use cartridges. Instead, it was able to filter nitrogen from the air to infuse your drinks.
With the product finished, Jack was ready to launch on Kickstarter. He just needed the right marketing strategy.
So he joined LaunchBoom in April of 2023.
Four months later, he clicked the *launch* button on his campaign and within 24 hours… £256,158 was staring back at him.
Here's how he did it.
---
1. Built a LaunchBoom Reservation Funnel.
The first step in every successful launch is to build a LaunchBoom Reservation Funnel. From a high level, it looks like this:


The Reservation Funnel collected leads and more importantly, $1 reservations during Jack's pre-launch. Those that put down a $1 reservation are 30 times more likely to buy than someone that only gives their email address.
Here was Jack's landing page: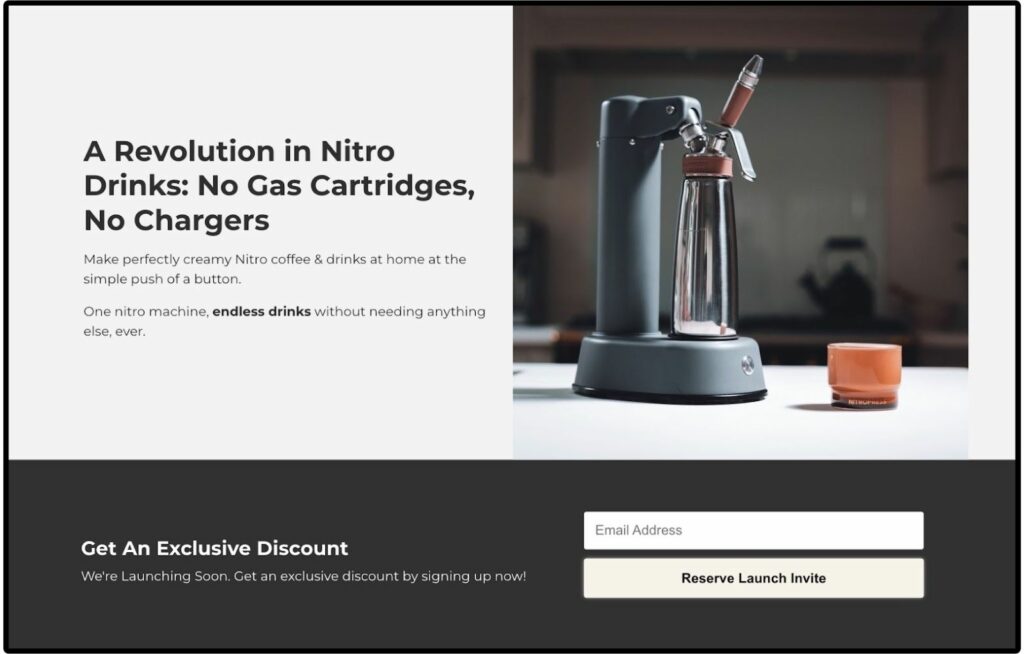 After Jack collected an email address on his landing page, he presented his "VIP Offer" for $1.
Here was his reservation bridge page: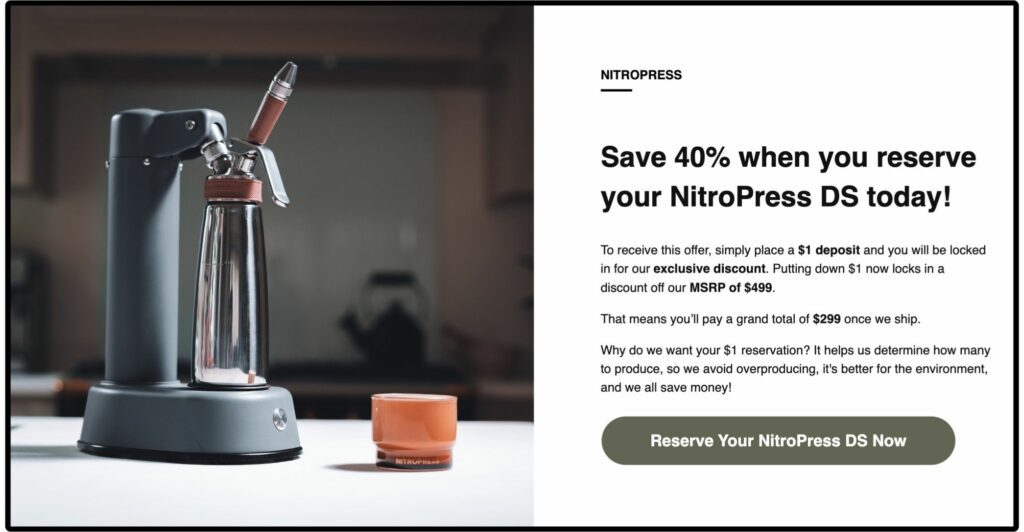 By putting down a $1 deposit, someone would reserve an exclusive 40% VIP discount on launch. This VIP Offer performed very well… but more on that later.
---
2. Drove traffic with Meta ads.
The Reservation Funnel is useless without traffic and Meta ads are the best source of high-quality and scalable traffic. So Jack set up his ads following LaunchBoom's system.
Here were Jack's best performing ads: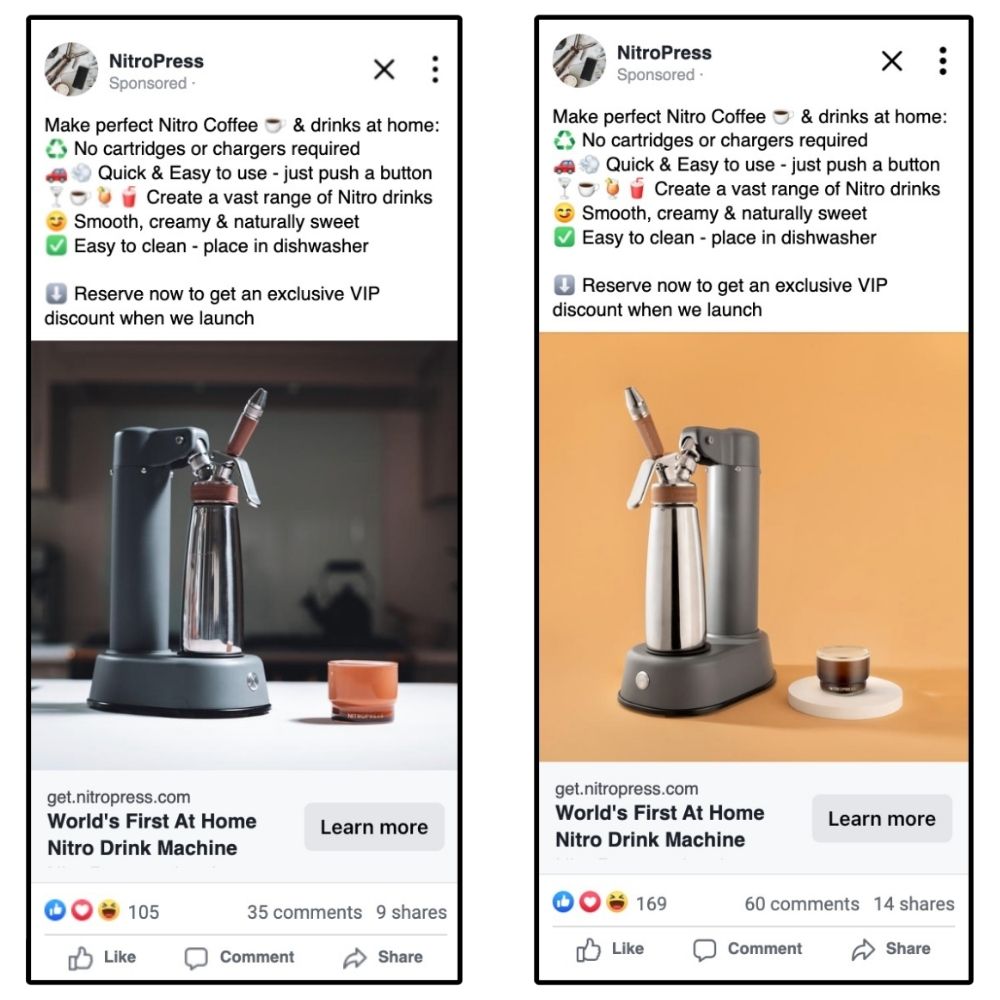 ---
3. Got funded on day one.
With the Reservation Funnel built and traffic being sent from Meta ads, Jack ramped up ad spend during the pre-launch. Here were his pre-launch ad metrics:
Ad spend: £21,869.63
Total leads: 12,000
Total $1 reservations: 1,122
Cost per lead (CPL): £1.82
Cost per reservation (CPR): £19.49
With these pre-launch metrics, it was clear to us that Jack's campaign was going to have a big first day… and that's exactly what happened.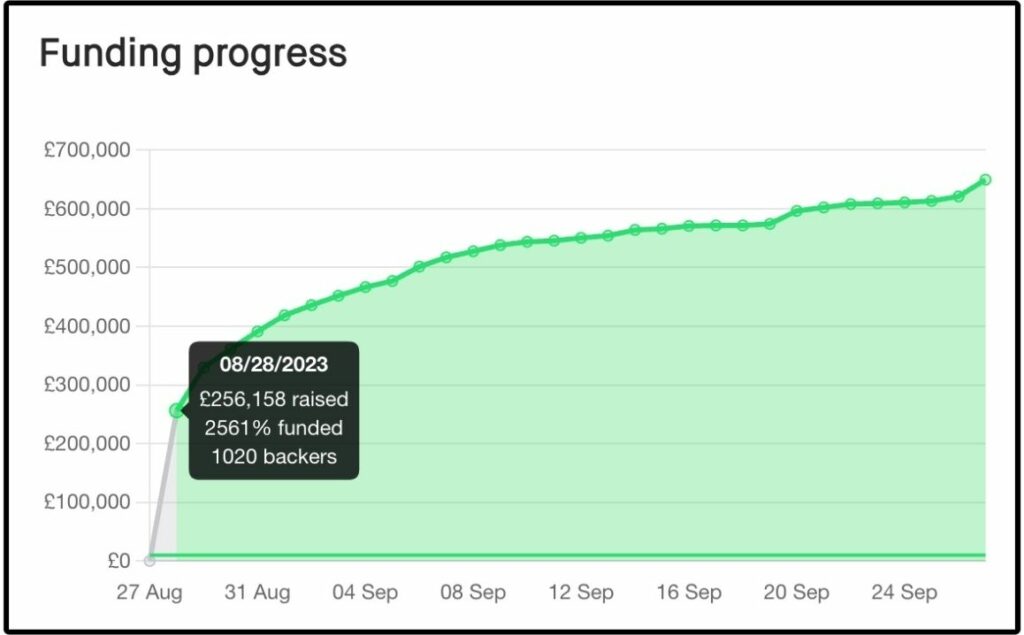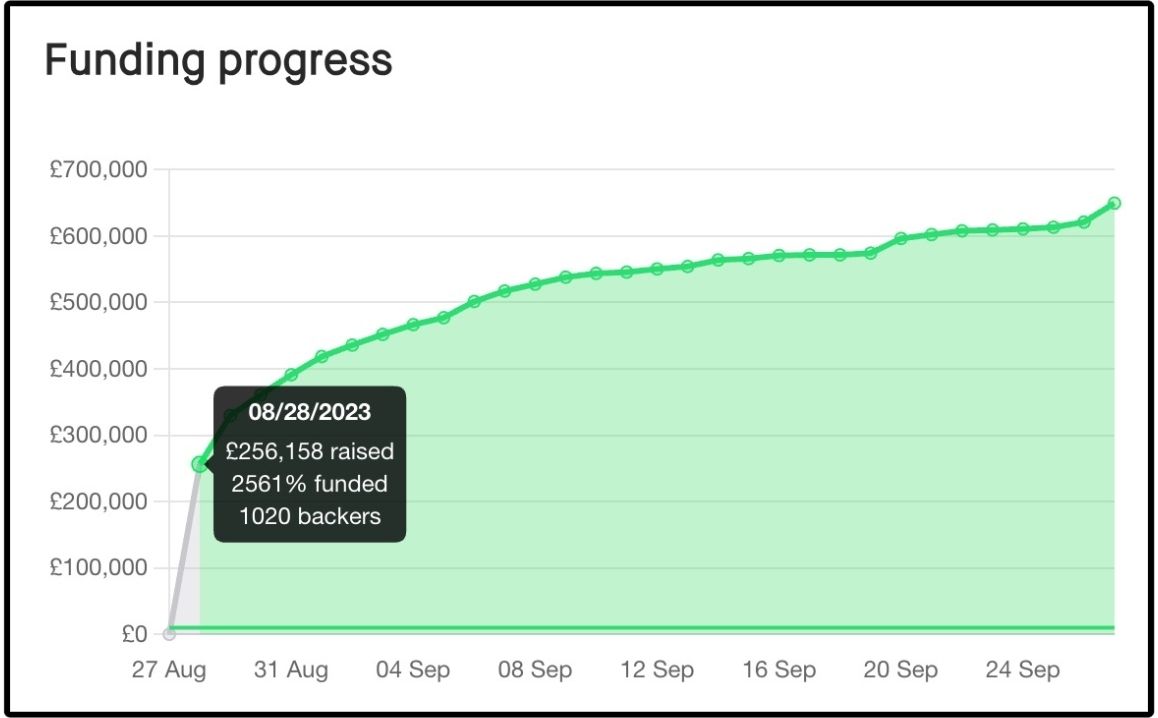 On the first day, Jack raised £256,158.
The pre-launch email list directly drove £94,575 in revenue (which is a 4.32x return on ad spend).
With the success of the first day, Jack was able to continue the momentum and ended the campaign at £649,688.
---
Jack's success story is not unique.
We've worked with over a thousand creators to bring their product ideas to life. If you want to be the next one…
Click here to talk with a LaunchBoom expert.
2. Marketing Tip
Make facts hit harder by using everyday objects.
When you are presenting a fact or statistic in your messaging, you can make it easier to understand by converting it into an everyday object.
For example…
We save 1 million lbs of plastic from entering the ocean.
👉 That's the equivalent of 60 million Ziploc bags.
We save the average customer $500 every year.
👉 That's the equivalent of 204 Starbucks coffees.
We prevent 60 kg of carbon dioxide being released each year.
👉 That's the same benefit as planting 2,690 trees.
3. Favorite Content
Everyone must climb "cringe mountain" to reach success.

Everyone you see today that seems to be successful and cool did not start that way.
When you look back at the beginning of their journey, it's full of things that would make you cringe.
There's no way around it.
We have to do things that make us cringe now to reach the "land of cool" later.
I found out about this concept on this TikTok by Shaan Puri.
Want this sent to your inbox every other week?
Every other Tuesday, I send a newsletter just like this one! You can expect to read about my biggest lessons and most-effective strategies to launch a successful crowdfunding campaign. Sign up using the form below 👇