At LaunchBoom, we partner with entrepreneurs and launch their products using Kickstarter and Indiegogo. Naturally, the majority of our clients are new businesses who are launching their flagship product, but we also have the opportunity to work with established companies who've realized that crowdfunding is the best way to launch their next product.
One of those companies is William Painter. We just finished their Kickstarter campaign for The Empire — raising $491,410 in 60 days.

William Painter
William Painter is an amazing company run by a small and talented team here in San Diego. The Empire sunglasses are far from their flagship product. Currently, they are selling 4 other pairs of sunglasses on their site and show no signs of slowing down.
We thought we'd approach their pre-campaign like any of our other campaigns. Here's an outline of our simple pre-campaign strategy (you can see an in-depth guide here too):
Advertise on Facebook
Send traffic to a landing page
Gather email addresses of people interested in buying your product
Use those emails to have a LaunchBoom (get funded within the first 48 hours)
But then we had an idea: since William Painter already had a successful eCommerce store, what opportunities could we take advantage of to make the campaign even more successful?
We landed on the following: offer new email subscribers a limited-time coupon code to be used on their eCommerce site after they sign up for The Empire's pre-launch email list.
If it worked, the benefits were clear:
Earn revenue immediately to fund the pre-campaign ad spend
Identify which audiences are most qualified based on which ones led to the most purchases on the site
Build up purchases on the Facebook Pixel to build a lookalike audience once the campaign goes live
How did it work?
Just like our other campaigns, the funnel started with a Facebook ad: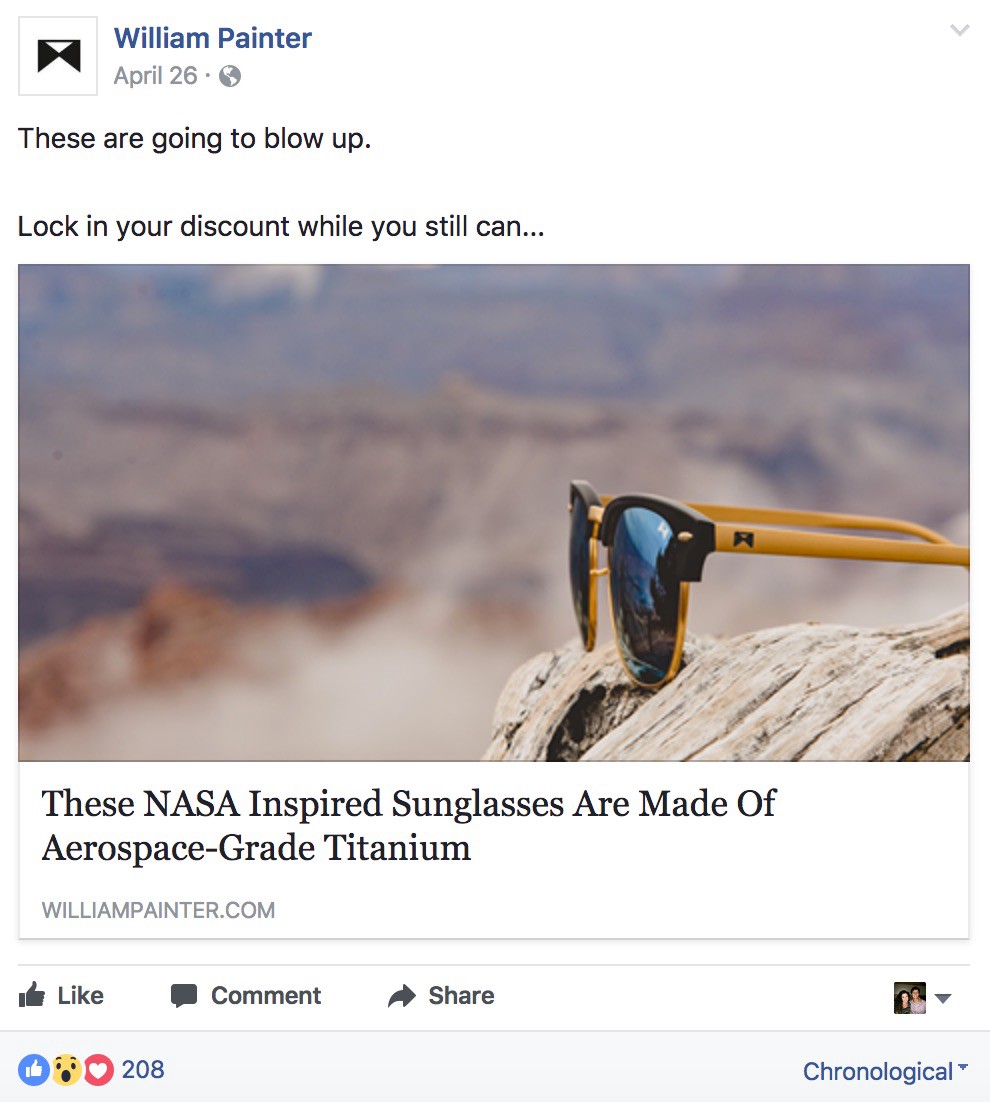 An ad click send them to a squeeze page: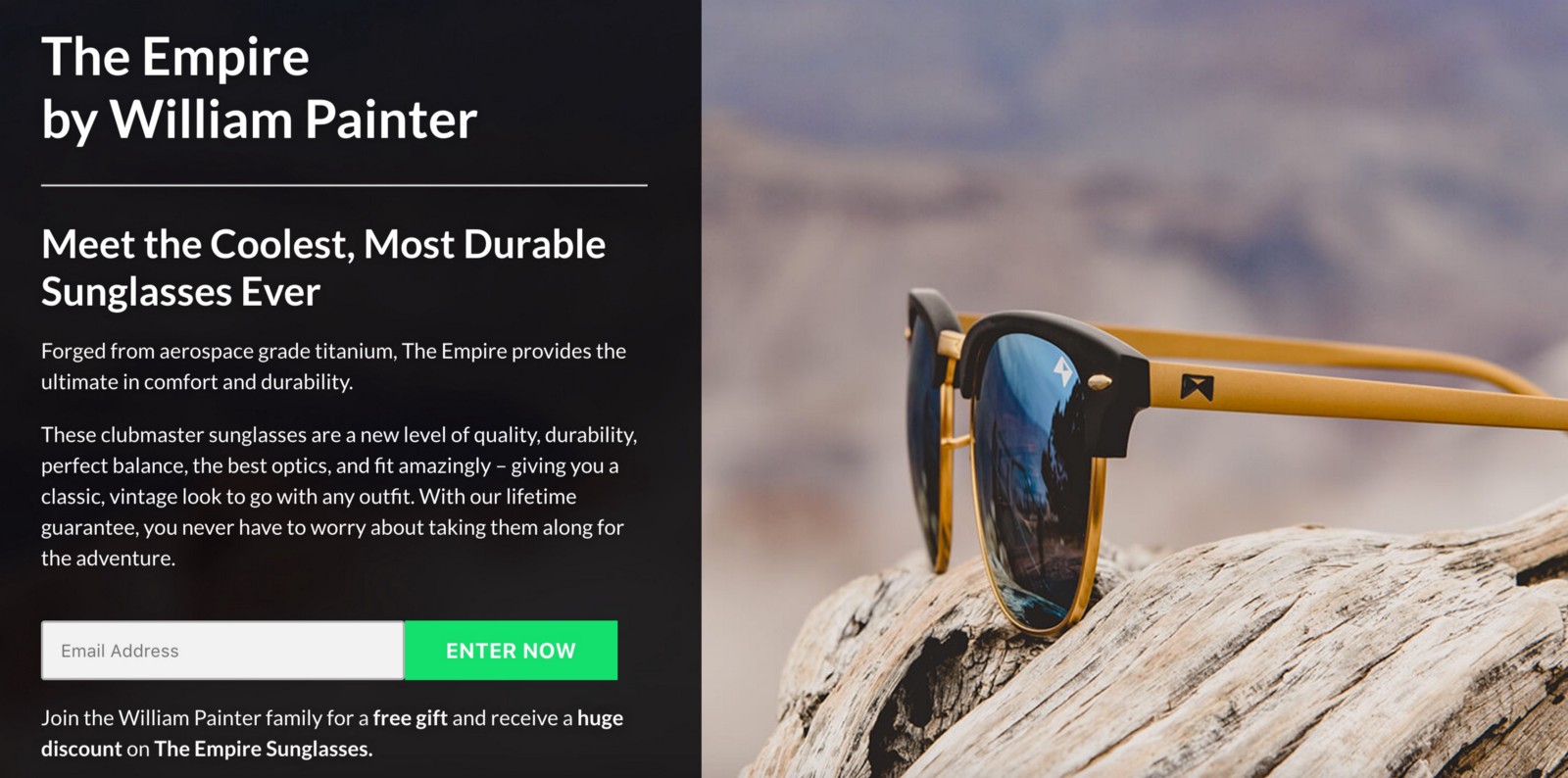 After they opted in, they were immediately sent to a page on William Painter's main eCommerce site that looked like this: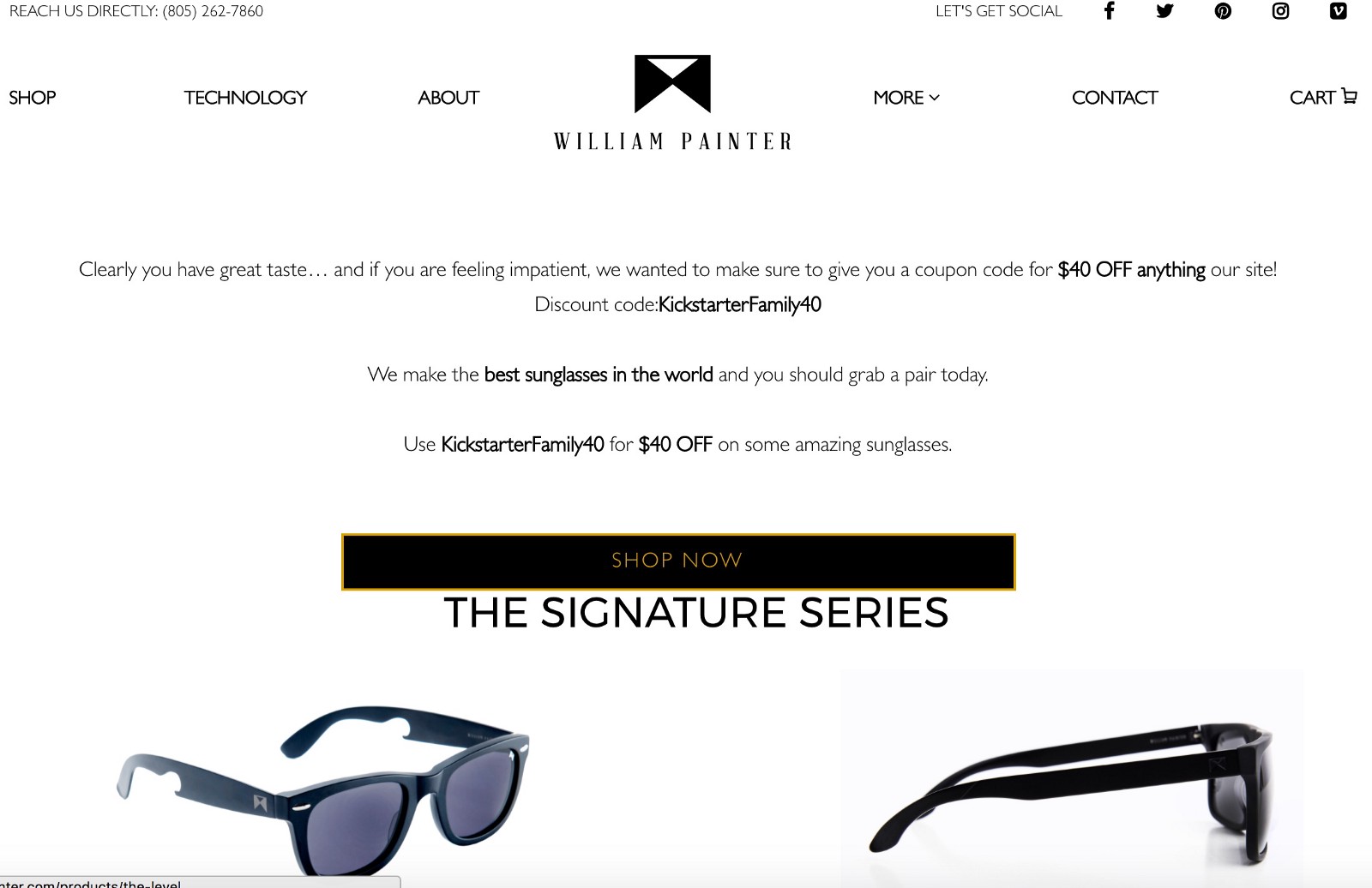 We also enrolled them in an automated email sequence. Here are the two emails that we sent:
EMAIL 1 | Sent Immediately
Hi!
Patrick from William Painter here,
Thank you for entering to win William Painters newest frame…
'The Empire'!
You now have the chance to be the first to get a very limited edition 1 of 10 Custom Care Package, including the newest Empire frame. A retail value of $2750!
The winner will be chosen on May 23 and will be notified directly by email.
Thank you for entering and best of luck!
– Patrick at William Painter
P.S. I hope you win! 🙂
Also… as a thank you for entering, we wanted to give you a special discount of $40 off anything on the William Painter site (US / CAN) only.
Just use the code: KickstarterFamily40 at checkout to get $40 off!
(This code is only available until May 23, so don't wait!)
EMAIL 2| Sent 1 Day After
Heyo! Patrick from William Painter again!
I just wanted to remind you… that as a "thank you" for entering to win William Painters newest frame, 'The Empire'…
We gave you a special discount of $40 off anything on the William Painter site (US / CAN) only.
Use code: KickstarterFamily40 at williampainter.com to get $40 OFF!
The offer expires on May 23, so you might wanna grab a pair now while you can!
The winner of the contest will be chosen on May 23 as well, and will be notified directly by email.
Thank you again for entering and best of luck!
– Patrick at William Painter
How well did it work?
To answer this question, let's define our metrics for success. For this experiment, it came down to two metrics:
Return on Ad Spend (ROAS) during pre-campaign of greater than 1X
Result: 1.35x ROAS
We chose 1X because then the pre-launch ad spend would be paid for (a luxury we rarely have). We still expected to gather many sales from the list once the product actually launched, but using the pre-campaign strategy to supply our crowdfunding advertising budget was key.
2. Hit $50,000 in sales within the first day
Result: $62,810 in sales
Hitting $50,000 would mean that we hit our goal extremely quickly and would most likely be in the top 5 on all of Kickstarter for popularity. Reaching this success metric was just one of the reasons we were able to end the campaign with 48% of all sales coming from Kickstarter.
A successful test with room for improvement
We were able to get revenue back immediately and fund the pre-campaign ad spend for William Painter. We used this data and put more ad spend into audiences that were getting sales on the site. This allowed us to build an even more qualified pre-launch email list rather than if we were relying on cost-per-lead alone.
(You can see how we use this hack for our clients that don't have an ecommerce site here)
With all that said, there is room for refinement of this process. Here are some ideas that I'd like to test:
Reducing friction to apply the coupon — users had to type in a long coupon code to get the $40 off. It'd be better to make it shorter and automatically apply.
More use of urgency — I would like to restrict the use of the coupon to 24 or 48 hours.
Less navigation — once users were given the offer to use the $40 coupon, I would like to remove all navigational elements on the site and only give them the option to purchase the other products.
Let me know what you think! We are always experimenting and I would love to see what other campaigners are trying.