How Nomad's Pad Grand Canyon Campaign on Indiegogo Raised $582,505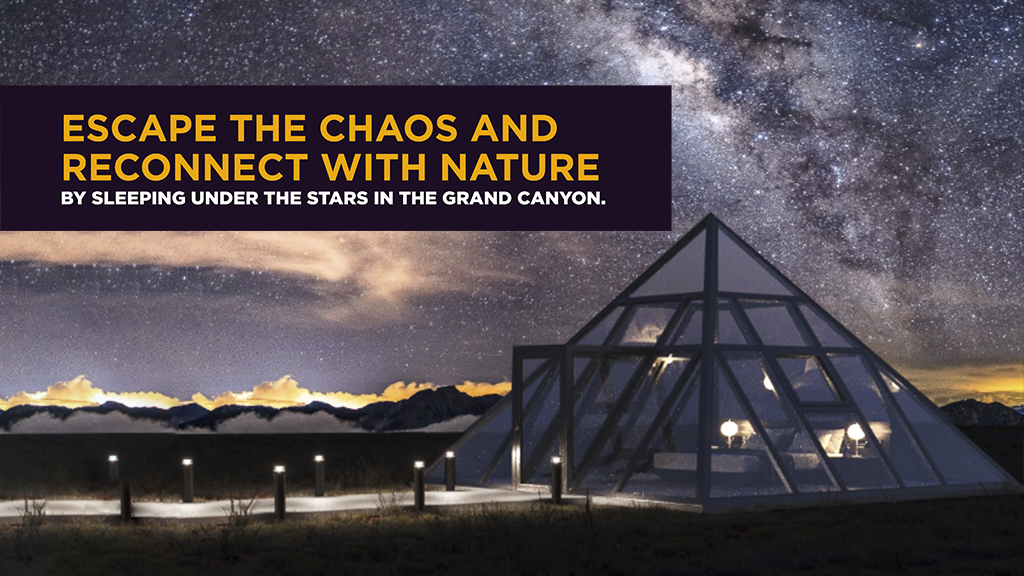 Nestled in the heart of the Arizona desert, just a 25-minute drive from the majestic Grand Canyon, this project is a game-changer for nature lovers and adventure seekers.
The Nomad's Pad experience offers a stay under the stars in its 400 square-foot glass pyramids. Each pyramid is engineered to provide 360° views of the desert landscape. And surrounded by 20 acres of untouched nature. Nomad's Pad provides various outdoor activities, live music, and campfires under the stars during weekends.
Stargaze from your bed, listen to the wild coyotes howl at night, and wake up to a sunrise that paints the desert in stunning hues.
See the Nomad's Pad Indiegogo project here.
About the Founders
The founders of Nomad's Pad Grand Canyon are Jenny Pegeanu and Victor Pegeanu. And they are not new to this space.
Victor is originally from Romania. His love for adventure brought him to the United States, where he met his wife, Jenny, originally from the Philippines.
After he came to the US, Victor started a business with the intention to host other people that were on an adventure like him.
On the other hand, Jenny, working in insurance, discovered her passion for creating meaningful experiences. So, she decided to follow an entrepreneurial path, left her job as an insurance agent, and started building retreats to help people connect with nature.
LaunchBoom's Process: How We Raised Funds for the Nomad's Pad
Now, for this campaign, we did our process a bit differently — more on this later.
But we still stuck to our proven framework of Test. Launch. Scale.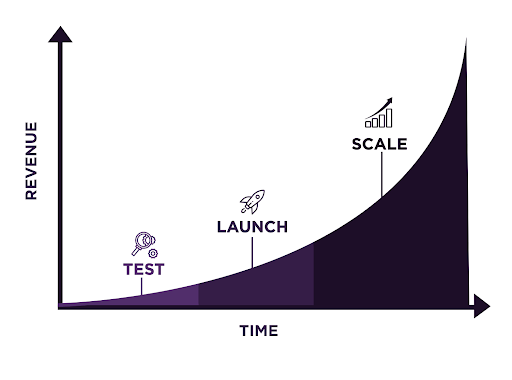 How does this framework work?
Test
The initial step is all about market validation. This involves conducting a series of comprehensive tests to understand a campaign's potential success before it's launched.
These tests primarily focus on the following:
Gauging customer interest
Determining the most effective marketing strategies
Fine-tuning the campaign's key messaging to resonate with potential backers
At LaunchBoom, we refer to this step as TestBoom
Launch
Once testing is complete, the campaign is ready to go live. But this isn't a simple push of a button. It's a strategically coordinated event aimed at maximizing impact and visibility.
The aim is to attract as many backers as possible from day one, using the insights gathered from the testing phase.
We often leverage various channels, like email marketing, social media promotion, and influencer collaborations.
We call this having a "launchboom."
Note: We divide this stage into prelaunch and launch.
Scale
The final step is about taking the successful launch and amplifying it.
To do this, we optimize marketing efforts based on real-time campaign data, continually engaging with backers and using new strategies to reach a wider audience.
The goal here is to reach the initial funding goal and significantly surpass it.
Let's look at these steps in detail:
Step 1: TestBoom
At LaunchBoom, we're big on data. Numbers tell us a story about what works, what doesn't, and what has the potential to be a grand success.
During the TestBoom phase, we utilize a range of testing methods to validate the market potential of a product.
We're interested in answering key questions, such as:
How is the target audience responding to the product?
What is their willingness to pay?
Which marketing messages resonate the most?
Over time, we've developed a sophisticated predictive model that uses data from initial testing to forecast a campaign's likelihood of success.
In the model, there is a metric called Cost per Reservation. This metric is a significant indicator of potential purchase intent. The metric clearly shows how much it costs to secure a reservation from a potential backer.
The lower this number, the stronger the purchase intent, thus the greater the chance of a successful campaign.
While the Cost per Reservation holds the lion's share of predictive power, we also consider other key metrics.
The Cost per Lead, for example, helps us understand the overall efficiency of our marketing efforts in converting interested individuals into potential backers. Meanwhile, the Email Open Rate provides insights into the effectiveness of our communication strategies.
When we combine these indicators, we get a comprehensive picture of a campaign's potential and devise truly data-driven strategies.
Additionally, in the TestBoom phase, we develop the product positioning to know which marketing messages resonate the most with the audience.
Product Positioning
Product positioning is how we determine how best to communicate your product's unique value to the target audience.
We look to understand what makes your product stand out from competitors and how it can meet the needs and desires of potential backers.
To establish a compelling positioning, we follow this structured process to understand your product's unique attributes, identify your target market, and establish your product's value.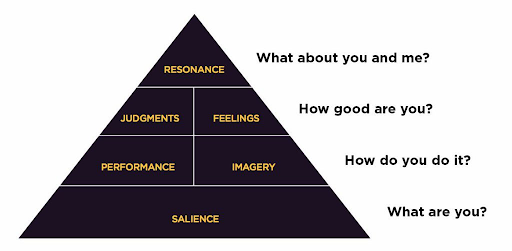 This questionnaire helps identify your product's unique strengths. By answering each question thoroughly, you can effectively extract an array of ideas that underpin your product's unique proposition.
Target Market Identification
After completing the CBBE questionnaire, pinpoint the potential audiences for your product. To define your top three target audiences, consider age range, gender, interests, and geographic location.
Value Positioning
This step involves transforming your insights into actionable messaging. Start by identifying your product's differentiators — what sets it apart from its competition? Then, develop compelling headlines that succinctly communicate your product's value.
Step 2: Prelaunch
The primary goal of this step is to build a reservation list.
This phase is critical because it enables us to gather a group of enthusiastic supporters even before the campaign officially starts.
For years, we have observed that persons on the VIP reservation list are 30 times more likely to buy the product than non-VIPs.
So, having a solid reservation list provides numerous benefits.
Firstly, it helps create an initial buzz and generates momentum. This early interest can drive more attention to the campaign when it goes live and help reach funding goals more rapidly.
Secondly, a reservation list allows us to communicate directly with potential backers, providing them with exclusive updates and fostering a sense of community and anticipation. This keeps potential backers engaged and helps build trust and a sense of inclusion.
Using the Reservation Funnel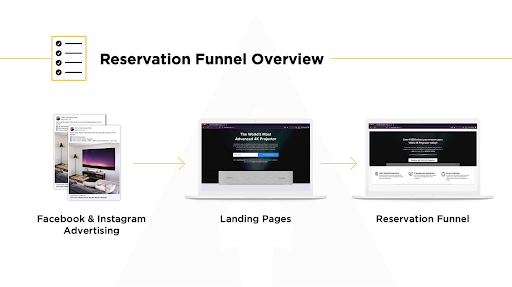 The reservation funnel efficiently attracts, engages, and converts potential backers into reserved supporters for the campaign.
The Reservation Funnel can be broken down into three main components:
Traffic Generation – The funnel's topmost layer focuses on attracting a broad audience. This involves driving traffic to the campaign's landing page through various marketing channels such as social media, online ads, email marketing, influencer collaborations, and PR efforts. We recommend Facebook/Instagram advertising.
Engagement and Interest – Once visitors land on the campaign's landing page, the goal is to captivate them with the product's unique value proposition and get them excited about the campaign. This involves product demonstrations, testimonials, engaging visuals, and detailed product benefits descriptions. The idea is to create enough interest and excitement for visitors to learn more or get involved.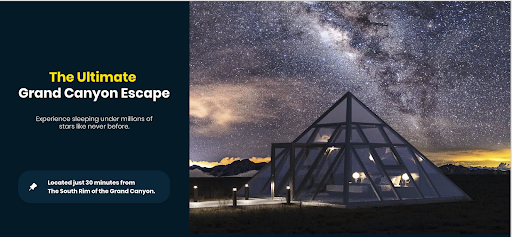 Conversion into Reservations – Our approach is simple yet effective. We encourage potential backers to make a nominal deposit of $1 to reserve their product ahead of the campaign.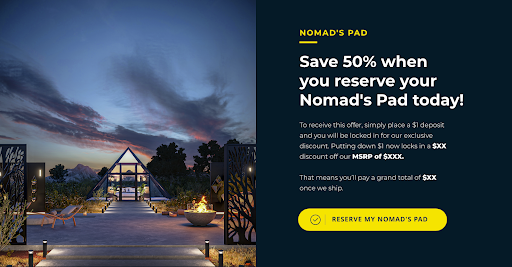 Potential backers demonstrate a tangible commitment to the campaign by making a small financial contribution. It's not just interest or intention anymore. They've made an active step toward supporting the product.
How Did We Handle the Reservation Funnel for the Nomad's Pad Campaign?
Remember at the start how we told you we handled this campaign differently? This is the step where we tried something new — the Elon Musk Method.
Normally, for most campaigns, we ask for a $1 deposit for backers to reserve the product and get into the VIP list.
However, for Nomad's Pad, we opted to raise the stakes.
We increased the reservation deposit from $1 to $50. This bold move separated the casual observers from the committed backers and brought remarkable results.
Nomad's Pad pre-sold $582,505 in revenue in just a few months, and the modified reservation funnel played a crucial role in this triumph.
We also observed something new. The increased deposit brought us leads that were far more committed and up to 85 times more likely to convert than regular leads.
This was a rise from the normal "30X more likely to convert" figure.
The deposit funds we collected we reinvested them into our lead-generation campaigns and used to subsidize our client's ad spend. This reduced our cost per lead.
We were able to generate $50 reservations for $42 each. This translates to a profit of $8 for every reservation received.
Here's a snapshot of the outstanding prelaunch performance of Nomad's Pad:
| | |
| --- | --- |
| Ad spend | $44,515.80 |
| Deposit revenue | $45,803.79 |
| Prelaunch cost | -$1,287.99 |
| Prelaunch list revenue (excluding deposits) | $358,602 |
We invested $44,515.80 and generated $404,405.79 in total revenue.
Step 3: Launch – Having a "LaunchBoom"
The LaunchBoom process is designed to transform all the reservation holders into actual backers.
At this stage, we reveal the product to the reservation list before the general public. They've already shown a high level of interest by making a deposit, and now it's time to convert that interest into actual purchases.
So, what do you do on the day of the launch? Email your community (these are the people on the VIP list and those that left their emails on the landing page).
This early success creates a wave of excitement and interest, often pushing the campaign onto platform trending lists, which further drives organic traffic and additional backers.
For example, the Nomad's Pad campaign raised $86,160 on the first day, far surpassing the campaign's initial goal of $25,000. We hit the initial campaign goal in only 15 minutes.
Alt: Nomad's Pad campaign metrics
The graph above shows that the first 48 hours are very important. We always aim to surpass the funding goal in the first 48 hours.
However, the launch doesn't stop at that. There is something we call Live Campaign Ads. Let's discuss more about this.
Live Campaign Ads
This is the continuation of our marketing efforts to maintain and even accelerate the momentum created by the launchboom.
Live campaign ads target two main audiences:
The warm audience, consisting of those who've already expressed interest in the product but didn't convert during the launch.
The cold audience, which are potential new customers who are yet to be introduced to the product.
For the warm audience, we implement retargeting strategies. The goal is to re-engage these individuals, reminding them of the product and encouraging them to complete their purchase.
Through tailored messaging and advertisements, we aim to address any reservations they might have had initially and convince them to back the campaign.
The cold audience, on the other hand, is approached through prospecting campaigns.
We recommend using Facebook's ad platform because it provides granular targeting options. Also, the Facebook Pixel integration offered by Indiegogo is a game-changer for campaign advertising,
The Facebook Pixel is a piece of code you can place on your website or, in this case, your Indiegogo campaign page. It allows you to track the actions taken by users who visit your page via your Facebook Ads.
For instance, you can measure how many people contributed to your campaign after clicking on your ad.
The pixel then enables Facebook's algorithms to learn more about the kind of people who are converting — contributing to your campaign — and optimize your ads to target more of such people.
This makes the live campaign ads more efficient over time, bringing in more conversions for the same ad spend.
Indiegogo Promotions
If your campaign launched with a launchboom, Indiegogo offers several promotional features and tools to increase your campaign's visibility and drive more traffic.
Indiegogo's Homepage and Popular Categories – If your campaign is gaining traction, it may be featured on Indiegogo's homepage or in one of its popular categories. This can increase your project's visibility to potential backers browsing the site.
Newsletter Promotion – Indiegogo periodically sends newsletters to its subscriber base, often including featured campaigns. Being featured in a newsletter can drive substantial traffic to your campaign.
The more active and successful your campaign is, the more visibility it will receive on the Indiegogo platform.
Step 4: Post-Campaign
This is when you deliver on your promises to backers and pave the way for your business's future success.
In addition to fulfilling rewards, this phase involves:
Maintaining communication with backers
Managing your community
Continuing to promote your product
One useful tool at this stage to help you continue raising funds and building your customer base post-campaign is Indiegogo's InDemand feature.
Indiegogo InDemand
Once your campaign has reached its goal and ended, you don't necessarily have to stop raising funds.
Indiegogo's InDemand feature allows you to continue fundraising indefinitely on the platform.
This will provide you with a continuous stream of capital. You can use this capital to scale up production, expand your product line, or grow your business in other ways.
Lessons Learned
A thorough understanding of your target audience will guide the creation of your product positioning, messaging, and overall marketing strategy.
The TestBoom phase has shown us that careful preparation and testing can significantly improve the success rate of your campaign.
The switch from a $1 to a $50 deposit in the Nomad's Pad campaign demonstrates the importance of innovation and adaptability.
Conclusion
The successful journey of Nomad's Pad has transformed the landscape of hotel concepts. It's also a testament to the power of crowdfunding.
With thoughtful preparation, diligent testing, and smart positioning, even the most ambitious projects can blossom into reality.
We're proud to have been a part of this incredible journey and look forward to aiding more visionary projects to greater success.
Do you have an innovative idea waiting to take flight? Let us help you launch it!
Related Campaigns
Bubble Hotels – Sleep Under the Stars in Style