How BusyBox Indiegogo Campaign Raised $332,202
$332,202 – Raised
2,288 – Backers
1,789% – Percent Funded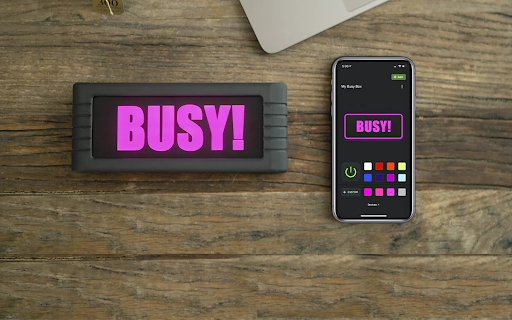 BusyBox is a digital do-not-disturb sign aimed at making work-from-home sessions just a little bit easier.
It's a small digital display you can customize according to your needs. It has a large enough battery to get you through the day and is also operable through Bluetooth.
The initial version has an LCD screen and six slide-in digital messages that can be interchanged. You can also customize the outer cover or control the screen through a smartphone app.
You can also sync the BusyBox with various productivity and scheduling applications like Google Calendar. This means it can automatically update your status based on your calendar events.
For instance, the BusyBox can automatically display a "busy" or "in a meeting" status if you have a meeting scheduled. You can even add emojis.
See the Indiegogo project here.

About the Founder
Steve Skilling, the founder of BusyBox, understood firsthand the frustration of being interrupted, both as the interrupted and the unintentional interrupter within his own family.
Leveraging his background in engineering and a handy 3D printer, Steve took it upon himself to invent a solution. He crafted a prototype of the BusyBox in just three days.
Seeing potential in his invention, Steve enhanced the prototype by making it wireless.
He launched a campaign on Indiegogo to bring his wireless smart sign to life. The campaign struck a chord with many facing similar problems, and he successfully raised over $330,000 on Indiegogo in partnership with LaunchBoom.
Bolstered by his success and the obvious demand for the solution, Steve decided to evolve the offering. He expanded his line of products and launched a digital version of the BusyBox, capitalizing on the popularity of their initial product.
Our Process: LaunchBoom
After years of frustration and not knowing if a campaign would be successful, we finally developed a proven strategy that gives us results at every turn. If you look at our success stories, we boast several projects which have seen exceptional results and the BusyBox campaign is among these.
So, how do we do it? What is this process that has given us such success?
To simplify it, we call it the Test. Launch. Scale. framework.
Here is how this framework works, and this is how we used it to raise over $330,000 for the BusyBox campaign, which had an initial campaign goal of only $10,000.
Part 1: TestBoom
Drawing on lessons from early campaign challenges, we realized the need for a more data-driven, less risk-prone strategy.
We asked ourselves: instead of charging headlong into a campaign, why not test the waters first? Why not strive to understand the product-market fit before launching?
This is what gave rise to the TestBoom process. In a pragmatic, exploratory phase, TestBoom revolves around testing a product's appeal and positioning and identifying the right target audience before embarking on a full-fledged campaign. 
It's about minimizing risk and maximizing potential success.
"At the end of the day, all we're really doing is positioning this product correctly in the market."
—CEO Mark Pecota
BusyBox and the Application of TestBoom
In the case of BusyBox, the TestBoom phase began with a deep understanding of the product and its core value proposition.
BusyBox wasn't just a smart sign. It solved a real-world problem faced by many—constant interruptions during work.
The challenge was effectively communicating this value in a way that resonated with potential customers.
Crafting the Message
We brainstormed several unique ways to position BusyBox in the marketplace. 
Could we highlight its role as a boundary-setter in work-from-home scenarios?

Or should we emphasize how it helps maintain focus and productivity in shared workspaces?
We tested each of these positioning angles using advertisements and landing pages. This provided us with data to understand which messaging resonated most effectively with potential backers. 
This iterative process of hypothesize, test, analyze, and refine allowed us to craft a marketing message that hit the sweet spot with our target audience.
Identifying the Ideal Customer
In addition to messaging, TestBoom sought to identify the ideal BusyBox customer. 
We drew up several potential customer profiles:
Could it be remote workers looking for a better work-life balance?

Or could it be individuals working in shared workspaces who were often distracted by interruptions?
We ran tests on Facebook, observing which demographics responded best to our product.
This analysis of audience responses was pivotal in understanding who found real value in BusyBox, helping us target our campaign more effectively.
Data-Driven Decision Making
TestBoom is all about using data to drive decisions. Instead of intuition or experience alone, we used concrete, product-specific data to inform our campaign strategy.
TestBoom showed us the best way to position BusyBox, the messaging that would resonate most, and the audience that found real value in our product.
By leveraging these insights, we could confidently strategize our campaign, having already minimized potential risks.
Our approach was no longer about making educated guesses. It was about informed, strategic planning underpinned by data.
Part 2: Prelaunch
The prelaunch phase is a bridge between the insights gained from TestBoom and the actual launch of the campaign. We use these insights to build a reservation list using a strategy called the reservation funnel.
This tool encourages interested individuals to invest in the product before it even launches.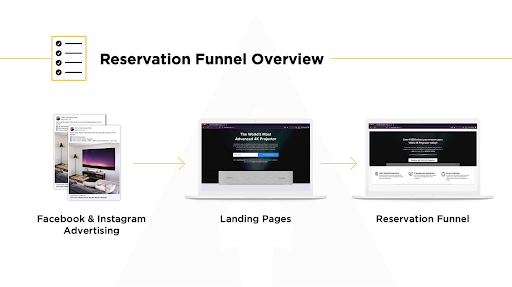 It's a straightforward but proven concept that has helped to build anticipation for our campaigns, including BusyBox.
Here is how this process goes:
The first step in the reservation funnel involves creating enticing ads on social media platforms like Facebook and Instagram. The aim is to capture the target audience's attention, enticing them to click through to a specially-designed landing page.
NOTE: We always recommend using Facebook/Instagram Ads.
Once the user clicks on the ad, they are directed to our landing page. The objective here is to encourage them to leave their email address. By doing this, they show an interest in the product and consent to receive updates about the upcoming launch.
After the user leaves their email address, we express our gratitude and offer them an exclusive opportunity to become a VIP member. This is where the catch is.
By placing a $1 deposit, they reserve the product at a significant discount. The checkout for this deposit is done on a separate page, reducing any potential friction that might deter potential backers.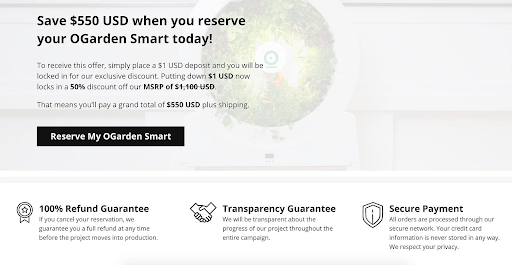 We have found that users who have placed a $1 reservation are approximately 30 times more likely to purchase when the product launches.
These individuals, who we call the VIPs, form the backbone of the community we aim to nurture and grow. We add these individuals to a VIP Facebook Group where they can interact directly with the campaign creators and other VIP members.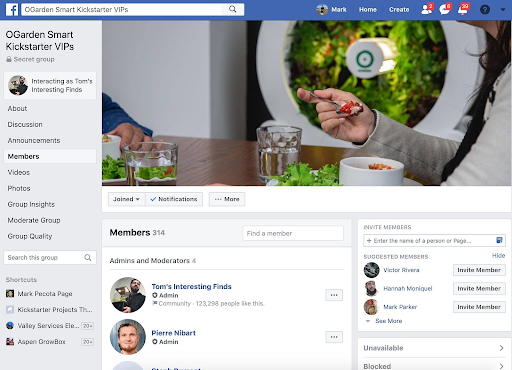 Next, once the reservation funnel is set, we move on to building and nurturing this community.
It's important to keep this community engaged and interested in the product. As such, we send regular, carefully crafted updates to keep these potential backers in the loop without overwhelming them.
Too much communication can be as harmful as too little. So, we ensure that we share relevant, valuable information at a pace that keeps our community engaged and eager for the launch.
In the next phase, you'll see the importance of this community that we have built.
Part 3: Launch
The Launch phase is arguably the most exciting part of the campaign. Or not so exciting if you didn't go through the previous steps of our framework.
And if you worked diligently through the process, then you will definitely have a launch boom.
For the BusyBox campaign, the launch was the turning point that transitioned us from the prelaunch phase to the real deal. 
But it didn't happen in isolation. All our work during the TestBoom and the subsequent prelaunch stages was instrumental in shaping a successful launch.
We raised $65,836 in the first 24 hours, surpassing the initial goal of $10,000.

We clearly had a LAUNCHBOOM.
So, what did we do on this launch day and throughout the launch period?
Emailed the Community
We sent a carefully crafted email to our entire community, announcing that BusyBox was officially available for backing.
This wasn't just a generic, impersonal email blast, though. We conveyed our gratitude for their continued support and interest in our product.
We expressed our excitement about finally bringing BusyBox to life. We also emphasized that this was only possible because of our community's support.
Additionally, we reminded them of the benefits of backing the campaign early, highlighting exclusive offers and early-bird specials.
This call to action encouraged them to act promptly and become one of the first backers of BusyBox.
Live Campaign Ads
The ad budget isn't for the prelaunch stage only.
The live campaign phase also demands a substantial part of your ad budget.
Running ads during the live campaign significantly amplifies your results. Here's how we approached the live campaign:
Targeting and Retargeting
For targeting, we identified audiences who hadn't yet been exposed to BusyBox but would potentially be interested.
For this, we leveraged insights and data gathered during the TestBoom and prelaunch phases.
Retargeting, however, involved reaching out to people interested in BusyBox but hadn't yet converted into backers.
We identified these individuals through their interactions with our ads, engagement with our social media posts, or visits to our campaign page.
Budgeting Wisely
While we were eager to attract as many backers as possible, we also knew our ad budget wasn't unlimited. 
So, we made sure to spend wisely. We closely monitored our ad performance, determining which ads were most effective in terms of engagement and conversion rates. This allowed us to optimize our ad spend, ensuring every dollar contributed to driving the campaign forward.
Part 4: Post-Campaign
After the campaign closes, transitioning into the post-campaign phase, you need to keep the momentum going. Leveraging the support and enthusiasm generated by the campaign.
At this stage, we like to use the Indiegogo Indemand feature.
Indiegogo InDemand allows you to continue raising funds even after the initial crowdfunding campaign has ended.
For example, the BusyBox campaign raised an extra $18,003 after the initial campaign ended.
The Indiegogo InDemand feature allows for the continuation of pre-order sales. This means that individuals who might have missed the original campaign could still pre-order the BusyBox, allowing the team to increase the total number of units sold.
NOTE: The post-campaign period is about more than just fulfilling orders and moving on to the next project. It's about nurturing the community you've built, learning from the campaign experience, and setting the stage for future projects.
Lessons Learned
Clear and compelling messaging plays a crucial role in attracting potential backers.

Success in one campaign should serve as a stepping stone for future endeavors. 
Future Success of BusyBox
After his success with the Indiegogo campaign, Steve took another ambitious step by presenting BusyBox on the popular TV show, Shark Tank. While he didn't manage to secure a deal with any of the Sharks, his appearance was well-received. This exposure played a role in raising awareness about his innovative product.
Outside the Tank, Steve's success story continued.
BusyBox garnered attention on Amazon, quickly becoming a favorite among those seeking solutions to enhance their work-from-home experience. In addition, Steve's own e-commerce store saw a surge in interest.
Frequently Asked Questions
How can I effectively budget for advertising in a crowdfunding campaign?
Make sure you allocate funds wisely between prelaunch and live campaign ads. Both stages are important and require dedicated resources. Use tools like Meta Pixel in the live campaign stage to help optimize ad performance.
What are some successful strategies for building an email list?
The most effective email list-building strategy is driving traffic to your landing page through Facebook/Instagram advertising. Then ensure you have a strong landing page with an enticing call to action for people to sign up for updates or become VIPs. 
Conclusion
The BusyBox campaign is a testament to the power of the Test. Launch. Scale. framework having raised over $330,000 from an initial goal of just $10,000.
If you have a great idea and want to make it a crowdfunding success story, we're the perfect fit for you. We're committed to helping you realize your vision and bring your project to life.
Reach out to our experts today, and let's begin your journey to a successful campaign.
Related Campaigns