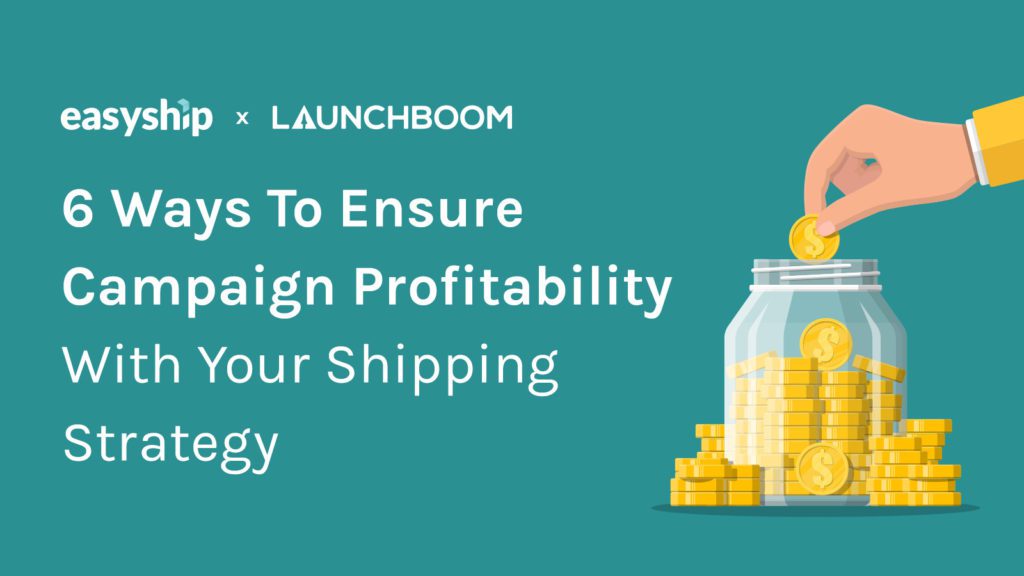 Faced with the complexities of shipping and logistics, crowdfunding campaign managers may wonder – have I chosen the right project?
The simple truth is that the profitability of any crowdfunding campaign hinges on its shipping strategy. If you can't deliver your goods at a profit, whelp, the campaign needs fixing.
For this reason, crowdfunding campaign managers should be on the lookout for powerful yet profitable shipping solutions. An effective shipping strategy involves more than picking a courier, after all, and things get even hairier when you factor in cross-border shipping and global fulfillment.
Leading shipping solutions allow you to control costs at every step with a proven set of features, such as flat rate shipping, flexible insurance, automated tax and duties calculations, and more.
Easyship specializes in helping crowdfunding campaigns stay in the black. Though there are no shortcuts to crafting a winning shipping strategy, we've prepared a handful of best practices for you.
Use this article to learn the six most important factors when creating a profitable shipping strategy.
1. Plan for Profitable Shipping
If you've come this far, you've likely spent countless hours planning your campaign. How much of that time was focused on your shipping strategy, though? It's actually very common for crowdfunders to overlook shipping and fulfillment, only to wish they hadn't.
Start by crafting a plan that accounts for the relevant shipping factors. Before you dive into the details, consider the following big-picture questions:
What is your budget for shipping?
What you spend on shipping depends on your item category, of course. A small accessory is going to be cheaper to ship than an eBike, and so on.
As a rule of thumb, expect to spend between 10-15% of funds raised on shipping, up to a maximum of 20%.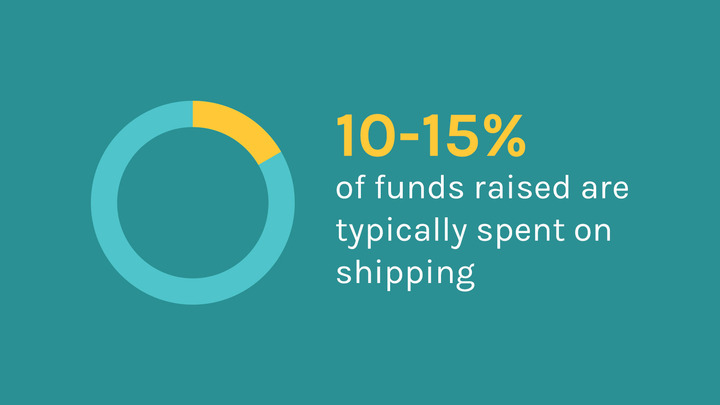 Where are your target markets?
The closer your audience, the less expensive your shipping and fulfillment. That said, if you're shipping from the United States, nearly 40% of your backers will be overseas. In most cases, regardless of your country of origin, you'll want to budget for international shipping.
What type of packaging do you need?
Packaging is a major component of your total shipping costs. If you're using custom packaging, it's especially important to include these costs in your shipping calculations.
2. Choose a Flexible Courier Solution
Your choice of courier has a big impact on your shipping costs. There are two main questions to answer when choosing a courier:
What's most important – cost, speed, or reliability?
Are you shipping internationally?
Now let's dive deeper into how to determine which courier service is right for you.
What Matters: Cost, Speed, or Reliability?
As you determine your shipping priorities, consider the difference between private and public courier services.
Traditionally, Post Offices are the most cost-effective shipping solution. They're the de facto choice of crowdfunding campaigns that want to spend the minimum on shipping.
Postal services, however, tend to suffer from issues you'd rather avoid. For example, package tracking with postal services is a less than reliable process, and it's often a headache to get answers.
By contrast, express couriers like USPS, DHL, and FedEx provide fast and reliable service.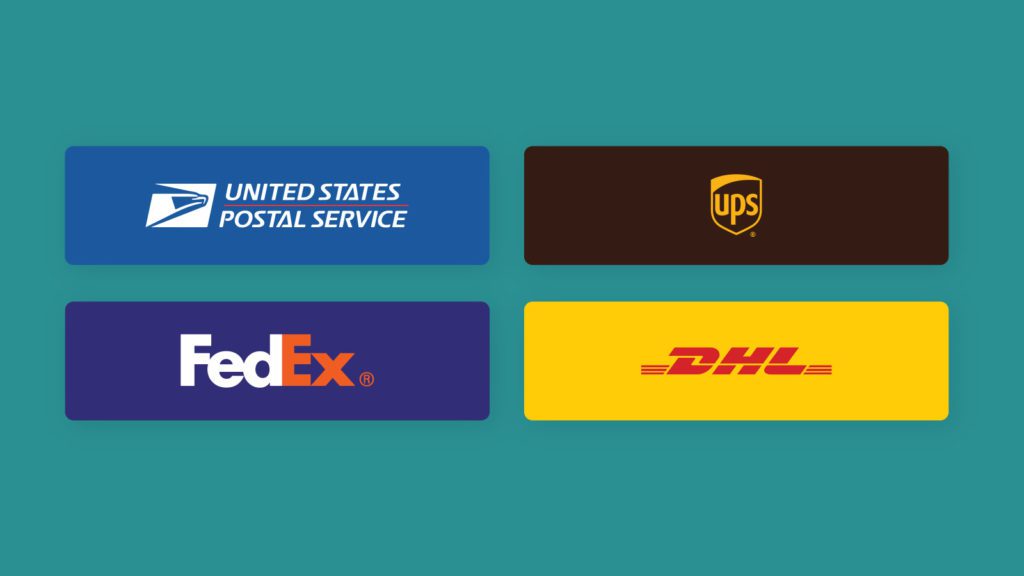 The downside is that delivery to remotes areas may incur area surcharges and handling fees. Though express couriers tend to be more expensive, they offer faster services and special handling services, plus superior insurance and tracking.
Oftentimes, you'll save money by partnering with a multi-carrier solution.
This is because multi-courier solutions – a combination of both postal and express courier services – can more efficiently distribute deliveries, then pass the savings back to you.
Are You Shipping Internationally?
These days, many campaigns have backers around the globe. While it's amazing to see new communities form across borders, it presents crowdfunders with unique shipping challenges.
Simply put, international shipping is more complex. This is because each country maintains their own shipping restrictions plus added tax and duty charges. Parts of New Zealand, China, and Russia, for example are considered remote areas that incur higher shipping charges.
The first step is to determine which countries you need to ship to. Tools like our crowdfunding calculator can help you get an accurate idea of the cost to ship anywhere worldwide.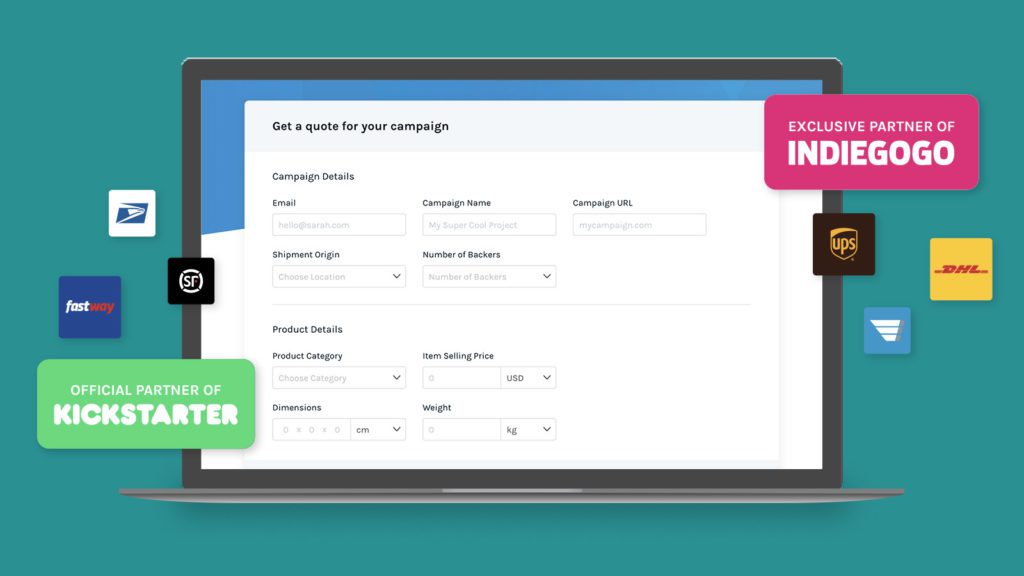 Multi Courier or Single Courier?
Once you've determined your target markets you can select your shipping couriers.
If you're only shipping domestically, you can shop between postal and private couriers for the best price.
For international shipping, though, a multi-courier solution is usually best-equipped to handle your needs. This means you'll use a mix of postal services and express couriers.
Using a multi-courier saves you money because express couriers can be overpriced in certain localities. In these cases, it's better to use a post office. Meanwhile, certain post offices may lack the speed, reliability, or coverage you need to keep your backers happy. An express courier is best in these cases.
You can use our automated shipping calculator to determine prices for international multi-courier shipping.
3. Evaluate Taxes and Duties for International Shipping
Taxes: the most dreaded word in the English language. While it's no fun to figure taxes and duties, it's an unavoidable aspect of international shipping. If ignored, taxes can become a real drain on your bottom line.
Each country sets their own rates for taxes and duties, as well as the thresholds at which duties kick in. To find taxes by country, use our list of global taxes by destination. This will give a clear picture of the specific taxes by country, and may influence which countries you ultimately target with your campaign.
4. Save Money With Multi Warehouse Distribution
Effective fulfillment is a cornerstone of any successful crowdfunding campaign.
Some crowdfunders opt to handle fulfillment themselves. Doing so requires manually packaging and preparing items to ship, but this saves money and develops valuable hands-on experience.
Another option is to outsource your warehousing and fulfillment. Notably, this gives you access to a wide network of domestic and international warehouses.
The three core benefits of the outsourced approach are:
Professionally packaged items. No more hiring temp employees or bribing family members with pizza at the last minute.
Streamlined fulfillment. As you can imagine, shipping hundreds or thousands of orders is a complex undertaking. By outsourcing to experts, you gain valuable labor hours and ensure speedy, professional deliveries with fewer hiccups.
Save by getting closer to backers. Using warehouses in the vicinity of your backers helps to shorten delivery timelines and cut shipping costs. Meanwhile, larger campaigns with thousands of orders benefit from working with industry leaders who offer the best rates in their respective markets.
5. Leverage Flat Rate Shipping
For busy crowdfunding managers, a simple solution is often best. By cutting down on tedious decision-making, you free up time to focus on core objectives.
The main benefit of flat rate shipping is streamlined budgeting. When your shipment costs are fixed, it's easier to price your perks. Of course, you might like doing tricky calculations, and that's ok too.
Flat rate services are available from USPS and express couriers like DHL, FedEx, and UPS.
These providers even offer free boxes for packaging. That said, using flat rate services discludes you from personalized external packaging, though maybe this is an acceptable tradeoff for keeping your campaign profitable.
Flat rate export is another enticing option for international shipping. Flat rate export allows you to combine discounted international shipping rates with Easyship's label-generating capabilities.
This way, you enjoy the ease of flat rate shipping plus added savings in time and money. You can even use your own personalized package for packages under 20 lbs and $400 in value. Win-win.
6. Observe Country Specific Shipping Restrictions
Each country maintains unique shipping restrictions around imports.
If you're not mindful of these restrictions, your packages could end up delayed in customs for months. This would seriously peeve your backers.
To avoid this, research your target countries to ensure your product is allowed without further documentation. Electronics with batteries, for example, must be handled with special care. Likewise, meat or other organic products are typically highly scrutinized.
This is the final step in creating a cost-effective shipping strategy.
Profitable Shipping Strategies For Crowdfunding Campaigns
Profitable shipping is no accident. As you set out to ship for your crowdfunding campaign, it's important to plan ahead.
Before you lick a single stamp, you must consider your shipping priorities, courier options, international shipping needs, tax and duties, warehouse outsourcing, and flat rate shipping.
Easyship specializes in keeping crowdfunding campaigns in the black.
Our robust, streamlined platform gives you direct access to every feature and functionality critical to shipping success. This includes shipping calculators, multi-courier networks, outsourced warehousing – even flat rate shipping to simplify budgeting.
You can create a free Easyship account here. In doing so, you join the thousands of crowdfunding managers who use Easyship to make their campaigns a success.