Twenty-twenty, a year so strange it's hard to describe it with one word. Tumultuous? Surreal? Neverending? I know this year has been incredibly challenging for the world and probably many of you reading this. Just look at the news and you'll immediately be reminded. There's so much negativity surrounding 2020, it'd be easy to just write it off.
But in my reflection, I think there is much to be grateful for. And although I'll be reflecting on LaunchBoom's 2020 experience, I think that our story extends beyond. It's a story of looking uncertainty in the face and making bold decisions. It's a story that I believe other entrepreneurs will relate to. And it's a story I hope will make you optimistic about the future.
New Year, New Records
CES
LaunchBoom's 2020 began with our annual trip to CES. On January 7th, Tom (CMO), Will (President), Justin (Director of Crowdfunding), Brad (Product Launch Director), and I jumped on a flight to the city of Las Vegas. Soon we were on the convention floors surrounded by hundreds of thousands of techies from all over the world.
Crowdfunding is a global market, which we love. But that also means we never meet the majority of our clients in person… that is, until we get to CES! Many of our global clients fly in for the conference and we take advantage of the opportunity as much as we can. Here's a photo from a dinner we had with clients from Hong Kong, Italy, and Minnesota.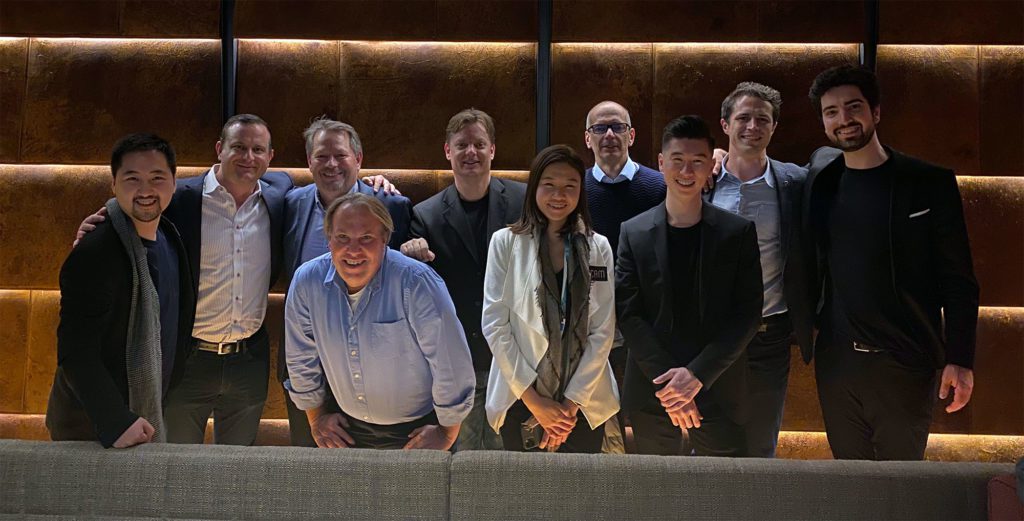 It's not all just business meetings and dinners. We also get out on the floor to explore and have a little fun…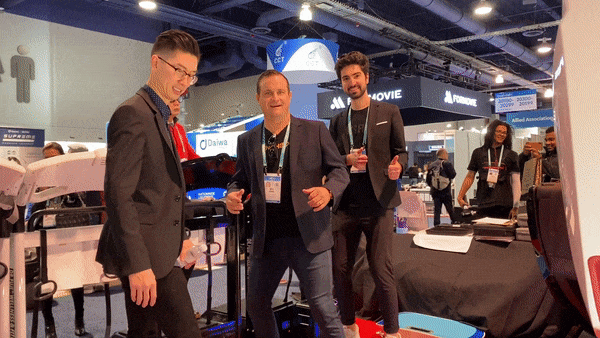 Setting A New Record
LaunchBoom's 2020 got off to a great start! Our very first launch of the year was on February 4th with eWheels v2. As the product name implies, this was the second version of the eWheels product line. We launched their first campaign on July 5th, 2017, and it raised $182,186 total. We love launching second campaigns for our clients because we typically see much larger raises.
That's exactly what happened with eWheels v2. Just on the first day, we raised $225,042 – making this launch our biggest day one raise ever. Little did we know we'd break our own record before the year was through… but more on that later!
Below is a screenshot from our Facebook Ads manager for the pre-campaign. You'll see that we:
Spent $20,056.46
Captured 7,446 leads
Got 695 reservations (called purchases below)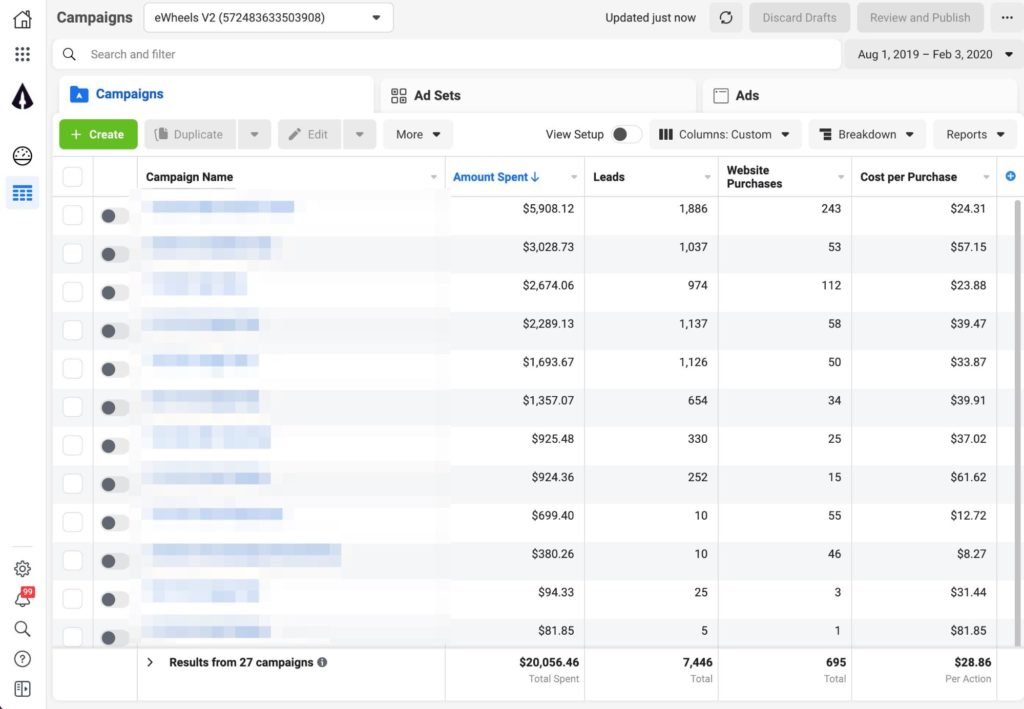 When we launched, we sent an email to our pre-launch email list and had what we call a LaunchBoom! Raising $225,042 off of $20,056.46 spent is an 11.2x return on investment. That ain't too bad.
But while we were riding the high of such a big win, there was an invisible force coming fast from overseas. One that had a much bigger impact than I anticipated. One that changed the trajectory of LaunchBoom's 2020… and the world.
COVID-19 and Leaning In
Facing Coronavirus
I, like many of my friends and peers, hastily dismissed the magnitude of the Coronavirus. When I first heard about it, it was because the virus was causing manufacturing and fulfillment delays in China for our clients. I thought it'd be like a small stretch of bumpy and unpaved road – a bit uncomfortable and annoying but something that wouldn't last long. Little did I know that bumpy, unpaved road would get worse and worse and ultimately, lead to a cliff – forcing us, and the world, to completely rethink the journey we were on.
Elon Musk says that running a start-up is like "chewing glass and staring into the abyss." Never have I related to that more than in the beginning of March. COVID-19 cases were rising exponentially around the world and it seemed that collective feelings of fear and uncertainty followed that trend.
The fear was contagious and the feeling was visceral. Prospective clients wondered if now was the time to work on their product launch. Current clients questioned if they should launch at all. And my leadership team and I had to come up with answers.
I realized that there were really only two choices here: (1) I act from a place of fear, tread lightly, act slowly, and wait to be told what to do, or (2) I act from a place of courage, lean in, own the challenge in front of me, and lead from the front.
I chose option two. Let's not just stare into the abyss, let's run into the abyss.
LaunchBoom's 2020 COVID Plan
I set up a War Room with two of my co-founders, Tom & Will. We met daily first thing in the morning for an hour to discuss strategy and how we could lead our clients, our team, and the industry through this crisis. Here was the plan:
Figure out what's really going on. We felt there was so much misinformation and fear being spread around, so we needed to find data that showed what was actually happening. How was crowdfunding being affected? How was advertising being affected? Answers to these questions and more were answered in our COVID-19 Crowdfunding Resource Hub, which we added to our site within weeks and still lives there today.
Lead the industry with education. We started weekly live webinars showcasing our team and different industry experts. We focused on highly relevant and valuable information. No fluff or BS allowed. We always ended our webinars with a live Q&A so the audience could get all their questions answered.
Grow our team and impact more entrepreneurs. From our research, we believed that COVID was an opportunity for entrepreneurs, not something to be fearful of. We bet it was going to push more spending online (which it has) and the crowdfunding industry would greatly benefit from that. That's why we made the decision to invest heavily in growing our team in anticipation of growth in crowdfunding and ecommerce.
With our strategy in place, we got to work. Little did we know the extent of how well our strategy would pay off. By the end of 2020, LaunchBoom's team had grown from 35 team members to 53 and drastically increased the amount of clients we were working with. Let's dive into how.
Launching CROWDFUNDED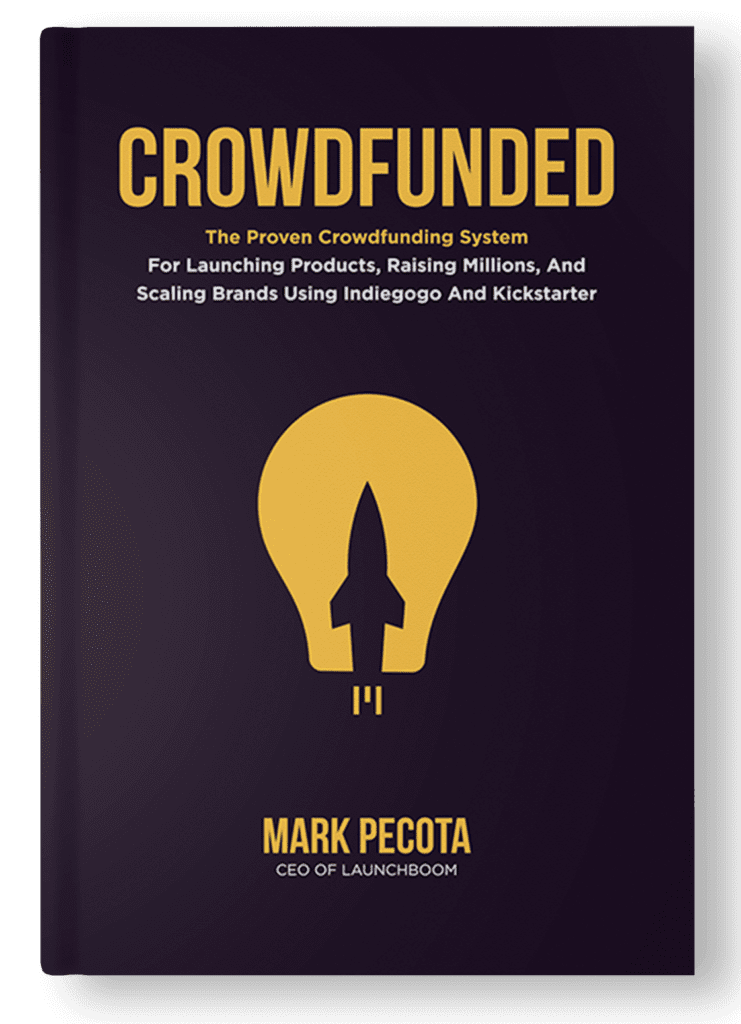 Amidst all this turmoil, I had been putting the finishing touches on my book, CROWDFUNDED. I knew that to align with the strategy we set in our War Room, I needed to get this book out as soon as possible. It would be one of our most important assets to educate entrepreneurs on how to crowdfund.
On April 15th, 2020, the book launched and we sold hundreds of copies in the first day alone. We jumped to the top of the rankings on Amazon and became the bestseller in Crowdfunding.
Since that time, the book has garnered a 4.8 out of 5 star rating from 76 reviewers on Amazon. It also received great reviews from industry experts at Indiegogo, Kickbooster, and BackerKit, to name a few.
"Mark Pecota has been in the crowdfunding space since 2015 and it really shows. The sheer amount of million dollar campaigns that LaunchBoom has been a part of is staggering. Mark's data driven approach for pre-launch and launch are second to none. If you want to crowdfund an innovative product, you want to have him on your team."
– Mark Regal, Director of Hardware and Technology @ Indiegogo // Raised over $2 billion through crowdfunding
"The Internet is riddled with one-off information on how select campaigns succeed, but this book goes over the exact framework LaunchBoom has used to successfully launch hundreds of campaigns."
– Scott Adamson, Co-Founder @ Kickbooster // Raised over $25 million through crowdfunding
"Listen to LaunchBoom. Whether you're a first-timer or a seasoned creator, this book will teach you something new about how crowdfunding works complimented by proven strategies to reach success."
– Jason Furie, Content and Community @ BackerKit // Raised over $190 million through crowdfunding
You can get the book on Kindle, audiobook, or paperback today!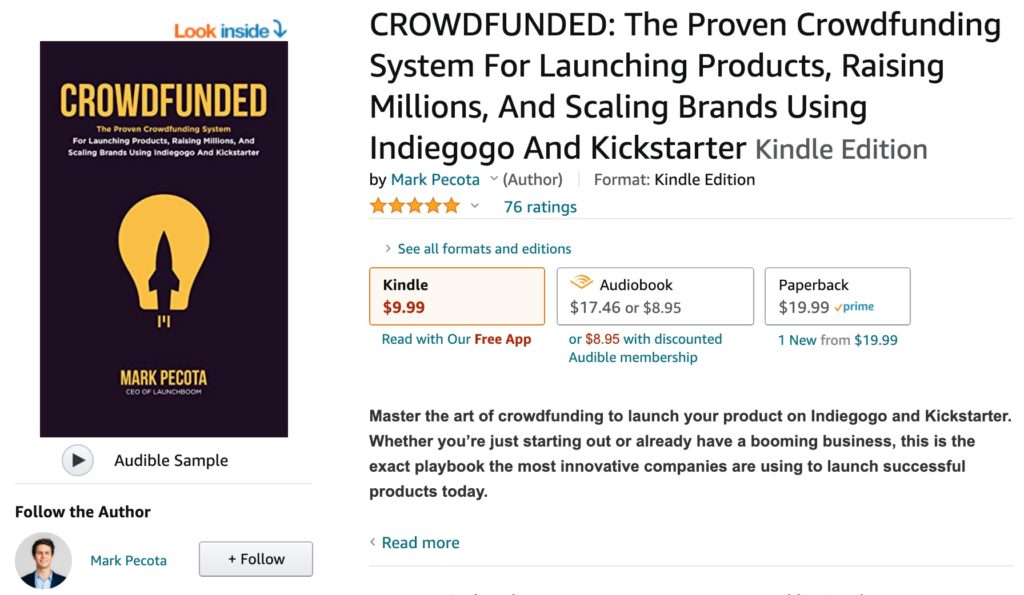 After the book was published, it was time to grow the team. There was a new organizational structure I had been working on for months and it was time to put it into practice. If it worked, LaunchBoom's organizational structure would allow us to grow faster in 2020 and work with more entrepreneurs than before.
LaunchBoom's Ecosystem Grows in 2020
Test. Launch. Scale.
In 2015, LaunchBoom began as a crowdfunding agency. If you wanted to launch your product on Kickstarter or Indiegogo, we'd help you do that. But we always had the vision for LaunchBoom to be an ecosystem of services to help entrepreneurs at every stage of building a successful brand.
One of the ideas put forward in CROWDFUNDED was our "Test. Launch. Scale." framework: our step-by-step blueprint for growing a direct-to-consumer brand. You can see it visualized below: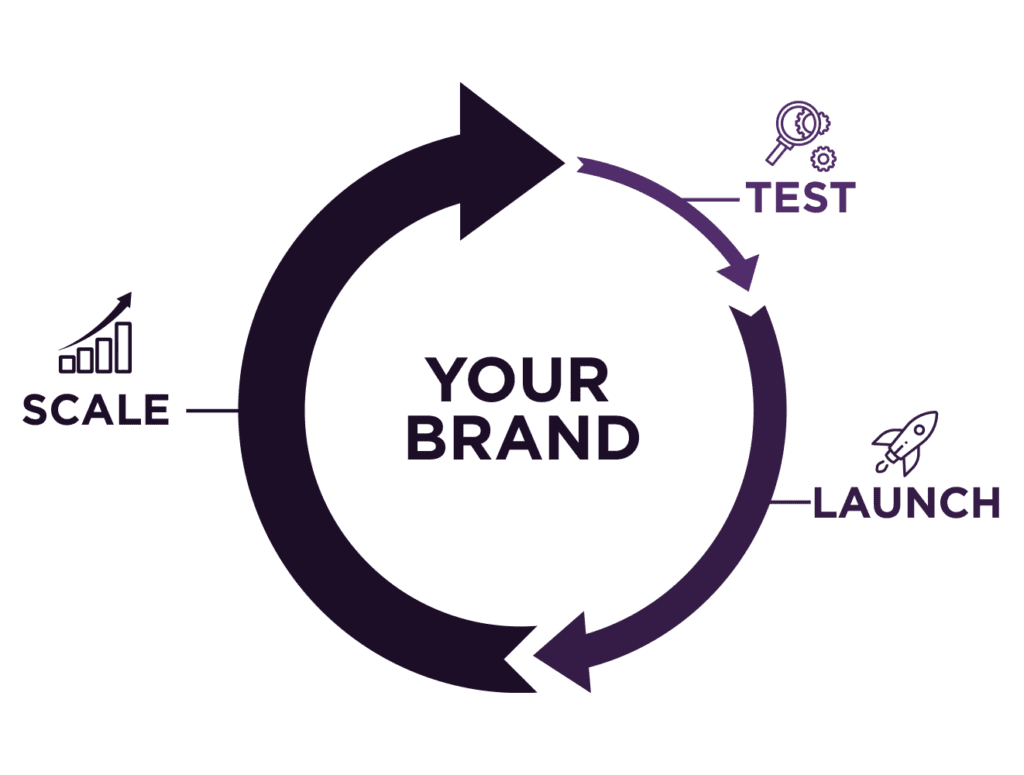 We use this framework as a guide when deciding where to invest our time and resources. For example, we ask "will adding this area of practice allow us to test, launch, or scale brands more effectively?" If the answer is yes, then it's worth our investment.
By leaning into uncertainty and betting that crowdfunding would benefit from the global pandemic, LaunchBoom's ecosystem grew substantially in 2020. We did this through creating a new organizational structure, hiring extremely talented leaders and team members, and caring deeply about our clients' experiences.
One of the primary changes was rethinking our organizational structure. I envisioned LaunchBoom as separate business units that were run by extremely talented leaders. Although separate, they would work together closely to launch products and build brands. Let's talk about the first business unit.
Crowdfunding
The first business unit to be formed was our Crowdfunding business unit (which we also call LaunchBoom). This team is responsible for our TestBoom, LaunchBoom, and AdBoom systems. TestBoom is the most important part of our system, where we validate products pre-launch through a data-driven process. For those that pass, we take them into our LaunchBoom program where we launch their product through Indiegogo or Kickstarter. AdBoom is our advertising program for campaigns that are already live.
The first step was to hire a director to lead this business unit. After considering hiring from outside, we made the decision to move up our most experienced team member, Justin Arakaki. Justin has been at LaunchBoom for seven years. For those that are doing the math, yes, that means he was with us before we were technically LaunchBoom. Before LaunchBoom, we were a digital marketing agency called Label Creative. There, he started as a video intern that we actually tried to fire at one point because we didn't think we needed his role anymore. He convinced us to let him stay and teach him digital advertising. I'm very glad he convinced us, because he quickly rose up the ranks and now leads the largest team at LaunchBoom.
Our Crowdfunding team has 23 dedicated team members that Justin oversees. We added 11 team members here just in 2020!
LaunchBoom Studios
The second business unit to be formed was LaunchBoom Studios. This business unit is responsible for producing highly creative photography and videography assets that drive sales for our Crowdfunding and eCommerce partners. They work out of our beautiful studio in downtown San Diego.
Just like before, we needed to hire a director to run this business unit. After many interviews, we found Brandon Joseph Baker. Brandon has been in the professional creative industry since 2003 and most recently worked at The North Face as their Senior Producer. Once we watched his reel from his time there, we knew we wanted to work with him.
We also invested a great deal of time and money into our studio space in downtown San Diego. This is the space that our LaunchBoom Studios team works out of and uses every day to create amazing assets. We built many beautiful sets and have models and actors coming in all the time to capture photography and video footage. Here are some shots of the studio!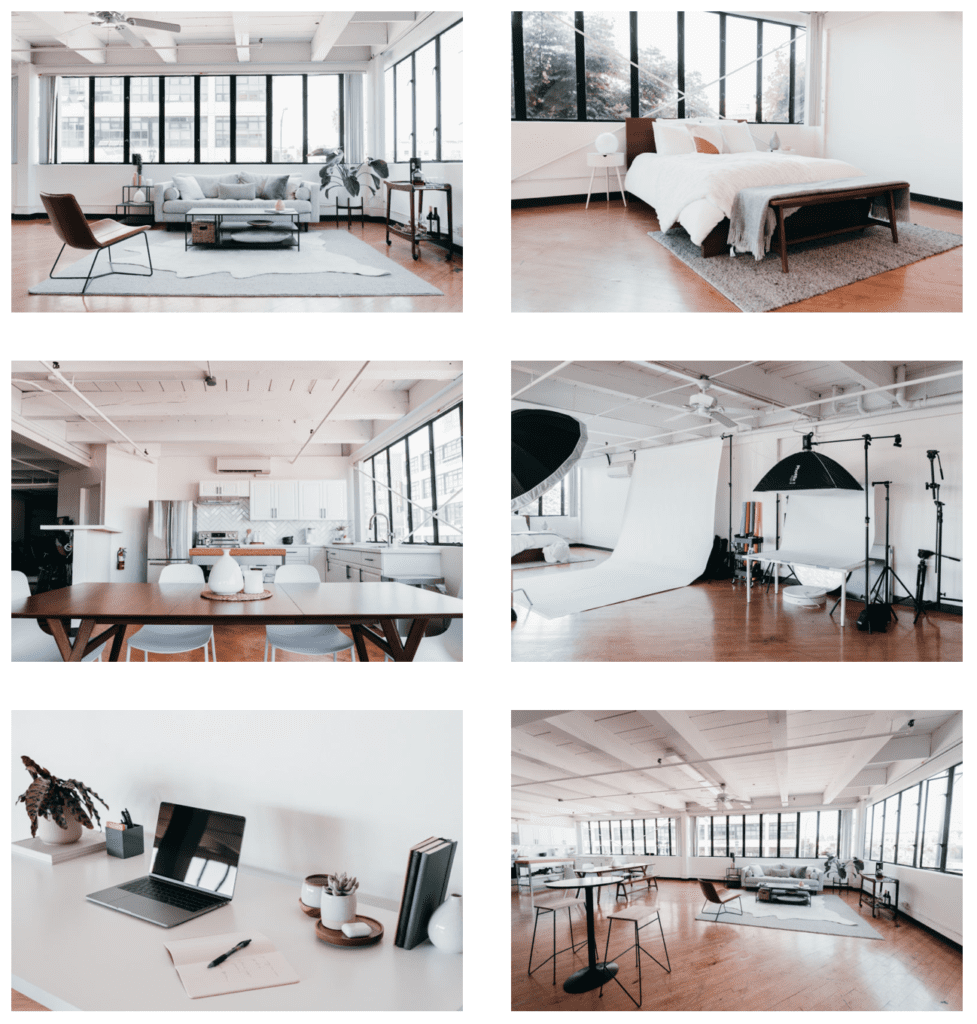 eCommerce
Last but not least, we formed an eCommerce business unit (what we call ScaleBoom). Our ScaleBoom team is responsible for partnering with DTC brands and scaling them on eCommerce. Think of our team as your marketing team. The ScaleBoom team manages content creation, paid media, UX design, Shopify development, email marketing, and everything in between.
We hired Clint Donaldson to run ScaleBoom. Clint started in the digital and eCommerce industry in the early 2000s as the COO of an eCommerce startup that eventually became the world's largest site in their industry. He has spent his career guiding DTC business owners launching new brands and verticals while achieving hundreds of millions in revenue, all-the-while increasing profit margins.
Just in the first year of business, our ScaleBoom team drove over $10M for partners on eCommerce. Plus, we saw over a 300% increase in partner portfolio revenue in the current month vs. the month before Clint joined.
LaunchBoom Academy
Crowdfunding Masterclass
Education has been a cornerstone of LaunchBoom's vision since we began. I was constantly getting comments from readers like "I can't believe you are giving away all your secrets for free!" My team and I share freely intentionally because we feel our content can empower more entrepreneurs to bring their product ideas to life. Also, we believe that focusing on giving value will lead to us receiving even more.
Pretty early on in our existence, we knew we wanted to create an online education platform. This platform would teach people our system so they could launch their own crowdfunding campaign.
For months, Tom and I spent hours creating over 100 video lessons for our first course called the Crowdfunding Masterclass. In September of this year, it finally launched! I also had a lot of fun putting together a video for it.
Since we launched in September, we've had hundreds of students join the Academy. To be honest, the reception blew away our expectations. It was amazing to see the value students were getting from the content, but the best part was the community we built – one that gets larger and more engaged every day!
Tom and I may have created the lessons, but we weren't the ones leading the growth of LaunchBoom Academy. For that, I have to give a huge shout out to Joe Piperni. Joe joined our team as a Product Launch Specialist at the beginning of the year, but he always had his sights set on leading the LaunchBoom Academy. He had a huge vision for what was possible and in Q4 he transitioned to working on LaunchBoom Academy full time. The results of his leadership speak for themselves.
Just check out all the positive reviews we've received from students in the past few months…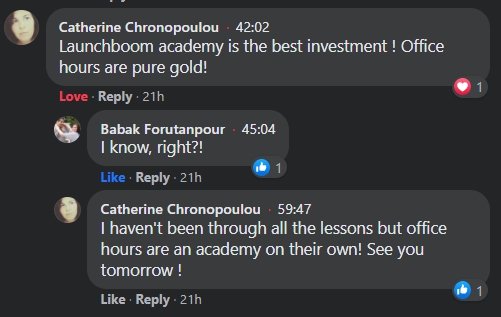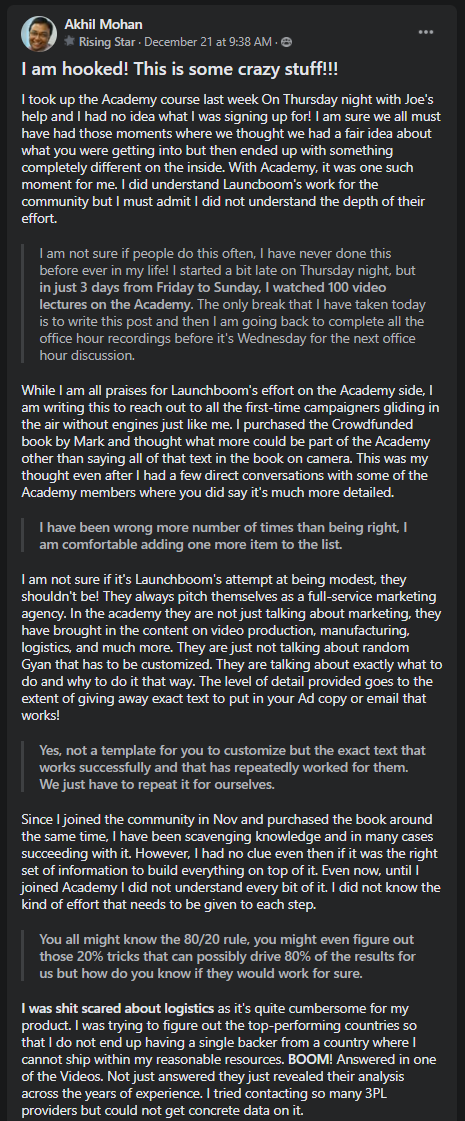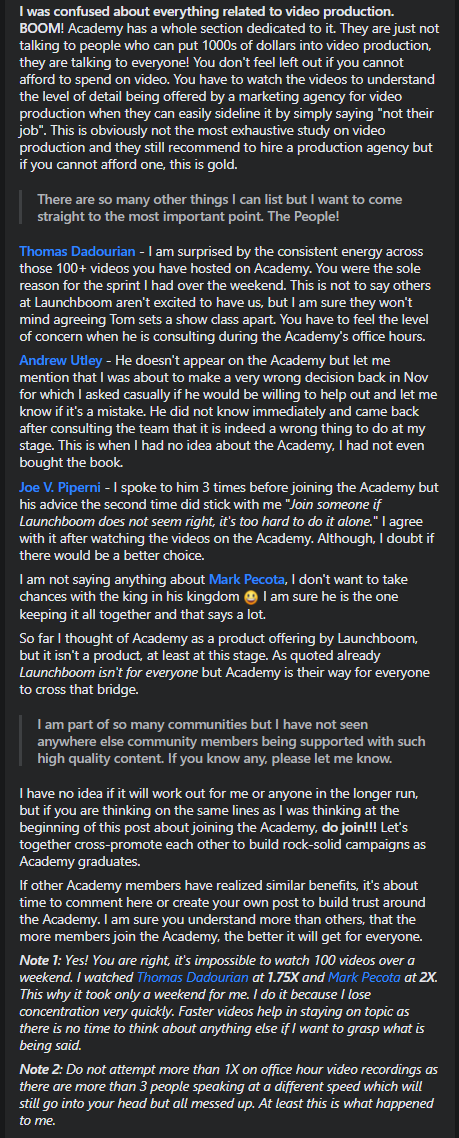 LaunchBoom's 2020 Crowdfunded Summit
Launching Our First Summit
Every quarter, our leadership team goes on a retreat to reflect on the previous quarter and plan our strategy for the next. We have a very open and transparent culture. It's very normal for us to challenge each other if we feel a team member can accomplish something greater than what they were already planning. During our retreat at the end of Q2, Will challenged Tom to lead the launch of the biggest crowdfunding summit that's ever been held. Tom accepted that challenge.
There was already a lot on Tom's plate for the quarter before adding the Crowdfunded Summit. So by the time he started really planning, we only had one month until the launch. Many people would have said he wouldn't be able to pull it off with such little time. But those people don't know Tom and the rest of the LaunchBoom team.
Within one month, our team (with Tom's leadership) was able to plan a two-day virtual event. Here's some awesome stats to show you how well this went:
2,576 registrations
36 expert speakers from leading companies in the industry (including Google, Facebook, and Indiegogo, to name a few)
2 full days of content
$164,000 in sponsorship prizes
Yes, you read that last number correctly. We got $164K in sponsorship prizes to run our very first Pitch Competition.
LaunchBoom's 2020 Pitch Competition
We wanted to come up with something that would truly make the summit stand out. When brainstorming, someone said…
"Why don't we have a virtual Shark Tank?"
"What do you mean exactly?"
"Let's get entrepreneurs to pitch their idea, and if they win, they'll get $100K in cash and services."
It was a crazy idea. So naturally, we loved it. We actually only set out to get $100K in cash and services but ended up getting $164K because so many sponsors wanted to join!
So here's how the Pitch Competition worked. We had 213 people apply. Tom and I then whittled that list down to 5 finalists. These 5 finalists were invited to pitch their idea live for our final event of the Summit. Finalists were from all over the world and many were doing their pitches in the middle of the night!
Finalists had 5 minutes to pitch their idea followed by 5 minutes of Q&A from the judges. Speaking of judges, we had an amazing pane:
Will Ford: President & Co-Founder of LaunchBoom
Iñaki Pedroarena-Leal: Head of Partnerships at StartEngine
Hieu Ngo: Business Development at Indiegogo
David Meltzer: Co-founder of Sports 1 Marketing
Stephen Lepke: Sr. Manager at Arrow Electronics
After an hour of pitching and deliberation, we had our winner: Cyberpunk by GeeekClub!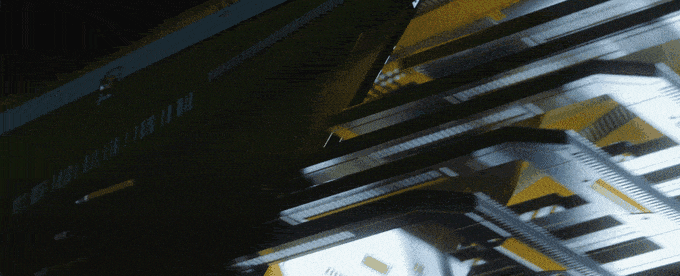 Because of the success of our first Crowdfunded Summit, we are already planning the next Crowdfunded Summit for March of 2021! Sign up for our Crowdfunded Community on Facebook to be notified when you can register.
Crowdfunded Community
Oh yeah…
We also created an awesome community of project creators who are supporting one another.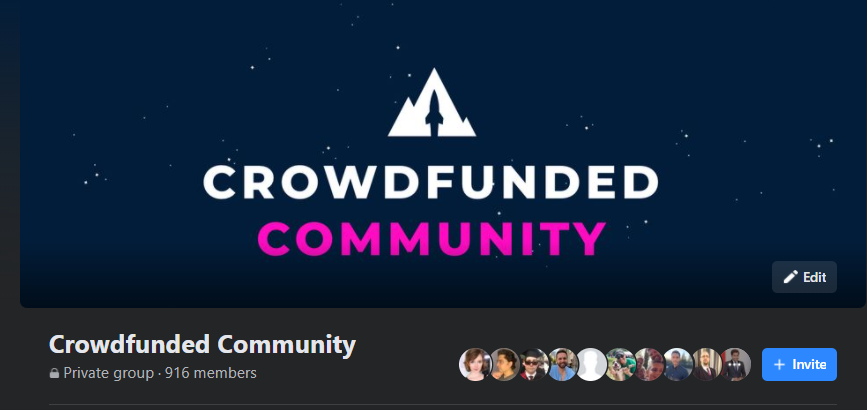 Here is a review from one of our members:
"During the campaign we got invited into a lot of different groups. Here is one we found particularly valuable! Really wish we were a part of it before locking in our launch.
Crowdfunded Community is an amazing Facebook page that is created by Launch Boom. It's a group of people extremely passionate about crowdfunded projects with a wealth of knowledge that is amazing.They also have a great guide with step by step instructions to create a successful campaign. They even wrote the book on it!"
LaunchBoom's 2020 Big Wins
Launching The Most Crowdfunded… Hotel?
If you were to tell me at the beginning of the year that we'd be launching a hotel, I'd tell you that you were crazy. Well, in July of this year, we got an opportunity to TestBoom a concept called Bubble Hotel. The TestBoom results were incredibly surprising – in the best way possible.
The screenshot below is from Facebook Ads Manager. It shows the data at the end of our TestBoom. You'll see that we:
Spent $2,000
Captured 4,587 leads
Got 325 reservations (called purchases below)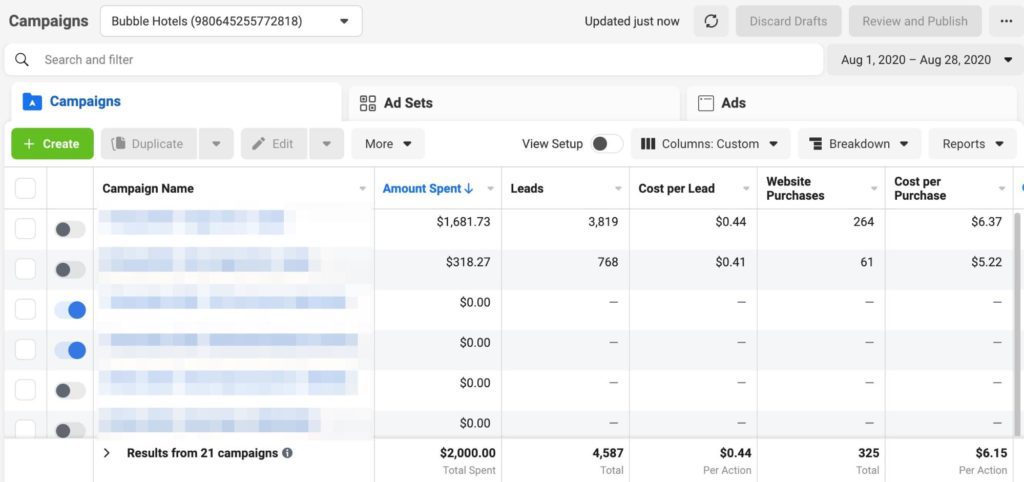 It's not an overstatement when I say these numbers are insanely good. We quickly moved Bubble Hotel into our full LaunchBoom program and scaled budgets. The screenshot below shows the final pre-campaign numbers:
$26,825.47 spent
32,027 leads
4,181 reservations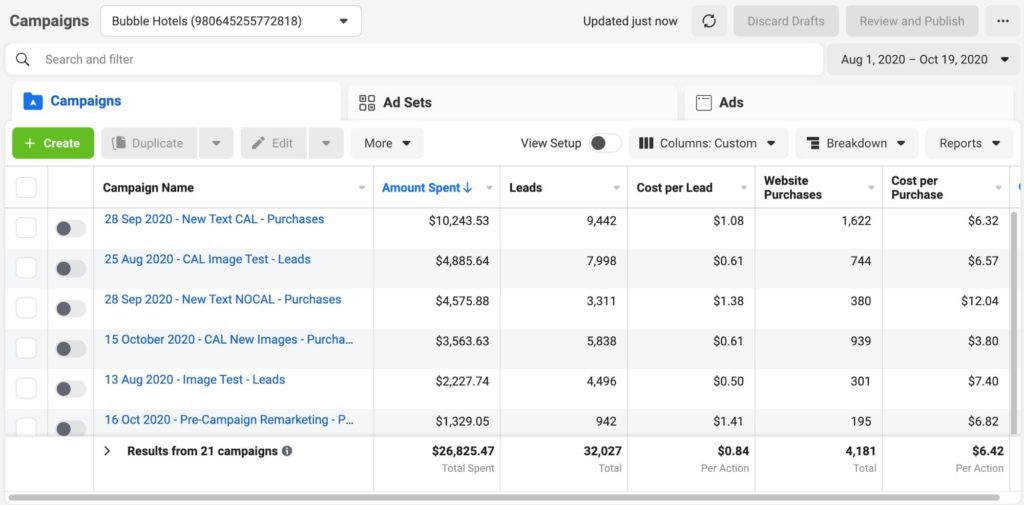 This massive community also helped us break our own record we set earlier in the year… after raising $247,679 on the first day of the campaign, Bubble Hotel took the crown from eWheels v2 for the largest day one raise in LaunchBoom's history! It has since gone on to raise $736,495, becoming the most crowdfunded hotel ever. Because of this, I predict there is going to be a wave of boutique hotels using crowdfunding to bring their concepts to life.
Our team also spent a week out in Joshua Tree to create amazing videos that captured the imagination of thousands of backers. You can check them out below!
Rocket eBike
We've been talking a lot about our biggest day one raises, but what about our largest raise of the year? Well, that award goes to Rocket eBike! This product takes eBikes to the next level with its 100 mile range, regenerative braking, and folding frame. So far we've raised $1,378,694 and we're still raising money on Indiegogo InDemand.
Like Bubble Hotel, Rocket eBike had an incredibly strong pre-campaign. Here are the stats that are shown in the screenshot below:
$39,823.77 spent
19,648 leads
1,487 reservations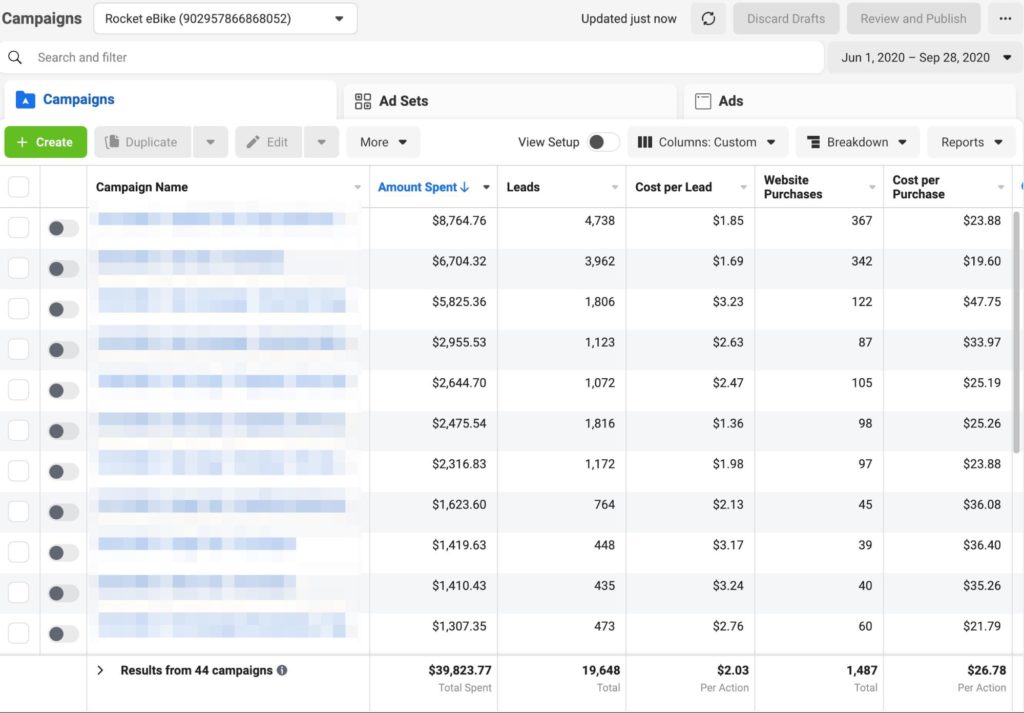 We used this pre-launch community to raise $160,480 on the first day alone. The momentum never stopped on this campaign, with the average raise per day being $18,140.71!
Also, fun fact. At one point the only two campaigns on Indiegogo's homepage were LaunchBoom projects.

Launching A Youtube Series
If a summit, a ton of successful projects, and a book wasn't enough for LaunchBoom's 2020, we also launched a YouTube series called LaunchBoom Live. LaunchBoom Live is a weekly 60-minute show that teaches viewers how to go from idea to fully funded product launch. Each episode is broken down into six bite-sized segments of tangible, actionable information and interviews. Occasionally we will break down campaign pages and landing pages from our community and give feedback on how they can be improved.

Delivering A Great Experience
If we raised millions of dollars but all of our clients had terrible experiences working with us, I wouldn't say we were successful. That's why I'm most proud of what our clients have said about working with our team. I'm especially proud of the feelings of trust that so many clients speak of. You can see some of the most recent Google Reviews below.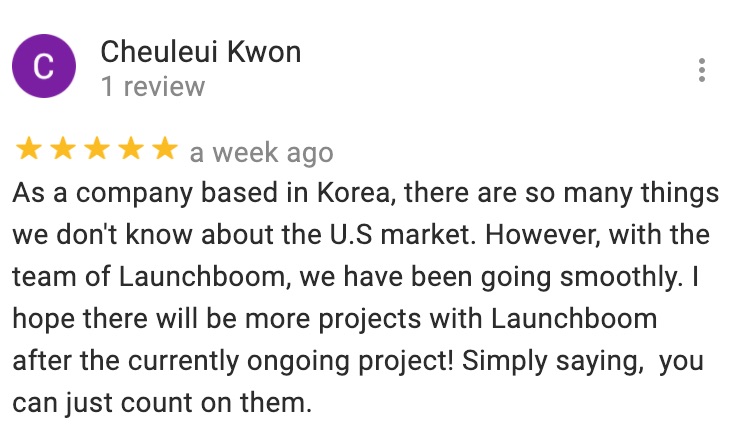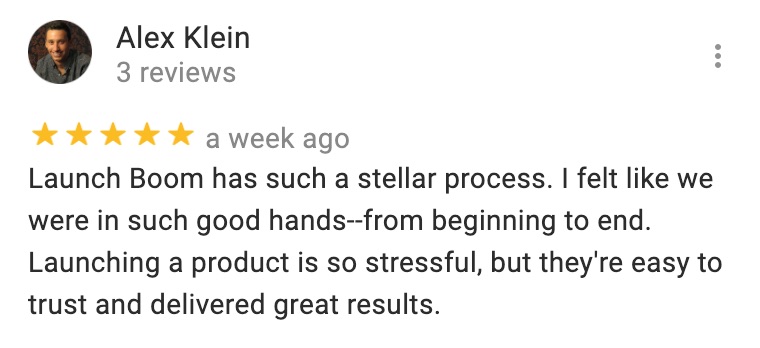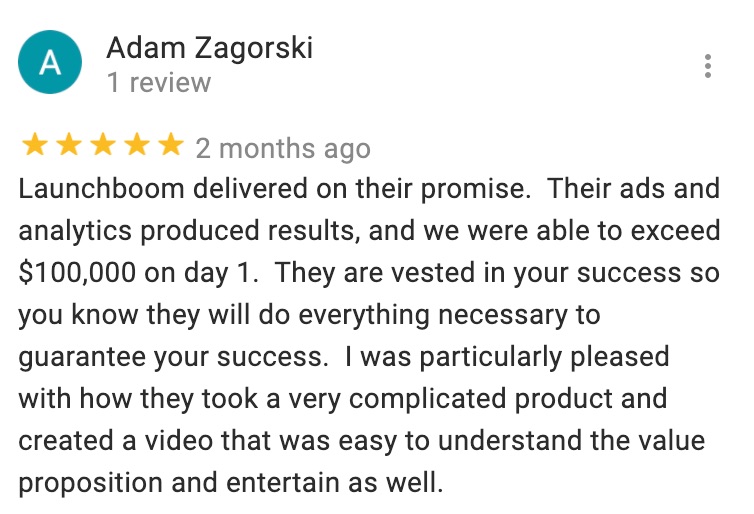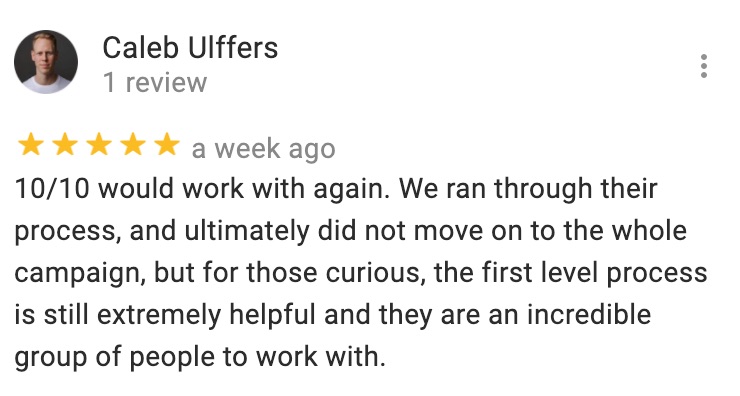 Wrapping Up LaunchBoom's 2020
A friend of mine loves to end meetings with a "one word close." That word represents the prevailing emotion that you feel. For me right now, that emotion is grateful.
I'm grateful for my team – being able to work around such talented people every day makes me excited to wake up.
I'm grateful for our clients – entrepreneurs are the engine of change in this world and being a part of so many entrepreneurs' journeys is incredibly rewarding.
And I'm grateful for the opportunity in front of us – LaunchBoom is just getting started and there is much more in store for 2021 and beyond.
So in the words of our beloved client Bubba from Give'r, there's only one last thing to say…
Buckle up!
-Mark Pecota and the LaunchBoom team