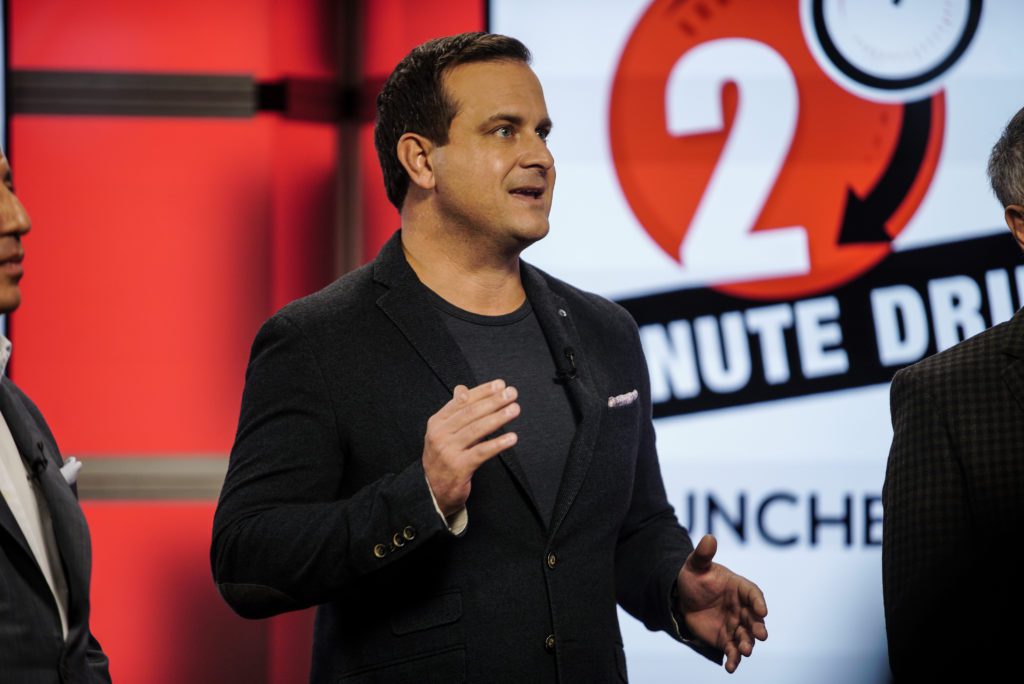 Lights… camera… action!
2 MInute Drill, the new pitch show hosted by David Meltzer and Rory Cutaia, premiered two weeks ago on Bloomberg TV. LaunchBoom's Will Ford was the guest judge on this past week's episode, and he got to watch some amazing pitches. This week's 2 Minute Drill featured pitches from Drink Hab, doTERRA, Athletes In Recruitment, and Sparkbudz. You can watch the episode here!
The Pitches
The first pitch was by Shane McCassy from Drink Hab, which produces nutritional, flavorful water additives designed to get people drinking more water. Drink Hab's spotlight is on environmental sustainability, focusing on being plastic-free and also on donating part of proceeds to help provide clean drinking water to those in need.
Our next pitch was from Cristina Madrigal, a doTERRA Essential Oils wellness advocate with a real passion for her products. Cristina explained how doTERRA influenced her and changed her life, and also talked about her desire to commit to her business and really make it grow.
James Sackville from Athletes In Recruitment (AIR) was next to pitch. AIR helps student-athletes take control of the college recruitment process, opening them up to the opportunities and scholarships available to athletic recruits. AIR works as a freemium subscription service for student-athletes and for participating colleges.
Finally, we heard a pitch from Brittany Evans, the inventor of Sparkbudz. These versatile earphones let users easily co-listen to music at the same time without worrying about tangled cords or unsanitary devices. What's more, Sparkbudz have fun, customizable charms, so you can personalize how they look based on your own preferences.
The Winner
After each entrepreneur gave their pitch, the judges took a quick break to deliberate. In the end, the winner of this week's 2 Minute Drill was Brittany Evans of Sparkbudz. Brittany will receive $50,000 in cash and prizes to help launch Sparkbudz into a successful business. Congratulations, Brittany!
2 Minute Drill airs Fridays at 8:30 PM ET/5:30 PM PT. For full details on the show, check out our previous blog post here. If you want to get an email reminder before each episode, sign up below!