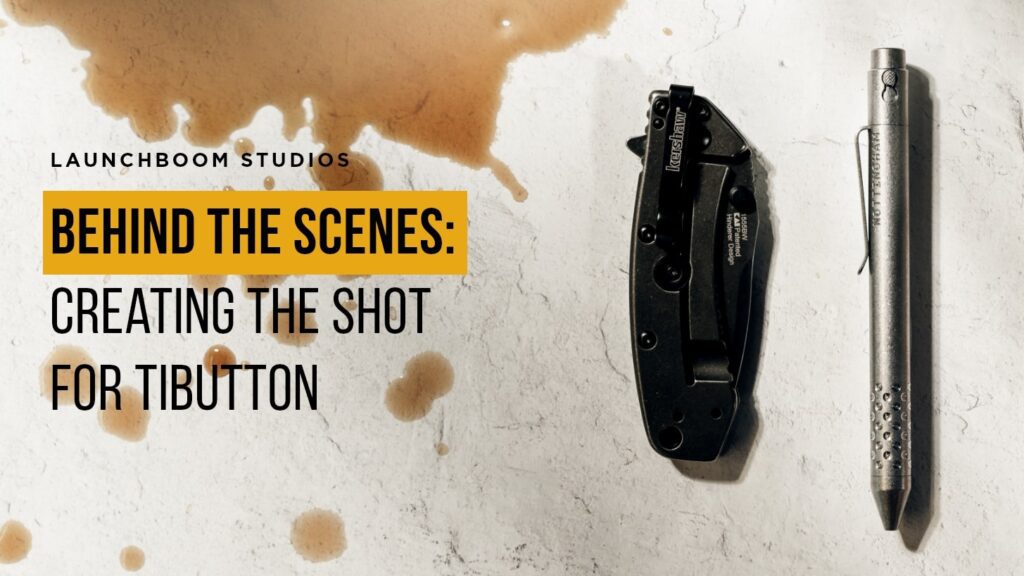 The ideation, planning, and hard work that goes into all things visual is a part of marketing that's often overlooked. From graphic design to live photoshoots, there is an entire iceberg beneath the surface that goes unseen.
High-quality visuals provide so much value to a crowdfunding campaign, and we love showcasing the impact our creative team makes.
One of LaunchBoom Studios' Creative Producers, Jayne Chong, took the lead on the photoshoot for the TiButton pen by Nottingham Tactical. It's a high-grade titanium pen that comes with a safety locking mechanism to prevent ink from ever leaking out.
It's a small and visually simplistic product, which presents a few challenges when thinking about how to photograph it. However, with some time, research, and trial and error, these challenges can be turned into opportunities.
From start to finish, achieving the complete, edited photos for TiButton took nearly 15 hours! Let's have a look at a few of those finished shots and the thought processes behind them.
Try to Tell a Story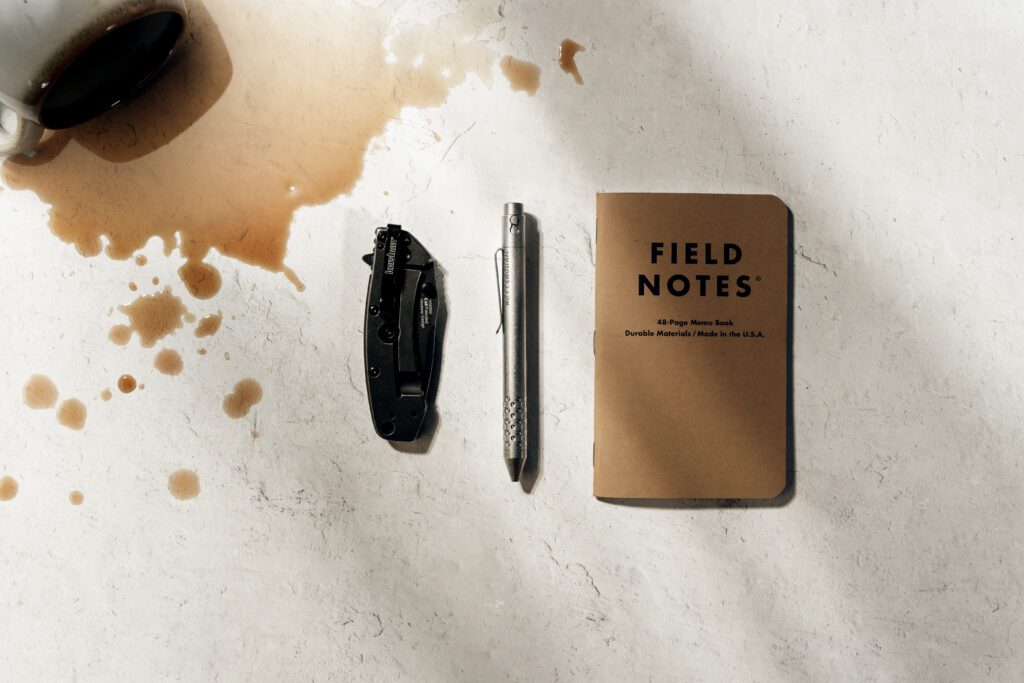 Telling a story with your photos helps build excitement for a product.
For the incredible shot above, check out this behind-the-scenes video with Jayne where she gives you a glimpse into how she made this simple product really shine through.
There were plenty more awesome photos from the shoot that didn't make it into the video, so here's Jayne to provide some commentary behind her favorites:
Inspire a Use Case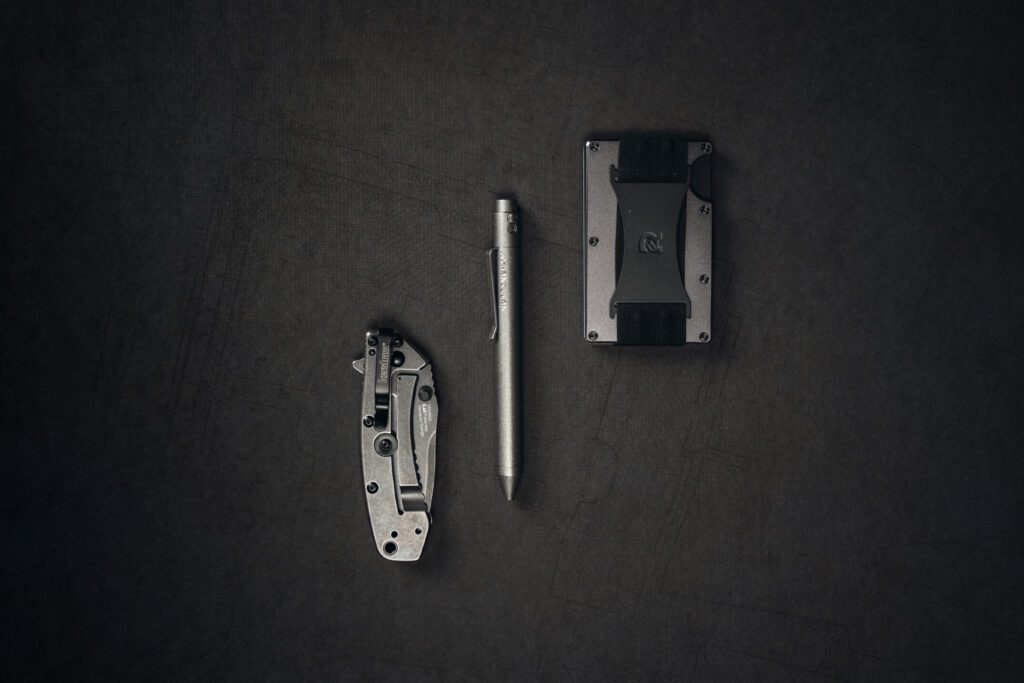 "This is a very simple EDC (everyday carry) concept. I researched the typical audience in the current market that would be attracted to these pens and saw that the EDC community appreciates great workmanship in their tools. Pocket knives, wallets, and pens were a few that constantly popped up.
In this photo, I wanted to keep the color of the EDC items fairly similar, as if they were a set. Setting it on black paper, I was able to get a slight paper texture and had a blueprint sketch overlay on the paper to create more texture rather than a simple product shot. [I wanted to convey] maybe YOU can sketch out a blueprint with that pen as well!"
Know Your Audience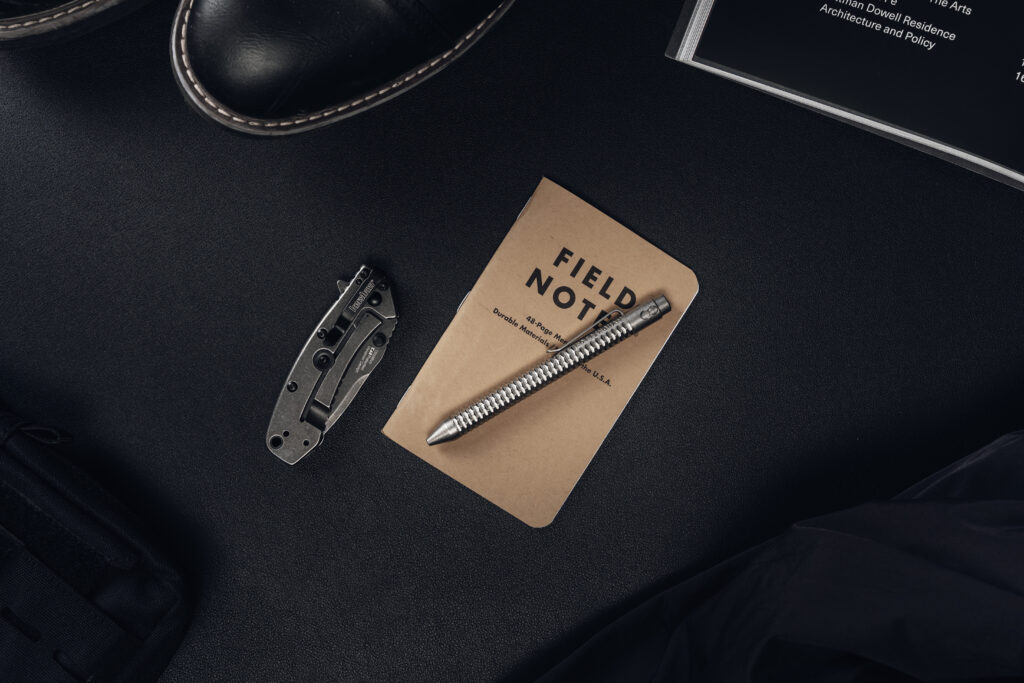 "This type of photo is one of the more simple concepts to shoot but does take a bit of trial and error. The concept is to collect lifestyle items to create texture. Since the main audience is mostly men, we utilized men's shoes and clothes, and a masculine color palette. The dark surrounding helps draw the eyes to the center and the pen."
Get Creative!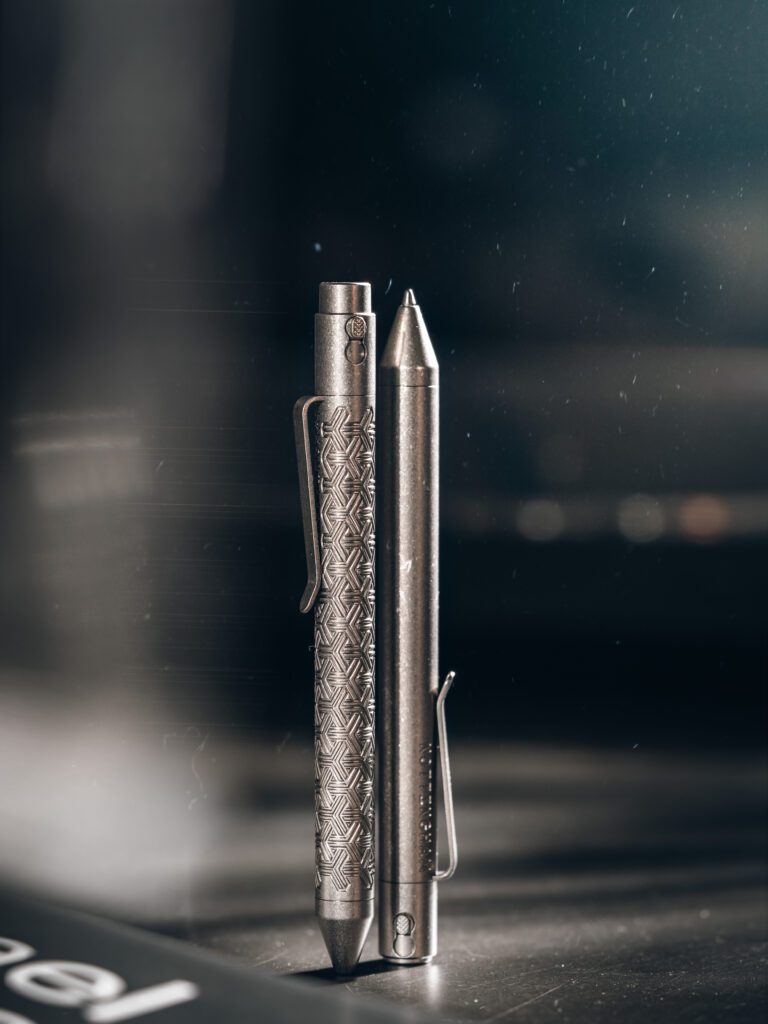 "This photo is one of my favorites and also the most challenging one to shoot. It looks simple, but it took the longest to plan and adjust everything — from the lighting to the background and foreground.
If you could have seen the behind-the-scenes, it was a beautiful mess. The idea behind this shot was to really highlight the beauty of the pen in a new light. I wanted it to be a little grungy to match the brand, but also create an image where people would stop and admire it."
---
LaunchBoom Studios does tons of great work, from producing videos for crowdfunding campaigns to photoshoots for e-commerce clients. Their expertise makes all the difference, especially when tasked with creating outstanding photos for the simplest products!
A special thank you to Jayne for taking the time to share her creative insights.
To stay up-to-date on more awesome, behind-the-scenes content like this, subscribe to our weekly newsletter below.
If you've got questions about how to take your product or crowdfunding campaign to the next level with great photos and video, book a call with us!