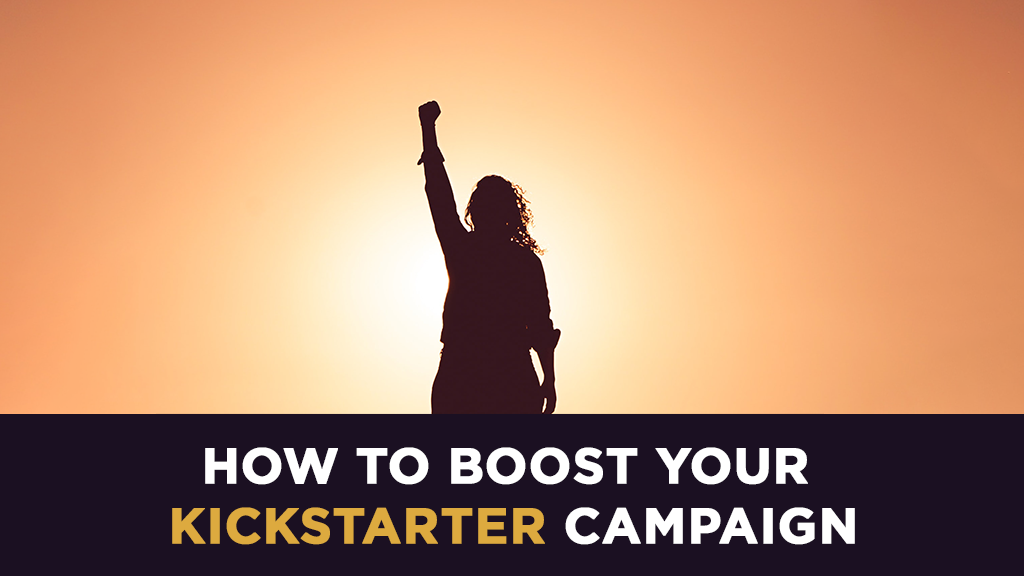 You eagerly launched your Kickstarter crowdfunding campaign, confident in your project and excited to see the support flood in. You spent hours tirelessly working on the pitch, making a captivating video, putting your vision into words, and reaching out for support, but it isn't going the way you hoped
Before you freak out, take a deep breath, and let's go through this together like a checklist to see if you've done everything you can to boost your Kickstarter campaign.
Key Takeaways
If your crowdfunding campaign hasn't gained traction yet, you need to know about the 4 horsemen of traffic.
Tapping into crowdfunding-specific newsletters can be an excellent way to boost your campaign's reach.
Tools like Kickbooster can help create extra buzz around your campaign.
LaunchBoom can help you gain more insight and strategize better.
7 Proven Strategies to Boost Your Kickstarter Campaign!
It takes a lot of talent, hard work, money, and passion to bring a Kickstarter campaign to life. Sometimes, things don't go the way you planned. If you're not happy with how your campaign is going so far, or if you want to build on an already successful campaign, we've gathered up 7 proven strategies that can help get your campaign started and take it to the next level.
The first four of these are what we like to call the 4 horsemen of traffic. These four categories account for the vast majority of funding you'll raise so getting to know them will allow you to bring in the most money and save you time!
Build A Pre-Launch Email List
Crowdfunding is all about building a community. You can't do anything without identifying engaged backers and keeping that engagement up with consistent communication. You'll want to identify backers who show buying intent (link to an article about creating an email list) and once you've done that, you'll want to provide frequent and transparent updates about the project. Doing this can raise your credibility and build a foundation of trust that rallies these backers on launch day.
This Horseman leads the charge. On average, we find that around 90% of the sales from the Pre-Launch Email List will come within the first 48 hours.
Social Media Marketing and Advertising with Meta
Everywhere you look, people are staring down at their phones and you know exactly what has them glued to their devices. This is one reason you'll want to invest in social media marketing and advertising. But, specifically, you'll want to leverage Meta Pixel on Facebook and Insta which can now be easily linked to your Kickstarter. This will allow you to easily track your success and make adjustments where necessary using the massive amount of ad data that Facebook provides.
This Horseman will fight till the end. Facebook Ads allow you to keep sustained traffic throughout your campaign. Depending on how good the returns are, you can scale up and down as you please.
Seek Out PR and Media Placement
For obvious reasons, good PR and media placement drive credibility and sales. They drive credibility because everyone loves a logo could and having your product featured in well-known media attaches your brand name to theirs while an increase in sales comes from more eyes on your campaign.
This Horseman fights in waves. The thing about this horseman is that media placement and PR are difficult to get and sustain organically unless you have the money to buy placement. That said, this horseman will usually show up to give you a boost when you're campaign starts to see some success.
Crowdfunding Platforms
If you're thinking that you made the wrong decision in choosing Kickstarter instead of launching your own e-commerce website, think again. You made a good decision. Crowdfunding platforms have something that your website and other traditional fundraising methods don't have: a massive community of millions of people who are already interested in backing new ideas.
This Horseman never rides alone. One thing you need to know is that more popular campaigns get more exposure on Kickstarter. So, if you're wondering why your campaign hasn't been doing so well, but you haven't looked into any of the other tips here, you now have your answer. Kickstarter is a great platform to reach backers, but you have to put in the leg work to make sure they know you're out there.
Use Add-Ons to Increase AOV
Back in 2021, Kickstarter started allowing creators to offer add-ons to their backers. As Kickstarter describes them:
"Add-ons are optional rewards backers can choose to add to their pledges: accessories, game expansion packs, movie posters, copies of an earlier publication—any extra item that complements the primary reward without distracting from the core mission of the project."
This is something that creators had been asking for some time because many creators were already offering extra features for VIP backers. But now that it's a feature on the website it's one you should definitely be using to boost your campaign and maximize your pledges. So, as you're crafting your campaign, consider what sort of extras you might be able to offer. It could be something as simple as extra blade packs for a shaving kit. Get creative and you may be able to do it in a way that doesn't cost you any extra time or money.
Tap Into Crowdfunding Newsletters
There's no doubt that tapping into newsletters can boost your campaign. Newsletters introduce your product to massive audiences that have been crafted over time and developed trust in their insight and recommendations.
The good news: Kickstarter has its own newsletter.
The bad news: Kickstarter's newsletter is notoriously difficult to get placement on and the platform itself doesn't provide clear guidelines on how to win these coveted features.
Luckily, there are alternatives you can check out and make the most of as you look to boost your campaign. Here are three that we recommend:
Leverage Crowdfunding Tools and Software like Kickbooster
If you're just starting out and you haven't had years to build a network of partners that can help boost your campaign, there are tools and services you can leverage to give you a head start.
Take Kickbooster: this crowdfunding tool is the closest to a PR hack that you can get. Kickbooster's has built a massive community of affiliates who are ready to promote your campaign.
What is Kickbooster, Anyway?
Quite simply, Kickbooster creates cash-back programs for Kickstarter campaigns. What does this mean? They directly connect big affiliates with creators instead of relying on creators to find the affiliates themselves.
How Does Kickbooster Work?
Kickbooster works with a huge community of "boosters" that they've built since 2015. When you sign up they give you access to a Marketplace of these boosters, many of which are online publishers who can promote your campaign. Essentially they're offered a percentage of sales in exchange for writing articles about your campaign offering you a media placement hack that would otherwise only be accessible by grabbing the attention of these publishers with an already successful campaign.
Is Kickbooster Worth It?
Absolutely. In fact, it's a no-brainer. Their pricing model is super affordable and incredibly straightforward. They charge $29/mo plus a 3% commission rate in addition to a rate you negotiate with boosters.
We used Kickbooster for our client, Stealth Wallet and we were able to add an additional $21,795 in funding to the campaign.
Want to Supercharge Your Campaign? Learn How With LaunchBoom
LaunchBoom works by helping campaign creators like you supercharge campaigns and reach funding goals by implementing a proven process that's raised over $100M for our clients.
Since 2015, LaunchBoom has been helping to bring great ideas to life. With a proven track record of success, your project is in good hands here. When you partner up with us you'll gain valuable insight into every aspect of a successful crowdfunding campaign and learn how to keep the ball rolling, even after the campaign is over. We're here to guide you every step of the way.