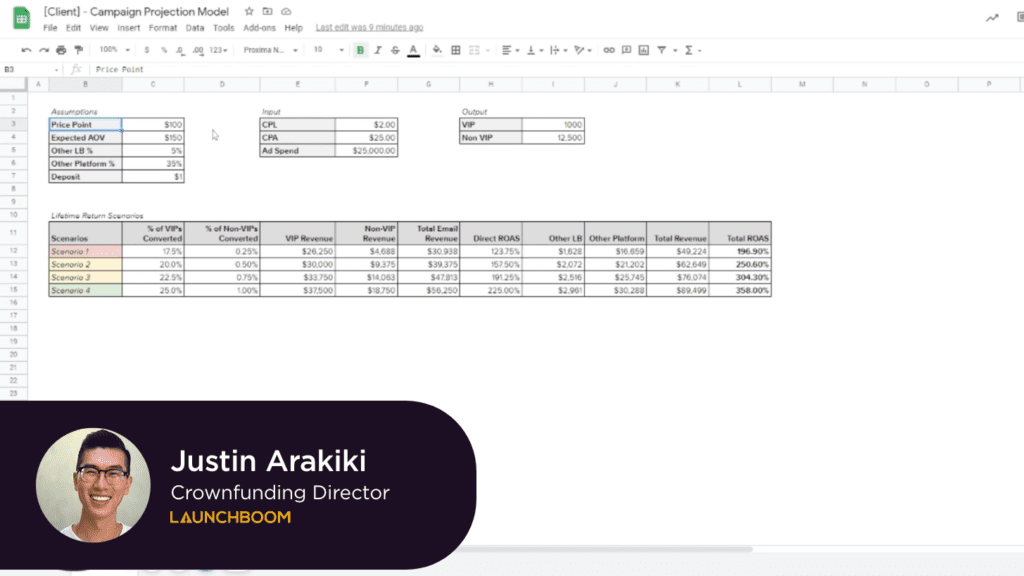 One of the most common questions clients ask is, "How much money is my crowdfunding campaign going to raise?"
Unfortunately, we don't have a crystal ball that can predict your exact raise amount. But we do have the next best thing!
Crowdfunding Campaign Projection Model
After years of trial and error in crowdfunding, we've created a Campaign Projection Model that predicts what a campaign will raise with surprising accuracy.
It's so reliable because it's based on real conversion data that we've collected from hundreds of crowdfunding campaigns we've launched across multiple product categories and price points.
We use it on every campaign we take on and now it's available to you.
Watch the video below to get an inside look at how our Campaign Projection Model Works and see it in action on a live campaign. Here we go!
In this video, you will learn:
How high price point products perform compared to low price point products
How to predict your Return on Ad Spend (ROAS)
How to predict total email revenue
How to predict total VIP revenue (deposits)
How to predict total campaign revenue
4 scenarios based on different conversion rates
How the Projection Model performed on a live campaign
Want to talk with a team member about our Campaign Projection Model or other crowdfunding services? Book a call here!