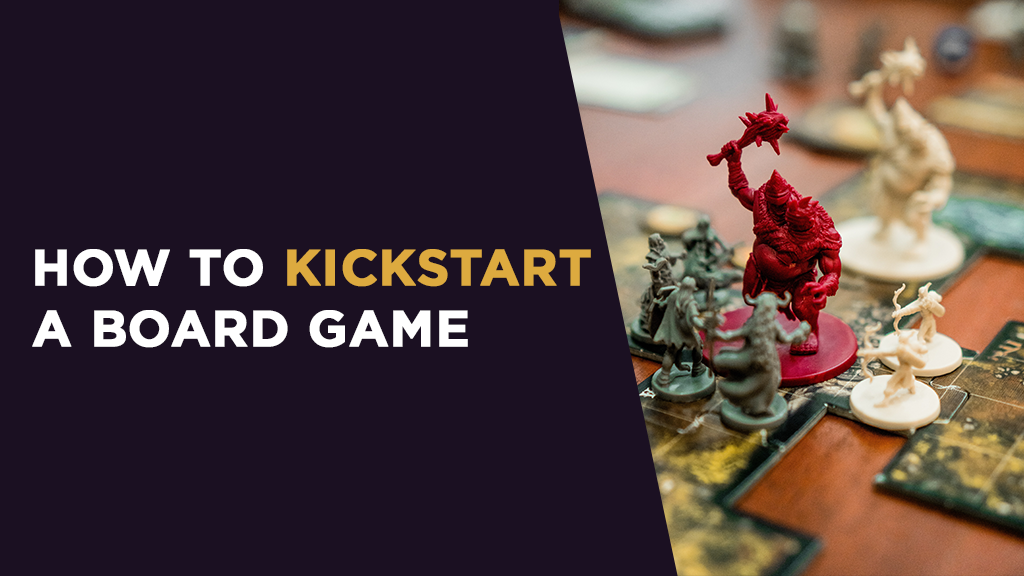 Hey, let's talk about board games for a sec.
We've all had a blast playing the classic board games we know and love, but you've got a brilliant idea for a new game that's going to be an instant classic. You've been crafting the rules, imagining all the pieces, the branding, and Catan-level success, but you don't quite know where to begin.
Well, it's entirely possible to turn that dream into reality thanks to the power of crowdfunding platforms like Kickstarter. In this article, we'll show you how to bring your game idea to life with confidence and creativity. So, let's get ready to roll the dice and make your game a reality!
Key Takeaways
It's important to have a timeline for launching a board game.
All details need to be straightened out before launch.
Put lots of work into the Kickstarter page.
Make sure to find ways to promote your Kickstarter so a wider audience can be reached.
Use hacks like LaunchBoom to make the promotion process easier.
Timeline for Launching a Board Game
So you're thinking about Kickstarting your next big project, huh? We've got you covered with these tips on how to make the process a smooth one when you're setting up the timeline for the launch.
One Year Prior to Launch
You got an idea for the next big board game and you're ready to make it happen. First things first, you need to gather a team and start putting together a solid plan. And don't stress, it won't be easy as pie, but it just might be the best thing you ever do.
You're gonna want to find an artist who can bring your vision to life and make sure the art reflects the overall vibe of the game. Futuristic, comical, abstract, anything goes as long as you stay true to your vision.
And don't forget about your online presence! You need a webpage and email address so you can stay in touch with the community, promo teams, and anyone else involved in your project. Consider setting up a Facebook page to grow your community and get the word out on social media.
Six Months Prior to Launch
Once you've got a solid idea in place, it's time to think about the launch! Get quotes from manufacturers so you know how much money you need to raise and keep track of all the costs. And don't forget about the Kickstarter video, it's the first thing potential backers will see and it's crucial.
You've got a couple of options here. You can DIY the video with a cellphone camera or hire someone if you want top-notch quality. Just make sure you're telling a story, whether it's funny, emotional, or suspenseful. This video is where you bring your A-game, so get ready to pour your heart and soul into it to capture the vibe of your game.
Three Months Prior to Launch
Since you've got most of the info planned out, it's time to reach out to reviewers, influencers, and bloggers that can help spread the word about your game. Keep close to people within the game niché so you can hit the target right on the head and reach the audience you need to by getting your foot in the door.
Polish up your Kickstarter and promo page, make sure you double-check all the deets provided, and get ready for showtime. Don't forget to do some research and lock down all of your fulfillment partners so that they can handle the delivery and your backers and clients can get the board games in their hands as soon as possible.
1 Month Prior to Launch
T-minus a month until launch day, and you're probably feeling some nerves and excitement. No worries, this is super normal. This is the time to get all the final details in order, so you're ready to go on launch day.
Finalize those backer levels, pricing, and stretch goals. Get some third-party feedback on your Kickstarter page and make any necessary improvements, you can even ask your harshest critic friend for a review.
It's time to start running ads and promo to build that buzz, create some awareness and get people to start talking about your game. Make sure you keep the ads enjoyable to watch and not just annoying pop-ups!
How to Kickstart a Board Game
With the popularity of board games rising, there are so many to choose from. Still, not every board game is worth it. Making a successful and fun game can be a challenge, but a successful Kickstarter campaign can be a great way to build a community. Here are some ways you can help Kickstart your board game:
Draft your Kickstarter Campaign Page
Since the Kickstarter campaign page is the first thing people will see, you'll want to make sure it's polished, complete, and perfect. Here's what your Kickstarter page should have:
A clear and compelling description of the game: what it's about, how it's played, and why it's special. Make your case!
Eye-catching visuals and art give your game life and convey to your backers a better understanding of what the game wants to accomplish and (if possible), send potential backers down an artistic rabbit hole.
A detailed breakdown of the budget and how the funds are going to be used.
Incentives that'll have people more excited about backing your project: early access to the game, exclusive merchandise, or special editions. Maybe even a lollipop, you make the rules.
Finalize and submit for approval with Kickstarter
Once you've got your page ready to go, it's time to submit it for approval by the team behind Kickstarter. They'll make sure that your game meets all guidelines and that everything is in order. Make sure to do this before the launch, as it may take a few days or even up to a week for the approval to go through. So… don't let time get the best of you.
Set up your Kickstarter Preview Page and Pre-Launch Page
Before the launch goes live, you'll want to check out the preview of your page and get your pre-launch page set up. This way, people can grow excited and the board game can build anticipation, getting a community of people excited to donate once the campaign goes live.
Plus, it's a great way for you to start sending the link to friends, family, and other people you want to invite to be a part of your project.
Create your Campaign Promotion Strategy
By this point, you should have a promotion strategy ready for liftoff. Here are some ways you can start promoting your campaign, either before, during, or after the launch:
Reach out to people you know that might want to support you, and have them tell their friends to support the cause as well. Word of mouth is underrated, make the most of it.
Stay active on social media with organic content and non-organic ads so that you can reach a much wider audience and gain virtual attention. It's all about the TikTok and Instagram.
Try partnering with brands, influencers, reviewers, and bloggers that fit within your niché so you can reach people that are within your target market.
Keyword: niché. A beauty influencer, a vegan meat brand, a wine reviewer, and a sex life blogger aren't going to do you any favors: search for real-life board game lovers, streamers, and gamers.
Know When You Are "Launch Ready"
Before you go live with your Kickstarter campaign, make sure you're really ready for it. We don't mean "kinda ready whatever", but "game face on and plan in place" ready. Honestly, every new project comes with twists and turns, but don't forget the essentials: a solid plan, a straight-up budget, killer marketing strategies, a united team, and realistic goals.
You're the boss, so figure out when you're totally ready to unleash the power behind the campaign and watch the support roll in. Who knows, you might just be the one to dethrone Frosthaven (or Wingspan) and reign supreme. For now, let's just focus on the present.
How to Avoid the Pitfalls of Launching a Board Game
It can be difficult to withstand the immense pressure of the competition, where a new board game can pop up every day. In order to avoid mistakes, you want to be prepared: LaunchBoom is the best team to have in your corner. We make sure that your crowdfunding campaign is successful. How? Our proven system can test and validate the product to decrease risk, help build a community of buyers on Kickstarter, and get additional Facebook and Instagram ads while you sort out your inventory. This will build you a community of buyers before you launch. This ensures you get funded in less than 24 hours.
Podcasts to Get You Started
If you want to get the inside scoop on Kickstarting a board game, listening to podcasts is key. You can listen to them on the go – in the car, on a run, while preparing a meal, getting ready – whenever you like.
These are the podcasts we recommend listening to if you've got a brilliant board game idea:
This ONE Technique Raised $403,242 on Kickstarter for a Board Game
Kickstarter Board Game Funding Secrets
Crash Course on Kickstarter for Board Games
How to Kickstart a Tabletop Game with the $86k V-Commandos Project