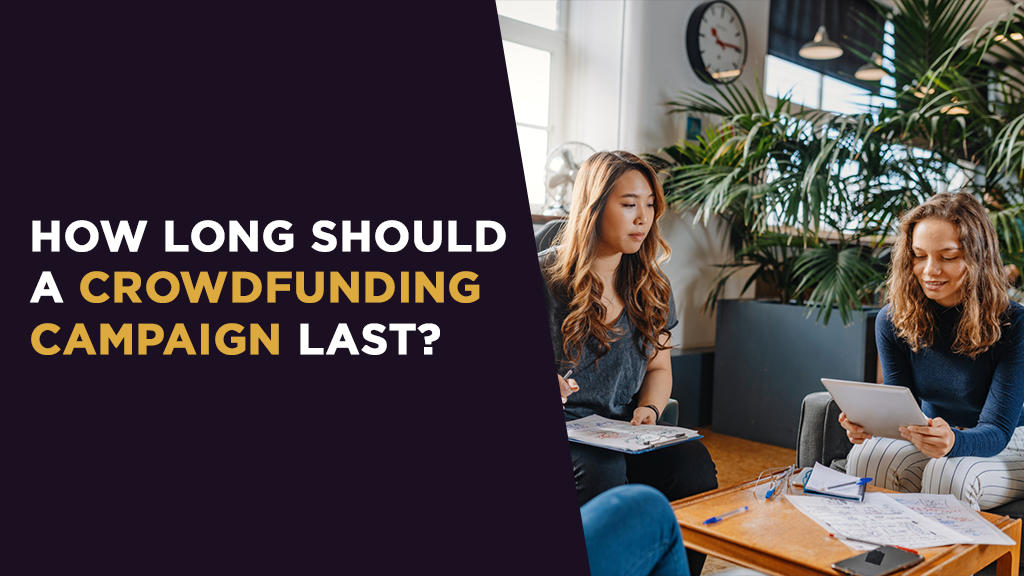 When you take on a crowdfunding campaign, you're in for an adventure. The twists, turns, and upside-down sensations might be stressful at times, but they can also be incredibly rewarding. When a crowdfunding campaign is successful, it can change the whole trajectory of your business or even your life.
One thing to think about is how long you should expect your campaign to last. Too long, and you might lose momentum. Too short, and you won't give your strategy enough time to play out. When it comes to the timeline of crowdfunding, one major factor that's going to determine your campaign's length is your pre-launch preparation. It's important to remember that your work will begin way before you hit the launch button as you take the time to build a community you can rally on launch day.
In this article, we'll be taking a look at some things you need to consider and exploring tips and tricks that'll help you hit the crowdfunding ball out of the park.
Key Takeaways
It's best to keep crowdfunding campaigns active for 30-40 days.
Crowdfunding works by getting people around the world who feel passionate about your project to help you fund it.
The work you do in the pre-launch period will help you reach your crowdfunding goal quicker.
How Does Crowdfunding Work?
You've probably heard of crowdfunding, otherwise, you wouldn't be here. But when you crowdfund something, it basically means that you raise funds online for a project, a product, or an innovative idea. You connect with people who want to be on the ground floor of exciting new products, and they pledge their support to make those products a reality.
The two biggest crowdfunding platforms are Kickstarter and Indiegogo and these are the platforms we work with here at LaunchBoom. Through these services, backers are able to contribute to your campaign. Once your goal is met (or surpassed), you're able to use the money to fund the project.
So, now that we've reviewed the basics, let's get to the reason you're here.
What is the Optimal Crowdfunding Campaign Length?
Crowdfunding campaigns on Kickstarter and Indiegogo can be as long as 60 days, but we recommend you plan for a campaign that's 30-40 days at most.
If you work on building a mailing list and testing your product in the time before you hit the launch button you should expect to hit your goal fairly quickly. Ideally, you will have built up a core audience while testing your product in pre-launch so you can hit your goal within 24-48 hours — what we call having a LaunchBoom.
But, in case this doesn't happen – or even if it does – you'll still want to leave some time for new backers to get on board.
Remember, much of the work that will make for an early success is in the pre-launch. Emails are a great way to stay in touch with possible and confirmed backers and to rally your most committed supporters on launch day! You'll want to build a strong mailing list and identify who on that list has buying intent. This can be done by something as simple as offering them a chance to pledge $1 to reserve a spot on a VIP mailing list with perks. You don't have to give away too much here, but this is a great way to identify which of your backers will commit on launch day.
This list of energized backers will help you to reach your goal more quickly, so you'll want to keep them up to date with emails that remind them of their $1 pledge, or entice those who haven't pledged yet to do so.
What is the Minimum and Maximum Kickstarter Campaign Length?
When it comes to Kickstarter, the minimum time of a campaign is a single day and the maximum is 60 days.
Kickstarter suggests sticking to around 30 days. This is also what we would recommend and it's worth considering as Kickstarter says shorter campaigns "create a helpful sense of urgency" which leads to higher success rates.
Again, what's really important is the time you spend preparing for launch that determines how long your campaign will be.
But remember, before your campaign goes live, it'll have to be submitted for review. Kickstarter usually takes between three to five days to review campaigns, but you'll want to play it safe: make sure you submit your campaign for review at least a week before the launch. Don't forget to take a look at the guidelines before submitting it so you can fix anything they might penalize you for.
What is the Minimum and Maximum Indiegogo Campaign Length?
If you're using Indiegogo, the standards for maximum and minimum are the same as Kickstarter. Campaigns can be as short as a day and, while Indiegogo allows for a one time extension, the maximum length of their campaigns is 60 days.
Before launching your campaign, check Indiegogo's review process so you know what's allowed and expected of your campaign. Indiegogo's review process is much more lax than Kickstarter since you can start a campaign without having to wait for approval.
However, although they have a more open policy that doesn't mean you can get away with anything. They won't hesitate in shutting down your campaign if you don't follow guidelines.
Why Longer Campaigns May Be Less Effective
Campaigns don't need to last long, and a longer campaign doesn't necessarily mean more backers. While you should allot enough campaign time to make sure you can bring your entire strategy to life and connect with backers, shorter campaigns can be more successful.
Why? It can create a sense of urgency in backers to hop onto the campaign before they miss out.
Shorter is better also applies to your pitch. Yes, it's important to include all the details, and even a bit of a personal story as long as it connects with potential backers. Still, you have to remember no one wants to spend an eternity watching, reading, or listening to a message.
Where to Find Crowdfunding Campaign Expertise Online
Here's the thing: there are a ton of amazing ideas out there, but not everyone has a proven process to bring them to the forefront. That's where we come in.
When it comes to finding success in crowdfunding, LaunchBoom has got your back. Crowdfunding isn't always easy, but LaunchBoom does the heavy lifting so that you can focus on perfecting your product.
With over $100M raised for clients LaunchBoom focuses on every stage of crowdfunding, from the pre-launch to the height of the campaign and all the way past the post-campaign. In each stage, you'll find expert guidance, data-driven insights, proven strategies to build a strong community of backers, and a deeper understanding of crowdfunding as a whole.