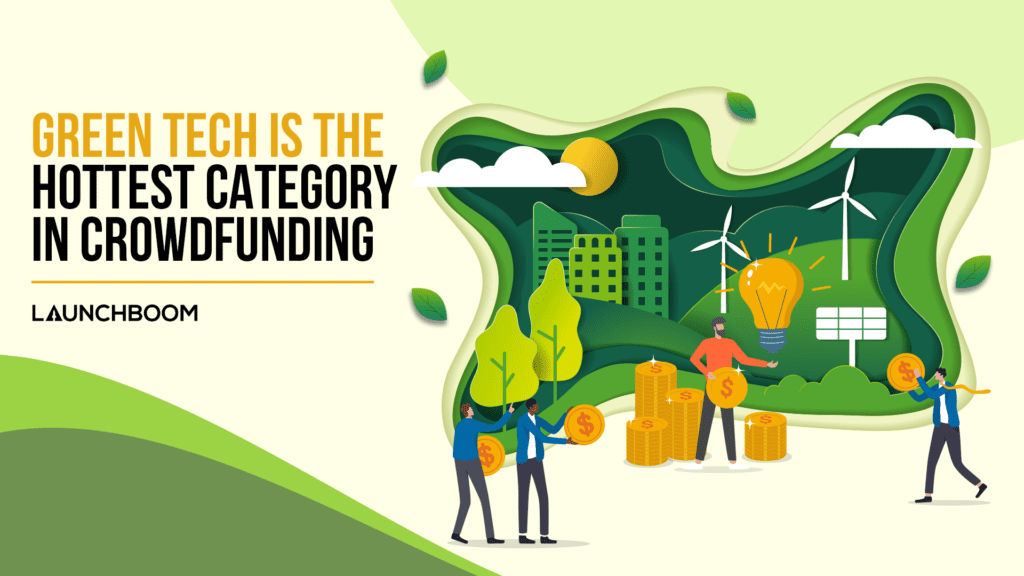 Green tech is one of the fastest-growing categories in crowdfunding, and LaunchBoom is leading the charge! What is green tech and why is it so popular right now? Well, we've got some insight into both of these for you…
What is green technology?
Green technology is an umbrella term used to describe products that are specifically made to be environmentally friendly. This includes things like products that help with sustainable initiatives (think recycling or clean energy) as well as products that reduce their impact on the environment (like solar-powered gadgets and high-quality reusable household items). Green tech is also generally produced in a more environmentally-friendly way, so the overall impact on the planet is lessened or zeroed out entirely.
What's more, green tech products are on the rise everywhere. 88% of consumers want brands to help them be more sustainable. Consumers are generally willing to pay a higher price for an eco-friendly product as long as they can trust that it works like they want it to work (and that it's actually as eco-friendly as it claims to be). People are also more likely to become loyal customers if they find a sustainability-minded brand that they like and trust.
Crowdfunding audiences are into green tech
While we believe that every product should launch through crowdfunding, this is especially true for green tech products. Why? The audience is there for it!
Of the 15 million people who have indicated that they're interested in crowdfunding platforms on Facebook, 60% of them are also interested in sustainability. That means that there's a group of around 9 million people already interested in backing crowdfunding projects who are also interested in green tech. Of course, not all of them will back every green tech project, but that's a large audience to start with!
According to Shopify Plus' "5 Trends for the Future of Ecommerce in 2021" report, 41.8% of consumers want brands to be socially responsible. Though using or producing green tech is far from the only socially responsible thing a brand can do, these environmental initiatives can make people more likely to develop favorable impressions of a brand.
Why launch a green tech product through crowdfunding?
Green tech has been on the rise in recent years, and nowhere is it bigger than in the crowdfunding space. Indiegogo's Energy & Green Tech category has seen several launches raise more than $100k in the past few months, and that number will only continue to grow. In fact, Indiegogo recently launched Tech Ideas for Good, a place to spotlight crowdfunding projects meant to better our planet. With all these initiatives launching and positive attitudes about sustainability and green tech growing, now is the perfect time to launch a green tech product through crowdfunding!
Green tech is perfect for crowdfunding because green tech products tend to have a compelling and unique selling point, are highly innovative, fill a need in the market, and are practical and easy to understand. As we've said before, this combination of factors makes a product ideal for launching on a crowdfunding platform–and green tech products usually fit this bill.
Launching a green tech product through crowdfunding will help you start a green-focused brand, not just a product. By launching a brand instead of just one product, you're setting yourself up for sustainable long-term success with your company. Learn more about why launching a brand is important in our blog article here.
Recent green tech crowdfunding successes
LaunchBoom has been part of some exciting green tech crowdfunding campaigns! Here are some of our biggest raises!
Lomi
Lomi, a countertop composter that produces fresh compost with the push of a button, launched on Indiegogo in April 2021. It was fully funded in minutes, and went on to raise over $5.4 million (over 10,000% of its original funding goal). Lomi was also featured on Indiegogo's front page and was picked as a Team Favorite.
GoSun
GoSun is a great example of a product launch that turned into an incredible brand! We've helped them launch four products over the years:
As you can clearly see, green tech isn't just good for the environment–it's good for your business, too!
Want to learn more about green tech? Sign up for our free webinar on Tuesday, May 25th at 10 AM PT! We'll be hosting a panel discussion with Indiegogo's Stacy Bradford and four of the biggest names in green tech crowdfunding. We hope to see you there!