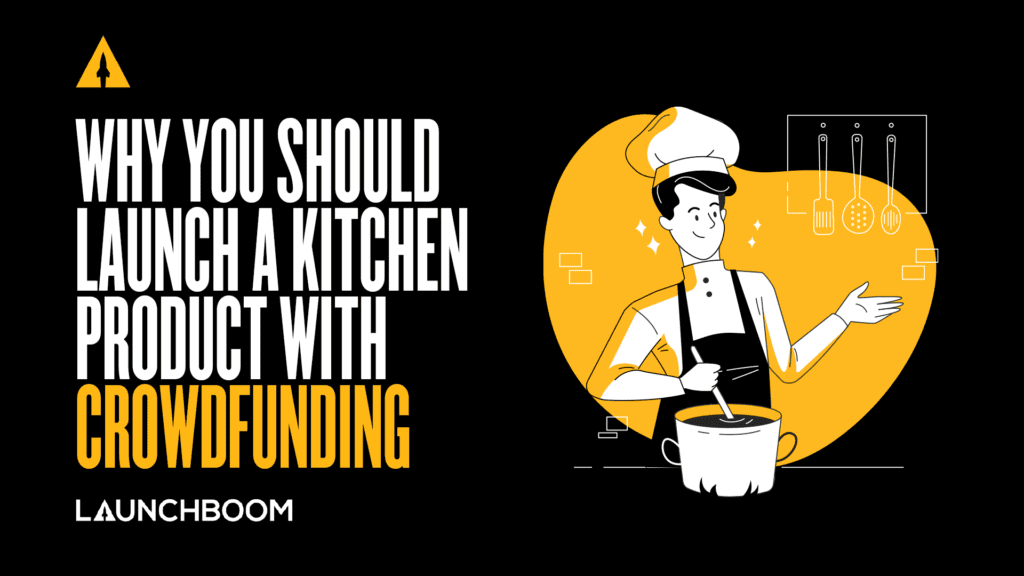 The COVID-19 pandemic and its accompanying lockdowns forged a new generation of people who love to cook while simultaneously rekindling the passion in those whose cooking skills had fallen off.
With this culinary awakening, more people are investing in their kitchens and cooking skills. This investment has created a demand for new and, more importantly, innovative kitchen products that allow these apron-adorned ninjas to prepare their food and drinks faster and with less waste.
There's just one problem: traditional cooking supply stores aren't meeting customer needs.
Retail stores are failing
Think about the last time you shopped for new kitchen products at a store like Williams & Sonoma or on a big retailer's eCommerce site. Which product(s) stood out and why? Did you find something that elevated your chef skills and the meals you prepare?
If the answer is a disappointing "no," there's a reason. Instead of addressing customer needs in the kitchen, these companies focus on offering products that accentuate aesthetics and deliver a high profit margin. Translation: they're just expensive products that look cool sitting on the kitchen counter.
These retailers are not stocking valuable shelf and display space with new products that are unproven and could put the bottom line at risk, no matter how innovative. While this is understandable, it limits the stores' ability to offer their customers new products quickly and fails to attract the new chef generation coveting innovation and sustainability.
This is where crowdfunding comes in.
Kitchen enthusiasts are turning to crowdfunding sites
Crowdfunding is the ideal platform for new kitchen products because it allows them to actually reach the market with minimal risk. It gives entrepreneurs immediate and global access to the consumers who want to elevate their cooking, drinking, and dining experiences, and it gives consumers access to brand new products that actually meet their needs.
Platforms like Kickstarter and Indiegogo receive approximately 30 million unique visitors each month. That type of visibility is simply not available at the local kitchen product retail location—if you can even get your product on their shelf.
Demand isn't going anywhere
When probing deeper into pandemic trends, it's easy to see where this desire for new and innovative products came from. It's also evident that it will NOT be a short-term demand.
A Bloomberg report shows that post-pandemic, families will continue at-home cooking due to cost, safety, or their newfound love of cooking. Meal kit services like Blue Apron and Freshly saw a 20% increase in new customers during 2020-21. There has also been a 700% increase in cookbook and ingredient set sales according to Sous Chef.
With these new meal kits and cookbooks, chefs have expanded options of ingredients and recipes to choose from and many are preparing more international dishes or enhancing their favorite comfort foods. This calls for better tools and explains the success of crowdfunding products in the Food & Drink niche.
Let's take a look at products that are meeting this new demand and taking advantage of how crowdfunding meets the needs of both creators and the chefs of 2021.
Top crowdfunding kitchen products of 2020 & 2021
TidyBoard – $612,000+ raised
TidyBoard is a product that keeps chefs organized and reduces preparation and cleanup time in the kitchen. According to loveFOOD, two utensils every cook needs are a cutting board and storage containers. This bamboo cutting board combines these two needed utensils into one. Its modular design with strainers, containers, and lids keeps your slicing, dicing, chopping, and shredding organized and clean.
No one likes it when the yellow peppers get mixed up with the garlic and cilantro! TidyBoard keeps everything separated. The board is engineered for compatibility with the sink, enabling more effective use of space when prepping. This minimizes movement around the kitchen and saves time during and after your food preparation. The containers used to organize food on the board can also be used for storing any unused portions for later. This gives TidyBoard a sustainability and waste-limiting component.
Pepper Cannon – $2.3 million+ raised
Pepper Cannon is a one-of-a-kind pepper mill. It dispenses freshly ground pepper at a rate 10X higher than average pepper mills. A chef can now grind fresh pepper onto a steak or season a new recipe with 2-3 cranks instead of the time-consuming 20-30 cranks needed by a traditional grinder. That saves an incredible amount of time.
The Pepper Cannon's innovative design allows the user to adjust the coarseness of the grind. This lets chefs control how much is dispensed with each crank. Scrambled eggs don't need as much pepper as a two-pound brisket. The time saved with a Pepper Cannon is important because people are preparing more complex recipes. Think about international cuisine that call for more spices.
Everest Crystal Whiskey Glasses – $661,000+ raised
Everest Crystal Whiskey Glasses are a unique set of whiskey glasses and decanter ideal for entertaining guests or relaxing with a beverage after a long day. These glasses check all the boxes the modern consumer and chef seeks in a new kitchen product. The chill technology is fast (chills in 18 seconds) and easy, and it eliminates the need for ice (water-saving). This minimizes waste and adds a sustainability element to the product. It also prevents a drink from being watered down, so a cocktail maintains its flavor, scent, and color.
The product brings an undeniable cool factor to the consumer. The 3D replica of Mt. Everest's peak inside the glass is beautiful and helps measure the amount of liquid poured into the glass. The measurement marks keep the drink ingredients balanced for a better tasting cocktail. Again, innovation creates a better experience and better drink.
Lomi – $7.1 million+ raised
Lomi is an at-home composter that fits easily on the kitchen counter. At-home chefs can use Lomi to process food waste, leftovers, and other recyclable items (think those unused plastic utensils that come with your DoorDash delivery) into compost. The compost can be used in a garden or houseplants, or can simply be thrown away. Lomi minimizes waste and carbon footprints, and it also prevents that nasty garbage smell from developing in the pantry.
Crowdfunding is the key to a successful kitchen product launch
The 2021 chef is not the 2020 chef. The chef of today is adventurous, curious, and cooking more than ever before by necessity and pure passion. They want products that upgrade not only the kitchen but also what they cook, how they cook it, and most importantly how it tastes.
This adventurous nature and demand for innovation is not being met by traditional kitchen product retailers. Crowdfunding, on the other hand, is answering the call. Products that empower chefs to cook and create new drinks and meals faster with less waste are launched on a regular basis. Whether preparing Spanish paella for a dinner party or looking to enhance their Taco Tuesday recipe for the kids, 2021 chefs are finding the utensils and other kitchen products they need on crowdfunding.
Want to talk to us about launching your kitchen product? Apply to work with us today!