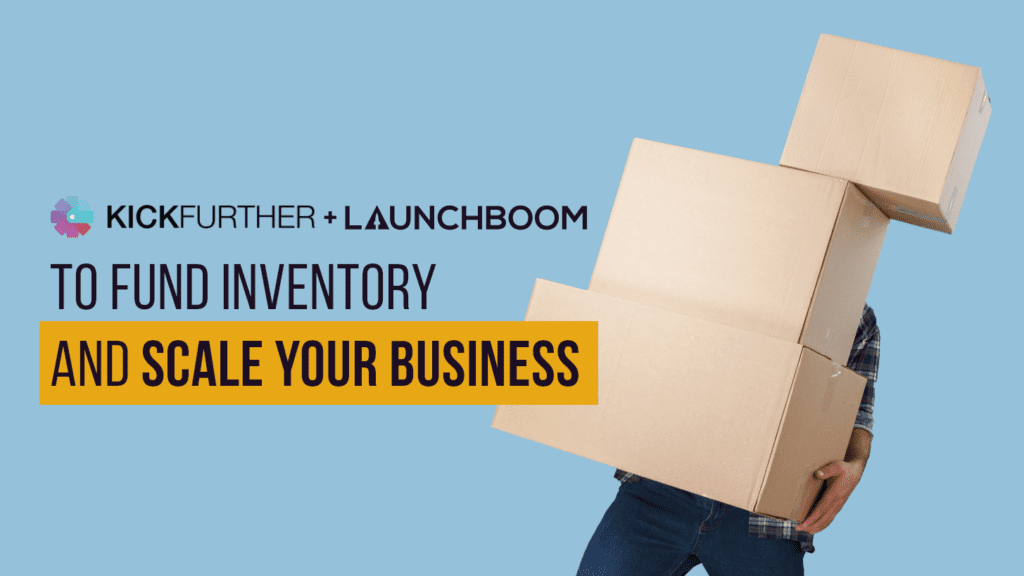 Launching a successful crowdfunding campaign is only the first step of creating a successful business.
After you fulfill your orders for your crowdfunding backers, you'll want to keep selling on an ecommerce platform or to retailers to keep growing your business.
In order to sell, you need inventory. Sounds simple, but getting inventory isn't always that easy (or affordable in lieu of the ongoing shipping crisis).
Fortunately, Kickfurther has come up with an amazing solution for funding inventory. Plus, it's significantly more affordable with a lower barrier to entry than other routes!
Read on to learn how LaunchBoom can get you qualified for Kickfurther and scale your business, and how Kickfurther can get you funding for your first rounds of inventory quickly and affordably!
Launch your product with LaunchBoom
Although funding with Kickfurther is incredibly easy and affordable, there are still basic requirements you need to meet. In order to qualify for Kickfurther's low cost, quick inventory funding, you have to pass their vetting process by showing revenue documentation, a business credit report and more.
This presents a problem for businesses or businesses launching a new product. They don't yet have the funds for inventory and they don't have the history of sales to qualify for Kickfurther funding.
Enter LaunchBoom.
LaunchBoom can validate your product via crowdfunding in as little as 14 days.
We create your sales funnel and gather leads for your crowdfunding campaign so that you crush your funding goal on the first day (a "LaunchBoom") and raise funds to fulfill the orders to your backers.
Once you've delivered on your crowdfunding campaign, your product has a proven sales record and can qualify for Kickfurther's inventory funding!
Get funding for inventory with Kickfurther
Now that you have revenue documentation and have successfully demonstrated that you can sell your product, it's time to bring in Kickfurther.
Kickfurther is THE go-to platform for funding inventory after you've fulfilled orders from your crowdfunding campaign. It's a great way for early stage e-commerce companies to buy inventory without taking on debt or giving up equity in the company.
What makes Kickfurther amazing
Kickfuther gets e-commerce brands funding for inventory at rates 30% cheaper than other options like factoring, PO financing and many lenders. Plus, they fund a whopping 99.5% of deals.
Most banks won't provide you with loans until you have 2 years of profitable tax returns, whereas there is no time in business requirement with Kickfurther.
The only access to capital you're left with are Merchant Cash Advances (MCA loans a.k.a loan sharks). That's where they take money directly out of your bank account at annualized interest rates anywhere from 25%-75%. It sucks the cash out of your business and most product businesses can't afford this, anyway.
How does it work?
Kickfurther's community crowdfunds working capital to entrepreneurs to help fund their next round of inventory. These funds are available when you need to pay your supplier to produce more inventory. Payments aren't due until after the inventory sells and customer payment is received, so it's fully customized around your supply chain.
What's in it for the backers? Kickfurther's community gets back 1-2% profit per month on their investment!
1-2% a month (12-24% annualized) is a solid return for the Kickfurther community. That is also significantly lower than MCA loans for the businesses, so it's a win-win for both sides!
So, after you've launched your successful crowdfunding campaign and qualified for Kickfurther's platform, simply launch your inventory campaign on Kickfurther to raise funds to continue scaling on e-commerce.
Scale your business to the moon with ScaleBoom!
So now that you have all this inventory, the most important thing you need to do with it is sell it.
If you already have a successful product that uses Kickfurther to fund inventory, you can partner with LaunchBoom's e-commerce division, ScaleBoom, to quickly sell through that inventory and access larger amounts of funding at cheaper rates, and scale into a 7-figure business.
ScaleBoom services
Unlike most digital advertising agencies that just manage your spend and advertising, ScaleBoom partners with you on your business and fully manages your e-commerce store on Shopify.
ScaleBoom does product positioning, web design, web development, copywriting, creative content/production, paid social, SEO, email and SMS marketing.
It's like having a built-in business consultant. They also give you market feedback and help with inventory forecasting, 3PL partners, pricing and more.
All that's left for you to manage is fulfillment, product quality, customer service and social media. Leave the selling to ScaleBoom!
Case Study: How TidyBoard leveraged LaunchBoom & Kickfurther for massive success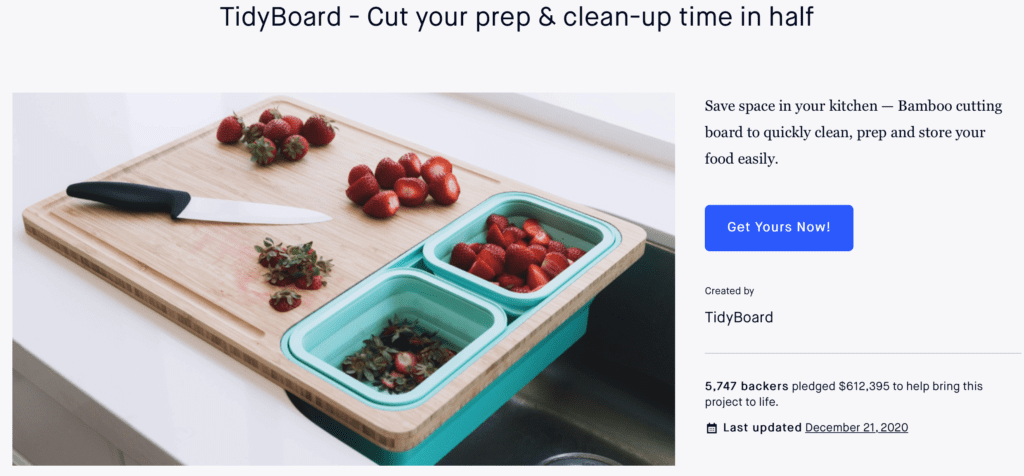 TidyBoard launched with us on Kickstarter in June 2020. We helped them raise more than $600k during their month-long crowdfunding campaign.
1st round of Kickfurther funding
They used the funds from their crowdfunding campaign to deliver their product to all their backers. After that, they had no cash to fund their first inventory order. That's where Kickfurther came in.
When TidyBoard launched on Kickfurther, more than $53k in inventory was funded in just 30 minutes!
2nd round of Kickfurther funding
Once TidyBoard got their inventory, they hired ScaleBoom to set up and run their eCommerce business.
ScaleBoom took TidyBoard from $0 in sales to $267,000 in the first 60 days! (That's a first-year run rate of over $1.5M and growing!) 💸
TidyBoard x Scaleboom in the First 60 Days:
From $0 in sales to $267,000
Total return of 4.05X
Increased their average order value by 15% with cart accessories offer
Over 2,800 units sold
Built Shopify website and shot all new creative for site and FB/IG ads
The ScaleBoom team sold the inventory out in half the time it was expected to last, meaning Kickfurther buyers got paid back in full. TidyBoard returned to Kickfurther to fund their second round of inventory which raised $184,458 in 24 hours.
3rd round of Kickfurther funding
With 20,000 units being sold across North America by the end of 2021, TidyBoard looked to expand its wholesale division. However, expanding into markets like the European Union, the UK and East Asia comes with a demand for more inventory funding.
With that, Tidyboard turned to Kickfurther for a third round of funding in which they accessed over $286,000 of working capital in just 19 hours.
The reliable funding that Kickfurther provided allowed TidyBoard to restock their inventory and keep its eCommerce momentum rolling. With a fresh batch of stock, they were able to increase their overall sales by 20% within just 5 months.
Traditional ways of funding small businesses like bank loans, venture capital and even credit cards have their uses. But Tidyboard's three successful raises on Kickfurther have proven that it is the most effective way to get financial backing for your inventory.
We know how the power of crowdfunding can change lives, which is why we believe in the Kickfurther process.

LaunchBoom, Kickfurther & ScaleBoom: which is right for you right now?
LaunchBoom, Kickfurther and ScaleBoom are the trifecta when it comes to launching a successful e-commerce business quickly and affordably.
LaunchBoom's crowdfunding services are perfect to kickoff new projects and get you in a place where you have your first round of orders, are successfully selling, and can utilize Kickfurther's incredible community to continue scaling your business, like we did with Tidyboard.
Talk to LaunchBoom about launching your product today.
Kickfurther's inventory funding services are ideal if you've already launched a successful crowdfunding campaign and are ready to dive into e-commerce with your first orders of inventory. It's the easiest, most affordable way to fund your growth and keep your business scaling!
Sign up with Kickfurther for inventory funding.
And finally, if you have a product that you've already been selling, but you're worried about funding with Kickfurther and struggling to sell through your inventory, we're also here to help with our ecommerce division, ScaleBoom.
We were able to sell through TidyBoard's inventory so quickly at such a high Return on Ad Spend, that we actually had to slow down our ads to allow them time to replenish their inventory.
Talk to ScaleBoom about growing your e-commerce business today.