When launching your product, you should only consider Kickstarter or Indiegogo.
That's why one of the most frequent questions I hear is…
"Should I choose Kickstarter or Indiegogo for my crowdfunding campaign?"
And they are often surprised when I answer: "Both."
What many don't know, is that in crowdfunding, you are not locked into one platform. In fact, if you don't tap into both, you are leaving money on the table.
Here's a better question and the one we will be exploring in this case study…
How do I use BOTH Kickstarter and Indiegogo to maximize the funds raised for my product launch?
We'll explore the answer by explaining our strategy and diving into the BaKblade 2.0 case study.
Launch on Kickstarter first
We've found that Kickstarter performs much better compared to Indiegogo for these 3 main reasons:
Kickstarter's has done a better job of fostering trust with their backer community (top reason why!)
Kickstarter has more organic traffic
Kickstarter has a higher conversion rate
Kickstarter's main focus has always been on delivering the best backer experience possible. For example, there is an approval process (unlike Indiegogo) to launch on Kickstarter. This isn't some formality. Kickstarter's team does their due diligence before any new product gets approved to launch.
This is to protect their backers and build trust. Their commitment to the backers has led not only to a larger community than Indiegogo, but one that is more likely to buy your product.
When you follow the right pre-launch strategy and are properly prepared to launch on Kickstarter, you can tap into their huge audience and your campaign will be much more successful.
Transition to Indiegogo InDemand after Kickstarter
In 2016 Indiegogo released their InDemand program on their platform. It allows successful campaigns to continue selling on their platform indefinitely — you can think of it like your pre-order storefront. InDemand is not exclusive to Indiegogo campaigns. They will actually clone your entire Kickstarter page for you and you'll be up and running in under an hour.
We take advantage of this by immediately launching the Indiegogo InDemand campaign once the Kickstarter campaign has ended.
One of the best parts about InDemand is that they even copy over how much you raised on Kickstarter so you are not starting from scratch. This allows you to keep the social proof you worked so hard to acquire during your Kickstarter campaign and use it to your advantage on InDemand.
We did that with BaKblade 2.0 after a successful Kickstarter campaign.
In the case study below, my business partner Mark Pecota walks you through how powerful Indiegogo InDemand can be once your Kickstarter campaign has come to an end.
CASE STUDY: How we used Indiegogo InDemand to double funds raised from BaKblade's Kickstarter campaign.
Written by Mark Pecota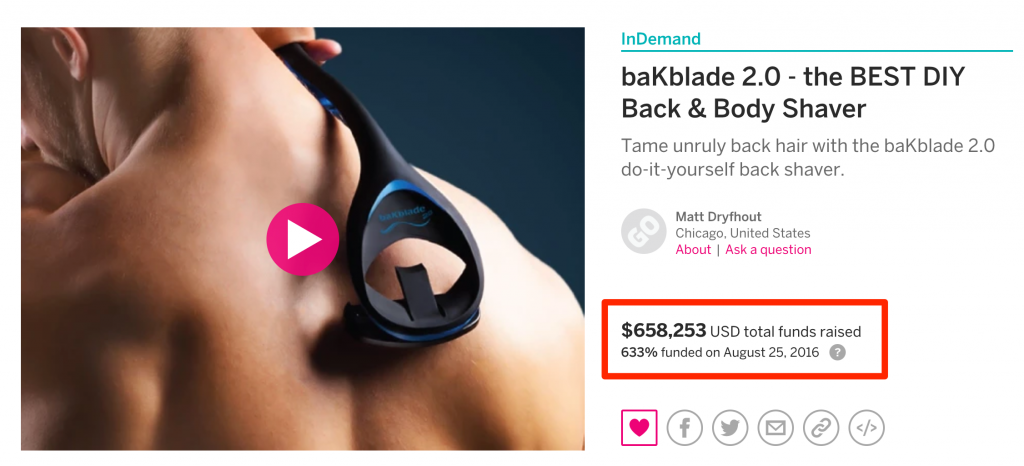 While the original BaKblade sold extremely well on Amazon.com, Matt of BaKblade had spent years diligently designing the new and improved BaKblade version 2.0. Once the functional prototype was complete, our team at LaunchBoom stepped in and launched this new product on Kickstarter.com.
Flash forward to July 12th, 2016, and BaKblade 2.0 has launched to great success on Kickstarter.
After 45 days, we raised $316,581 on Kickstarter from 6,652 backers.

But the fun didn't stop there. In fact, we were just getting started…
In the week prior to the campaign ending on Kickstarter, our team duplicated the campaign onto Indiegogo's platform. Our strategy was to take advantage of Indiegogo's InDemand program, which allows successful Kickstarter campaigns to continue taking pre-orders on their platform.
This gives us the opportunity to (1) tap into Indiegogo's newsletter and (2) allow those that missed out on the Kickstarter campaign to still pre-order the product for a discount.
So… how did we do this?
Sales are driven (in order) by the following sources: Facebook Advertising, Indiegogo's Platform, Organic.
1. Let's start with Facebook ads.
Since we've worked with BaKblade since pre-launch, our LaunchBoom team are experts at driving low cost & qualified traffic via Facebook Advertising for the product.
That means we are getting exceptionally high return on our ad spend. The sales from our Facebook Ads are driving additional traffic from Indiegogo.
2. Next, Indiegogo's platform.
Even if Indiegogo's platform is not as big as Kickstarter's, it's still huge. By driving consistent sales we are able to "unlock" free newsletter placement. Whenever this happens, it drives thousands of dollars of sales that we don't have to pay for.
BaKblade 2.0 is the perfect example of just how powerful this strategy is: launch on Kickstarter first, tap into their bigger audience, transition to InDemand with your social proof, continue to sell & tap into free marketing opportunities from Indiegogo.