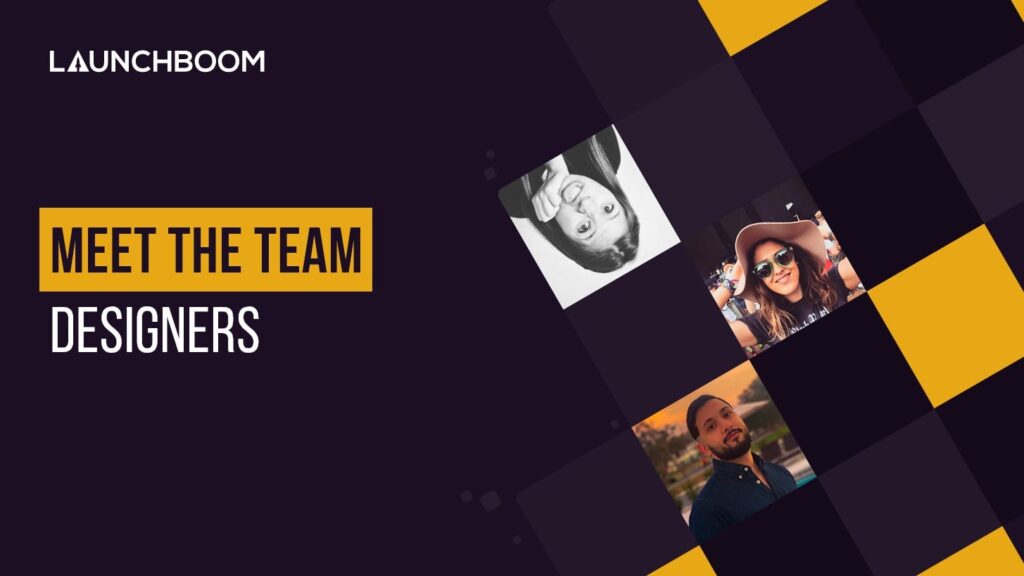 It's hard to know what you're getting when you decide to work with a marketing agency. Many agencies advertise themselves as experts, but if you don't know what to look for, you could end up getting burned.
There are a lot of factors that qualify LaunchBoom as one of the best in the business, like our expert certifications and our proven crowdfunding track record. But, nothing qualifies us better than the people working here who make it all happen each and every day.
From the producers in the studio to the data-crunching marketers, LaunchBoom is composed of several specialized teams who work together to turn clients' aspirations of success into reality.
Today, we're giving you an in-depth look at the Crowdfunding Design team. They are experts at what they do, so I'll allow them to elaborate on their roles directly!

What is the Designer's role at LaunchBoom?
Sara: The Designer's role is really to bridge the gap between messaging and the consumer. Imagine that you're looking at a landing page with only text. Pretty boring and not exciting at all. It's our job to communicate key messaging points using different design techniques to draw interest and create excitement. We basically do this for any project we work on, whether it's a landing page, campaign page, or presentation.
Amanda: During TestBoom, we try to create an informative, effective, and well-designed landing page for the client's product and design any digital assets our team needs. When it comes to launch, we then design a beautiful campaign page that thoroughly explains the client's product and why it's so special.

Randy: As Designers for LaunchBoom, we get to work with the whole crowdfunding team in the many processes for product testing and launching. After the TestBoom phase, we use all the collected data to get the best performance we can reach in the campaign to hopefully meet expectations and beyond. It's really exciting to be part of each process, get to know how the prototypes work, and help customers reach their goals.
How do you determine what will work best for a client's product?
Sara: Before we begin any design, we sync with the rest of the team and they give us important information such as demographic, competitors, and strategy. With this information, we do a little more research of our own and develop a visual plan. For example, if a product has a target demographic consisting of mostly males, it will affect factors like the colors we choose, the fonts, and the imagery. It all has to reflect that target demographic.
Amanda: Very thorough research: examining competitors and similar products, comparing their audiences and design aesthetic, and most importantly, research on the client's product to understand what makes it unique.
Randy: After all of our phases to collect information on the product during TestBoom, I find what fits best in terms of demographic (what type of personality best fits this product) and once I get a good perspective of what could work, I find inspiration based on the color palette in my mind (my favorite part) and combining those elements will most likely turn into a successful TestBoom phase. We have to find the right balance between color, targeted audience and accessibility in order to create a good design with relevance to our demographic.
Where do you get inspiration for your designs?

Sara: For inspiration, I've found that competitors in the same space as the product is the best place. You get to see what they do well and what can be improved upon. You also get to see where you need to stand out. Things like colors, fonts, image choice, and visualizations are all things we look at to determine how we can position ourselves as the better option.
Amanda: Instagram, Behance, Dribbble, social media ads, menus at restaurants, posters, point of sale ads while shopping, product packaging. If I see something that catches my eye, I'll take a photo to use for inspiration.
Randy: Usually social media. Unfortunately, a lot of designs we see on Dribbble or Behance lack accessibility, but color-wise it's a great source to get inspiration from and try to make combinations that will work on the product/prototype we're working on.
How do you deal with client feedback?
Sara: Client feedback can be tricky. The best solution I have found is to accept feedback that aligns with what is best for the success of the product. For example, making design choices based on personal preference such as "my favorite color is purple, so let's use purple" most likely isn't good feedback. Pushing back on feedback isn't always easy to do, but when you're in the mindset of what's best for the product, it's easier for the Designer to explain their reasoning for pushback, and understanding between the client and the Designer is usually easier also.
Amanda: I try to view the feedback from the client's perspective and empathize with their thought process. Nothing is taken personally because we both want the same goal, and that's an effectively and beautifully designed landing page that explains how special their product is.
Randy: We have a saying in the team that "giving feedback is a skill" and I think we all can agree on that. Feedback is key to success; we can't trust only one Designer to make a landing page right away and export it for development, which is why we review the first draft with other team members and the client. This process has helped to get different perspectives on the same design and make adjustments we all might see needed.
What is the toughest hurdle you often encounter?

Sara: The toughest hurdle I often encounter is having to design a landing page or campaign page with very limited imagery. It's challenging to create something out of nothing. It forces the Designer to have to be extra creative and that takes extra time. We're often very limited in time and so the pressure is often high when we're in that situation, but somehow we always manage.
Amanda: When a client wants too much control during the design process. It's our expertise to design web pages specifically for crowdfunding success and we want a positive outcome for the client and will do what we believe is best as the Designer.
Randy: It doesn't happen often, but I could say one of the toughest hurdles we encounter is not receiving proper feedback or when it's not clear enough. In those cases, we're still responsible for making the right decisions design-wise to make sure the result is pleasing for the client and other members of the crowdfunding team.
Fun Question Time!
What's the most rewarding part about being a Designer?
Sara: The most rewarding thing about being a Designer is turning an idea into something you can see before you. Somehow, when we create a landing page or a campaign page, the product feels more real, more alive. It's a great feeling to be the person to take in everyone's ideas and to be the person to present the visual result of those ideas.
Amanda: The most rewarding part about being a Designer is getting to be creative every day. Every product is different, so we get to design in many different styles. Another favorite part of being a Designer is delivering your design to your team and client, knowing you put your best work into it.
Randy: Happy clients! I think I speak for all Designers when I say satisfied clients are the most rewarding experience we can get on any project. Great reactions from the client on a project then allow us to build confidence moving forward and apply those design learnings for future projects.
---
Ready to find out firsthand how our Designers can take your product's creative to the next level? Book a call with us today!
Also, if you enjoyed reading about the Designer role here at LaunchBoom, check out some of our other Meet the Team spotlights:
Campaign Managers                               Campaign Strategists                                                          Creative Producers                                  Copywriters