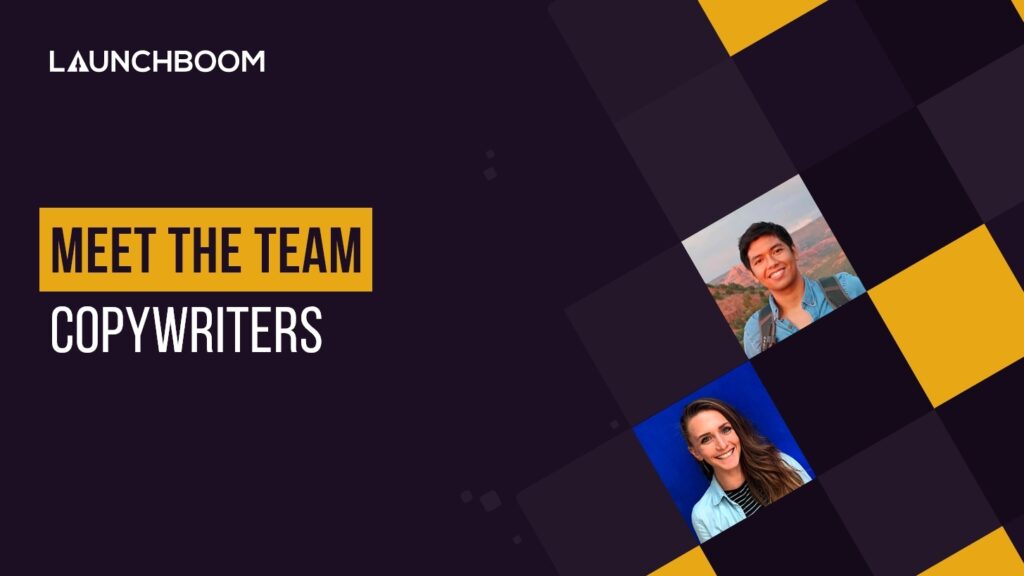 It's hard to know what you're getting when you decide to work with a marketing agency. Many advertise themselves as experts, but if you don't know what you're looking for, you could end up getting burned by an agency.
There are a lot of factors that qualify LaunchBoom as one of the best in the business, like our expert certifications or our proven crowdfunding track record. But, nothing qualifies us better than the people working here who make it all happen each and every day.
From the producers in the studios to the data-crunching marketers, LaunchBoom is composed of several specialized teams who work together to turn clients' aspirations of success into reality.
Today, we're giving you an in-depth look into the LaunchBoom Copywriters. They are experts at what they do, so I'll allow them to elaborate on their roles directly!
What is the Copywriter's role on the Crowdfunding Team?

Jonathan: Our biggest deliverables are the campaign pages for the clients who elect to do a full launch with our agency. We take all of the learnings that the campaign strategists have compiled during the pre-campaign and weave them all together into the live campaign page that backers will see on Kickstarter or Indiegogo. Our goal is to optimize the page for the highest amount of conversions possible by making it appealing, easy to understand, and benefit-driven.
Tara: On the crowdfunding team, the copywriter's role is to write sales copy for each product that perfectly positions the product for its target audience so they back the campaign. Typically, we write all the Campaign Page copy but we also help out with copy for Facebook Ads, landing pages, and email marketing.
Most of our time is actually spent researching, not writing. We need to thoroughly research the crowdfunding product as well as its target audience and competitors, so we can accurately determine the product's unique selling point and product positioning options to test.
Is effective copy really that impactful for a crowdfunding campaign?
Jonathan: I believe great copy is a fundamental part of digital marketing. At the end of the day, things like landing pages and campaign pages need to be that perfect balance of informative, fun, and professional. It can be a tricky thing to balance, but think of it from the customer's perspective: you can tell when something sounds of higher quality and are probably more likely to trust that product. Copywriting is a very specialized role, so we put all of our energy into getting the best results we can in that role.
Tara: Absolutely! If the copy for a crowdfunding campaign isn't enticing and attention-grabbing, no one will click the ads or read past the first line of the Campaign Page. And if the product positioning and target audience aren't properly researched, the copy will either not attract anyone, or it won't attract the person that's actually going to buy it.
How do you know what kind of copy will work best for each product?

Jonathan: I've learned to adopt a scientific approach to marketing copy. Of course, we go deep into researching each product and take the clients' visions into account, but one strong line of copy isn't enough. As the copywriters, we can only hypothesize what we think will work best for a given product. Nothing is set in stone until that idea is tested against several other ideas that could also perform well. Data is the main driver here.
Tara: Research and testing! You have to do proper audience and product research to determine what product angles you're going to test. Then, you actually have to test different copy and audiences to see what works. Testing is the only way to learn what performs!
How do you deal with client feedback?
Jonathan: I love getting client feedback, personally. It helps me get more into their headspace which can lead to some interesting new directions with my writing. But, at the end of the day, we're usually going to lean towards the strategies that test the best. The Campaign Managers are always really good about keeping both sides on the same page.
Tara: I appreciate client feedback and often learn from the client's perspective. When it's a tricky spot of doing something based on the client's preference vs. what my instinct or our testing has revealed, I make a point to explain to the client why I did something a certain way so they understand there's a purpose behind everything.
What is the toughest hurdle you often encounter?

Jonathan: It sounds silly, but staring down a blank document is pretty daunting! The research and planning stages are easy and even enjoyable to get through, but every new campaign page starts the same way: a white screen. Once the fingers finally start moving, though, the hurdle steadily lowers.
Tara: The toughest hurdle I encounter as a copywriter is organizing information in the most compelling, digestible way. Once the majority of the copy is written, it takes a process of rearranging and editing to transform the copy and information into a campaign page that is helpful and engaging all the way through. Fortunately, we get helpful insights from testing different copy and placing copy in different orders during the pre-campaign stage.
Fun Question Time!
What's your favorite part about copywriting for LaunchBoom?
Jonathan: Besides working with great team members across the board, I really like the variety of copywriting I get to do. We focused a lot on our involvement with campaign pages in this post, but we actually have to be pretty flexible with the projects we get to work on. I get to do blog articles, company newsletters, and occasional odd jobs for other departments whenever they need help with copy. It's a lot of fun!
What's your biggest copywriting tip for creators?
Tara: My biggest copywriting tip for creators is to get a really good understanding of your target audience and the specific ways your product can change or affect their lives. You can do this by laying out each feature of your product and turning it into a benefit for your customer or outcome in their life.
Then, through researching your target audience by reading reviews they leave on competitor products or seeing what they say in online forums, you can determine which outcomes are the top reasons your target customers will buy your product and lead with that copy.
---
Ready to find out firsthand how our Copywriters can help bring your branding ideas to life? Book a call with us today!
Also, if you enjoyed reading about the Copywriter role here at LaunchBoom, check out some of our other Meet the Team spotlights:
Campaign Managers                               Campaign Strategists                                                      Designers                                                  Creative Producers