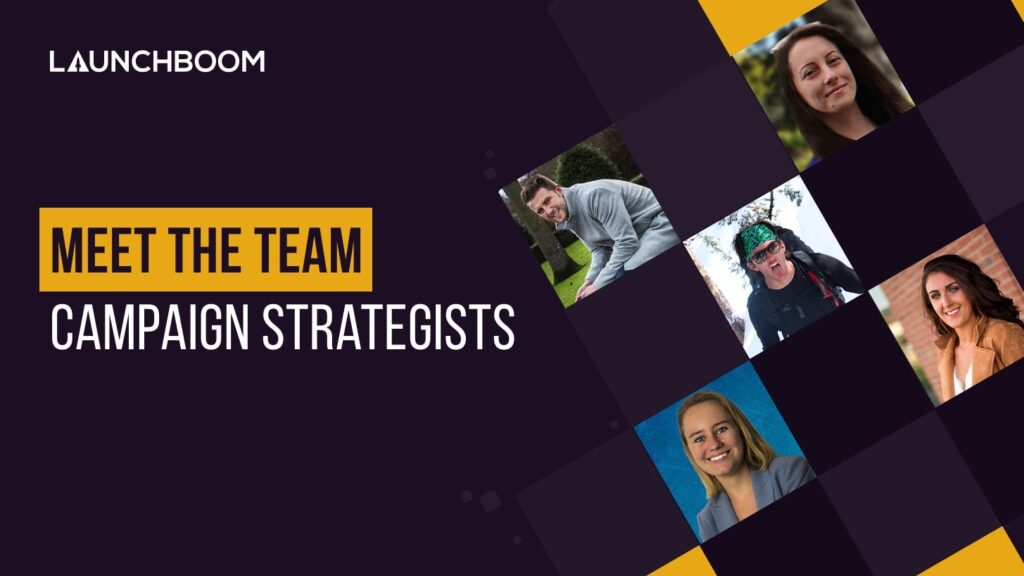 It's hard to know what you're getting when you decide to work with a marketing agency. Many advertise themselves as experts, but if you don't know what you're looking for, you could end up getting burned by an agency.
There are a lot of factors that qualify LaunchBoom as one of the best in the business, like our expert certifications or our proven crowdfunding track record. But, nothing qualifies us better than the people working here who make it all happen each and every day.
From the producers in the studios to the data-crunching marketers, LaunchBoom is composed of several specialized teams who work together to turn clients' aspirations of success into reality.
Today, we're giving you an in-depth look into the Campaign Strategist team. They are experts at what they do, so here they are to elaborate on their roles directly. Meet the team!
What is a Campaign Strategist (CS)?

Jaime: In a single sentence: A CS is responsible for analyzing a creator's product and then developing a marketing strategy that will raise potentially thousands or millions of dollars for it.
Leeza: A campaign strategist brings your idea to life. We create the messaging and positioning for your product, and align the rest of our team on how to portray your idea. We develop an ad strategy to test the main value points, validate target audiences, and craft copy that resonates with them.
Chase: The Campaign Strategist is the quarterback of the TestBoom + LaunchBoom processes. The Campaign Strategist is responsible for managing all data that comes through the funnel and organizing it into digestible learnings for the client and the rest of the LaunchBoom team.
How do you determine if a product can succeed in Testboom?

Irina: It all starts with a lot of research and brainstorming, aiming to define what the product is, what are the unique selling points (USPs), how our product is different from what's already out there, who might be interested, and, overall what would be the best way to position the product.
Lauren: During TestBoom one of our main goals is to establish if a product is a good fit for crowdfunding within our system. We're comparing and contrasting product features, looking at price points, and evaluating where they might need to be adjusted. What a lot of clients don't know is that we craft a whole internal document where we dictate the strategy and positioning, then execute on this by writing the landing page and creating ad copy!
Chase: We will also do internal research and inquiries into similar products that we have personally worked on in the past, who that consumer typically is, and what type of ads/copy/headlines and landing page content had an impact in the past.
How does a CS collaborate with the clients?

Lauren: We don't collaborate with clients face to face since the Campaign Managers (CM) do most of the communication, but we do collaborate with clients in ad reports where we can deep dive into the data and provide valuable suggestions to optimize results, as well as ask them for feedback in terms of tests we'd like to move forward with to create valuable learnings for them.
Jaime: A CS collaborates with clients by taking their product and vision and developing the strategies to bring it to market in a profitable way. We spend days going over all information they provide us with, doing competitor research, and then working through their suggestions and revisions on landing pages, campaign pages, and creative assets.
Irina: While we might occasionally jump on a client call if a more in-depth explanation is needed, our main touchpoint is the CM. The CS works closely with the CM to make sure they understand the results of each campaign and the strategy moving forward, so they can communicate all of that with the client.
What does a CS do once the product has launched?

Chase: We're focused on taking the learnings from the pre-campaign and applying them to the live campaign page, live ad copy, and video development and design. All of the data collected from the pre-campaign contributes to nearly all aspects of the live campaign.
Leeza: During a live launch, we're the money makers! Launch week is extremely exciting. We get to see the audience list we've worked so hard to build bring in that sweet, sweet dough! We continue expanding on your success in running social proof ads and angles that we know are going to drive the most revenue.
Lauren: For me personally, I work the most on live campaigns or InDemand campaigns on Indiegogo since I'm the CS in charge of Adboom. For Adboom, we're basically taking a small budget and testing to see if a live/InDemand campaign is a good fit within our system. Adboom is great because it's super low risk and has the potential of high reward since many campaigns do end up becoming scalable within our system.
What is the toughest hurdle you often encounter?

Jaime: In my opinion, the toughest hurdle we deal with is the constant, day-to-day changing landscape of digital marketing. We're in a constant battle to implement new tracking strategies, combat rising ad placement costs, and drive the best conversion possible. As more and more companies adopt digital marketing while the biggest platforms simultaneously implement new privacy policies, it seems that we overhaul our ad strategies on a weekly basis.
Irina: Generating new ideas and strategies when the data is all over the place. The data always tells a story and if you're following the narrative, it's relatively easy to define the next steps. However, iOS14 made things a bit harder. Now that you can't see the full picture, things get a bit trickier!
Leeza: Honestly…too much client feedback. We understand and appreciate the love you have for your product, and trust us, we love it too! We treat each product like our baby, nurturing it to life. We always thoroughly consider your feedback and are here to respond to any questions you may have. However, over-the-top helicopter parenting slows down our process and makes it difficult to objectively test things. Know that you are in excellent hands, and trust the process!
What would you say is the greatest value a CS provides?

Jaime: At the end of the day, we're crowdfunding specialists. Lots of clients have great products and messaging, but it's not always optimized for crowdfunding. We're able to bring in lots of knowledge and experience about what audiences, demographics, creative, and positioning will help them succeed on Kickstarter or Indiegogo.
Lauren: Data and direction. At the end of the day, we want what is best for our clients, and sometimes, working with us is going to be in their best interest or lead to their greatest chance of success. Regardless, we can take the data and learnings and help guide the client on their next steps and provide valuable connections to our partners to help set them up for success.
Chase: There is so much that the CS provides that would either take you years to learn on your own or you would have to pay multiple experts to collaborate together costing tons of time and money. The Campaign Strategist operates as an absolute expert in the crowdfunding space–your ad copywriter, landing page copywriter, A/B testing expert, email marketing manager, and more.
Fun Question Time!
What's your favorite LaunchBoom memory?
Leeza: One of my favorite LaunchBoom memories was one of the first campaigns I've ever launched. The campaign manager and strategist hopped on a Launch Party the morning of the launch to make sure everything was good to go, and to press the "go live" button. On this particular day, we had 3 campaigns launching. Waking up at 5 am, making a cup of coffee, hopping on to see my awesome coworkers' faces, and all of us going live at once was so much fun. The feeling of going live and watching the money roll in is absolutely exhilarating, and I'm so lucky to be able to do what I do with amazing people by my side.
What's the project you had the most fun working on?
Irina: Probably EcoTrek pants – great product, created by an amazing brand. The process was really smooth and I had the chance to test some interesting strategies, but the fun part for me was that my boyfriend desperately wanted these pants from day 1. It was fun helping bring to life something that my boyfriend was so stoked about.
Lauren: Pepper Cannon. Pretty early on in my career as a CS, I took over owning the AdBoom process and completely re-wrote the strategy and approach. Pepper Cannon was one of the first projects that I worked on to have extreme success within the new AdBoom system raising $1.9 million. While obviously generating revenue and great returns is fun and exciting, it was super fun because [the client] Cleve was such a funny guy. The whole campaign page was hilarious and I got to really play into that humor with ad copy and videos I created.
What's your favorite part about working as a CS?
Jaime: My favorite part of being a CS is that I get to work with every team. In doing so, I've been able to learn more than I could have ever hoped about fields that I previously knew very little about. It's been a crash course in photography and videography, web design and development, and sales.
Chase: Personally I love working with the small businesses that are just getting started and helping them accomplish their dreams. A few examples would be Bevis Gear (Top Shelf Camera Bag) and getting that brother/sister team $1,000,000 on their first crowdfunding launch after working on their product for years. I've also enjoyed working with GoSun a lot. Their team is amazing and we've raised millions for their brand. Lastly, Author Clock, which is an extremely small team. Taking those small businesses to the next level is what makes it for me.
---
Ready to find out firsthand how our Campaign Strategists can save you a ton of time and headache so you can focus on things like product development, fulfillment, and shipping? Book a call with us today!
Also, if you enjoyed reading about the Campaign Strategist role here at LaunchBoom, check out some of our other Meet the Team spotlights: