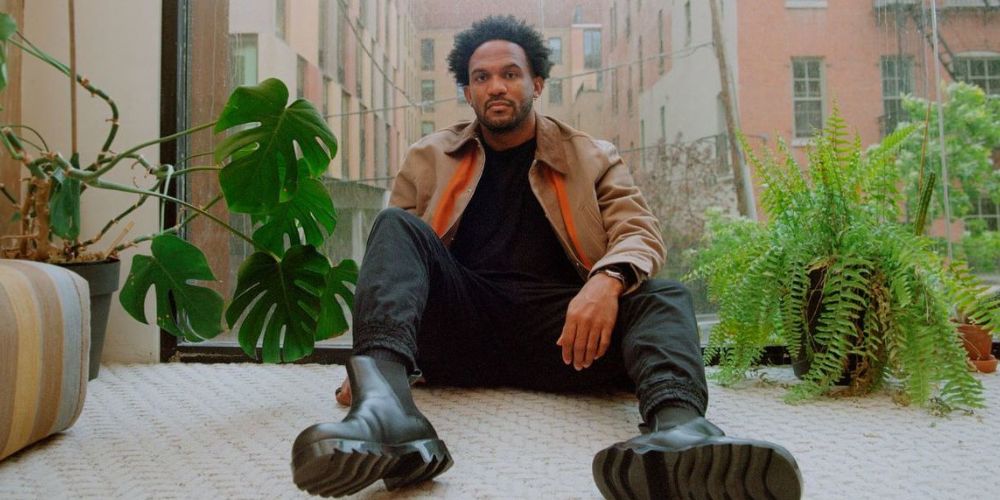 14 days ago, I jumped on a call with Everette Taylor, Kickstarter's new CEO. Thirty minutes later, I left the call with renewed excitement. Crowdfunding, an industry that has been fairly stagnant for years, is getting a much needed kickstart.
Kickstarter is synonymous with crowdfunding. Understanding the person leading the biggest reward crowdfunding platform is important for every product creator. That's why I'm sharing this with you.
Here are my top 3 takeaways from my call with Kickstarter's new CEO… and what they mean for the wider crowdfunding, product launch, and ecommerce ecosystem.
1. He understands that marketing & advertising empower product creators
Kickstarter has always felt behind when it comes to basic marketing & advertising tools. So much so that I've wondered if Kickstarter's previous leadership viewed marketing, and especially advertising, as a negative force.
For example, creators and companies in the space have been asking for the Meta Pixel (AKA the Facebook Pixel) for nearly a decade. This would allow creators to understand their advertising efforts to drive higher ROI.
Back in 2019, I interviewed creators and wrote a blog post about the problem. The title of the article was "Kickstarter's refusal to add the Facebook Pixel is hurting creators." Even though the post was well received across social media, no response was ever given by Kickstarter.
Let's flash forward to today. Within 1 month as CEO, the Meta Pixel was added to Kickstarter. That's all Everette.
Before Kickstarter, Everette was the CMO at Artsy for 3 years. It's not normal for a CMO to get recruited for a CEO role. They are often overlooked and either previous CEOs or COOs are chosen. But I think it's a great idea to recruit a CMO.
Coming from the CMO seat, Everette sees himself as the voice of the customer. He believes that as CEO, it's critical that he's actively listening to both the creator and backer communities to influence decisions. By adding the Meta Pixel, he's proven that he not only is listening, but views marketing and advertising as a force for good.
Side note: one of the main reasons why some creators have chosen Indiegogo over Kickstarter over the years is because Indiegogo supported the Meta Pixel. I think this one simple addition to Kickstarter is going to change a lot of creators' minds.
2. He values relationships and feedback
I love how Everette and I got connected. When Kickstarter announced support for the Meta Pixel, I posted about it on LinkedIn. The next day, Everette posted it on Instagram, tagged me, and reached out to chat.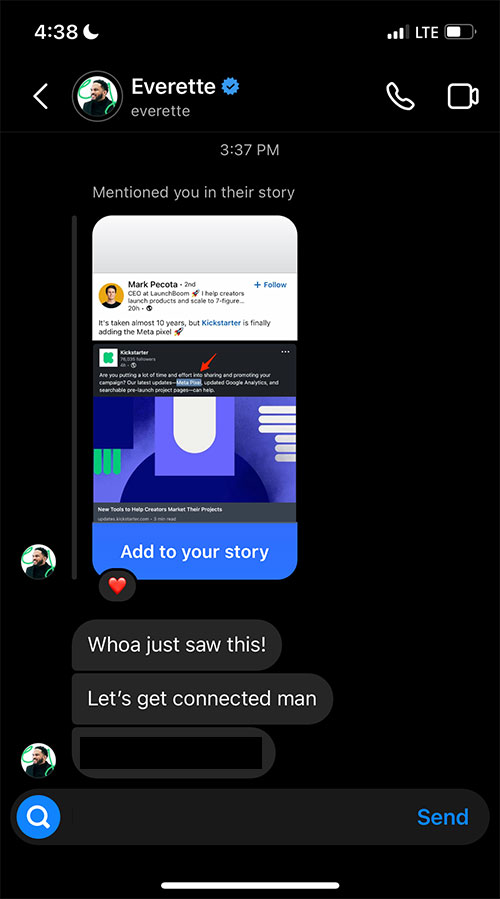 LaunchBoom started in 2015 and Everette was the first CEO who I've spoken with at Kickstarter. We've tried to chat with previous CEOs, but it never turned into anything. We were always directed to other Kickstarter team members. But even getting on a call with them was never easy.
Everette seems to approach relationships differently. Instead of letting his team members do the talking, he's looking to connect with other members in the industry himself. And he was wasting no time doing it.
Also, on our call, he listed out a few potential initiatives at Kickstarter and asked for my opinion. Without stating everything he shared with me, I'll tell you my answer. I told him I think Kickstarter should stay focused on building tools that empower creators and service companies alike. We'll see if he takes the suggestion, but the fact that he asked shows how much he values feedback.
3. He's going to make change aggressively and publicly
The energy that he has is pretty infectious. He told me that he's not afraid to make things happen quickly. In fact, he loves to move fast. At 33, I think his young and optimistic energy will breathe new life into the industry.
He's already proven by his actions that he can follow through on this. Like I said before, he added the Meta Pixel within 1 month. But he also added support for GA4 (Google Analytics 4) and made pre-launch pages searchable – all are tools that will immediately empower creators.
Everette is also not afraid to build in public. Within 5 days of starting at Kickstarter, he released the first video in a new monthly video series called Project Updates. In these videos, he explains recent accomplishments and what they are working on next. This video series educates the community while holding Everette (and Kickstarter) accountable to constant progress.
The future of crowdfunding is bright
Strong leadership precedes progress. And from what I've seen, Everette is a strong leader. I expect the crowdfunding industry to see major progress over the coming months and years.
Also, It's clear to me that Everette wants to make a difference. Here's a comment from Everette on my latest LinkedIn post:

Crowdfunding is just getting started. Buckle up 🚀