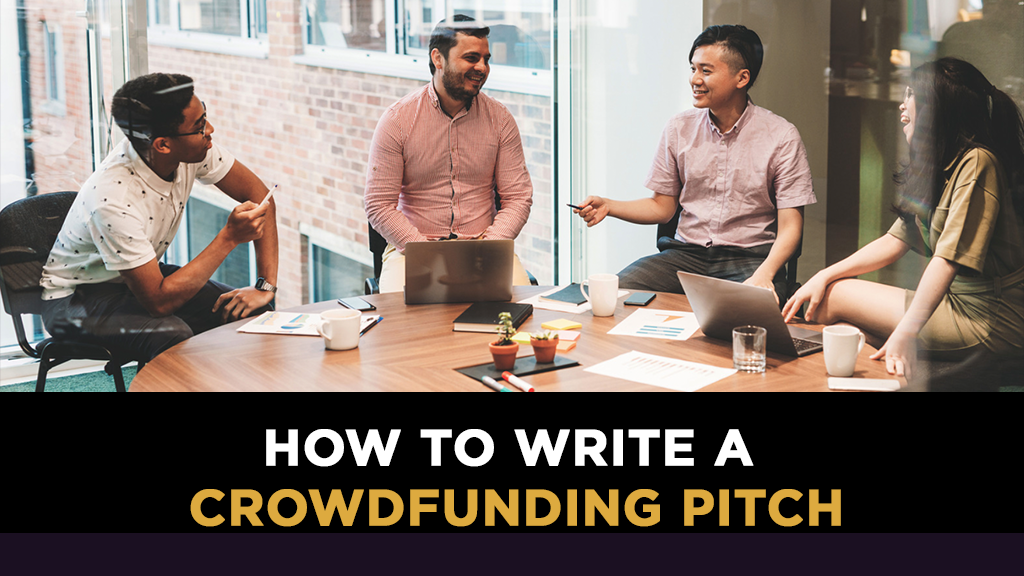 So you've decided to crowdfund your idea…and you've spent time testing it and building a community to prepare for launch. Perfect.
But now, you're left staring at a blank page. The little cursor blinks at you as you wonder how to capture the excitement buzzing around in your head in a short, informative, and engaging pitch.
Deciding to go down the crowdfunding path is not always a piece of cake and the chances of success are sometimes compared to rolling a dice.
But don't overthink it.
You know your product best. You know the community you've built. You're prepared to take the next step, and we've compiled a handy guide to help you put together the ideal pitch so you can load the dice in your favor.
So, let's take a look at what it takes to create the perfect crowdfunding pitch.
Key Takeaways
Creating an engaging and interesting crowdfunding pitch is one of the keys to success.
Writing a crowdfunding pitch requires time, patience, passion, and dedication.
Using services like LaunchBoom can help you guarantee success in crowdfunding.
What Do Backers Look for In A Pitch, Anyway?
The best pitches hook potential backers with a compelling story and allow them to imagine themselves using your product, living with your product, and – more importantly – not being able to live without it. Your pitch is going to leave them with the feeling of urgency and excitement about becoming an early backer and seeing your campaign succeed.
With this in mind, the two most important parts of your campaign will be writing effective copy and producing engaging visuals.
For now, we're going to focus on the written part of your pitch and show you how to create the perfect crowdfunding video and design an engaging page in another LaunchBoom tutorial.
Remember, you know your product best. So now you just need to get organized. One thing that will help you do this is to arrange the page like an article you might find online, with all the key points arranged under titles and subtitles.
Here is a tested and proven outline that covers all the things your backers will be looking for in your pitch. Of course, you can add your own points and customize this outline to fit your product, but it's best to follow this general outline.
Opening Section
Project Title – top headline on Indiegogo or Kickstarter
Project Description – supporting text on Indiegogo or Kickstarter
Main Content
Salience + Summary of Product Values

What is this? What does it do?
What makes it special?

Press + PR + Reviews (Authority)
Problem/Solution (Story)

The primary problem you are trying to solve
The discovery/innovation that changed everything
How is this solution integrated into the product?

Primary Value
Secondary Value
Tertiary Value
Resonance

Why does this matter to the world? How will it affect the world?

Choices

This section is designed to help the user decide which reward tier, color, sizes, etc. to choose from.

What's Included

What's included with the product? What should backers expect to get in the package?

Timeline

Estimated month manufacturing begins
Estimated month manufacturing completed
Estimated month delivery begins

Technical Specs

What are the measurements, dimensions, and technical details of the product?

Meet The Team

Can be one or both of the following:

Company Bio – reiterate your values, mission, and vision. Where did you start, where do you want to go, and how will you get there?
How do you want to impact the world?
Personal bio for each team member – have a photo with a short personal, quirky blurb about yourself and each of your team members. Have fun with this. Keep it light-hearted, but also establish trust and credibility.
At the end of the day, the most important thing is knowing the value of your idea, how your product benefits your backers and changes their world for the better.
Don't forget to add a bit of your personality as well. The formula above covers all the questions someone might have about your campaign, but backers are going to want to feel connected to you as well.
How Long Should A Crowdfunding Pitch Be?
When it comes to the written part of your campaign page it's best to get right to the point and be concise, but also be creative and authentic with the way you present yourself (We'll get to this in more detail below). Your real chance to connect with the audience will be in the video portion of your pitch where you'll make use of visuals and music to really connect with backers.
So, in this case, sticking to the outline above should get the job done. That being said, be sure you are thinking about how you can set yourself apart from your competitors. Think about what makes your product exciting to you and convey that in the copy. Ask for a second opinion from brutally honest friends. Stand out.
10 Tips for Writing Compelling Crowdfunding Pitches
Before you start writing your copy, keep in mind, you're not the first to crowdfund and you're probably not the first to bring your type of product to market.
This is a good thing because it means you have competitors you can draw from. So, again, check out their crowdfunding pages, and see what they've done, what's worked, and what hasn't. Learn from their mistakes and successes and you'll have a solid foundation for telling your story and standing out from what they have to offer.
Now that you're ready to write your copy, here are a few tips to get you there.
Know Your Target Audience
First off, you need to remember who you're targeting as you write your copy. What's the nature of your project? Who are the people you want to win over? What issues are they passionate about? What problems are they facing? And most importantly, what's missing from their lives? What do they need that you can offer? Once you've determined this, you'll be able to tailor your pitch so it blends right into their lifestyle.
Here's an example: Lomi, a device that can easily turn waste into compost without too much work, did just that. They identified their audience: people who care about the planet, want to find ways to decrease their environmental impact, but can't find an easy, hassle-free way to do it. By knowing exactly who to target, they were able to craft a storyline that was relatable to the audience and potential backers.
Be Clear On What Problem You Are Addressing
One of the main things to look out for when you're creating your crowdfunding pitch is the wording and communication. Just like you might have some trouble understanding someone who is mumbling in real life, a pitch that doesn't deliver clear and concise info just won't work. Backers need to understand what they're supporting before they do, so beating around the bush won't cut it. You need to be clear and direct without losing passion and drive.
GoSun Flatware is a great example of this. They identified the issue straight away: GoSun Flatware are utensils made to end single-use plastic. They knew their backers were passionate about ending plastic use, so they spoke right to that. From the beginning, they were clear about that singular value and how they delivered it.By tackling this problem and tapping into this niche, the campaign was able to raise over $407,000.
Employ Storytelling to Construct A Compelling Narrative
When creating a crowdfunding pitch, you'll want to tap into the hidden powers of storytelling. Just because we aren't kids anymore, doesn't mean we don't like a good story. In fact, we are much more likely to interact with content that creates a narrative that goes beyond just facts. We want a hero to root for. A journey to follow. An enemy to defeat. We want something we can connect to. For this, we've got to highlight Give'r Frontier Mittens. Give'r is here to empower you to give it your all in life.
It started when Bubba, the founder, created some epic gloves for epic conditions. After testing them out, he made the gloves even better, launched them and became the most funded glove on KS.
But that wasn't enough, since they were from Jackson Hole, Wyoming, they knew glove just won't cut it for the ultra-extreme temps…
So they made the best damn mittens ever.
Bubba is the hero.
The adventure is the journey from a good glove to a great glove to an absolutely amazing mitten.
The enemy is the cold and extreme conditions that mother nature throws at us that prevent us from giving our all.
Illustrate the Unique Characteristics and Advantages of Your Product or Project
When it comes to the actual product you're crowdfunding, you need to know its USP: Unique Selling Point. Make sure to highlight what makes your product stand out from the crowd, why it's worth it to bring the idea into the real world, and how backers will benefit from getting into the game. You want the backers to know exactly why your product is different and better than what's out there.
The reason why the creator is stoked about a product is often not why the backer is stoked. The challenge for the creator is to step into the mind/heart of the backer. Get them stoked that there's FINALLY a solution to their unaddressed problem.
Here's a great example: the MiniFalcon is an e-scooter. Seems like nothing special, we see e-scooters everywhere. So what makes this one stand out from the crowd? Well, this scooter can be folded up and fits in a backpack, something most (if not all) scooters are incapable of doing. This hits a part of the market previously untouched: people who have no idea where to put their scooters when they're not zipping around on them.
Make Your Pitch Simple and Short
While you want to make sure all the necessary information is in your crowdfunding pitch, in this day and age it's rare to find someone who will happily sit through anything more than a few minutes long (if that). Just as you surely wouldn't want to walk into a four-hour business meeting, your potential backers don't want to listen to you ramble on and on. Get to the point strategically and passionately.
The MÄNNKITCHEN Pepper Cannon does this effortlessly. They get to the point straight away and let you know exactly what you're in for when backing the project: Pepper your steak in 7 cranks instead of 70. Simple, short, effective. and what do backers get for pre-ordering?  A significant discount they'll never see again.
Develop Your Crowdfunding Pitch Template
Having your crowdfunding pitch template ready and prepared is essential. Not only do you want it on your phone, laptop, printed out, and on the cloud, you'll also want to know exactly what's in it so you know it by heart in case questions from potential backers arise.
You need clear goals, transparency, and passion to make this work, but we know you've got it. All you need is some support, a whole lot of horsepower, and a dream you know is going to make it in the long run. Plus, having the crowdfunding pitch template completely developed and ready to go will make  preparing the rest of your campaign so much easier.
Ask for the Accurate Amount of Money Required
You also want to be clear on how much money you need to crowdfund the product. Sure, it'd be awesome to get triple as much as you asked for, but it's essential to have a business plan figured out that includes all your costs. Don't just take a shot in the dark or wing it.  You need to know your numbers to successfully turn your idea into reality and give backers confidence in you.
Demonstrate That There Is A Need for Your Product or Project
If you want to truly win over potential backers to your project, you need to show them why your product is important and why your product is important to them. For a product to be successful, you obviously need to tackle a real-life issue or void in the market that people have been waiting to solve in their day-to-day lives. By highlighting the need for your project, doing research, and using data to support claims, you'll be on the right path to getting people onto your boat.
Take the funded Indiegogo project, Voyager. This chair promises to change how people entertain themselves when sitting outdoors by combining a chair, a pack, and a cooler all in one. Is there a need for this? Absolutely, just think about how many dads are going to go feral once they learn they can grab a beer without getting up from their chairs on a summer afternoon.
Consistently Communicate the Process
Giving potential backers a clear idea of how you're going to be using the money that's raised is essential. After all, trusting and not receiving any transparency or communication can turn someone off completely. To avoid this, make sure to come up with and provide a detailed update for each stage in your campaign's development. But also keep in mind that you don't want to be so specific that you paint yourself into a corner. For example, when you talk about when they can expect the product to ship, don't give an exact date, but give a specific enough timeline to leave yourself some wiggle room. E.g. "The product will ship in May." If there are delays you need to be 100% transparent about it and take initiative in communicating the issue.
Backers appreciate clear, transparent, proactive communication. Give that to them and they'll understand that you're doing everything you can to give a good experience.
They don't want the delivery date to pass, then hear that there's a 3 month delay after the fact.
Connect With Your Audience by Sharing Your Personal Story
Real recognize real, right? If you truly want to connect with potential backers, you'll want to share some more personal details about why you're passionate about your project and how you plan to impact the world and society positively. Giving context to why a product or service was conceived is also an awesome idea. At the end of the day, people just want to feel like they're a part of something bigger.
Learn More From the Best in the Industry with LaunchBoom
When it comes to creating a crowdfunding pitch, we know you're set. Once you have it all figured out though, reach out to the team here at LaunchBoom to see how we can help take your campaign all the way to funded and beyond.
Starting a campaign can be stressful, but a proven system that helps ensure success can make the process a whole lot easier to go through (not to mention fun). New products are popping up everywhere, but you've got something special and the guts, dedication, and now the pitch to prove it.
Check out some more tips and guidelines for an ideal campaign page here: www.crowdfundedbook.com/resources