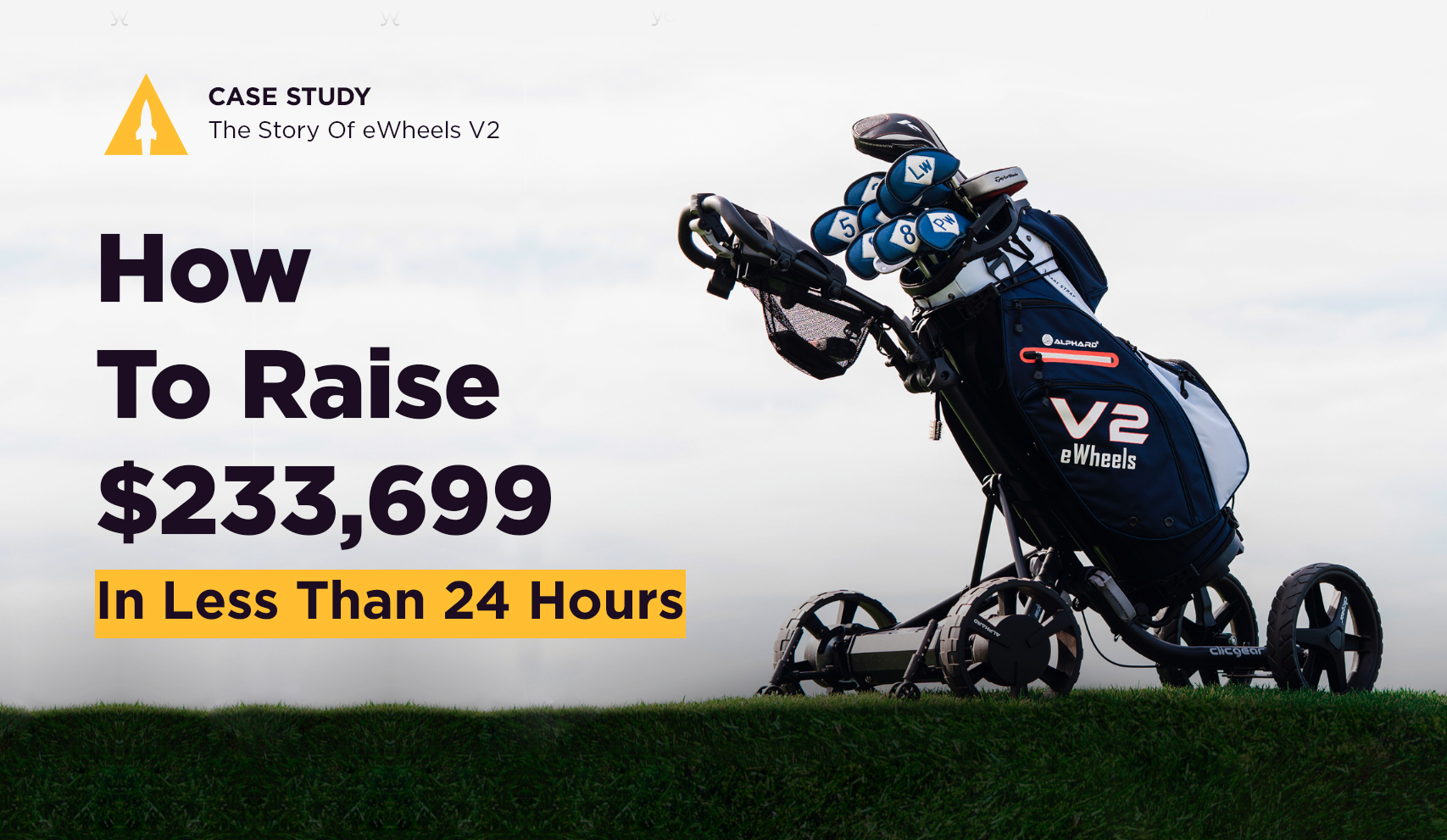 "Turn any pushcart into an electric remote golf caddie" – with these words, we helped the creators of eWheels launch their first product back in 2017 and raise over $343,946. That campaign was very successful and reached thousands of golf fans from around the world. However, the landscape has changed since then. It was late 2019 when the eWheels team came back to us with a new, improved product – eWheels V2: the only device in the world that can turn your pushcart into a premium smart caddie… that follows you around!
eWheels v2 was our first launch of 2020, and naturally, we wanted to start the year strong. We put our hearts into every single launch, but there is something magical about that new year's energy that motivates everyone to go above and beyond. Especially considering that we were dealing with a tough niche – golf.
What's so hard about selling golf products and accessories? After all, it's a huge market with wealthy customers. What's there not to like about it? Well, the here answer is tricky…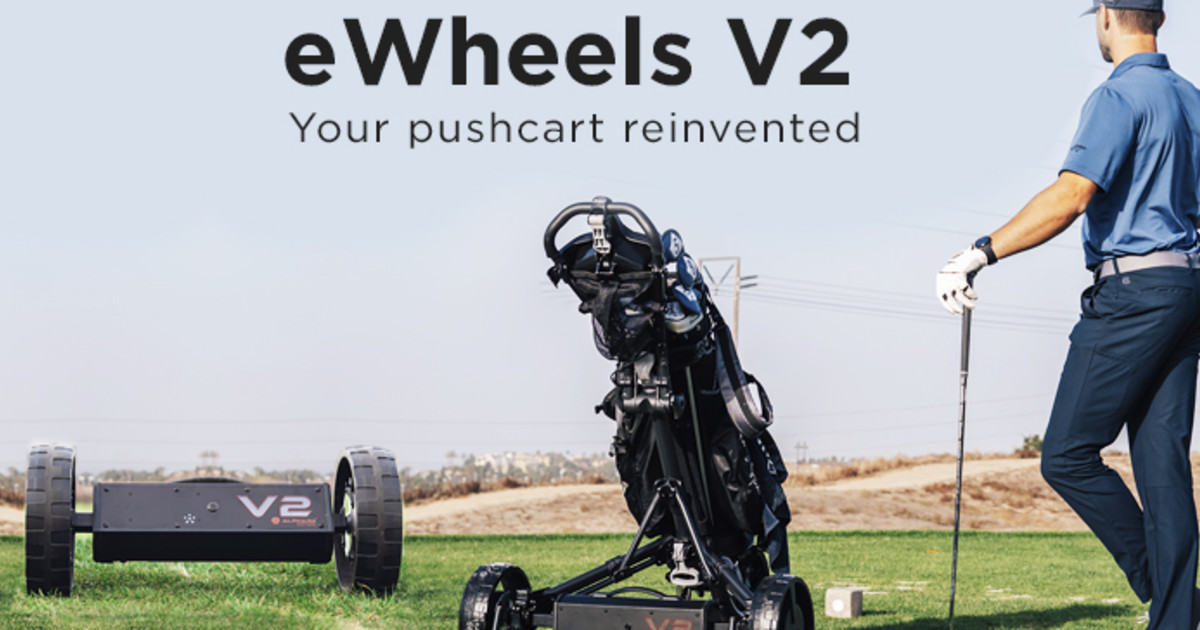 You see, the crowdfunding community is a very interesting one. There are millions of people that browse Kickstarter and Indiegogo every single day, backing multiple projects just because they are passionate about new inventions and fun, interesting products. Personally, I have backed over 148 projects, just because I love these new and curious finds. And believe me – there are many passionate people like that! At LaunchBoom our strategy is to capitalize on that huge organic audience that regularly browses crowdfunding platforms and is eager to support creators.
However, during the first campaign for eWheels, we have encountered a significant challenge. What was it? It's simple…
The Challenge: Crowdfunding Audience Doesn't Golf Very Much!
So here's the thing… Golf products aren't that easy to sell on crowdfunding platforms, simply because people that organically browse for cool things on Kickstarter and Indiegogo… don't play golf!
The biggest question here was – how do we find people interested both in golf and new technologies? People, who are most likely to place an order?
We normally segment ads into crowdfunding, because that generates higher quality leads who are intrinsically interested in new and fun inventions (and are more likely to back the campaign). But the problem here was – there weren't too many people who were interested both in crowdfunding as well as playing golf!
The Solution: Tap Into New Markets
Solid research is the foundation of a campaign's success. You have to make sure you know exactly who your target audience is – how old are they? What are their other interests? What other products have they purchased?
Answering all those questions diligently and correctly has helped us take the advertising of eWheels v2 to the next level. While we did target people that were interested in playing golf, that audience itself was simply too broad to maximize the return on ad spend.
For this campaign, we expanded our advertising audiences by displaying our ads to new crowds, such as:
People Up To Age 64 – a fantastic move that allowed us to reach more golfers – after all, it's safe to assume that golf is a hobby for relatively wealthy people, who also tend to be older. At the same time it also drastically lowered the overall advertising cost and increased the return on ad spend. While seniors and older adults are the fastest-growing demographic on Facebook, the cost-per-click here can be as low as half of the advertising for 25-34 year-olds.
People Who Are Interested In Luxury Watches – because of the opulent nature of golf itself, it's safe to assume that the same type of person who would be interested in purchasing a luxurious watch of a famous brand is also likely to be interested in playing golf. This theory has proved to be true as some of our ads had a breathtaking 31x return.
VAVA 4K Projector Customer Lookalike Audience – we had to ask ourselves: what other luxury products does our avatar buy? The answer here was to tap into our database of people that have purchased VAVA: a high-end 4k laser projector that turns your home into a private cinema. Look, if somebody owns a $2,799.99 projector there is a decent chance they also play golf. By creating a lookalike audience of VAVA's backers we were able to secure a solid list of people eager to discover eWheels.
Once we identify our best audiences we can move on to start creating powerful ads. Here's one of the best-performing ads for this campaign: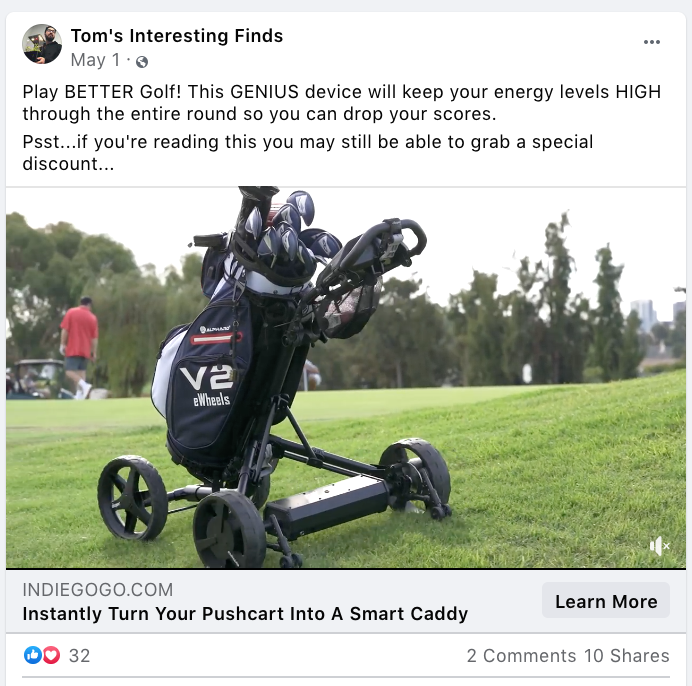 Next Step – Tell a Convincing Story About It!
For eWheels v2 we didn't go through TestBoom phase, because we still had the data from their first product launch. We already had a solid understanding of what worked and what didn't. The biggest challenge here wasn't just attracting new audiences – but also convincing past users it was worth upgrading.
The second eWheels product was an improved version of the first one with new features, such as a revolutionary auto-follow smart tether that determines your distance and direction and adjusts eWheels v2 to follow you. The smart tether, alongside a new, 6-axis gyroscope as well as a big, detachable battery were the biggest selling points for past backers. However, we didn't want to stop there – it was time to introduce the new eWheels to even more people and tell a compelling story about it.
Here's the positioning that we've used for this unique product:
This premium electric remote caddy will follow you (even over bumps and hills!)
Looks impressive, doesn't it? That aspect of effortlessness and ease was used in most of the marketing materials with great success. Which brings us to the next positioning point, which was…
Take the strain off your legs and back (and thus – play better golf!)
No more pushing around or straining your back carrying your clubs around. Decreased fatigue means improved late-game performance. It also makes the game more enjoyable!
The X-Factor: New, Evolved LaunchBoom Systems
Our first eWheels campaign was highly successful, raising a total of $343,946. That being said, our system and methods have evolved since the first campaign. The biggest difference this time was utilizing a VIP Facebook group, something that became a fundamental component of our methodology.
Using a reservation funnel, where people can put down a $1 deposit to become a VIP and reserve the product at the best discount when we launch, you can gather high-quality leads that are committed to your success. Our statistics show that VIPs are 30x more likely to purchase when we launch than Non-VIPs. And that's just an average – we've had situations where the VIPs were even 60x more likely to purchase than Non-VIPs. Isn't that great?
There is a big difference between interest and the intent to purchase – and utilizing a VIP Facebook group is one of the best strategies to optimize your ads and build a community that is 30x likely to buy.
But here's the big thing I don't want you to miss – creating a VIP Facebook group and a reservation funnel are great ways to dramatically increase your chances of success, however, in order to create a real community of raving fans you need to…
Stay active on your communication channels and connect with your (potential) backers!
Our clients did a fantastic job interacting with their audience on a regular basis, which paid off massively. The conversion rate for VIPs was at a wonderful 47%. Almost half of the people inside the VIP group have purchased eWheels v2!
The Outcome – Our Biggest Day 1 Campaign of All Time!
Raising a large amount within the first 48 hours is the KEY to success. Because of our experience with this type of product and the TestBoom phase we did for the first eWheels, we were able to raise over $233,699 in the first 24 hours of the campaign, breaking our record for the biggest day 1 campaign of all time.
Here are the most important metrics:
Ad Spend: $31,448.81
Reservations: 870
Cost / Reservation: $21.87
Leads: 7668
Cost / Lead: $2.56
Return On Ad Spend During Live Campaign: 4.42X
Revenue: $456,506
Every campaign goes through what we call a mid-campaign slump (or even a "valley of death" in some cases). This is where you want to hit the cold traffic, advertise to lookalike audiences from the reservation list, and sacrifice the average ROAS to pump up the numbers. It's important to remember that one dollar early campaign is worth more than just $1 because of the ripple effect it has – each early sale attracts more and more backers and people are less likely to back a campaign that looks stale.
As you can see, around May 2020, people realized that the golf season is coming and the sales picked up again. Then, towards the end, we announced that the campaign is going to end soon and you also can see the numbers go up.
Indiegogo InDemand
Through Indiegogo InDemand we rose an extra $57,506 with $11,627 ad spend, which gives us about 2.73x ROAS.
As for add-ons – the best-performing ones were:
Extra battery: Sold 70 at $99
Pushcart: Sold 100+ at $99
Retrofit Swivel Wheels: Sold 150+ at $39
Only 11% of the total amount came from Indiegogo's traffic. Most products are at 20-50%, which only proves that their playing golf isn't that popular among their audience
Here are some key takeaways:
eWheels v2 was our biggest day 1 campaign of all time and we were able to raise over $$233,699 in the first 24 hours of the campaign.
Although we had the data from the launch of the first eWheels' product, it would still be a success even without the first campaign because of our new and improved LaunchBoom system
Golf is a tough niche for crowdfunding, but it doesn't mean it's impossible. All it takes is following a proven framework.
Engaging with your community and being responsive is the secret to creating diehard fans that will relentlessly promote your brand and rave about it everywhere they can.
It's important to fight against the mid-campaign slump. In order to avoid flatlining it's worth lowering the ROI and push the ad spend. Remember that an early $1 is worth more than just $1 because of its ripple effect and the social proof it provides for the campaign.
How to raise $233,699 in less than 24 hours? The answer is simple: you have to follow a proven system, have a great product, and build a real community. It takes great preparation and hard work, but if you have a team of experts on your side – the world is yours. If you'd like to work with us to create a successful campaign that's worthy of your invention – click here to apply and see if you qualify.