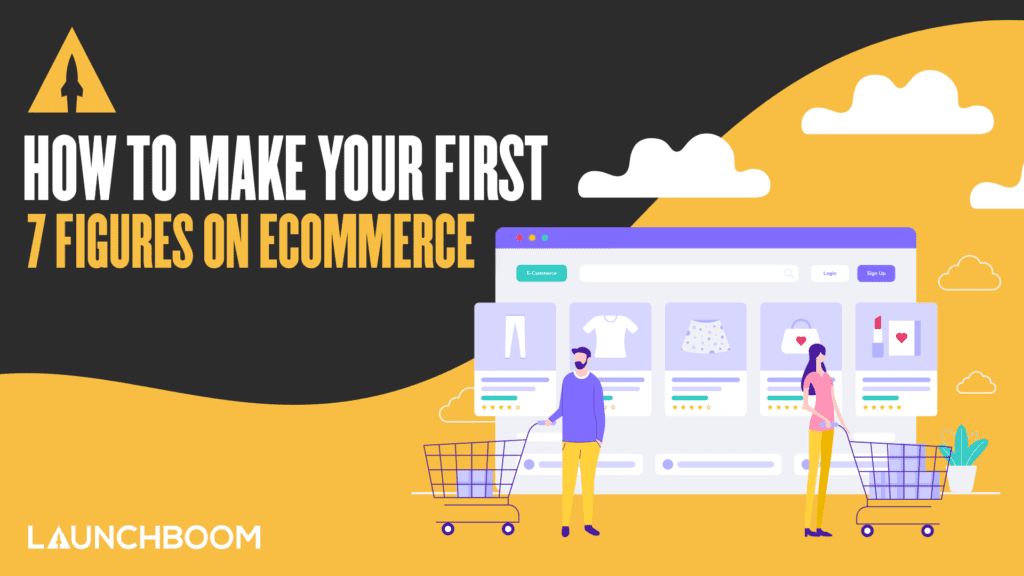 Crowdfunding is, hands down, the best way to launch a new product, but it's not a long-term sales platform. You can (and should!) use Indiegogo InDemand to keep taking pre-orders after your campaign ends, but once you have inventory on hand, the platform starts to make less and less sense, because you'll have to keep paying the InDemand fees without needing to take pre-orders, which is the benefit of the platform. It's time to move to eCommerce—but how do you do it in a way that makes sense for you?
In a recent webinar, I talked with Clint Donaldson, our Director of ScaleBoom. ScaleBoom is LaunchBoom's eCommerce division, and their proven system raised more than $5 million in revenue for a portfolio of 5 clients in 2020 alone. If you want to learn about ScaleBoom's system and how to apply it to your own product, read on!
Where to start
The first thing to understand is that most small businesses don't make millions of dollars. It's difficult to do, and a lot of the "get rich quick" type schemes you see will say "I went from $0 to $1,000,000 in a year!" but fail to mention that they spent a million dollars to raise that million dollars. The key isn't to focus on your gross sales numbers, but to focus on profitability.
A focus on profitability means that ScaleBoom isn't just interested in selling products. We're interested in building a brand around your product, making it into something that people come to know, like, and trust. In many cases, this leads to people becoming repeat customers or brand advocates who tell others about your product.
The ScaleBoom process isn't one size fits all, and that's to the benefit of every business we work with. No two businesses or products are exactly the same, so what works for one won't necessarily work for anyone else. You need to understand not only where you want to go, but how you want to get there.
Start by defining what success means to you. What, given your product, is the definition of a win? Once you have this goal in mind, you can work backwards to figure out how you're going to get there. Knowing what success means to you lets you set your business up to achieve that kind of success, and you can follow a set of steps to start yourself down that path.
Choose an eCommerce platform
In order to launch an eCommerce business, you need to pick an eCommerce platform. Though there are plenty out there and we encourage you to research your options, we use Shopify for all of our eCommerce clients, and there are a few main reasons.
Shopify is easy to scale as you add new products. You can add new pages very quickly.

The customer experience is very good. Even if you're not very techy, Shopify is easy to set up and customize.

The low entry fees make it a good place to start.
Shopify won't serve every business out there, so we encourage you to look around and see what's available. However, for a lot of new eCommerce brands, Shopify is the way to go.
The SCRAP model
Once your website is ready to go, the next step is to figure out your goals. Knowing your goals lets you work backwards to figure out how to reach them. We use the SCRAP model at ScaleBoom, which makes it easy to remember each step of the process.
Sessions: How do you get more people on your website?

Conversion rate: How do you get people to make a purchase, and how do you improve the rate at which they buy?

Repeat customers: How will you get people to buy from you more than once?

Average order value: How do you get more money from each transaction?

Profitability: How do you increase how much money ends up in your pocket?
These are the questions that we ask as a team every single day as we follow our strategic plan. Following through on the answers to these questions–being SCRAP-py–will naturally lead to your business growing.
Sessions
There are several ways to increase your sessions–that is, the traffic to your website. The first and easiest is paid advertising. If you pay to put your message in front of people, you're fairly likely to get results, sometimes in minutes.  If you get good creative with a compelling message in front of the right audience, you're almost guaranteed to get more sessions. Staying on top of your ads and fine-tuning your creative, message, and audience will lead to even greater returns on your ad spend.
Not sure what kinds of ads are good? Take a look at our tutorial on how to view your competitors' Facebook ads for inspiration!
Another way to ramp up sessions is by using your email list to drive traffic. If you keep people engaged in your brand through email, it makes them more likely to visit your website. Creating a welcome email sequence to explain your brand and what you stand for can help build trust, and from there, you can put them into a nurture sequence to cultivate them long-term. You can also use email to reach people who left your site without making a purchase to re-engage them and bring them back.
Conversion rate
Once you have people on your site, the next step is getting them to buy. One of the first things that you should do is to make sure your site is optimized for mobile traffic. Most websites get more than 80% of their traffic from mobile, so not optimizing means that you're losing the opportunity to convert those people to buyers. (Shopify makes this pretty easy, which is another reason we recommend it.)
Another way to increase conversions is to increase trust, and leveraging reviews is a great way to do this. There are several options on the market for plugins that will let you ask your buyers for reviews and then let you publish those to your website. Think about big sites like Amazon and how useful their reviews are for influencing purchasers. You can use that same technique on your site.
Another thing that can affect your conversion rate is your shipping price. If you're selling an item for a reasonable price, but users get to the checkout page and see that you're charging a lot for shipping, that can make them rethink their purchase. This isn't to say that you should lose money on shipping; instead, consider raising the price of your product slightly while lowering the shipping rate. Even though customers will end up paying a similar amount, they'll be less surprised by the additional charge in their cart.
One important thing to remember is that there's no such thing as a standard conversion rate. There are a lot of variables that affect what you're trying to do, so what looks like a successful conversion rate for someone else might not work for you; likewise, what looks like a terrible rate for someone else might be great for you.
Repeat customers
Getting people to come back to your site and purchase again is a key strategy for eCommerce success. It's far more cost-effective to keep a customer than to find and convert a new one. How can you get customers to return? If customers will need a refill or to order something in a new size, they'll need to come back. 
Of course, if you only have one product to offer, your strategy will look a little different. Is it something that would make a good gift? Is it something that will need to be replaced after a certain period of time due to wear and tear? Think about the reasons people would buy another unit and appeal to those ideas.
Average order value (AOV)
Increasing your customers' average order value is a great way to generate more revenue. Add-ons are a great way to do that. In fact, it's such a ubiquitous marketing strategy that it's become a cultural reference point: "Would you like fries with that?"
An add-on is most successful if its cost is less than $10 of the main unit price. Just having it on the page will often entice people to add it to their cart, but you can also push add-ons to your customers by asking them to add that complementary product to their cart before checking out.
Keep in mind that add-ons don't have to be physical products. Warranties, resource downloads, and recipe kits all make great add-ons. It just has to be related to your brand!
Bundling is another great way to increase AOV. If you sell products that work well together, you can consider bundling them for a small discount to your customer. They can get a 5% discount by ordering the set instead of the separate items, but the set increases the AOV over people who would have just ordered one piece instead of both.
Profitability
Profitability is the end goal of pretty much every business out there. It may seem like a nebulous goal, but understanding what profitability means to you and your business will help you achieve those goals.
Here are things to consider when trying to maximize profitability:
What are my cost drivers?

Am I optimizing my ad spend to get the most bang for my buck?

Have I shopped around for the best financing rates?

Can I create a new product from extra materials?

Can I negotiate better fulfillment rates?

What can I sell that won't increase shipping costs?

How am I increasing my customers' lifetime value?
Thinking about these points will help you figure out what it will take to make you profitable.
It's all about planning
At the end of the day, we want to figure out how to go from nothing to a million dollars. The easiest and most reliable way to work towards that goal is to plan everything. Figure out what your goal is, then work backwards to figure out the steps you need to take to make it there. Do the math! Think about your leads and your conversion rate. That way you can set a goal for how many website visits you need per month to sell whatever your goal amount is. You can then work backwards from there and figure out the steps you need to take to get that many visitors to your site in a month.
Asking yourself these questions up front is key to long-term success. You can't just say that you want to raise $1,000,000 and then throw your website up and hope for the best. Careful planning beforehand is the only way to get where you want to be.
Conclusion
Raising your first 7 figures on eCommerce takes planning and patience, but it's a very achievable goal! If you choose the right platform and follow the SCRAP model, you can set yourself up for long-term eCommerce success.
Our ScaleBoom team is ready to help you with your eCommerce plans! Apply today to talk with us about how we can help you and your company grow.