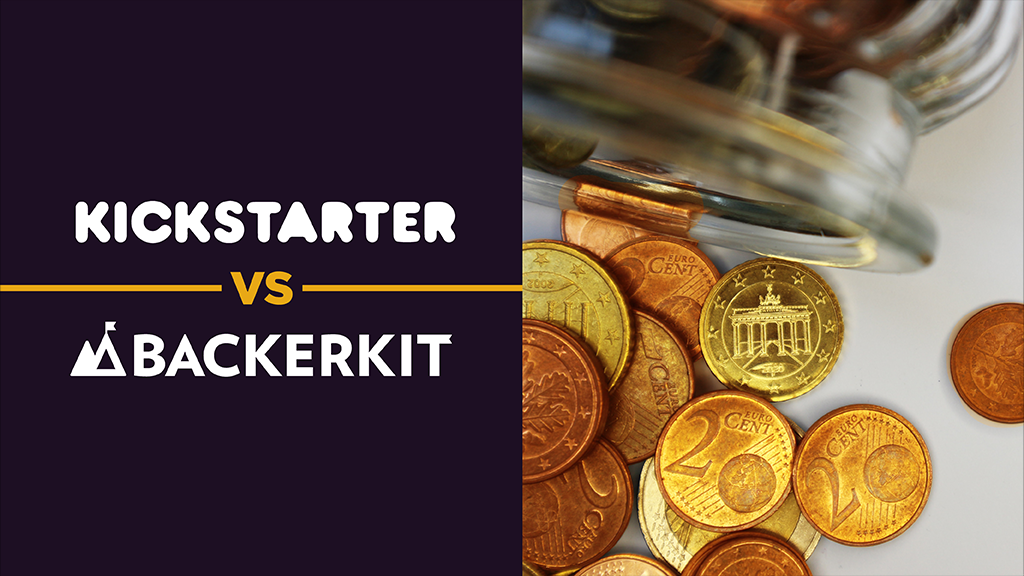 Crowdfunding has revolutionized how entrepreneurs and creators fund their projects and turn their ideas into reality.
BackerKit and Kickstarter have long been major players in the crowdfunding space. Kickstarter, arguably one of the most popular crowdfunding platforms on the market, and BackerKit, a trusted name in post-campaign management, have been two tools that crowdfunders have relied on for creating success.
Now, BackerKit is stirring things up with its very own crowdfunding platform.
This comprehensive guide will explore the differences, similarities, and unique features of BackerKit's crowdfunding platform vs. Kickstarter. It will also take a deep dive into their applications, pricing models, and the pros and cons of each platform.
Key takeaways
BackerKit started as a pledge manager but has now launched its own crowdfunding platform riding on the coattails of its previous success in the crowdfunding ecosystem.
BackerKit's new crowdfunding platform is still in its early stages, but it offers some features that Kickstarter does not, such as threaded comments and built-in polling.
Launchboom can provide insight and guidance to creators who want to run a successful crowdfunding campaign.
Kickstarter vs. Backerkit a brief overview
Before diving into the details, let's look at a brief overview of BackerKit and Kickstarter.
What is BackerKit?
BackerKit has established itself as a powerful post-campaign management tool that helps crowdfunding creators manage their backers, surveys, and pre-orders efficiently.
After a successful crowdfunding campaign on platforms like Kickstarter or Indiegogo, creators often face the challenge of managing backer data and fulfilling orders. BackerKit streamlines this process by providing tools for managing backer information, tracking survey responses, handling add-ons, and processing pre-orders.
It also allows creators to offer additional products and upsells to backers, maximizing revenue potential even after the crowdfunding campaign has ended.
Now, the BackerKit team has launched its crowdfunding feature, which looks promising.
Although BackerKit might be new to the game as far as crowdfunding platforms go, the team members behind BackerKit are no strangers to the industry.
When it comes to filling in the blanks on Kickstarter's list of features, BackerKit is the go-to tool for crowdfunders. So, it's no surprise that it would make this move.
What is Kickstarter?
Kickstarter is the world's leading crowdfunding platform, allowing creators to showcase their projects and receive financial support from backers in exchange for rewards.
Kickstarter campaigns are all-or-nothing, which means that if a project doesn't reach its funding goal within the specified timeframe, the project receives no funds, and backers are not charged.
Kickstarter primarily focuses on creative projects like art, technology, games, films, and more.
Is BackerKit connected to Kickstarter?
Although the BackerKit team recently launched its own crowdfunding platform, it started as a pledge manager for Kickstarter creators seeking to raise funds after completing their campaigns.
After running a crowdfunding campaign on Kickstarter, creators often use BackerKit's post-campaign management services to seamlessly handle backer data, surveys, pledges, and pre-orders. This connection between Kickstarter and BackerKit streamlines the process for creators, ensuring a smooth transition from campaign success to product fulfillment.
Now, BackerKit is entering the fray with its own crowdfunding platform, hoping that creators will be willing to take a risk and choose it over Kickstarter.
How does BackerKit work?
Crowdfunding by BackerKit promises to power the efforts of entrepreneurs and creators throughout their entire crowdfunding journey, from building a community around their project to shipping rewards. Backerkit attempts to set itself apart from Kickstarter by helping crowdfunders succeed well beyond funding.
BackerKit argues that a crowdfunding project can only be considered a success after it has fulfilled its promises and shipped rewards to backers. By putting all of the features BackerKit has been providing to crowdfunders for more than a decade, it plugs in the holes that still exist on other, more established crowdfunding platforms. As a result, creators can spend more time on what they do best… creating.
Of course, BackerKit will continue to offer its existing ala carte menu of features to creators who want to continue working with more popular platforms.
That includes:
Integrating with Popular Crowdfunding Platforms
Managing Backer Surveys
Handling Add-Ons and Pre-Orders
Offering a Pledge Management tool
Managing Payment Processing and Fulfillment
BackerKit will remain an invaluable tool for crowdfunding creators, providing essential features to manage their backers, surveys, and pre-orders efficiently as it continues to integrate with Kickstarter and other crowdfunding platforms.
At the same time, the BackerKit team hopes creators will give its new crowdfunding platform a chance.
When you set up a BackerKit campaign for the first time, there will be a learning curve, but that's to be expected. Once BackerKit accepts your application, the platform will provide everything you need to start your crowdfunding campaign.
How does Kickstarter work?
Kickstarter is the most popular crowdfunding platform that allows creators to showcase their creative projects and raise funds from backers who believe in their vision.
The platform operates on an "all-or-nothing" funding model, meaning creators set goals and a specified campaign duration. During the campaign, backers pledge money to support the project. In return, they receive rewards based on their pledge level.
Since its inception, Kickstarter has helped raise over $7.6 Billion for projects.
Creators must create a compelling project page that effectively communicates their idea, showcases prototypes or visuals, and outlines the rewards backers will receive at different pledge levels. Once the project is live, creators promote it through social media, email marketing, and other channels to attract backers.
If the project reaches its funding goal within the campaign duration, it is considered successful, and Kickstarter collects the pledged funds from backers. Kickstarter then transfers the funds to the creator, who is responsible for fulfilling the promised rewards to their backers. However, if the funding goal is unmet, no money is collected from backers, and the project receives no funding.
Kickstarter provides a powerful platform for creators to connect with a global community of backers, enabling them to turn their creative ideas into reality with the support of like-minded individuals who share their passion and vision.
Which categories do well on BackerKit and Kickstarter?
BackerKit and Kickstarter have both demonstrated success across a diverse spectrum of categories.
As a renowned crowdfunding platform, Kickstarter has garnered particular popularity among creative ventures encompassing innovative tech gadgets, artistic pursuits, board games, tabletop RPGs, outdoor gear, high-function apparel, kitchen tools, and product design projects.
The platform's emphasis on creativity and unique ideas attracts backers looking to support groundbreaking and imaginative initiatives.
On the other hand, BackerKit thrives in providing post-campaign management solutions for various projects, irrespective of their category, on Kickstarter or other crowdfunding platforms such as Indiegogo.
Now, BackerKit hopes to make a splash with its new crowdfunding platform.
Currently, the platform offers projects in a limited number of categories:
Tabletop Games
Roleplaying Games
Accessories
Fashion
Publishing
The tabletop games category is its most popular right now, with over eighty projects live at the time of writing.
That said, all those categories do well on Kickstarter as well. Games are the number 1 category on Kickstarter – raising millions each year for various creators, big and small.
Ultimately, the combined strengths of Kickstarter and BackerKit enable creators to succeed in diverse categories. Kickstarter's platform facilitates the initial funding and exposure for innovative projects. At the same time, BackerKit's management capabilities ensure a smooth and organized process for delivering rewards and managing post-campaign activities.
By harnessing the potential of both tools, creators can elevate their crowdfunding endeavors, engaging a broad audience and turning their dreams into reality in any category.
However, if you are a creator in one of BackerKit's categories and are willing to give the new kid on the block a shot, check them out and see if they're a good fit for you.
What are the key differences between Kickstarter vs. BackerKit?
As BackerKit enters the crowdfunding space with a spanking new crowdfunding platform of its own, hoping to rival the likes of Kickstarter and Gamefound, one can't help but recognize the key differences between BackerKit vs. Kickstarter.
First, BackerKit offers several features that Kickstarter doesn't, including:
Threaded comments
Built-in polling
A navigation sidebar
Integrated pledge management
Post campaign fulfillment
Devoted pledge-level subpages, including pledge images
While all of this is promising, BackerKit as a crowdfunding platform is still in its infancy and simply cannot reach the audiences that Kickstarter can. To be clear, BackerKit only receives 2.7M visitors/month, while Kickstarter receives a whopping 20.8M visitors/month. That's nearly 10x more traffic than BackerKit. As a result, BackerKit may not be a good initial platform for most crowdfunding creators yet, but it has the potential to be a great platform in the future.
BackerKit vs. Kickstarter the application process
Launching a crowdfunding campaign on Kickstarter or Backerkit is pretty straightforward; creators should carefully prepare their projects before submitting them for review, regardless of their chosen platform.
The application process typically includes the following steps:
Project Creation: Creators start by creating a project page that effectively communicates their idea, showcases prototypes or visuals, and outlines the rewards backers will receive at different pledge levels. The project page should be engaging, informative, and appealing to potential backers.
Project Review: Once the project page is complete, creators submit it to the platform for review. The platform will evaluate the project to ensure it meets its guidelines and does not violate any rules. This review process aims to maintain the platform's integrity and protect backers from potential scams or unrealistic projects.
Approval or Feedback: The crowdfunding platform may either approve the project for launch, provide feedback for necessary improvements, or, in some cases, reject the project if it does not meet its criteria. Creators may need to adjust based on the feedback received before resubmitting for approval.
Campaign Launch: Upon approval, creators can launch their campaigns. They set the funding goal and campaign duration and select the rewards for different pledge levels. Once the campaign is live, creators actively promote it to attract backers and achieve their funding goal.
BackerKit vs. Kickstarter pricing, fees, and payment partners
Kickstarter charges 5% on the funds raised if a campaign succeeds. Additionally, they also charge a 3% + $0.20 payment processing fee through their payment processor, Stripe.
Backers on Kickstarter must use a valid debit or credit card to back a campaign. Currently, Kickstarter accepts ​​Visa, Discover, JCB, MasterCard, UnionPay, American Express, and Apple Pay.
BackerKit also charges a percentage-based fee and payment processing fee, but it's a variable rate that scales with how much you raise. The more you raise, the lower your rate. This applies to their pledge manager as well as their crowdfunding platform.
The rates are as follows:
Up to $50,000 USD — 2.00%
From $50,000 up to $100,000 USD — 1.85%
From $100,000 up to $250,000 USD — 1.70%
From $250,000 up to $500,000 USD — 1.55%
From $500,000 up to $1,000,000 USD — 1.40%
From $1,000,000 up to $2,500,000 USD —1.25%
From $2,500,000 and above USD — 1.10%
If your average pledge is over $250 USD, then BackerKit instead charges a $5 USD flat fee per backer.
Additionally, there is a 3.5% transaction fee for every pledge and order made on BackerKit.  This applies when you use BackerKit's tools to raise additional funding post-campaign through add-ons, late pledges, and preorders, as well as when you raise funds by launching on BackerKit's crowdfunding platform.
To top it off, you will also need to pay a payment processing fee for transactions made on BackerKit. BackerKit gives you the option to integrate Stripe and PayPal to process transactions. Similar to Kickstarter, Stripe will charge 3% + $0.30 per transaction. Paypal will charge 3.5% + $0.49 per transaction.
Here's all of it added up:
Platform Fee
Transaction Fee
Payment Processing
Kickstarter
5%
n/a
3% + $0.20
BackerKit (crowdfunding)
1.1% – 2%
3.5%
3% + $0.30 (stripe)
or3.5% + $0.49 (PayPal)
BackerKit (pledge manager)
1.1% – 2% of funds raised on a separate platform (Kickstarter or Indiegogo)
3.5% on any transaction made in BackerKit
3% + $0.30 (stripe)
or3.5% + $0.49 (PayPal)*only for transactions on BackerKit
Kickstarter vs. BackerKit pros and cons
There are pros and cons associated with BackerKit, Kickstarter, or any other crowdfunding tool.
Kickstarter pros:
Large audience: Kickstarter has a large and active community of backers, which means that your project has the potential to reach many people.
All-or-nothing funding model: This model motivates urgency and excitement among backers, as they know that their pledges will only be collected if the project reaches its funding goal.
Trusted platform: Kickstarter is a well-established platform with a strong track record of success. This means backers are more likely to trust and pledge money to your project.
Kickstarter cons:
High competition: There is a lot of competition on Kickstarter, so it can be difficult to stand out from the crowd.
Limited control: Once your campaign is live, you have limited control over how it is promoted and displayed on Kickstarter.
Limited post-campaign support: Kickstarter does not offer much support yet for post-campaign management, such as shipping and fulfillment.
BackerKit pros:
Pledge management: BackerKit's built-in pledge manager allows creators to easily manage backer pledges and add-ons without needing separate third-party tools.
Customizable prelaunch page: BackerKit's customizable prelaunch page allows creators to showcase their products and build excitement before their campaign even begins.
Easy-to-reach support: BackerKit's support team is available 24/7 to help creators with any questions or problems they may have.
Collaborative development: BackerKit works closely with creators to develop and improve its platform, ensuring that it meets the needs of the crowdfunding community.
BackerKit cons:
Application process: BackerKit requires creators to apply to use the platform, and spots are limited. This means that not all creators will be able to use BackerKit.
Limited audience size: BackerKit is not as popular as Kickstarter or Indiegogo. This means that there is less traffic to the site, which may make it more difficult to find backers for your project.
Lack of brand awareness: Since BackerKit is relatively new as a crowdfunding platform, the general public is not as aware of it – and generally less trusting of the platform.
So, which is better? BackerKit or Kickstarter?
BackerKit has a number of advantages over other crowdfunding platforms, including a built-in pledge manager, a customizable pre-launch page, and a team actively listening to creators' needs. However, it is still under development and may not be as stable or reliable as other platforms.
If you are a crowdfunding creator who is looking for a stable and reliable platform, then Kickstarter may be a better option for you. However, if you are willing to be an early adopter and provide feedback to BackerKit, then you can help shape the future of crowdfunding.
The importance of Kickstarter, BackerKit, and other crowdfunding tools
Tools like BackerKit, Kickbooster, and platforms like Kickstarter and Indiegogo play essential roles in the crowdfunding ecosystem.
Kickstarter is the ideal platform for launching campaigns and gaining initial momentum. At the same time, BackerKit remains a valuable tool for managing backers and fulfillment after a campaign's success. As it throws its hat into the crowdfunding ring, BackerKit may just be the next big platform.
By understanding the strengths and differences of both platforms, creators can make informed decisions that align with their project's goals and requirements.
Learn more about BackerKit and Kickstarter from LaunchBoom
For further insights and guidance in running successful crowdfunding campaigns, consider learning from the industry experts at LaunchBoom.
LaunchBoom offers valuable resources, strategies, and support to help creators maximize their crowdfunding potential on platforms like Kickstarter and BackerKit. 
Find out how today.